Yogurt Fruit Dip
0
Published Jul 30, 2023, Updated Oct 03, 2023
This 2-ingredient yogurt fruit dip is creamy, perfectly sweet and comes together in just 5 minutes. Serve it with your favorite fruit for a healthy snack or dessert!
Introducing your new favorite summer treat… yogurt fruit dip!
This 2-ingredient dip comes together in a matter of minutes and is absolutely delicious when served alongside a variety of fresh fruit. It's the perfect refreshing and healthy treat that everyone in your family will love!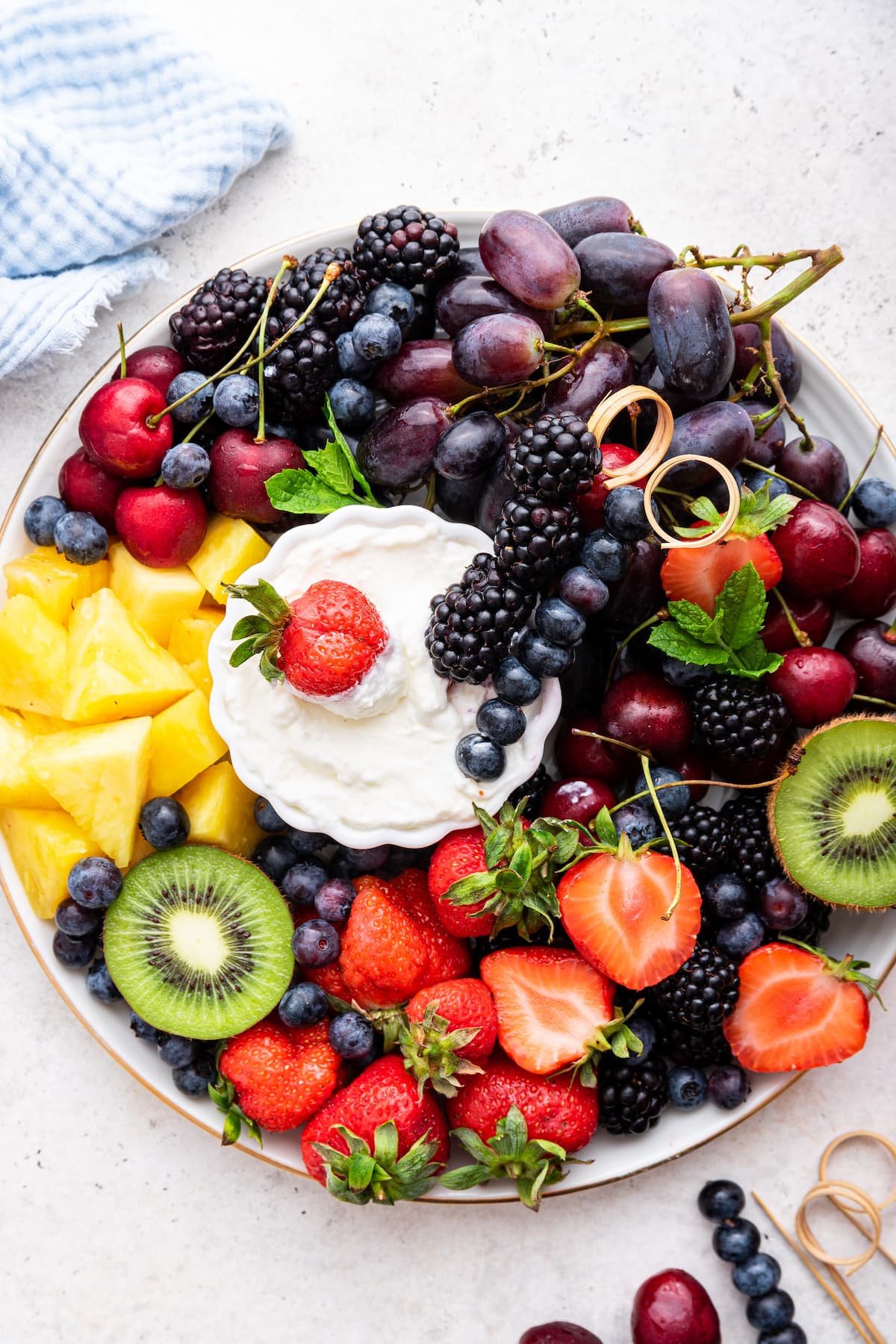 Why You'll Love This Recipe
Easy to make: You only need two main ingredients and about 5 minutes to whip up this yogurt dip.
Crowd-pleaser: Whether you're serving this yogurt dip for brunch, as an appetizer for a party or as an easy summer dessert, it's sure to be a crowd-pleaser!
Versatile: It's a versatile dip recipe that can be served with fresh fruit or other sweet treats like cookies or graham crackers.
Healthy & delicious: It's creamy, sweet and packed with some protein thanks to the Greek yogurt. Plus, it's low-sugar and low-calorie.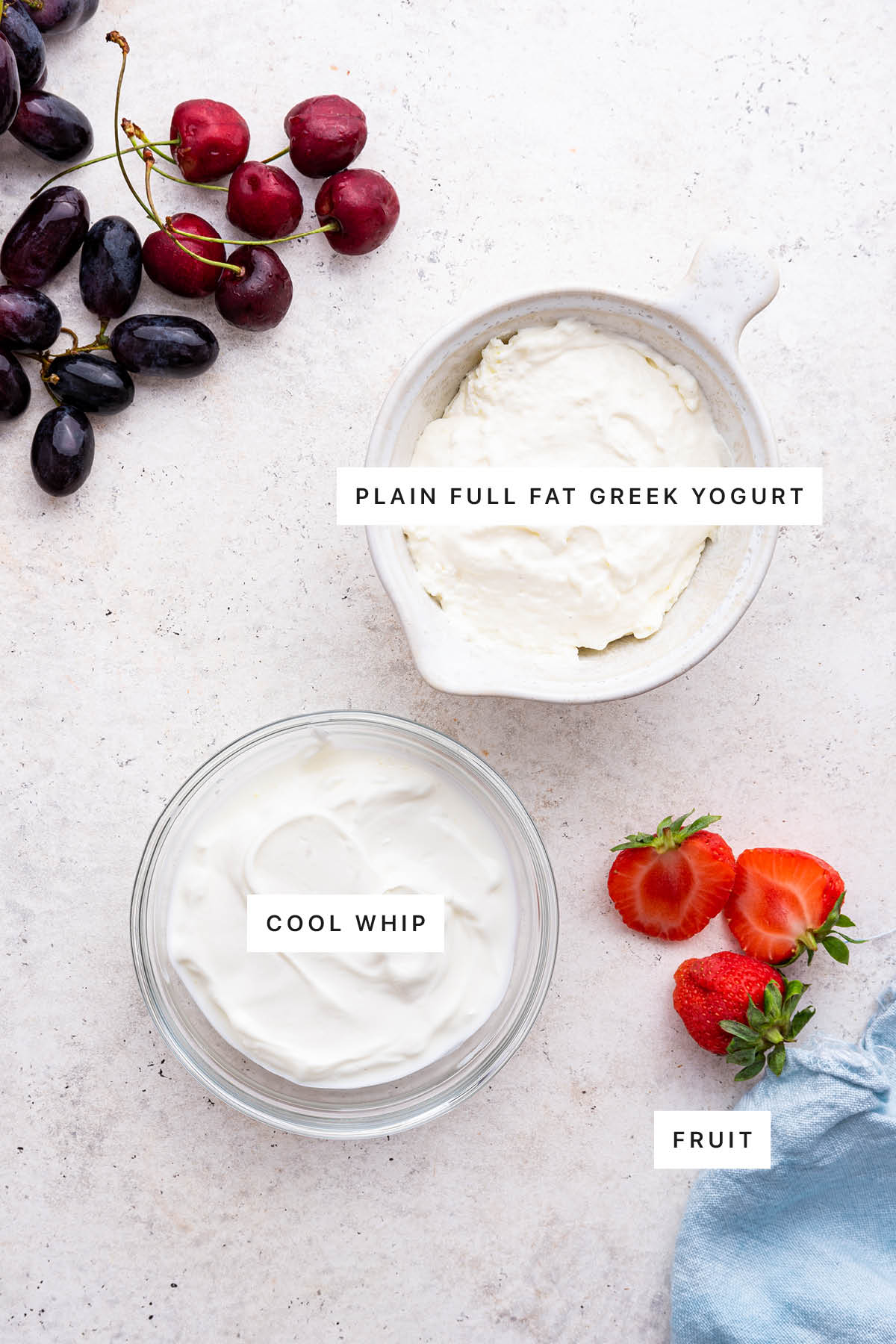 Ingredients Needed
plain full-fat Greek yogurt – this is the foundation of our dip, giving it a creamy, tangy base and some added protein. My go-to yogurt brands are Fage 5% plain Greek yogurt and Siggi's plain whole milk yogurt.
whipped topping – to add a light, airy texture and some sweetness to this dip we're using whipped topping. I prefer Truwhip, but Cool Whip or So Delicious dairy-free CocoWhip will work just as well.
fruit – this is optional, but I love serving this dip with an array of fresh fruit like strawberries, blueberries, blackberries, grapes, pineapple, kiwi, cherries, etc. Choose your favorites to serve alongside this dreamy dip!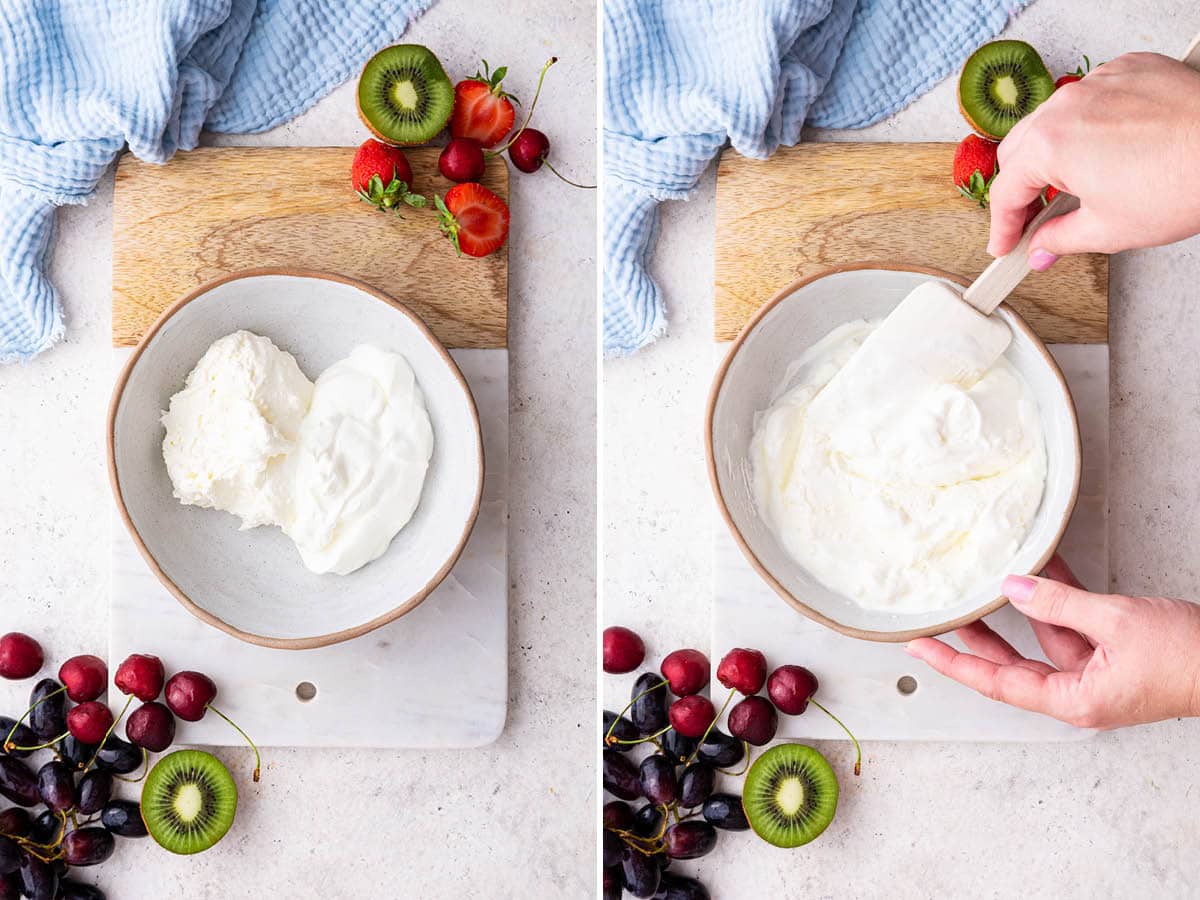 How to Make
This easy fruit dip recipe comes together in about 5 minutes!
Just add your yogurt and whipped topping to a small bowl and mix together until combined and creamy.
Arrange your favorite fruits (or whatever you're serving with this dip) on a plate around the dip and that's it!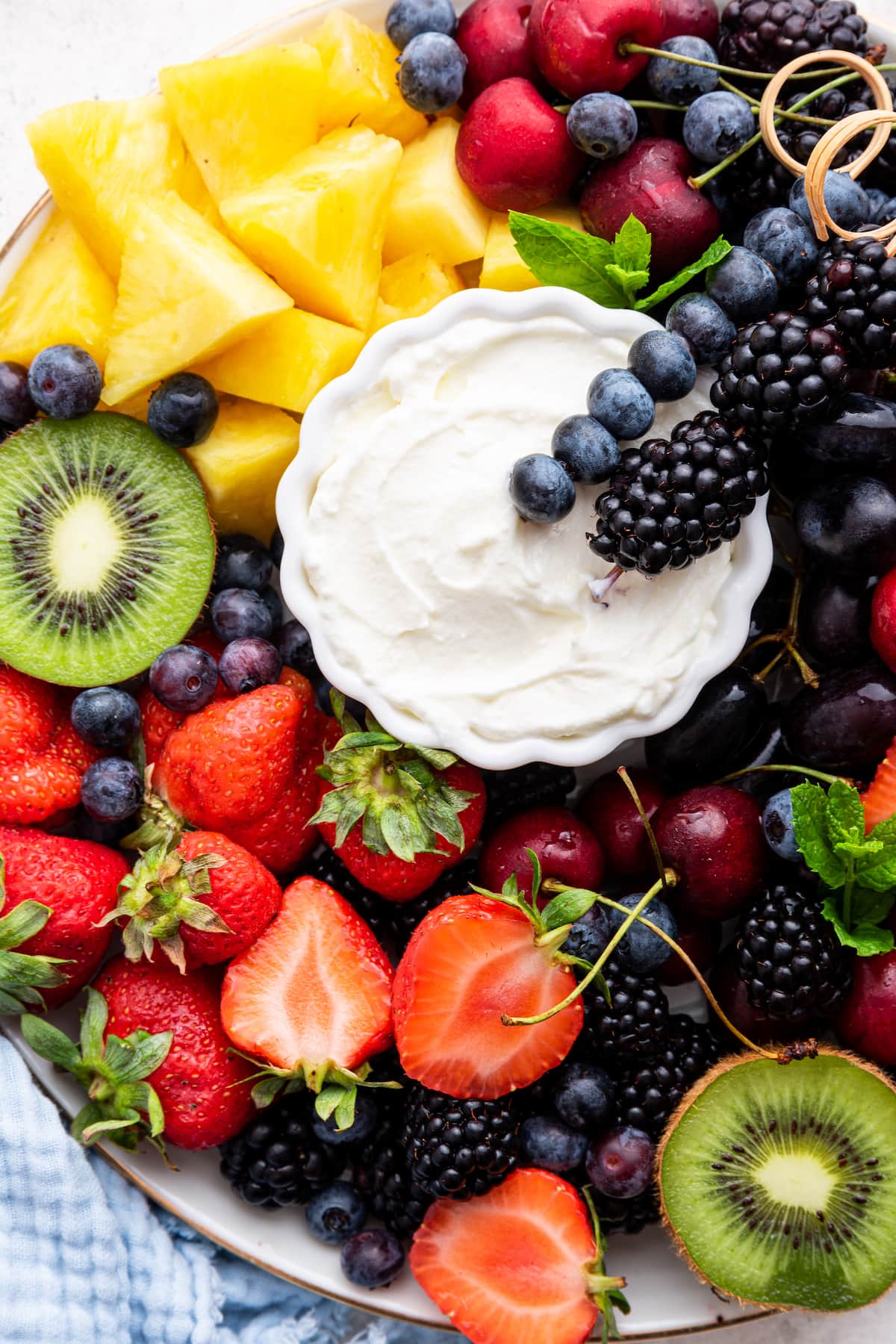 Customize Your Yogurt Fruit Dip
If you'd like to switch things up and make this yogurt fruit dip recipe your own feel free to customize it. Here are some ideas:
Honey or Maple Syrup – If you want to add a touch of natural sweetness to your dip, a drizzle of honey or maple syrup can do wonders.
Spices – You can also play around with spices. Cinnamon, nutmeg, or cardamom could bring a lovely warmth to the dip, perfect for the cooler months.
Citrus Zest – Add a pop of freshness with some lemon zest, lime, or orange zest. It will brighten up the dip and pair beautifully with any fruit.
Vanilla Extract – A dash of vanilla extract could help to enhance the flavors and make the dip even more satisfying.
Almond Butter or Peanut Butter – If you're feeling adventurous, why not add a spoonful of your favorite nut butter? It brings a lovely, nutty flavor to the dip that's hard to resist.
Chia Seeds or Flaxseeds – These are a great way to add a nutritional boost to your dip, providing a good source of fiber and omega-3 fatty acids.
Cacao Nibs or Dark Chocolate Shavings – If you're a chocolate lover, sprinkle some cacao nibs or dark chocolate shavings over the top of your dip for a delicious treat.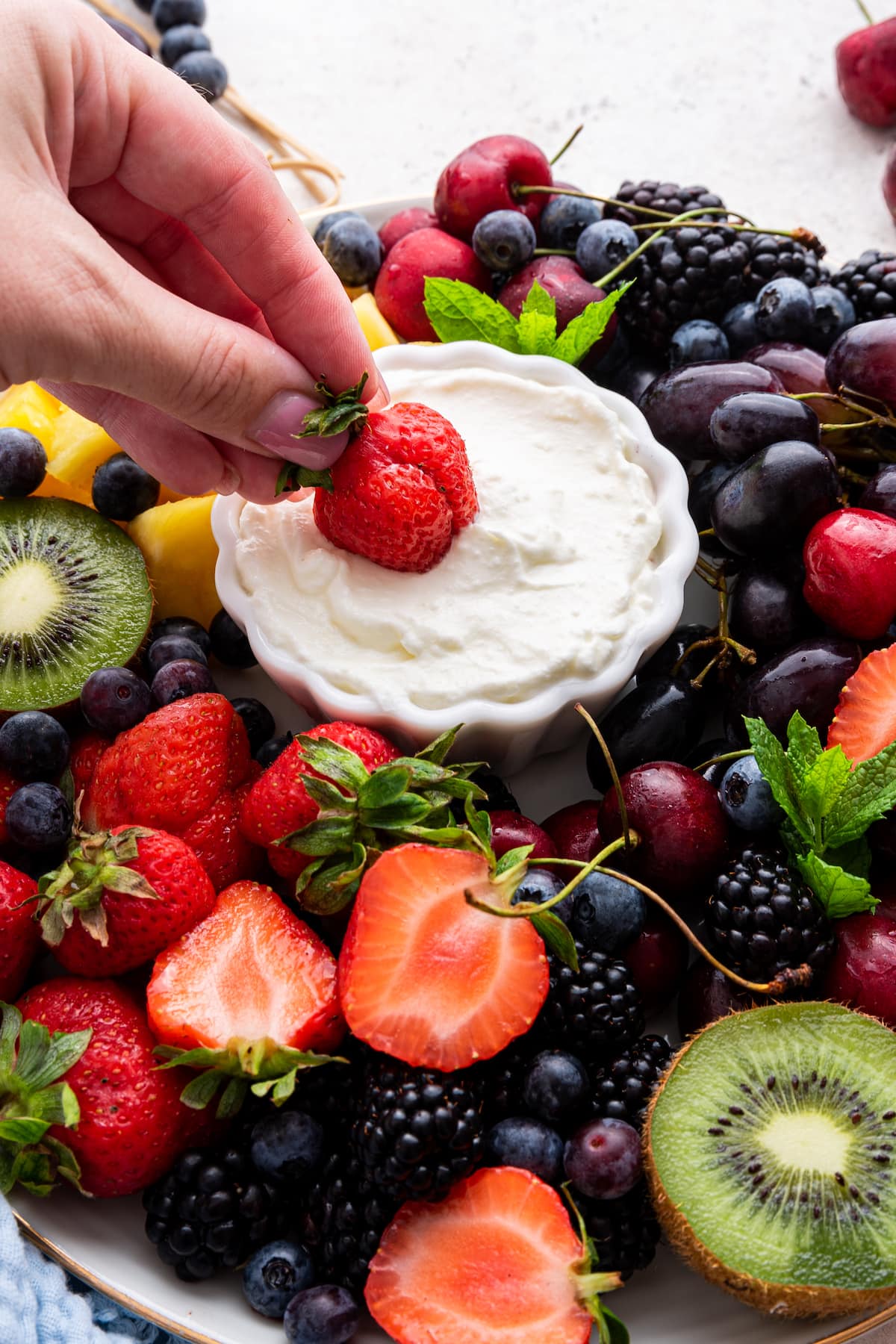 How to Serve
Let this easy greek yogurt fruit dip be the star of your breakfast table, or brighten up snack time with these serving ideas:
Fruit platter: Arrange an array of colorful fruits on a platter with a bowl of this dip in the center. Strawberries, blueberries, raspberries, apples, and grapes are classic options but consider tropical fruits like pineapple, mango, or kiwi for an exotic twist. Or try it with these viral watermelon fries!
Brunch spread: Try this yogurt dip as a creamy topping for pancakes, waffles, or French toast. It adds a lovely tang and a touch of sweetness without going overboard.
Toast topping: Spread a layer of this dip on your favorite toasted bread or bagel. Top with banana slices or a sprinkle of granola for added crunch.
Dessert: Pair this dip with scones, muffins, cookies, or spread on some graham crackers for a dessert or tea-time treat.
DIY Parfait: Layer this creamy dip with granola, fresh fruits, and a garnish of fresh mint in a glass to create a quick and delicious parfait. A fun and healthy snack or dessert!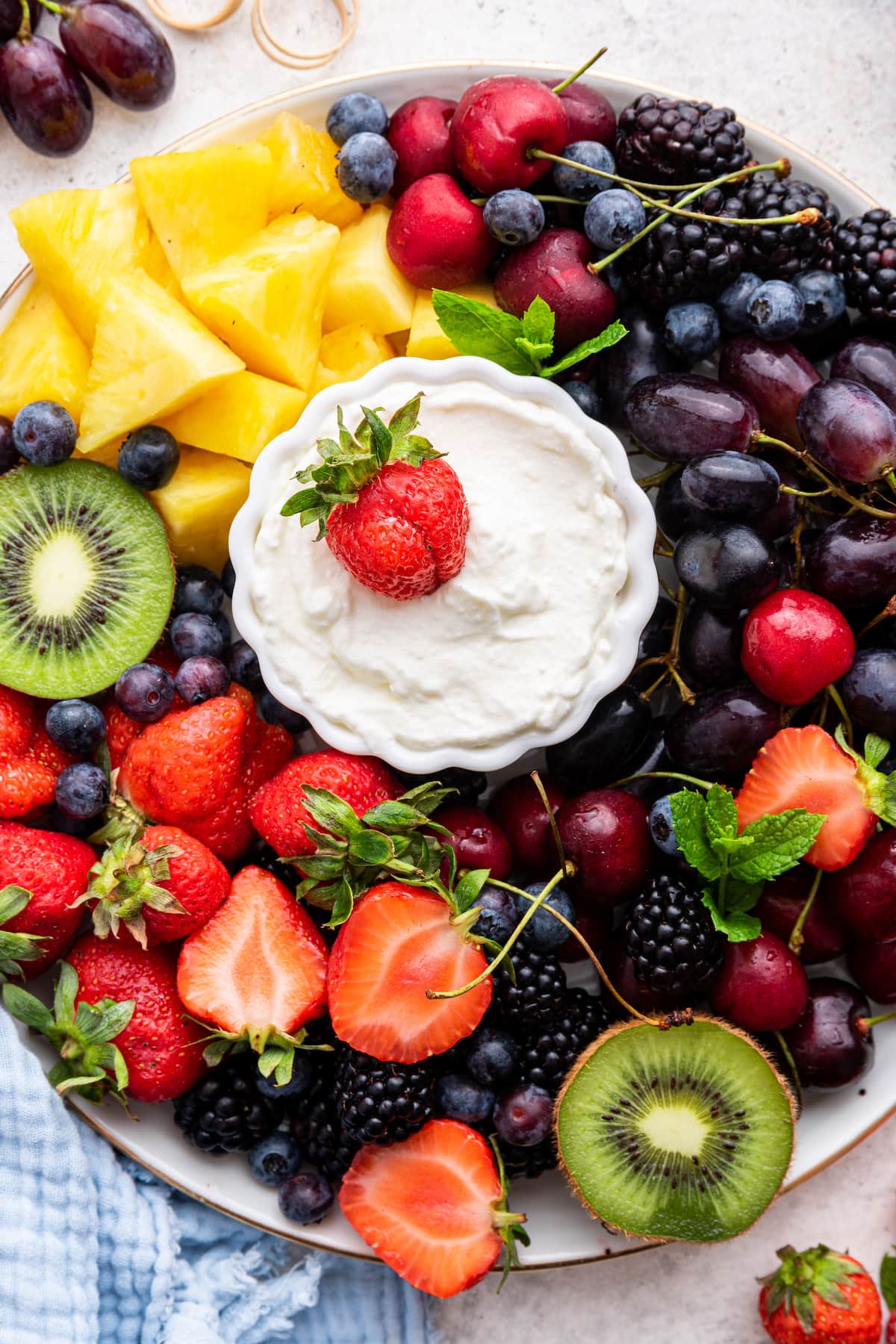 Yogurt Dip FAQs
Can I use low-fat or non-fat Greek yogurt?
Yes, you can! The dip will be a little less creamy, but it will still be delicious. If you're watching your calorie intake or prefer a lighter option, feel free to make this swap.
Can I substitute the whipped topping?
Yes. If you're not a fan of whipped toppings like Cool Whip or Coco Whip, you can replace it with an equal amount of extra Greek yogurt or you could substitute it with cream cheese.
What kind of fruit works best with this dip?
Almost any fruit pairs well with this dip! Strawberries, blueberries, and grapes are classic options but don't limit yourself. Try pineapple, apple slices, kiwi, or even exotic fruits like star fruit or dragon fruit.
Can I make this dip in advance?
Absolutely. This dip can be made a day in advance and stored in the fridge, making it a great choice for meal prep or parties.
How do I adjust the consistency?
If you find your dip is too thick, you can thin it out with a little milk or a splash of orange juice. If it's too thin, add more Greek yogurt or whipped topping until you reach your desired consistency.
Can I freeze this dip?
While you technically can freeze this dip, it may affect the texture and consistency once thawed. It's best to enjoy it fresh or refrigerated.
I'm vegan/dairy-free. Can I still enjoy this dip?
Of course! Just replace the Greek yogurt with a dairy-free yogurt alternative and use a vegan-friendly whipped topping like Coco Whip.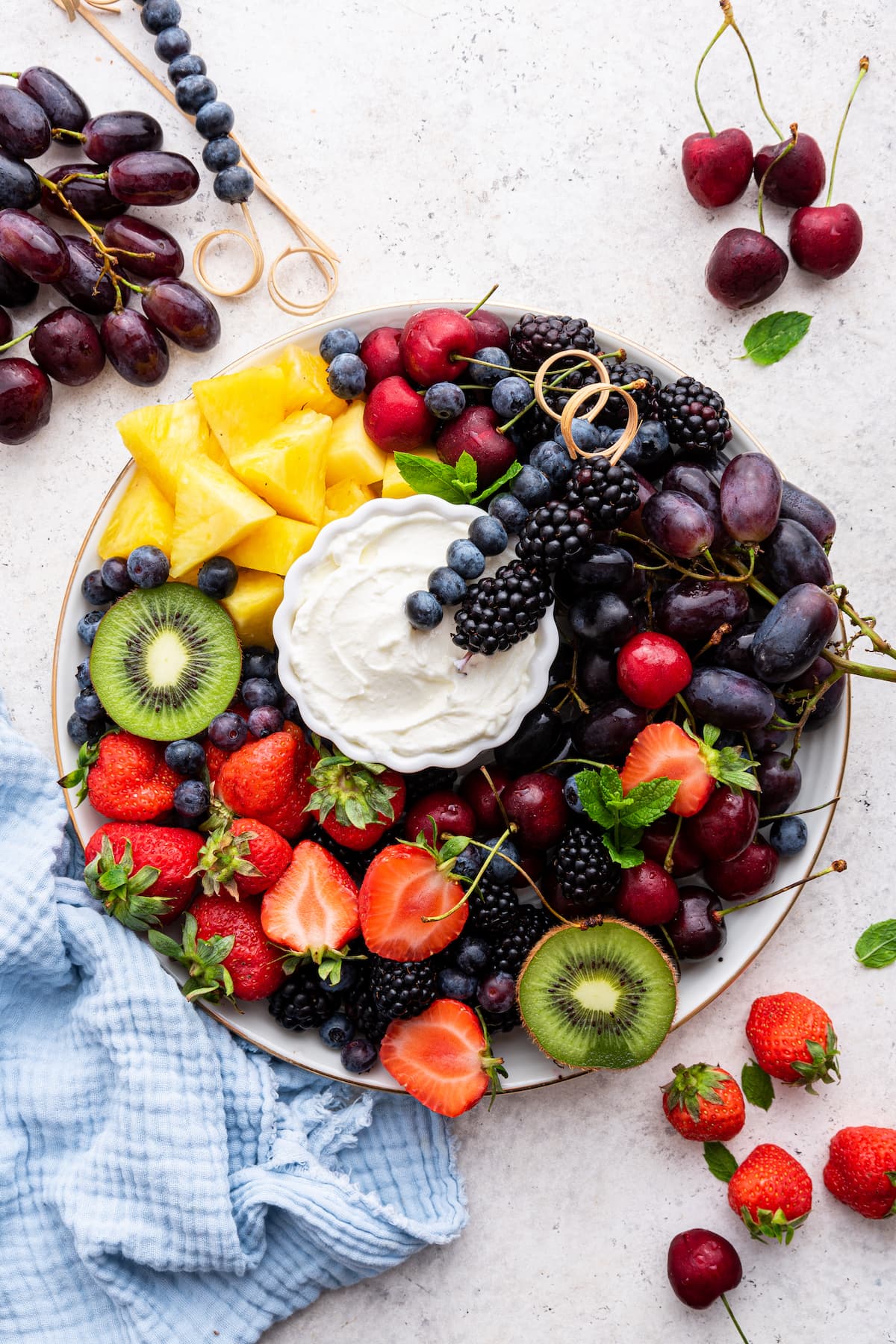 How to Store
Storing this yogurt fruit dip is straightforward and easy. Here's what you need to do:
Refrigerate: After you've prepared your dip, transfer it into an airtight container. The dip should stay fresh for up to 5 days in the refrigerator.
Freezing: Although you can freeze this dip, I wouldn't recommend it. Freezing and then thawing can alter the texture of the dip, making it less creamy and potentially watery.
Avoid Storing with Fruit: While this dip pairs wonderfully with a variety of fruits, it's best to store your fruit separately to prevent the dip from becoming too watery or the fruit from becoming soggy.
More Dip Recipes
Be sure to check out all of the dip and spread recipes on EBF!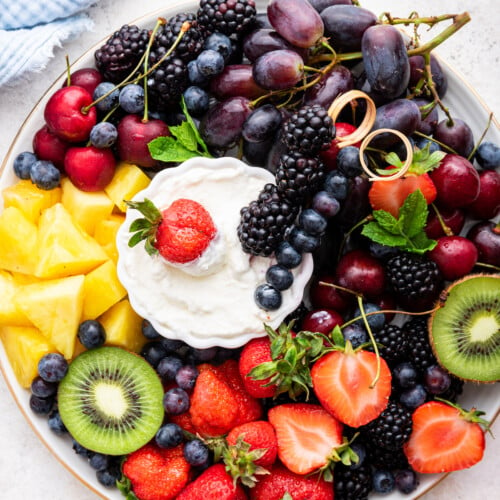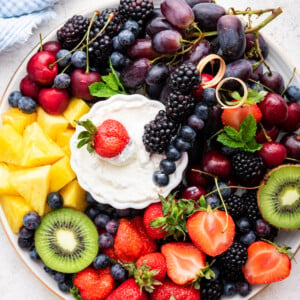 Yogurt Fruit Dip
This 2-ingredient yogurt fruit dip is creamy, perfectly sweet and comes together in just 5 minutes. Serve it with your favorite fruit for a healthy snack or dessert! 
Ingredients
1

cup

plain full-fat Greek yogurt

1

cup

whipped topping

,

I used Tru Whip, but you can use Cool Whip or Coco Whip

Fruit for serving

,

strawberries, blueberries, grapes, pineapple, etc
Instructions
Gently stir yogurt and whipped topping together in a mixing bowl.

Place in a serving bowl and arrange fruit all around for dipping.
Nutrition
Serving:
1
/6 (without fruit)
|
Calories:
76
kcal
|
Carbohydrates:
5
g
|
Protein:
3
g
|
Fat:
5
g
|
Saturated Fat:
4
g
|
Cholesterol:
7
mg
|
Sodium:
20
mg
|
Potassium:
58
mg
|
Sugar:
4
g
Nutrition information is automatically calculated, so should only be used as an approximation.