If you're local to Richmond you know there's always a ton of fun stuff happening around the city. And maybe it's just me, but I feel like there's been even more than usual lately!?! Anyhow, I wanted to share a few things I've done recently as well as a few things coming up that are on my radar (and might be of interest to you).
Yoga!! I've been slacking on my yoga practice and it's a shame because I always feel so good when I'm doing it regularly. Last weekend I decided to end to my yoga hiatus and attended a PYR Saturday Salutations outdoor class at the VMFA. It was pretty darn hot and sunny but it felt so good to be on my mat again — breathing deep and stretching. Om!
There was a huge crowd and the space was beautiful. Outdoor yoga is seriously the best.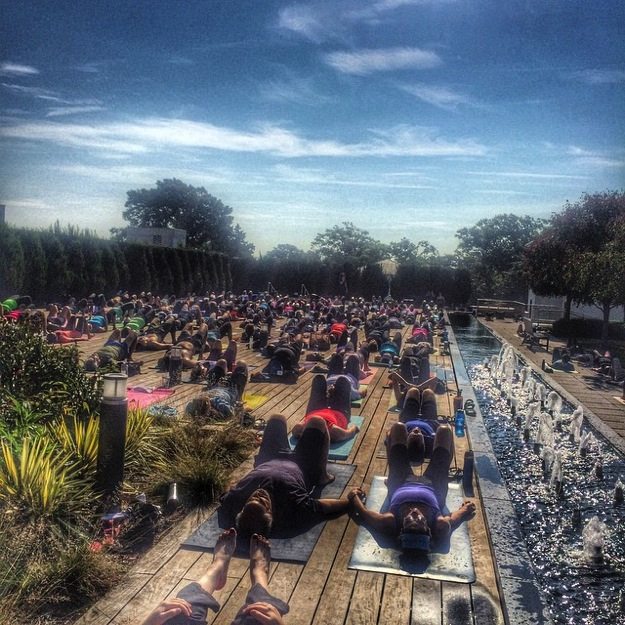 How cute is that couple holding hands? <3
There are two more Saturday VMFA classes happening this year — one on September 20 and one on October 4. I'm hoping to make it to at least one or possibly both.
Cooking class!! I was invited to take a complimentary cooking class at Southern Season, the new gourmet emporium (aka foodie heaven) here in RVA, so I signed up for the Girls' Night Out Global Tapas Class.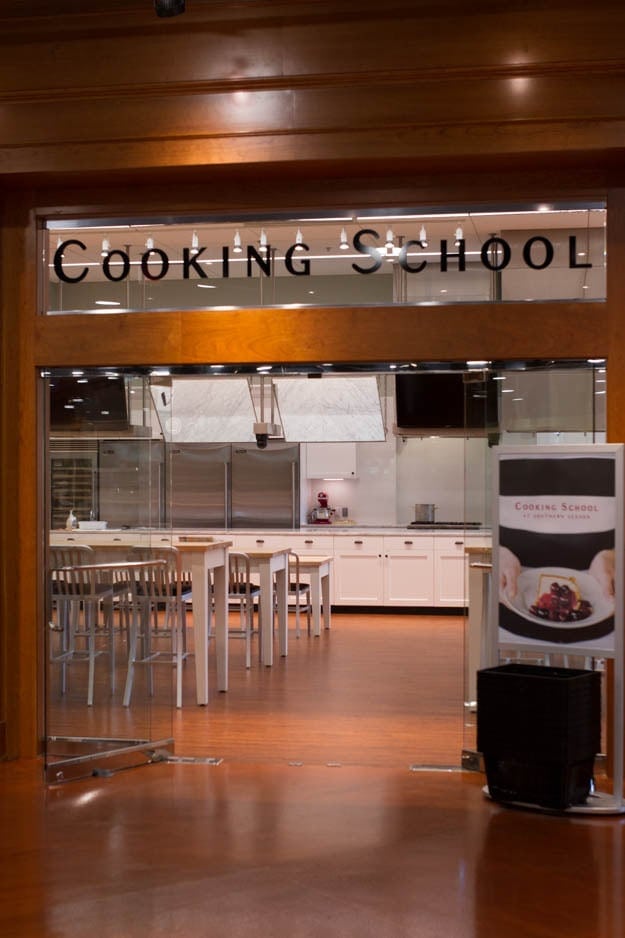 First thing first, I have to comment on the cooking school classroom itself. Holy moly — it's HUGE with beautiful white cabinets, a gorgeous marble counter that stretches the width of the room, mirrors and flat screen tvs so that you can see what the chefs are preparing, and white and wooden tables for participants to sit at.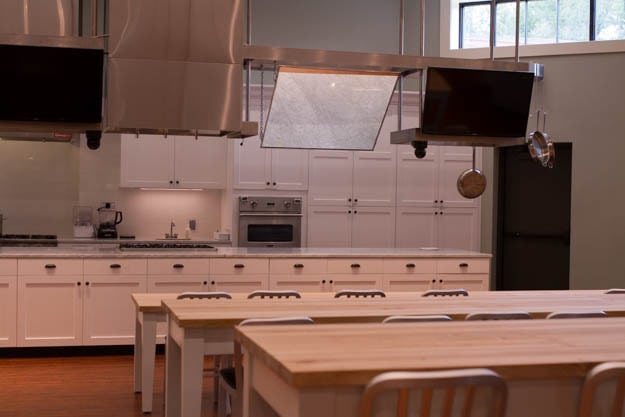 I basically want to live in this space or just do all my recipe development and blog photo shoots here. I'd also like the Southern Season staff and volunteers to be there with me daily because they know their stuff and it would be nice to have some helping hands in the kitchen. 😉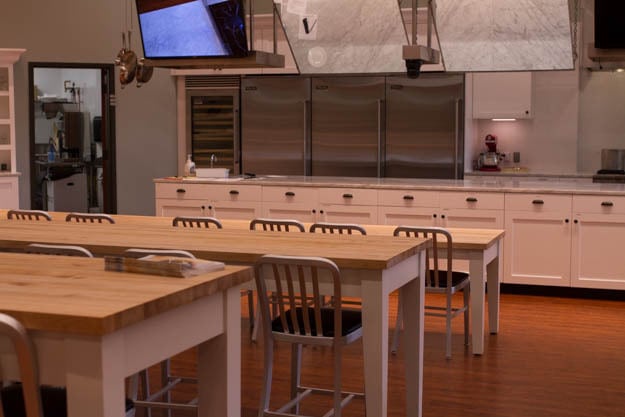 Speaking of helping hands, Alyssa was my cooking class partner in crime last night. She and I had a blast during the class — learning, cooking, eating and drinking wine!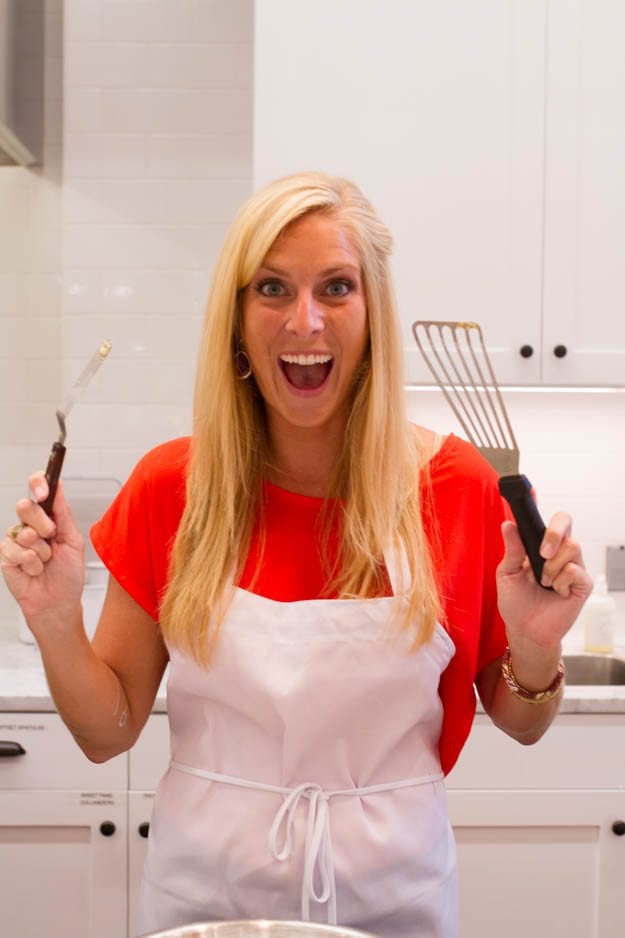 On the menu:
Pimentos con Queso
Gruyere Biscuits with Pimento Cheese and Prosciutto Style Country Ham
Zucchini Pancakes with Smoked Trout and Crème Fraîche
Fresh Spring Rolls
Nuoc Cham Dipping Sauce
Asian Chicken Lettuce Wraps with Peanut Sauce
Chocolate Pots de Creme
Wine: Villa Wolf Gewürztraminer
Everyone in the class got to choose a station to start at. Alyssa and I picked the zucchini pancakes and got to work mixing the batter and frying them up.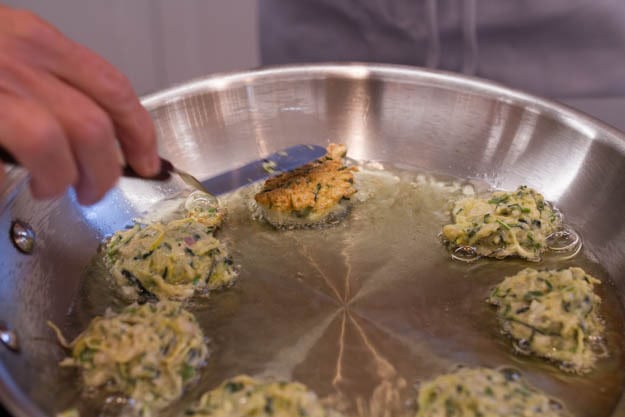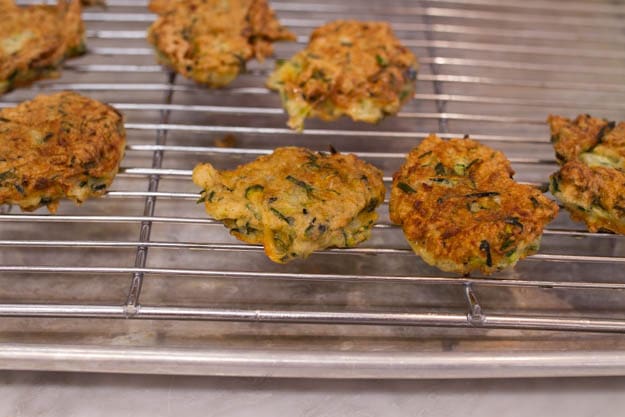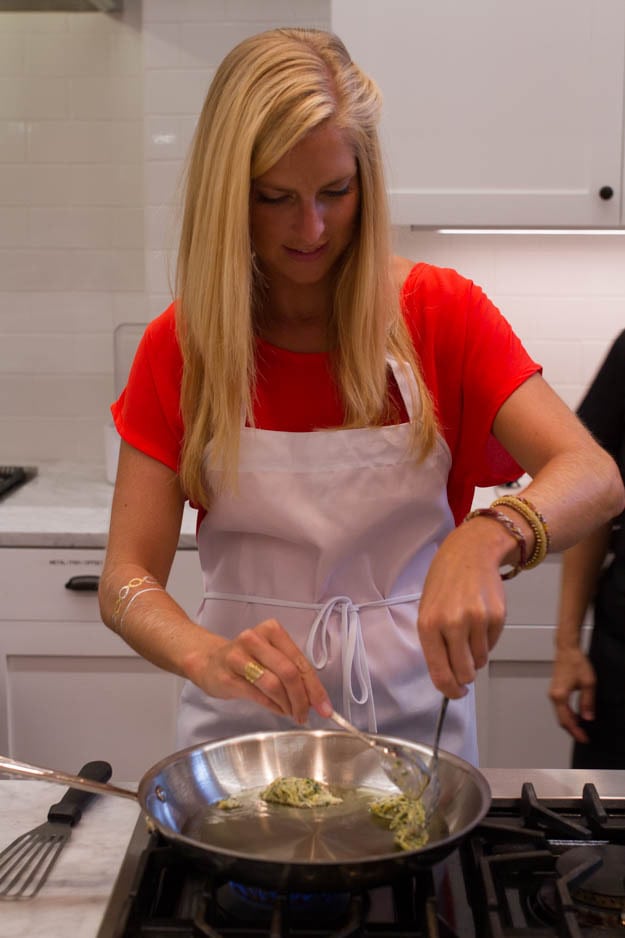 Golden and delicious! Apparently Alyssa is a pro at making zucchini pancakes. Who knew?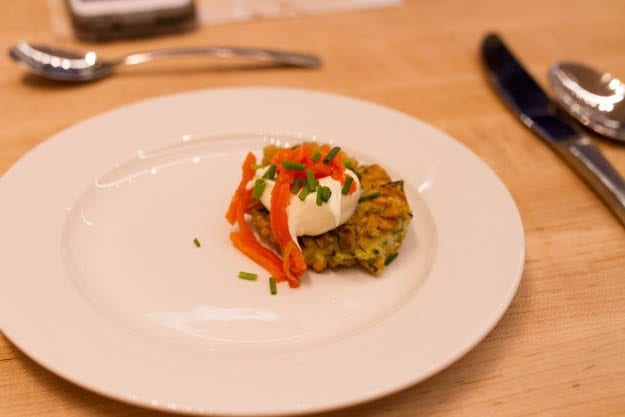 The pancakes were lovely topped with a little créme fraîche, smoked trout and chives.
While Alyssa was frying the pancakes, I was drinking wine snapping photos and eyeing the lucky group that got to make the Gruyère biscuits. They were using a tiny little biscuit cutter and the biscuits looked so cute.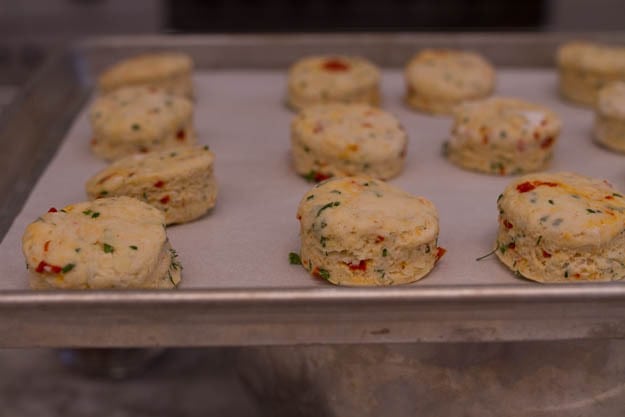 See how adorable they are?!?! I love all things mini and now I have it in my head that I need a mini biscuit cutter. Isaac is kind of obsessed with biscuits so really it makes sense. Time for me to come up with a healthy biscuit recipe!
Once the zucchini pancakes were ready we moved over to the spring roll making station and rolled up a few fresh rolls.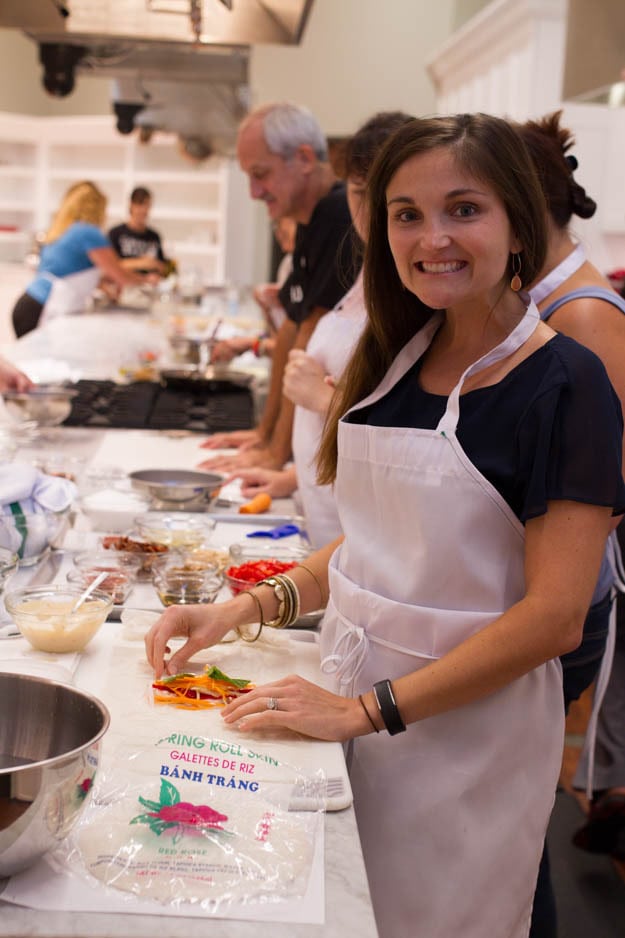 I was pumped to see these on the cooking class menu because they're my favorite Asian food ever. They're fun to make, healthy and you get to dip them in peanut sauce — what's not to like?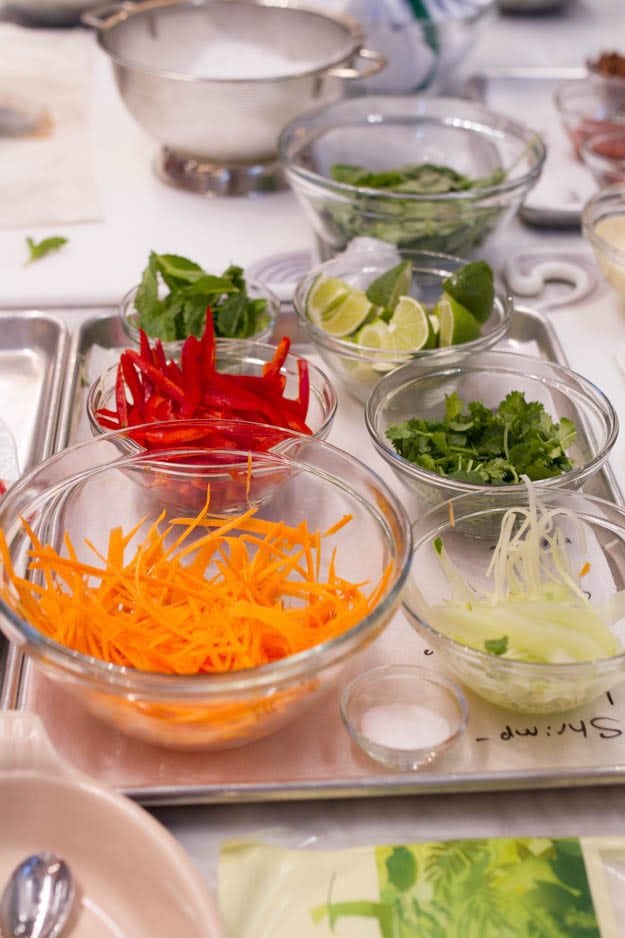 I'm not sure if it was the freshness of the ingredients or our spring roll wrapping skills, but the rolls turned out to be DELISH! Some of the best spring rolls I've had in quite a while.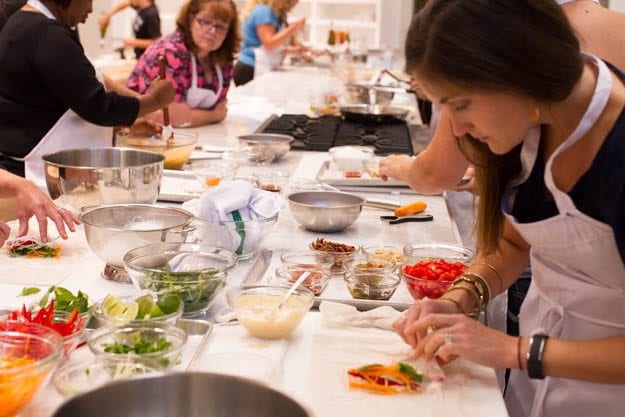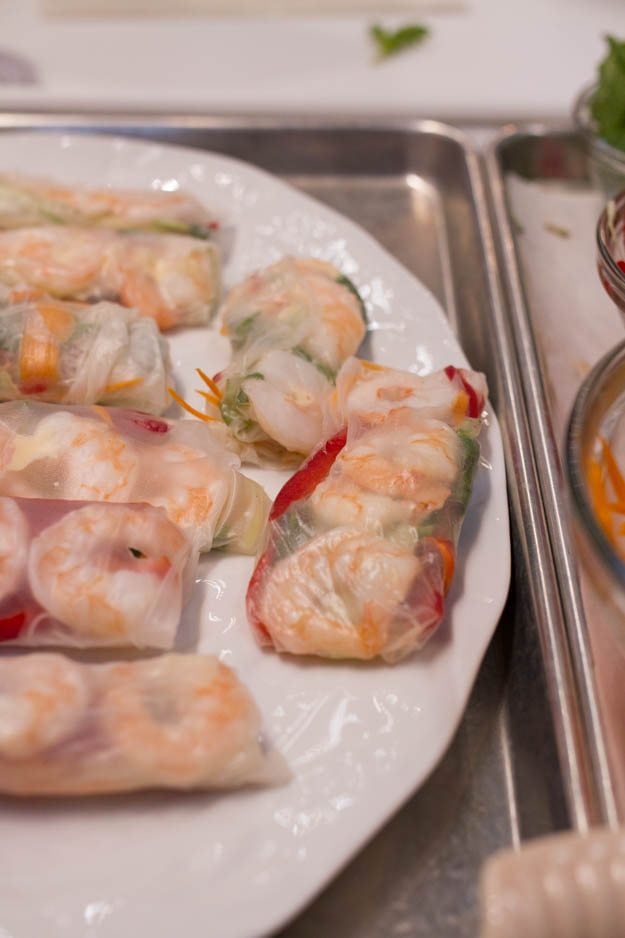 After the hands-on cooking portion we all sat down to sample the tapas, drink our wine and watch Chef Mary Lynn explain how to make the dessert, Chocolate Pots de Creme. <— Fancy French name for chocolate custard. 🙂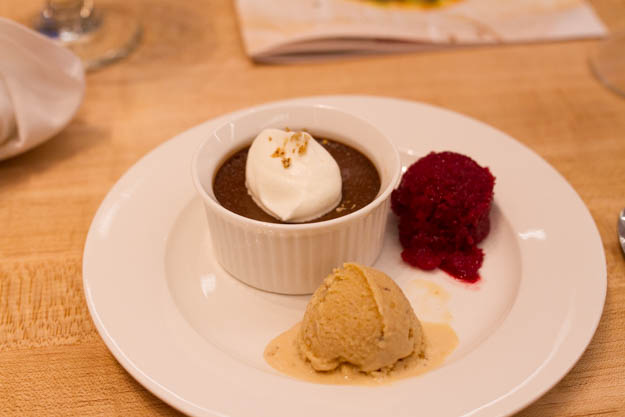 The final dish included the chocolate pots de creme topped with whipped cream, fleur de sel with Piment d'Espelette (chili) and a drizzle of orange olive oil. If that wasn't enough, Chef Rob also decided to give us a scoop of praline ice cream and red wine sorbet made by the former White House pastry chef, Roland Mesnier. The dessert was fantastic — the pots de creme was amazingly creamy, chocolatey and rich. I loved it with the fleur de sel and orange olive oil. And I'm not usually a sorbet lover but I really liked the wine sorbet paired with the chocolate. Oh man, I want another bite of this right now.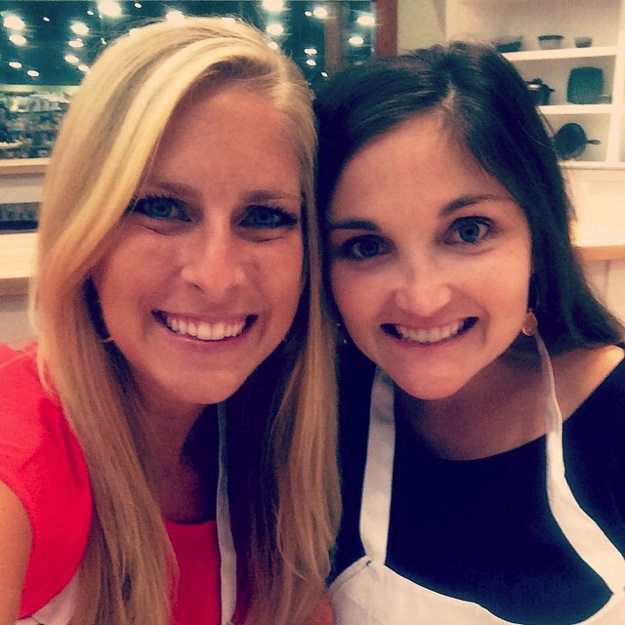 Overall we had a great time in the class. I picked up a few tips — like how to make homemade crème fraîche and how to keep pots de creme moist and cushioned in the oven with a damp towel. Alyssa and both wished we had gotten a few more samples and a bit more wine (about 1 full glass was included with the class), but other than that the class was really fun and I'll definitely be checking the schedule to attend another class sometime soon.
After class we explored the store, sampled a few cheeses, tasted some wines and we both ended up using the 10% off coupon that we got from the cooking class to buy a bottle of the Villa Wolf Gewürztraminer. It was really good and for only $12.99 a bottle, it might just be my new favorite white wine!
If you have a Southern Season near you (they have locations in Richmond, Chapel Hill, NC or Charleston, SC) definitely check out the upcoming events and cooking classes. It seems like they always have cool things going on. Speaking of which, Jessica of How Sweet Eats is coming to the Southern Season in Richmond (and Chapel Hill) as part of her Seriously Delish book tour next month! Jessica is a friend of mine, Seriously Delish is awesome and I highly recommend putting her book signing on your calendar. 🙂
Other RVA happenings:
If you're looking for something fun to do in Richmond this weekend, Isaac just told me about the Hop and Spoke Fest happening at Hardywood on Saturday. If you're into bikes and/or craft beer, I'm sure it's going to be a fun time.
Lululemon has been doing a Tap Run every Wednesday night at 5:30. I haven't been able to make it to the last few but I went to the first one at Hardywood and it was awesome — you get in a good run, meet new friends and get to drink local beer!! 🙂
Project Yoga Richmond is taking part in the Amazing Raise again this year by hosting a 36 hour yogathon from 6:00AM on September 17 – 6:00PM on September 18. PYR is an amazing organization — I love their classes, teachers and the outreach they do with the community! Definitely check them out (and attend the event) if you can!
Okay I think that's all I have on tap for now. I hope you all are having a great week. My laptop is officially in the shop but I'm borrowing a Macbook Air from gracious friends (thank you Andrew and Louise!) so hopefully I'll be able to pop in tomorrow with a Fit Friday post. Until then…