Morning friends!
Thanks for your feedback and thoughts on my last post. Based on your comments, I think I'll try to post my eats at least once a week and see how it goes. If you all like it and think that it's beneficial, I'll keep it up. It's all about what you all want and I'm totally serious about that.
So today I want to talk about one of my favorite things to keep me motivated to work out every day – cute workout gear!
Basically, there's a new fitness apparel company out there called pv. body that sends members top quality, workout clothes every month. I met the owner of the company at FitBloggin' this year and she kindly offered me the opportunity to try out their service. Print magazine subscription may be on the decline, but other types of subscription based services seem to be popping up all over the place – snacks, beer, wine, coffee, activities for kids, kids clothes, books… you name it, it's probably out there! So far I'm a big fan of the ones I've tried, including pv. body and Birchbox. I love receiving mail and each time a new box arrives, I get super excited – it's always a fun little treat to see what I got.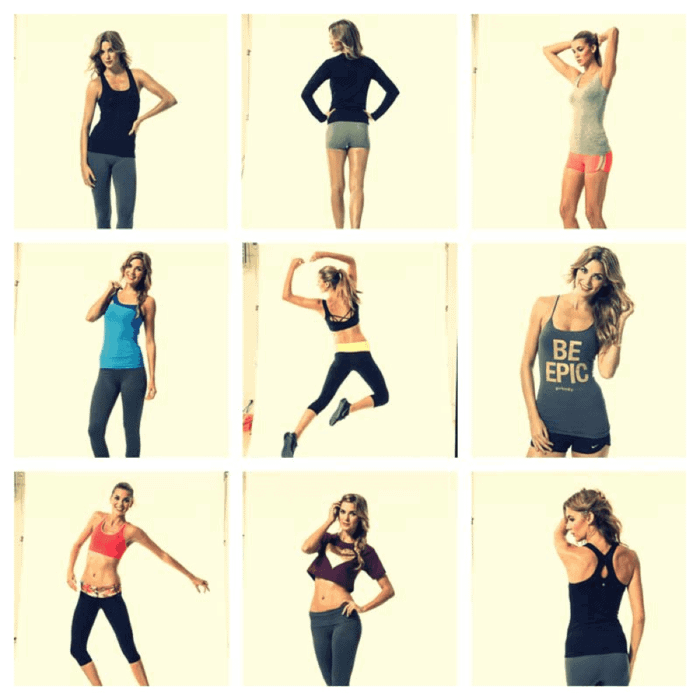 pv. body keeps things simple. Basically, you take a quick quiz (answering questions about your favorite types of workouts, your size, style, color palettes you like, etc.) and a personal pv. body style profile is created for you. The pv. body team puts together a personalized outfit for you each month and ships it to you.
I've received two boxes so far – one in November and one in December and everything I've received has high quality, brand-name gear that I like.
The first top and bottom were from the same brand, Nux – a bright pink cami and solid gray capris. They fit me well and are good quality, both of which are key things I look for in workout gear. I've worn both items several times and have found them to be super functional for working out and/or running errands. I actually even wore the cami as an undershirt to a party.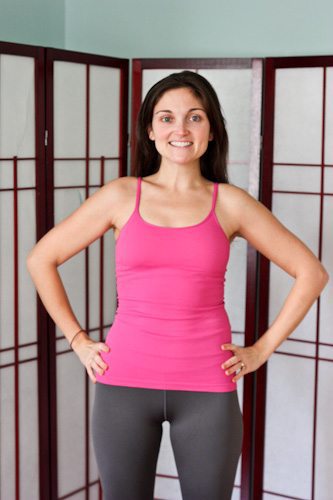 The best part = if I purchased both items from Nux, these items would have cost me over $100, but through pv. body, it's about half that price. I'm never one to turn down a good deal so this makes me very happy.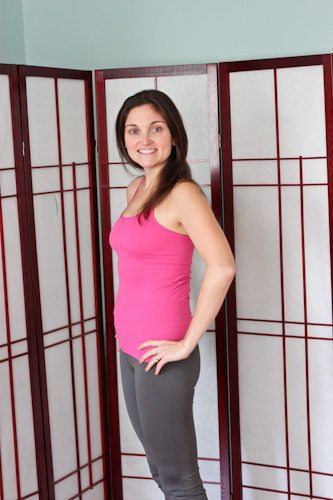 The gear is fitted but super flattering. Love that!
Luckily, I took these photos before my injury so I didn't have to wear my cute knee brace for the photos. 😉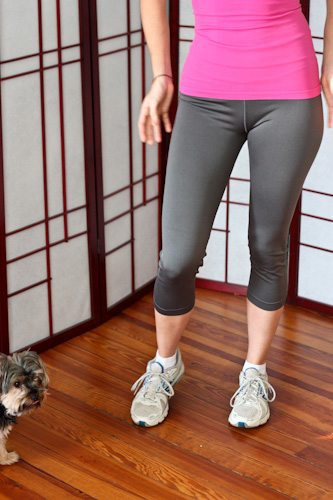 But don't worry, I've got your cuteness factor covered with the little stinker that snuck into this one.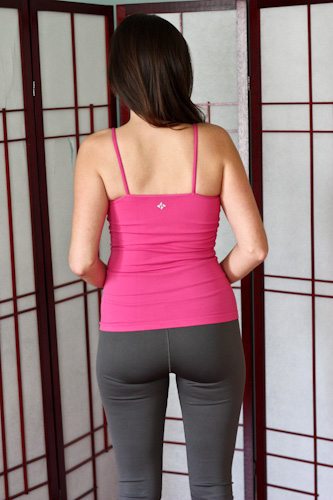 My December box had royal blue American Apparel bottoms and a coral Colosseum top. Again, both items were high quality and fit me well. Before I received my December box, I changed my style profile from dark solids to bright solids for bottoms, hence the reason I got these awesome blue leggings. I think they're super fun! I also love the detailed pattern on the coral top.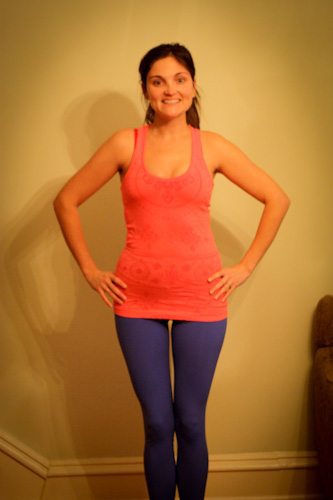 Sorry this picture isn't so great. It was early in the morning (still dark outside).
Thus far, I've been loving my pv. body membership. Now that work at home, I wear workout gear a lot and this subscription is a fun way to give myself options without having to spend a ton of money.
A couple other notes about pv. body:
Does new workout gear motivated you to work out? I know I've talked about it here before it motivates me a ton. Sometimes I even use it as a treat when I meet a specific workout goal. Once I finally am able to do a pull-up, I'm going to buy myself a full outfit from Lululemon. 🙂
Full disclosure: I was offered free product for this review and the link provided is an affiliate link. My opinions are my own and as always, I only accept product reviews for items I would actually spend my own money on.