In case you didn't know, the Super Bowl is tomorrow and the Steelers are playing the Packers. <– Now you can go and impress your significant other with this knowledge.
I was never a huge football fan until this year when I started a fantasy team and started peering at the TV from time to time to see how my players were doing. Overall, I'm still not very interested in it but eating snacks and drinking a few colds ones is always fun so I'm down for watching the Super Bowl with friends (even if I pay more attention to the commercials than the game). I got to thinking about what I wanted to make for game day and thought it would be nice to put together a post with a few ideas. Everyone loves guac and hummus and I've got two delicious variations on the normal recipes to share, along with some sweet treats to finish things off…
Healthy Guacamole
Author:
Eatingbirdfood.com
Ingredients
1 cup frozen peas, slightly thawed
1 medium avocado, peeled and pitted
2 tablespoons fresh lime juice
½ cup grape tomatoes, cut into ¼ -inch dice
½ cup red onion, cut into ⅛-inch dice
1 jalapeño, seeded and minced
3 tablespoons chopped fresh cilantro
1 clove minced fresh garlic
½ teaspoon sea salt
¼ teaspoon fresh ground black pepper
Instructions
In a blender or in the bowl of a food processor, process the peas until smooth.
In a medium bowl, mash the avocado with a fork or potato masher. Add the juice, tomato, onion, jalapeño, cilantro, garlic, salt, and black pepper. Add the peas and mix well.
If the guacamole won't be served immediately, press a piece of plastic wrap directly onto the surface to prevent browning.
Serve with an assortment of raw vegetables and tortilla chips.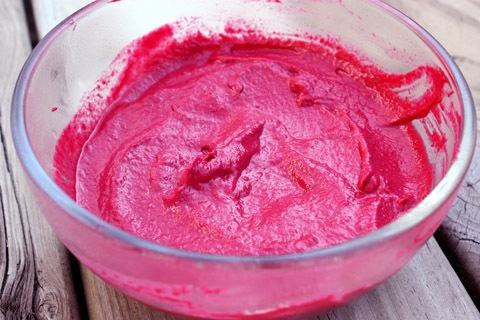 [print_this]
Kicked Up Beet Hummus
Adapted from Pure2Raw and Simply Recipes
Ingredients:
1/2 lb beets, approx. 10 small beets
1 lemon, approx. 2 T lemon juice and 1/2 T lemon zest
2 T apple cider vinegar
2 T tahini
1 T water
1 T cumin
1 big clove of garlic, minced
sea salt and ground pepper, to taste
Preparation:
Wash beets and cook in boiling water for about 30 minutes, or until they are tender enough to stick a fork through. Strain and run cold water over the beets, then remove the peels once they are cool enough to touch. You may need to chop beets into smaller chunks if you are using larger beets.
Place all ingredients into a blender (or food processor) and blend until smooth.
Pour into a serving dish and serve with pita chips, carrots, and cucumbers (or any other veggie/chip of your choice).
[/print_this]
And for those of you with a sweet tooth, why not make these:
Even if you don't plan to watch the game, I hope you have a fabulous Sunday and enjoy your weekend.
I'm off to work-out, shop for b-day presents, bake with some girlfriends and then go out to dinner to celebrate Isaac's b-day, coming up next Tuesday. It's going to be a busy day so I better hop to it!