Willow Breast Pump Review
Wondering if the Willow breast pump is for you? Here's an honest review with the pros and cons of the Willow pump from a mama who has been exclusively pumping for 3 months.
My breastfeeding experience has been totally different than what I imagined it to be because of Olivia's surgery and feeding issues. Before she was born I had lovely visions of nursing her while sitting in the glider in her nursery, but this has yet to happen. The reality is that I've been exclusively pumping for the last 3 months and throughout most of this time we haven't been able to use the milk because of her reflux and aspiration issues.
I've been able to donate some of the milk, but most of it is sitting in the freezer. Luckily our friends gave us a deep freezer, otherwise I don't know what we would have done with all the milk. There's legit nothing but breastmilk in the freezer and it's almost full! So crazy.
Luckily, this week we had a great appointment with Olivia's speech therapist and she said we can start giving her breastmilk instead of formula for some of the feeds and I can start nursing her a bit too. As all mamas know, breastfeeding isn't as easy as simply whipping out my boob and offering it up — especially now that Olivia is used to taking bottles.
At this point she's used to the ease of sucking from a bottle and she isn't quite sure what to do with my breast so she hasn't been able to properly latch. I ordered a nipple shield, which has helped a bit, and I'm planning to meet with a lactation consultant, so hopefully she'll be able to catch on soon and can start nursing more regularly. The whole process has been quite a journey and definitely hasn't been easy, but I'm glad I've stuck with pumping for this long because we're finally at the point where we can actually use the milk I'm pumping and I'm really excited for her to start nursing.
Exclusively Pumping
After being home from the hospital for a month and exclusively pumping for about two months I had accumulated three pumps, yet I was still feeling the need for a pump that would allow a bit more freedom. I wanted to be mobile and get stuff done around the house instead of being confined to the couch for 15 minutes every 3 hours. I researched and looked at bunch of options (everything from the Freemie cups, to the Elvie and Baby Buddha) for over a month and then ultimately decided to purchase the Willow pump.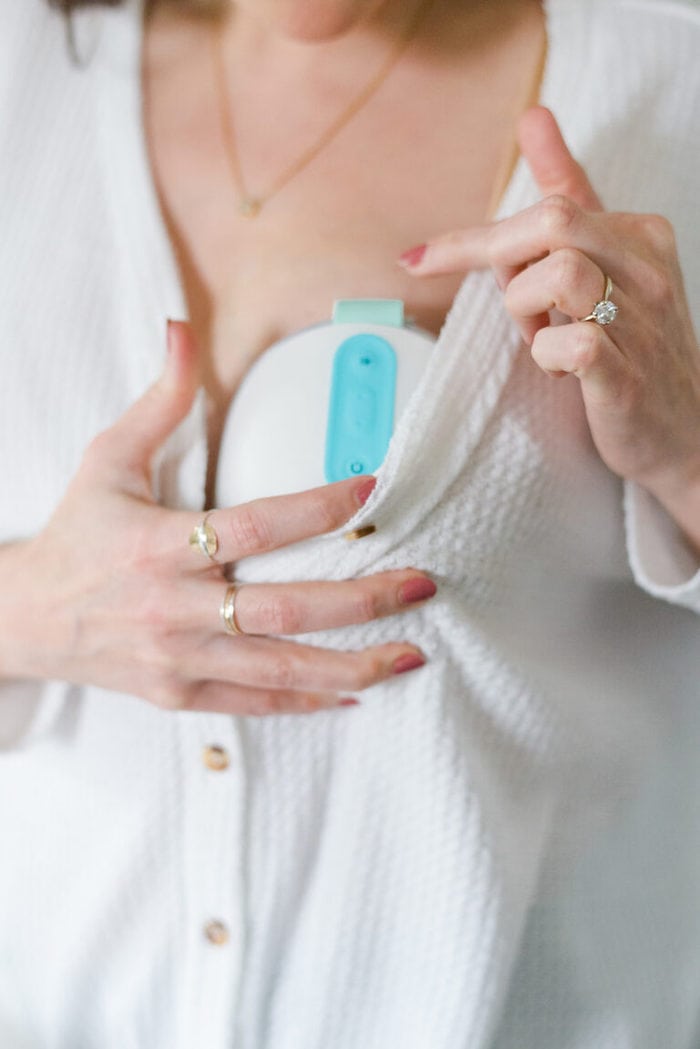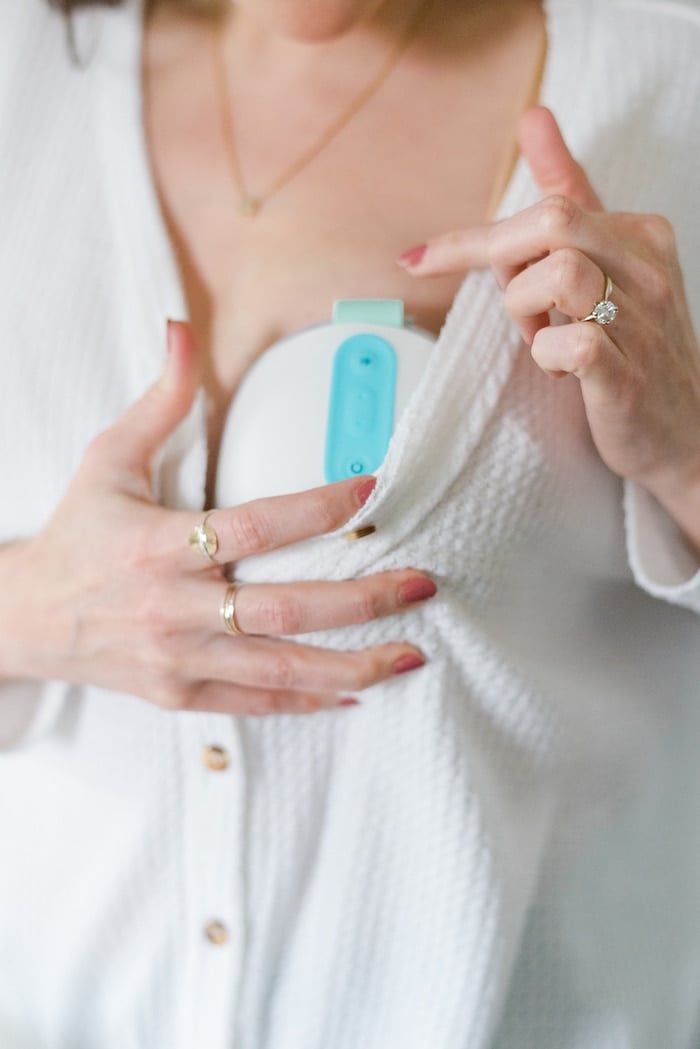 My Current Breast Pump Lineup
Medela Symphony – the hospital-grade pump that I was using throughout Olivia's hospital stay and ended up taking home. This pump is awesome and helped me establish my supply in the hospital when Olivia wasn't able to eat anything at all. Once Olivia was discharged from the hospital I decided to take this pump home and pay the rental fee because getting adapted to the new pump I had at home seemed too overwhelming. I knew exactly how to use this one, it's super efficient and we already had a ton of parts (like 5 sets!) so it made sense just to keep renting it from the hospital. I still have this one and use it in addition to the Willow.
Motif Luna – this is the pump I ordered through insurance before knowing about Olivia's heart condition. Because I like the Medela Symphony so much this one is still in the box.
Haakaa Manual Breast Pump – I put this manual pump on my registry after hearing so many mamas rave about it. I've used it a couple times just to see how it works and perhaps I'm not using it correctly but it didn't work very well for me and actually hurt my nipples. I know lots of ladies use it to catch milk off one boob while they're feeding on the other. I think I might find it more useful if Olivia was nursing, but at this point it hasn't been super useful for me.
Willow Pump – I purchased the Willow about a month ago as a gift to myself. If I was going to continue pumping I knew I needed more freedom. Even with using a hands-free pumping bra, I was feeling so confined using my traditional pump that has to be plugged into the wall.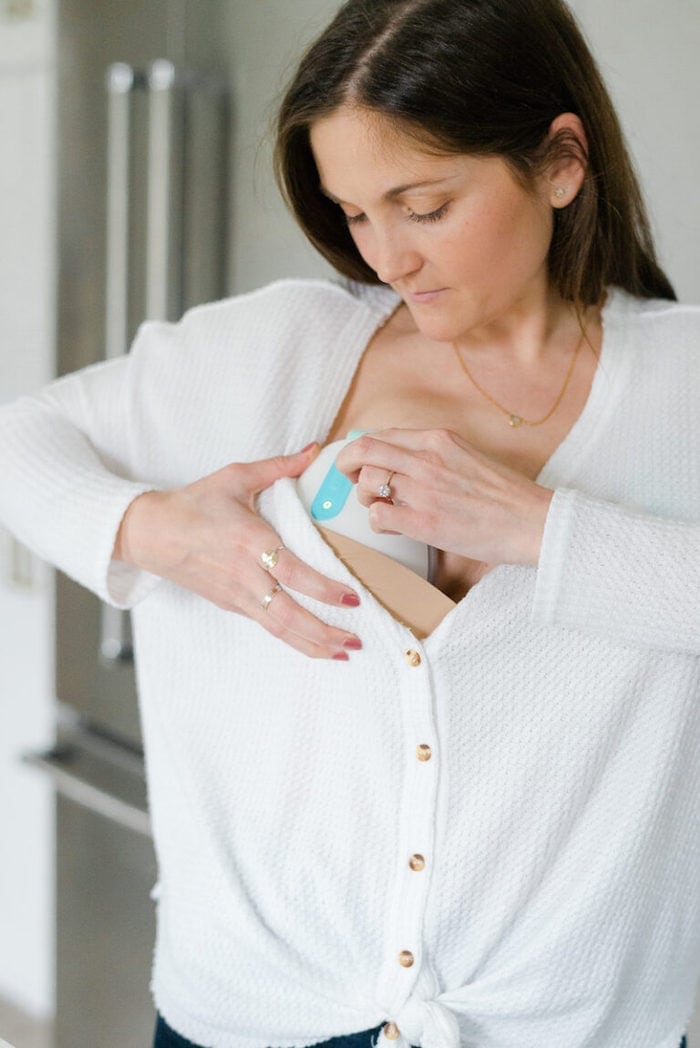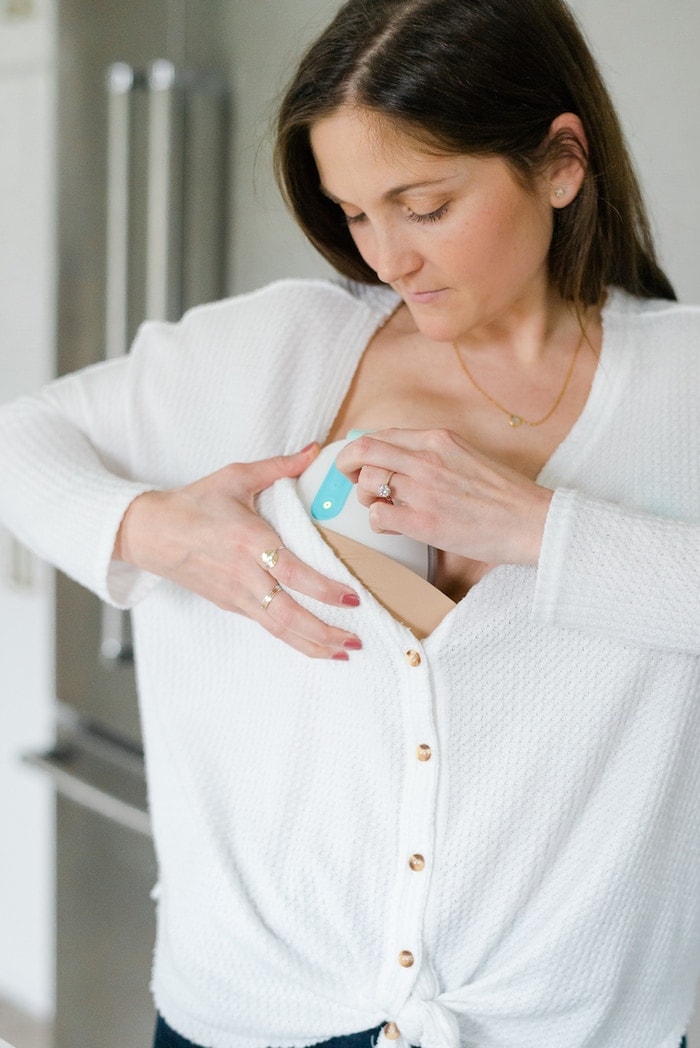 Willow Pump Review
Okay, so let's get down to business with my review of the Willow pump. I've used the Willow pump for about month now and so far I have really liked having it. It was a breath of fresh air after being tied to my traditional Medela pump for two months. It's been so amazing to be able to walk around, make dinner, do my makeup, fold laundry or even drive to a nail appointment while pumping.
Seriously, it's made me feel a little more human (less like a cow being milked) and I'm really happy with my decision to buy the pump. In my opinion there are a ton of pros to the Willow pump, but there are some cons too, and I don't think it's the best fit for everyone. Hopefully this review is helpful.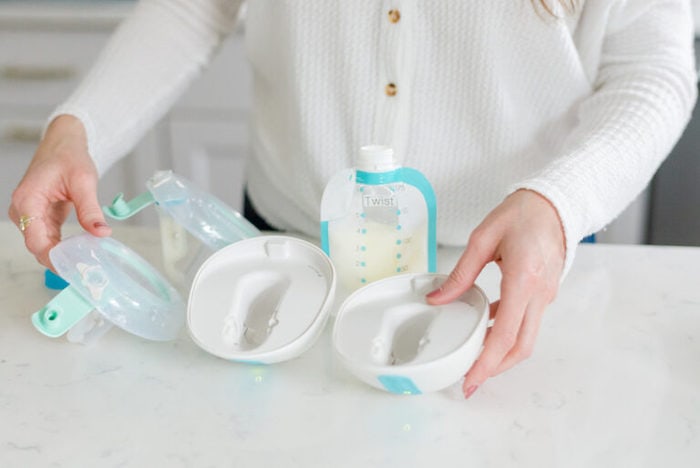 Willow Pump Pros
It's Hands-Free & Cord-Free
Obviously the big thing that makes the Willow so awesome is the fact that it's hands-free and cord-free. The pump(s) fit right into your bra and you don't have to stay in one spot while pumping. And when you use the bags, you can lay down (you could literally be sleeping) and bend over. (Side note: I mostly use the reusable containers. With this option there is an air vent which means you can't fully bend over or lay down. If you know you're going to need that flexibility, you'll want to use bags.)
Easy to Transport & Use
Traditional pumps are large, heavy and hard to transport. And most need to be plugged into a power source. This can be tricky if you need to pump on the go. The Willow is pretty lightweight and small compared to traditional pumps and it also comes with a little bag to carry the pumps in. I also like that I can wear a regular nursing bra with the Willow. With my traditional pump I have to be wearing a hands-free pumping bra or else I have to hold each flange in place.
For a couple months I wore nothing but my hands-free pumping bra. With the Willow, I can wear a regular nursing bra rather than a pumping specific bra. So far I've just been using the padded nursing bras I bought from Target, but Willow recommends using a full-coverage nursing bra that's stretchy and has a flap. This prevents air in the bag and keeps the Willow pump in place. I'm actually going to buy one to try soon to see if it's comfier. I'm looking at this one from Bravado! Designs or the Simply Sublime bra from Kindred Bravely.
Minimal Parts to Clean
Cleaning pump parts is worse than pumping in my opinion and most breast pumps have a TON of  tiny parts to clean. The Willow has 2 parts (4 total) to clean if you use the bags and 4 parts (8 total) to clean if you use the reusable containers.
Comes With an App
The Willow comes with an app to track each pump session. It shows you which mode the pump is in (stimulation or expression) and how much volume you're getting while pumping. This is nice because otherwise you can't really tell how much milk has been pumped, especially if you're using the bags. I also like having the app because you can see how many times you pumped throughout the day and how much milk you pumped total. That said, I've noticed that sometimes the app isn't always 100% correct. It hasn't caused any issues for me, but just something to note.
Reusable Containers
The first version of the Willow didn't have the option for reusable containers so you had to purchase the bags. The model I purchased, the Willow 2.0, works with reusable containers, but the reusable containers do have to be purchased separately. I personally like using the reusable cups more than the bags just because they're easier to assemble and set up than the plastic bags and I use the Kiinde bags for storage. That said, the Willow bags are good when you're on the go or want to make sure your pump session is 100% leak-proof.
It's Pretty Quiet
Traditional pumps are loud and not very discrete. The Willow pump does make noise, but it's certainly quieter than a traditional pump. You could totally pump while on a phone call without the person on the other line noticing that you were pumping or you could pump in a public place (like a coffee shop or nail salon) without other patrons hearing it unless they were super close and listening carefully.
Willow Pump Cons
Price $$$
The Willow pump is expensive! The pump itself is $499.99 and if you want the reusable containers, you have to buy those separately which is another $49.99. The pump comes with 24 milk storage bags, but if you want to keep using those you'll need to buy more. They're $23.99 for 48 bags. 48 bags will last you 24 pump sessions because you need 2 for each session. If you're exclusively pumping and pump 6 times a day, one pack of bags will last about 4 days if you're only pumping 4oz from each breast. If you are pumping more than that, you'll use more than one bag per pump session and use them even faster. Definitely not a cheap way to pump/store breastmilk.
The Willow doesn't seem to be fully covered by insurance right now. With the Affordable Care Act all mamas are entitled to a free breast pump, but the type and cost of the pump depends on your coverage. I had already gotten my free breast pump so I didn't check to see if my insurance would cover it, but it doesn't seem to be covered by most insurance companies. Apparently you can pay for it through your FSA or HSA, but I didn't look into that option because we don't have one.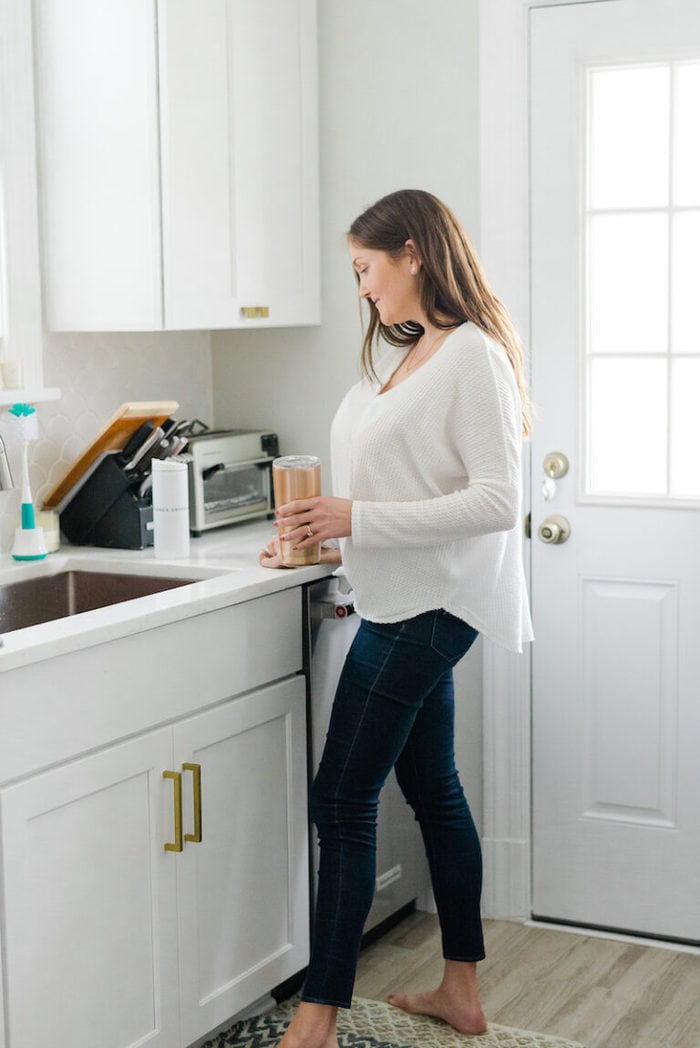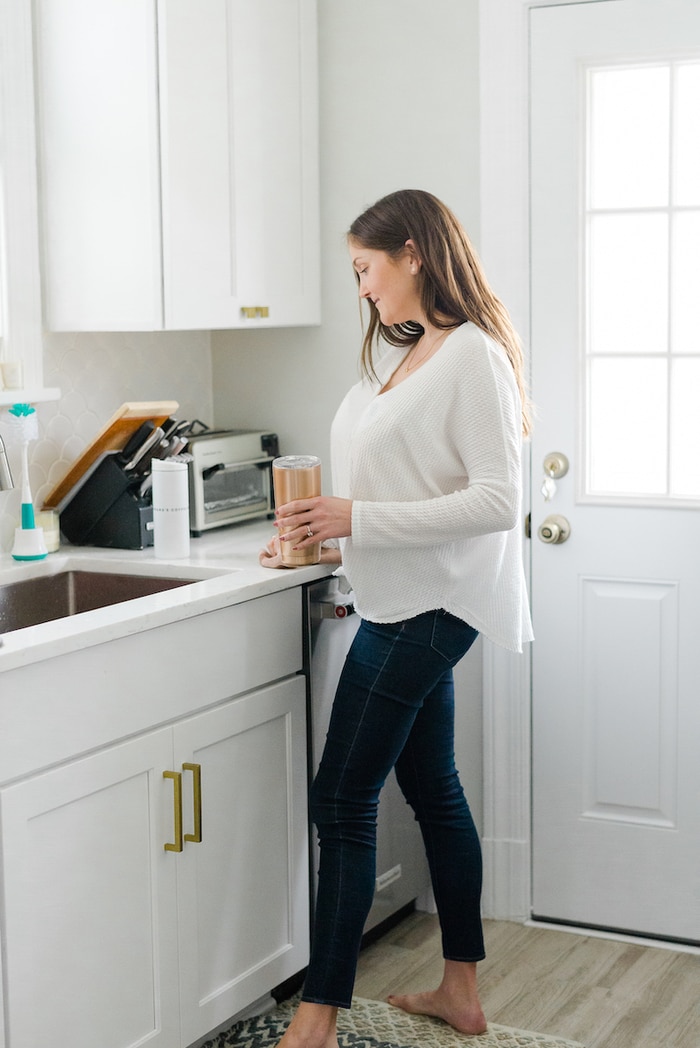 Large and in Charge
I knew the Willow pumps were going to be pretty big, but when they arrived it surprised me at how large they actually are. I put them on and immediately felt like Dolly Parton. At this point I've gotten used to them and they don't feel SO big. I've worn them out in public (to the nail salon) and I don't think anyone noticed… until I took them out. I wore my favorite thermal shirt which hides them well. Of course, friends and family can tell when I have them on, but strangers who don't know how big my boobs are normally probably wouldn't realize I was pumping. That said, I don't know how I would feel wearing them around co-workers if I worked in an office. I'm honestly not very modest (especially now that I'm a mom) so I would probably do it, but I'm sure it would feel weird for some women.
The other thing that is kind of a bummer is that they're almost too large to hold Olivia. I CAN hold her while wearing them if I really have to, but it's not that comfortable because they're so big and she has to be in an awkward position.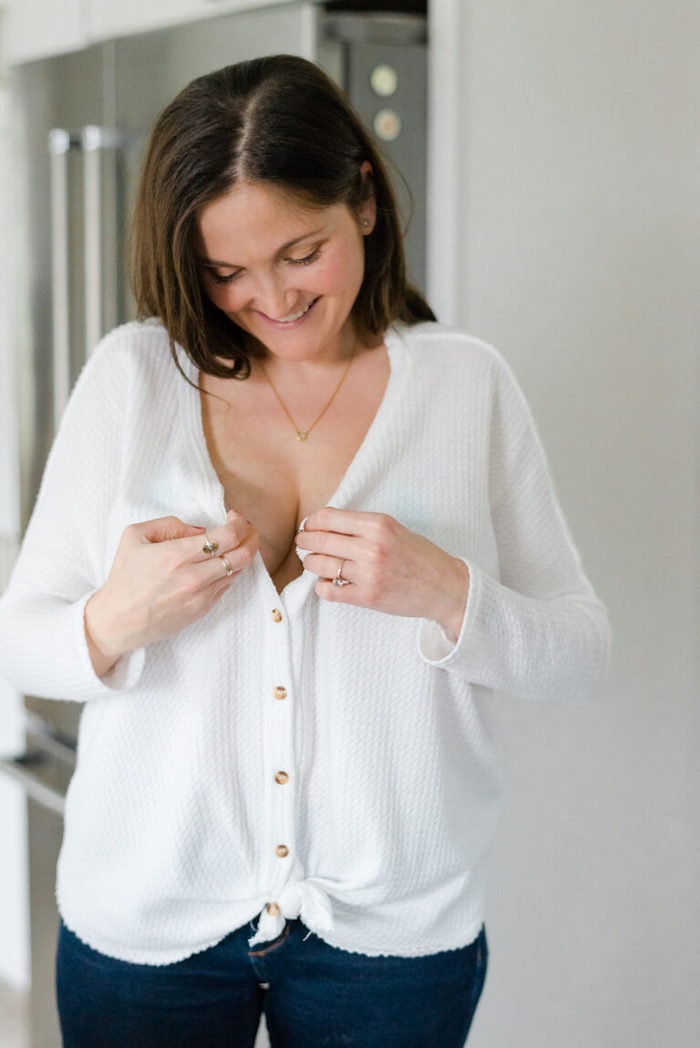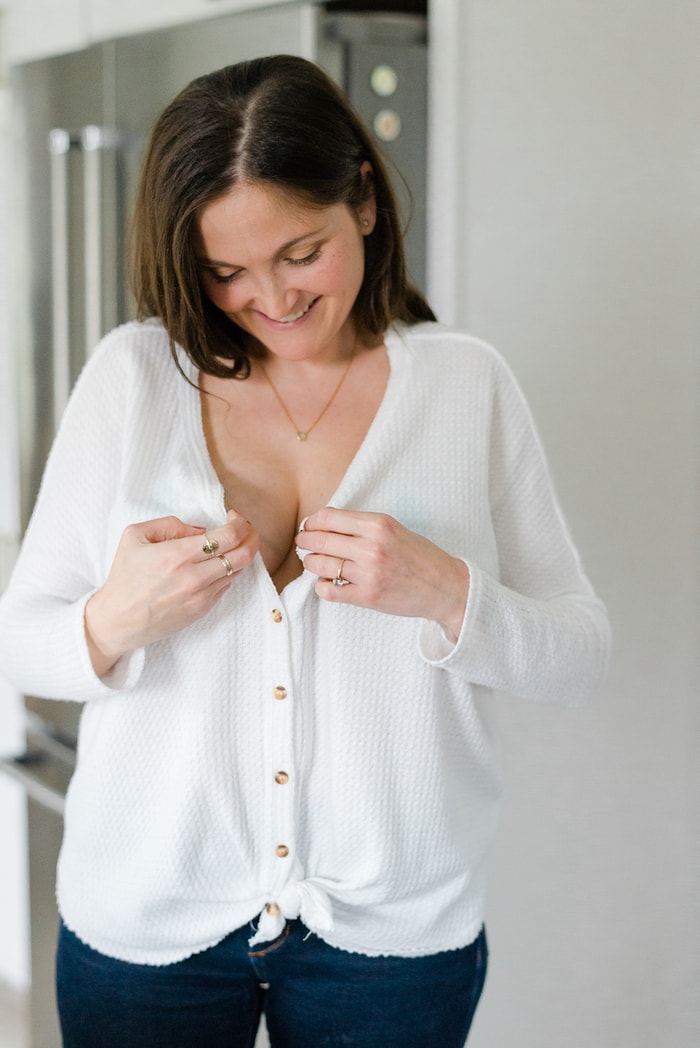 Not Totally Discrete
This kind of goes along with the size of the pumps, but they're not 100% discrete. You have to put them on and off your boobs. There's no getting around this. If you have a cover or you're wearing a large flowy top you can do this in front of people, but you're still fiddling around under your shirt to get them on and off. And they still make noise. The Willow is quieter than traditional pumps, but there's still some sound.
Not Quite as Efficient
Compared to my hospital grade Medela Symphony, the Willow pump isn't as efficient. With the Medela I pump for 15 minutes and get about 3 ounces from each breast in that time. With the Willow I usually have to pump 25 minutes or more to get that same amount. Granted, it doesn't feel as long, because I'm able to be up and about doing things!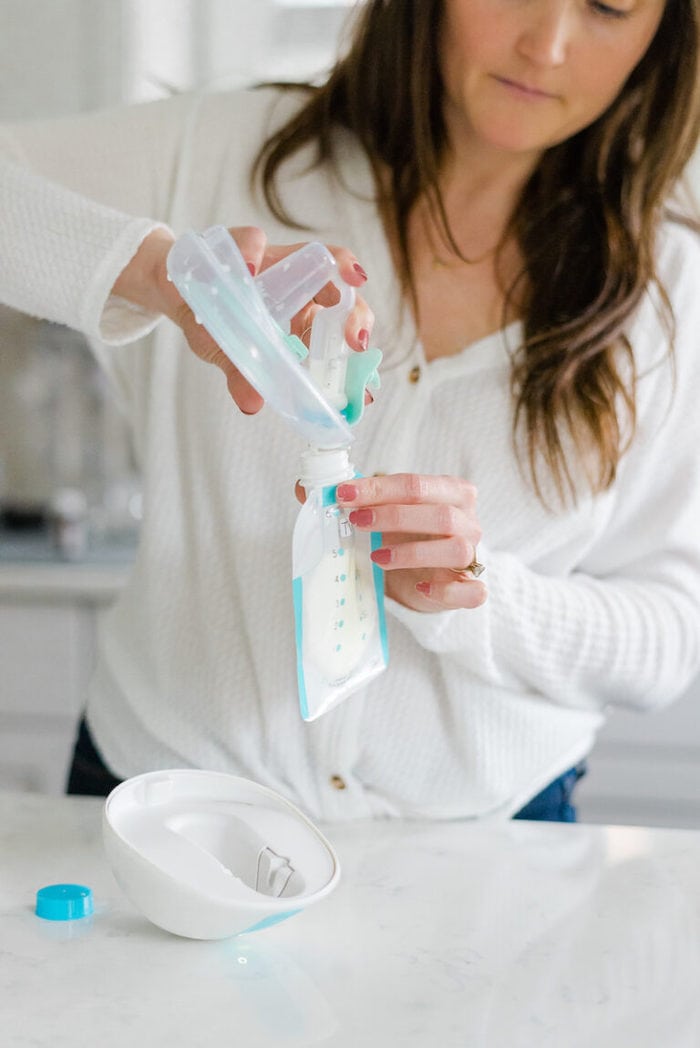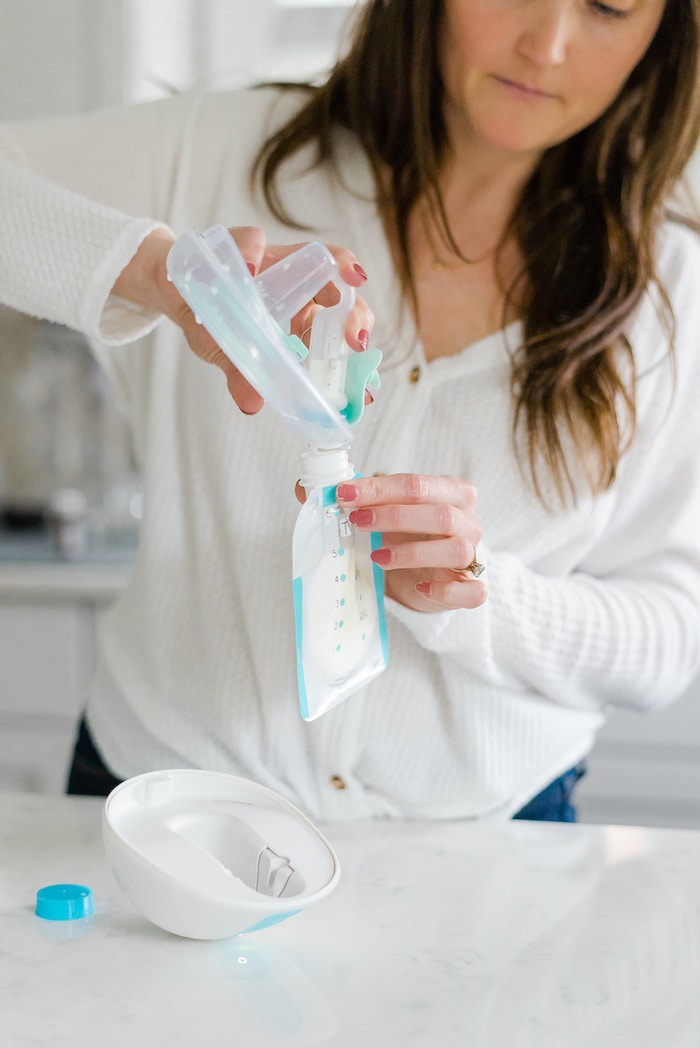 Losing Milk
When I was first getting used to using the pump, I ended up spilling quite a bit of milk. I have a freezer full of milk so I wasn't super bummed about it, but I know plenty of women who have cried over spilled breast milk. If you're in a situation where every last drop of breastmilk counts, you'll need to be very careful with the Willow because when you're learning how to use it there will likely be some spillage. And even now that I'm a pro at using it, a tiny bit of milk always seems to be left in the flange. It's less than a teaspoon so it's not a big deal, but it kind of annoys me still because it drips on the counter when I'm emptying the reusable container and I have to clean it up each time.
Painful Pumping
In general, pumping can be hard on your nipples, especially if you aren't using the right size flange or if your nipple isn't aligned properly. With the Willow it can be hard to tell if your nipples are aligned properly because of the design so until you get the hang of it, pumping with the Willow might not be as comfortable as it should be. In the beginning I had a couple sessions where one of my nipples wasn't aligned, but overall I don't feel that pumping with the Willow is more painful than pumping with my traditional pump.
I Wouldn't Want it as My Only Pump
That said, at this point I wouldn't want the Willow pump as my only breast pump. I like having my traditional pump to use when I want to pump for a short amount of time (15 minutes) and I don't mind sitting on the couch. My traditional pump feels more efficient and at times it feels easier. I don't have to worry whether or not my nipples are lined up properly or how much volume I'm getting because I can look down and see all of these things with the Medela flanges.
Is the Willow Pump Worth the Money?
My answer? It depends… I think that's a cop out, but I think it really does depend on your situation. Overall, I'm happy I purchased the Willow pump and feel it's worth the money to me. It has given me freedom to pump on the go and feel more productive while pumping. I can see it being useful for moms like me who want or need the flexibility of a hands-free, cord-free pump. And I can see it being a great option for working mamas who can't take pumping breaks or moms who need to be up and about tending to other kiddos.
That said, I'm hopeful that innovation in the breast pump space will continue to evolve and that the price of this style of pump will go down so it can be accessible to more women.
I hope this review is helpful! Let me know in the comment section if you've tried the Willow pump or another cord-free pump like the Elvie and what your thoughts are! Hopefully we can get a good convo going about breast pumps.
Photos by the lovely Michelle Chu Photography.