WIAW: Health Coach Eats
19
Published Apr 01, 2015, Updated Jul 07, 2021
I woke up this morning reflecting on the new goals I put in place for myself last month. I haven't been able to follow them perfectly, but that's to be expected. Overall, I'm just happy to be making strides in the right right direction. Doing more meal planning and keeping track of my meals has been a big help so I figured I'd jump on board the What I Ate Wednesday train again this week and share my eats from yesterday. I was less prepared so a few snacks went straight into my mouth without a photo, but I got all the big stuff for ya. 🙂
We woke up and were out of coffee (the horror) so Isaac and I made a quick run to Lamplighter for a fresh bag of beans. I treated myself to an almond milk café au lait. An au lait is just regular coffee with steamed milk. It's my go-to order but I'll occasionally spring for a latte if I'm in the mood for espresso.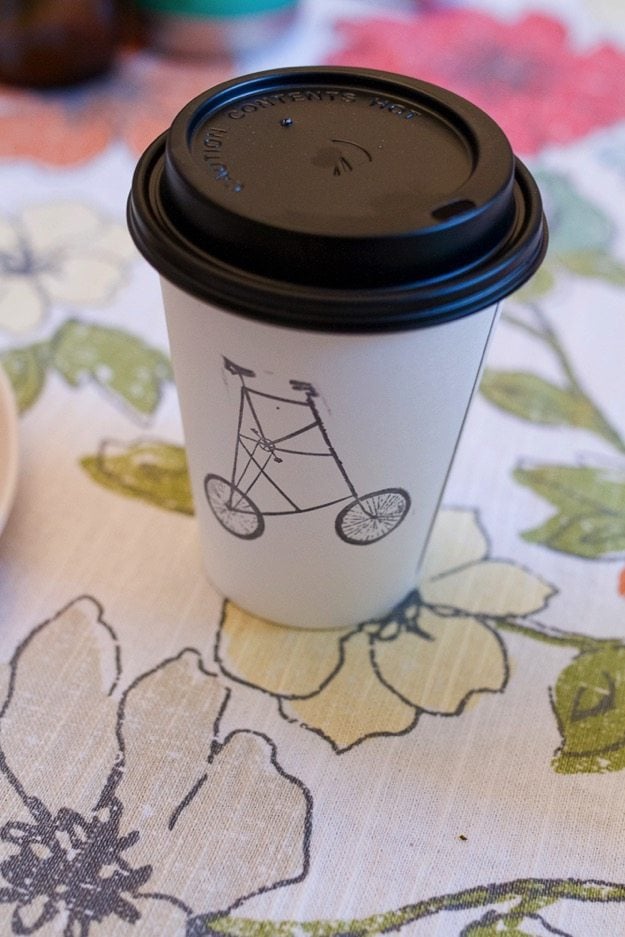 Once home I whipped up a protein pancake for breakfast. I've been on a protein pancake breakfast bender, which is probably a good thing considering our pantry looks like the protein aisle at Vitamin Shoppe right now.
I followed this protein pancake recipe using a sample packet of Plant Fusion that I picked up at Whole Foods. It was good but I still really like Sunwarrrior and Perfect Fit for protein pancakes. I've also been experimenting with using Jamie Eason's Lean Body for Her and Nutrimeal Free from Usana. Now you see why my pantry is packed with protein powder — someone has to test them all. 😉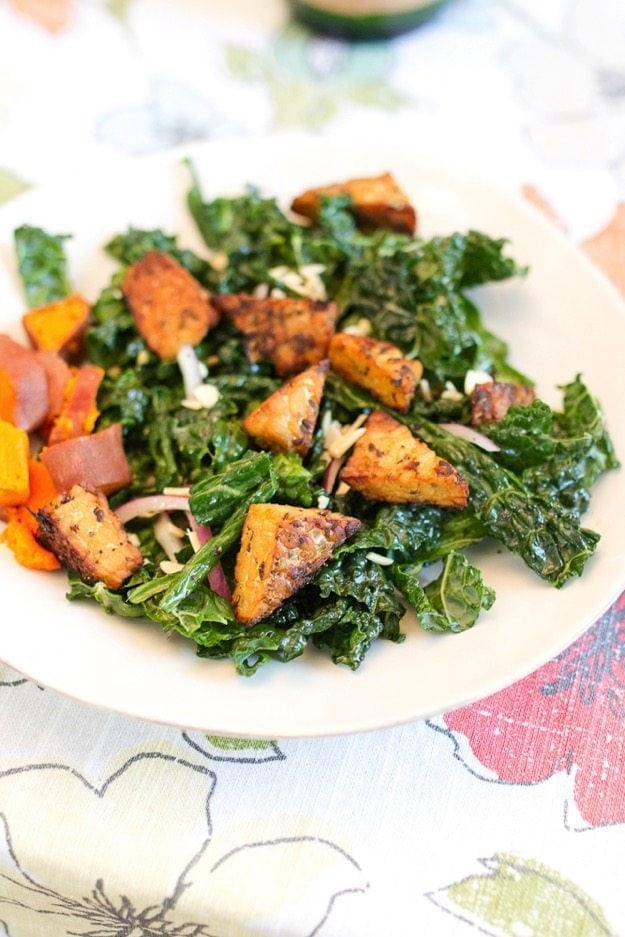 After a little work I took a break for lunch. I baked some tempeh and put it over a kale salad with red onion, almond slices and a homemade grapefruit dressing. I had a few baked sweet potato chunks and a Fuji apple on the side. I hate soft apples and this one wasn't as crunchy as I would have liked. :/ Fujis are usually okay, but I like Honeycrisp and Pink Lady apples best.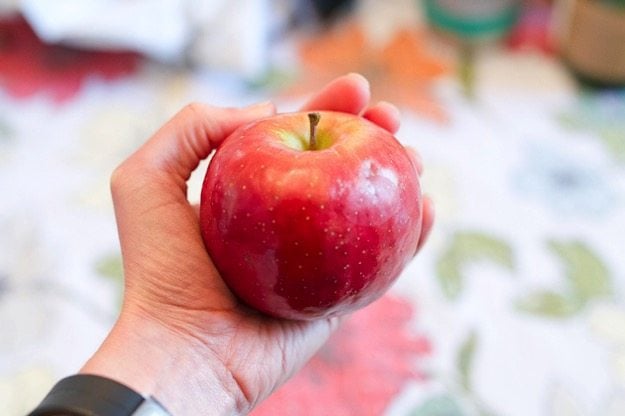 I knew I was going to be having a late dinner so later in the afternoon I grabbed a bowl of pistachios and brought a Suja to sip on while Isaac and I went and looked at a house with our realtor.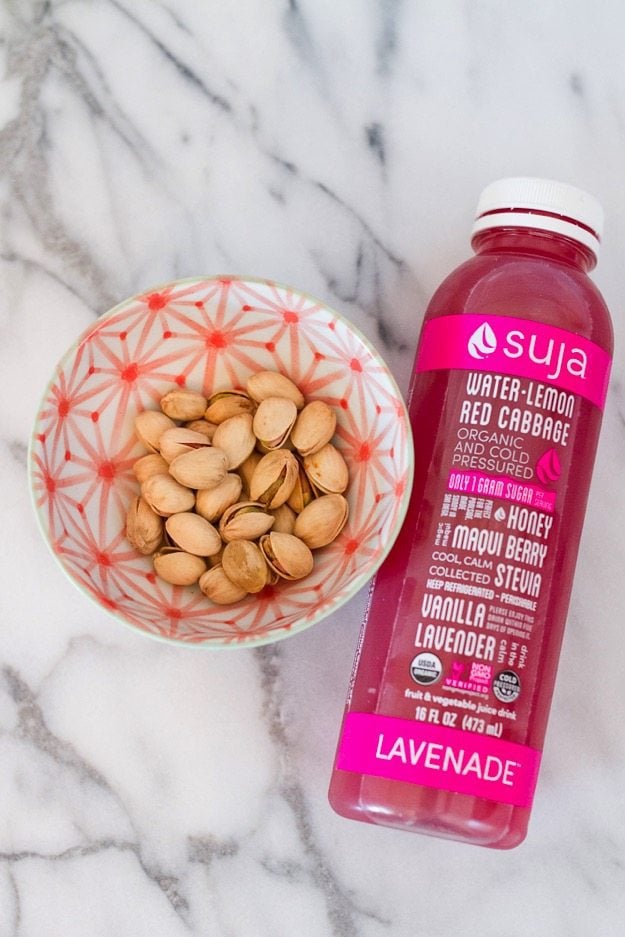 The house wasn't a winner, but I did like the Suja Lavenade. Similar to their regular juices but lighter — it's only 10% juice and includes ground vanilla bean, lavender, maqui berry, and red cabbage, along with honey and lemon juice. It's sweetened with stevia so it's low in sugar and calories. I was a little hesitant at first because sometimes I'm not a fan of drinks sweetened with stevia, but I think the stevia flavor is masked really well and the lavender-lemonade combo is actually really tasty. I also recently tried the Lemon Love flavor and I think it might be my favorite. It's so good. I checked and my local Whole Foods doesn't have either flavor yet, but hopefully soon.
Yesterday evening I did a Full Body Burn 90 minute workshop at Pure Barre. Class was HARD, in a good way, but I definitely worked up an appetite so I was pretty excited for dinner at Mekong with Isaac, Alyssa and her Dad. Alyssa had sinus surgery this morning so we planned the barre and Mekong dinner date for her last hurrah. Perfect combo!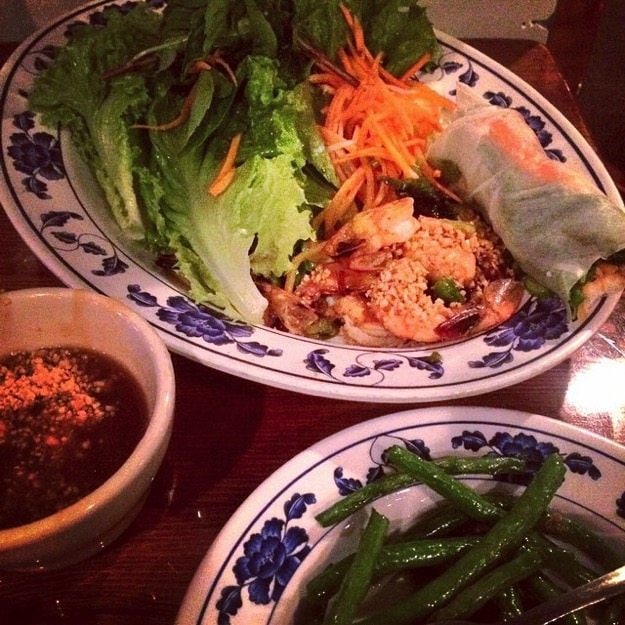 I got the shrimp Make Your Own Spring Rolls. I have two favorite dishes at Mekong and this is one of them. It's the perfect dish for people who like to play with their food (me!) and it's also pretty healthy.
After dinner I had a few pieces of chocolate (they hid from the camera) and then went straight to bed because I was exhausted. I honestly think I'm still catching up on sleep from the weekend. My goal is to be in bed by 9:30 tonight so I can get some much needed zzzzzzzs. We'll see how that goes.
Happy Wednesday! Don't let anyone fool you today. 🙂