Happy Wednesday! If you follow me on twitter you'll know that I had some exciting news yesterday.. my sister had her baby!! She delivered him at Culpepper Regional Hospital so it was a little drive to go see them last night after work, but it was totally worth it. He came at around 5:30 PM weighing in at 9 lbs, 14 oz and 21 inches. He's a big boy and such a cutie! I'm already in love with him.
And now for a recipe…
Over the weekend I decided to whip up an old household favorite we haven't had in a while, Greek Quinoa. When I first found and started making the original recipe from Fitness Magazine Isaac and I couldn't get enough of it. We made it for dinner every other week, took it to any potluck/cookout we were attending and Isaac even made it for a staff meeting at work. It's one of the those recipes that everyone likes!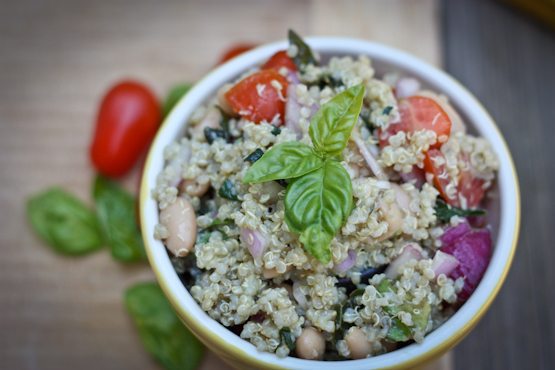 Until last weekend we probably hadn't had it in over a year so I was pretty excited to make it again. Only this time I thought it would be fun to play around with the ingredients a bit and create something a little different. It turned out fabulously so now we have yet another go-to summery quinoa recipe.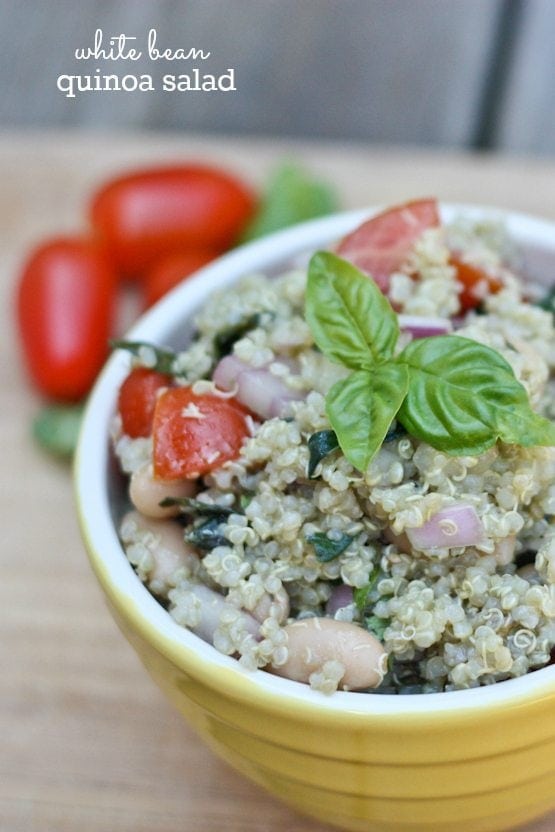 6
adjust servings
Ingredients
1

cup uncooked quinoa

2

cups water

10-15

cherry/grape tomatoes, seeded and finely chopped

1

can of cannellini beans or other white bean, drained and rinsed

1-2

cups chopped kale, blanched**

2/3

cup finely chopped red onion

1

tablespoon apple cider vinegar (or red wine vinegar)

3

tablespoons lemon juice

3

tablespoons olive oil

1

teaspoon salt

1/2

teaspoon ground black pepper

1/8-1/4

cup fresh basil, chopped

2

avocados, pitted, peeled, and sliced and chopped
Instructions
Bring quinoa and water to a boil in a saucepan. Reduce heat; cover and simmer for 15 minutes, or until liquid is absorbed.
In a medium bowl, stir together quinoa, tomatoes, beans, blanched kale and onion.
In a small bowl, whisk together lemon juice, oil, salt and pepper. Mix with quinoa, fresh basil and avocado chunks.
Serve right away or let the mixture chill in the fridge a few hours before serving.
**To blanch kale: wash and de-stem kale, chop it into smallish pieces and add to boiling water for 3 minutes, remove kale from the boiling water with a slotted spoon and place it in a ice water bath. Drain it well, making sure to give it a good squeeze to remove all access liquid.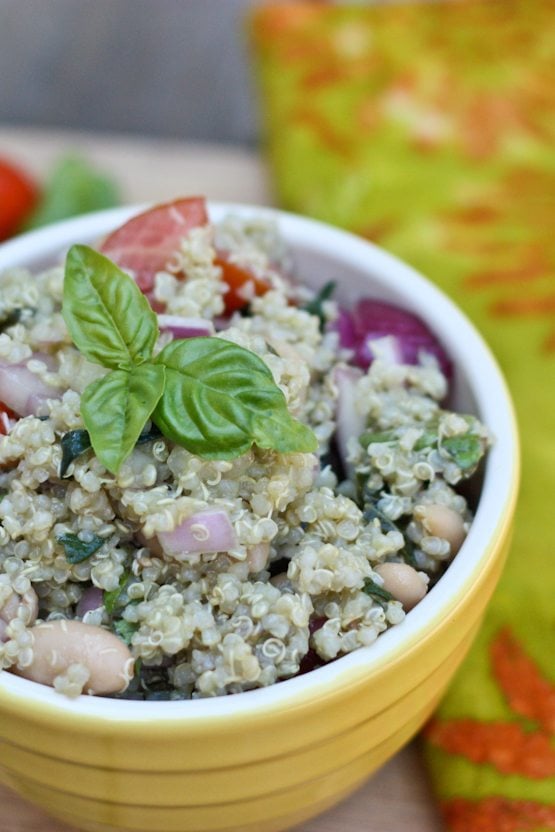 The great part about this dish is that it has quite a bit of protein from the beans and quinoa and it's packed with fresh veggies, including kale, which is a nutritional powerhouse. You can feel good about eating a bowl of it for a meal or having it as a side. We've done both!