This weekend has gone by way too fast! The sad part is that Isaac is off tomorrow for MLK Day and I have to work. Boo hiss!
So what did I do all weekend? I think the explanation calls for a little list and a few instagram picts <– Has anyone else started using their phone to take photos for blogging more often than their digital cam? I still use my DSLR but I've been using the iphone more and more lately. It's just so easy.
Weekend highlights to follow:
1. Made these gingerbread "cliff" bars.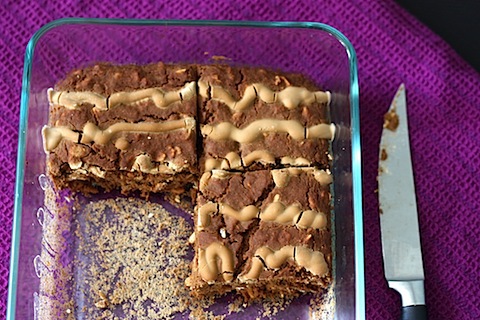 The good news: They're a tasty little snack – filling and dense, yet still have a soft and chewy texture.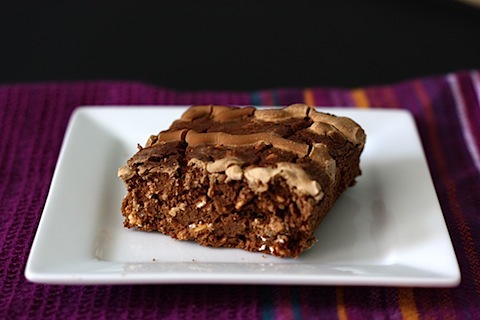 The bad news: They're almost gone!
2. A trip to Whole Foods for lunch on Saturday with my fiancé<– still so fun saying typing that!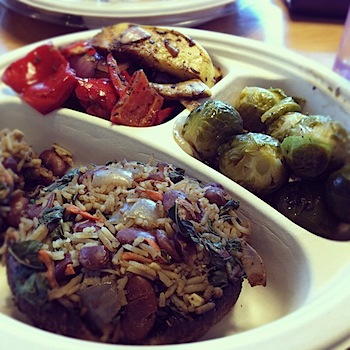 Isaac and I both got value meals from the prepared foods section. Each meal comes with one of three entrees and two sides. I got the Health Starts Here stuffed portobellos with balsamic marinated veggies and brussels sprouts on the side. Isaac got the chicken stuffed with figs and goat cheese for him. $6 for mine and $10 for his and it was a ton of food! Score.
3. Spent a vast amount of time checking out Jamie Eason's LiveFit program.
I've been interested in the LiveFit program since hearing about it from Janetha, who always inspires me in the workout department. You see, I've been in somewhat of a exercise rut lately and the 12 week LiveFit program seems to offer great results. I'm still not sure if I'm going to follow the training program 100% but the eating plan is very similar to how I'm eating now with the Stripped Challenge so that works out perfectly. Isaac and I did Phase 1, Day 1 (Chest and Triceps) on Saturday morning together and we were both super sore this morning. Isaac skipped out the gym today but I completed Day 2 (Back and Biceps) as well. So far I really like having a set workout to do each day and the variety of moves. It feels good to switch up my routine and add more strength training back in my life. I'm planning to do Day 3 tomorrow morning and I'll keep you all posted.
4. Tried one of Chobani's new flavors – the apple cinnamon!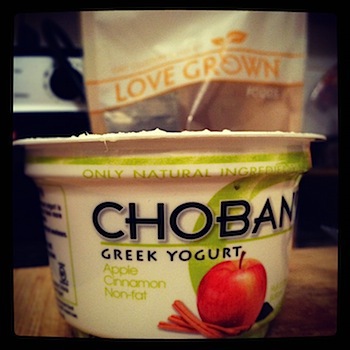 I'm typically a plain greek yogurt gal but I love all things apple cinnamon and had to try this new flavor. I'm glad I did because it definitely rivals the pineapple flavor, which is one of my favorites. Chobani + Love Grown Foods granola = best combo ever!
5. Sipped on some new-to-me tea, Runa guayusa.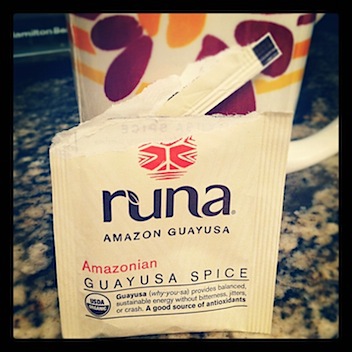 The tea was given to me from a friend to try. I haven't ever heard of the brand or the variety but after looking it up, I've found that Guayusa (gwhy-you-sa) is a native Amazonian tree leaf that has been brewed like tea with more caffeine and double the antioxidants of any tea, including yerba mate. Plus it has additional health benefits. I've tried both the traditional and the spice variety. Both are delicious, but I especially love the flavor of the spice as it reminds me of chai tea.
6. Last but not least, wedding research has officially taken over my computer time. We're pretty sure we want to have the wedding next spring (2013) so we've started looking at venues. We toured two last weekend and toured another this Saturday. I also spent way too many hours online researching venues than I care to admit. There are a ton of options so we still haven't decided anything yet. <– I'm not sure how much I plan to blog about the the wedding. If you all want to hear about it, I'd love to share but if not I'll just stick to my normal health eating + workout stuff and keep the wedding details to a minimum.
Sooo I guess that's where my weekend went! Now it's time for bed.