I recently had a reader email me and request that I do a post about what make-up products I use. Here's the exact question…
"…I'm sending this e-mail to ask whether you think you'd be interested in doing a What's in My Make-Up Bag post, as I think it'd be really cool to see what make-up a person interested in natural chemical-free products, such as yourself, opts for when it comes to cosmetics!"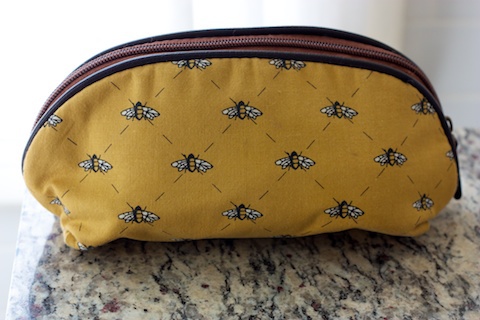 Given that I started a natural products series a while ago and haven't posted much on the topic in a while, I thought her idea was a good one. The only problem is that I have yet to switch all my products over to natural items. Namely because I hate to throw things away, especially expensive things like make-up. As I use up my current make-up products I look for natural, chemical free items to replace them. So far, so good, but I still have a bunch of things that probably aren't so great for me or the environment. I'm sharing a peek inside my make-up bag nevertheless… just don't judge. 🙂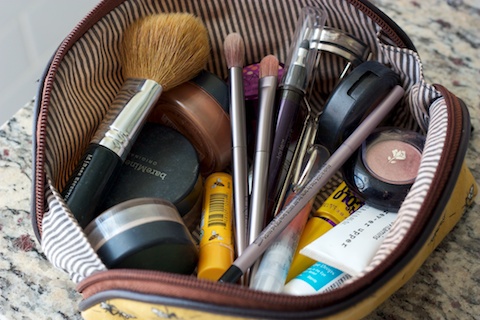 This is my smaller make-up bag that contains the things I use on a daily basis. I'm a pretty simple lady and like for my make-up to look really natural for everyday wear and this bag includes those products. I have several other make-up bags with items that I use every once in while (like when I'm going out dancing) but those items aren't included here.
From left to right –
Bare Minerals Foundation, Warmth, Mineral Veil and brush – When I first starting using BareEscentual products (over 5 years ago) I thought they were more natural than regular make-up because of the name. I now know that that's not the case, so next time I need foundation I'll most likely try AfterGlow, a natural brand of mineral make-up. But, I really like the Bare Minerals foundation and the warmth – which gives me a nice glow similar to what a blush would do. I don't use the Mineral Veil that often but I like it when I do.
Benefit erase paste – Great for concealing under the eyes. I use this every day.
Burt's Bees lip balm – This is my favorite chapstick! I have around three tubes at all times – one in my make-up bag, one in my purse and one on my bedside table.
Urban Decay eye make-up brushes – I've found that good quality brushes are definitely worth the money and these Urban Decay ones are great.
Tarte eyeliners – smolderEYES and emphasEYES – Tarte is an awesome natural make-up brand. I like the smolderEYES eyeliner okay, but the empahsEYES is my favorite. It's for the inner-rim of your eyes, which is where I like to where my eyeliner. It works better than any other eyeliner I have ever used.
Stila Lip Glaze – I bought an 8 pack of these lip glosses from Ulta and love them.
Mac eyelash curler – My friend convinced me to buy this a few years ago and it's quickly became one of my favorite make-up items. I have pretty long eye lashes already so sometimes I skip mascara and just use the curler.
Mac eye shadow in Love Connection and Lancome eye shadow in Vue – I like natural eye shadow and both these colors are great
Maybelline Volum' Express Colossal Waterproof mascara – I've used Maybelline mascara for years and really like the way it works. I would like to switch to a natural version though.
TheraTears – Looking at the computer all day creates dry eyes and my eye doctor recommends this brand of eye drops.
Eye rev-er-upper – an eye brightener that I use before I put on the erase paste concealer.
Pacifica Mediterranean Fig solid perfume – I bought this a Whole Foods and love it. It smells fresh and lasts a long time and Pacifica skin care is made without animal testing, animal bi-products, phthalates, parabens, sulfates, propylene glycol, benzene, GMOs, mineral oil, peanut oil and triclosan. All Pacifica products are cruelty-free.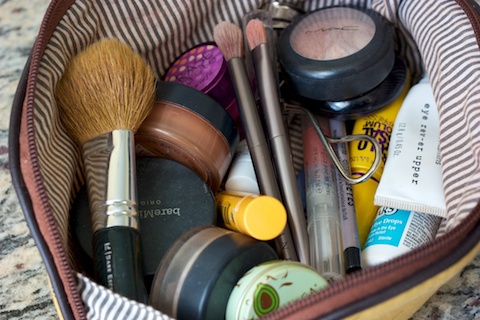 So there you have it, my natural and not-so-natural make-up products. Like I said, moving to all natural products is a work in progress and I'm still working on it!
Speaking of make-up, I need to go put some on because we have a wedding to attend tonight! So excited!!!
If you're interested, here are some of my other natural products posts:
Do you use natural make-up products? What are your favorites?