What is Collagen and Should You be Taking It?
24
Published Jan 19, 2018, Updated Jun 15, 2020
Want to learn more about collagen and why it's so popular among health enthusiasts? We're breaking it down for you today by answering the following questions: What is collagen, what does collagen do and should you be taking it…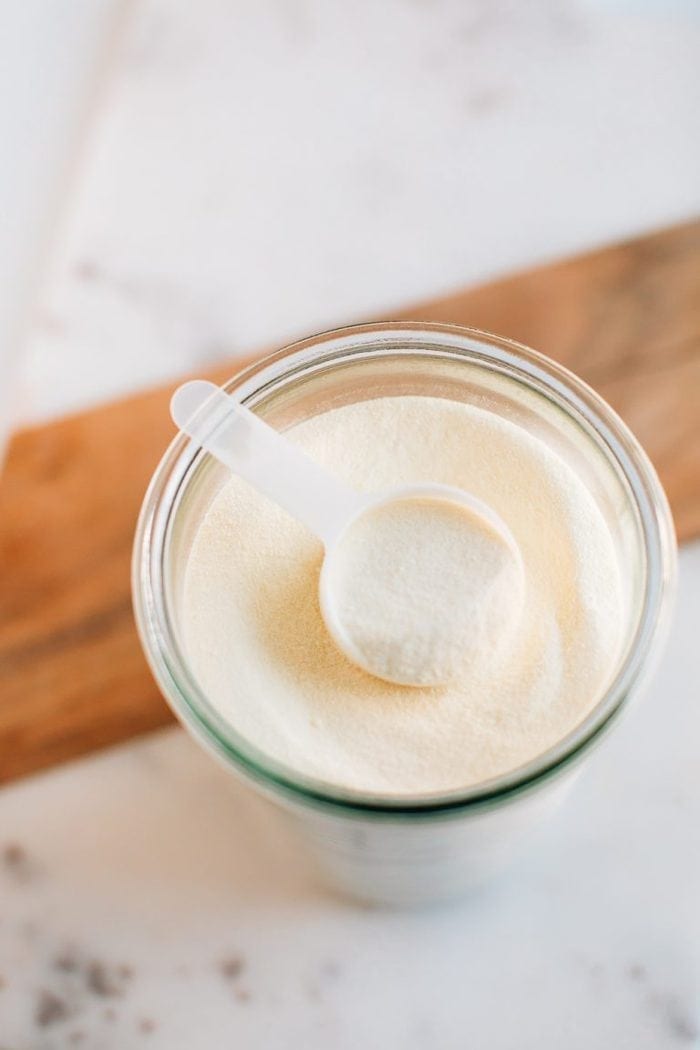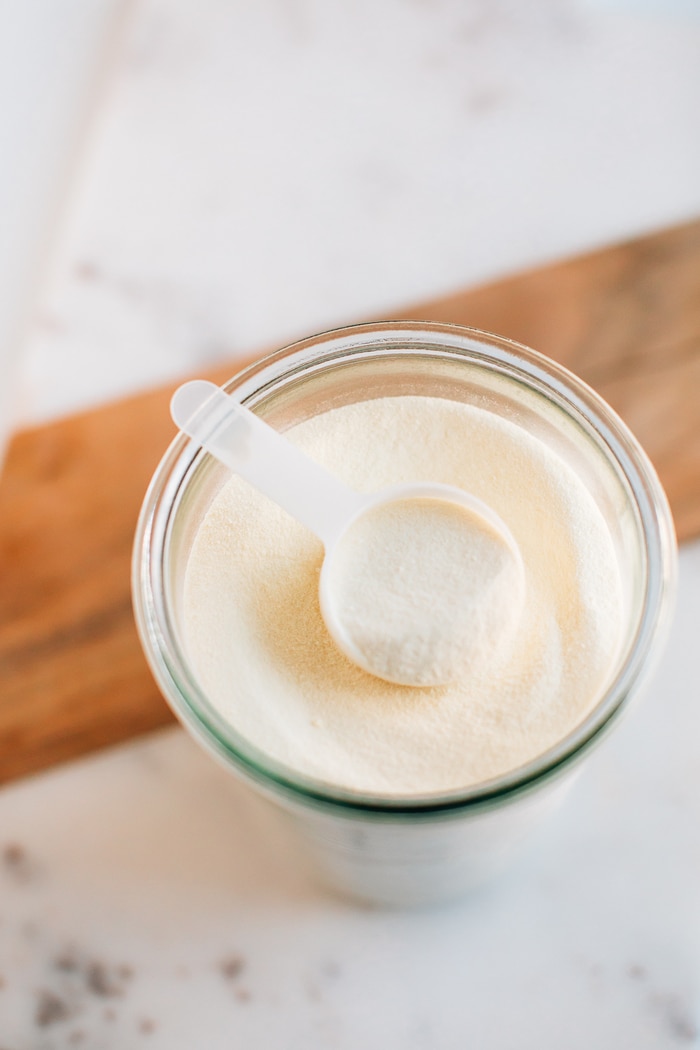 Collagen seems to be everywhere in the health world. So what is it and what does it actually do? Great questions, let's get to it!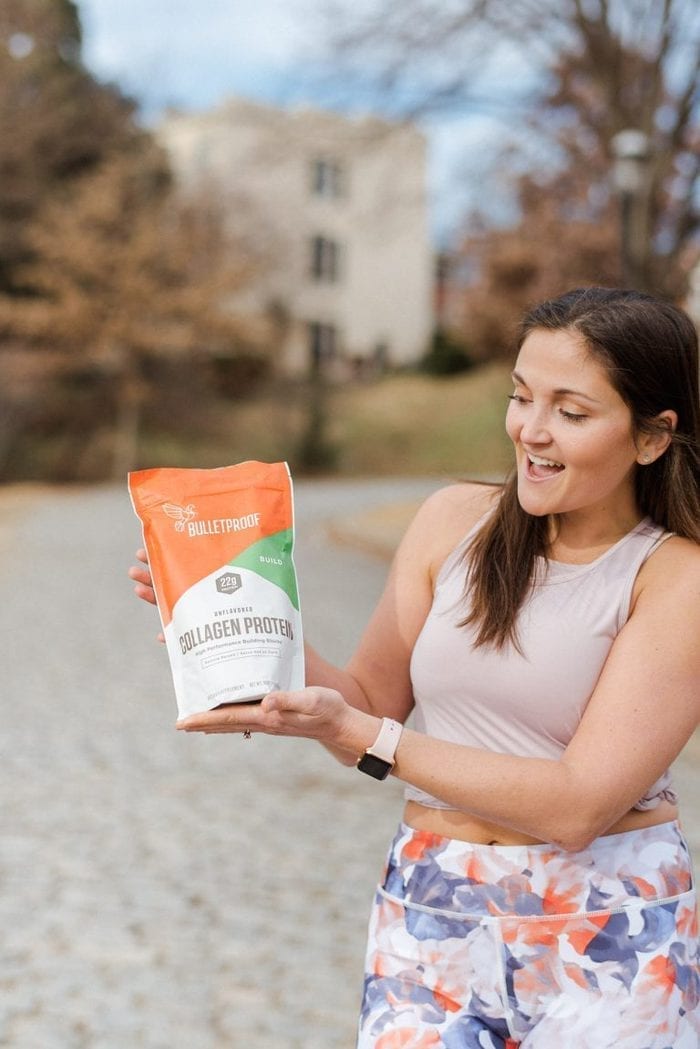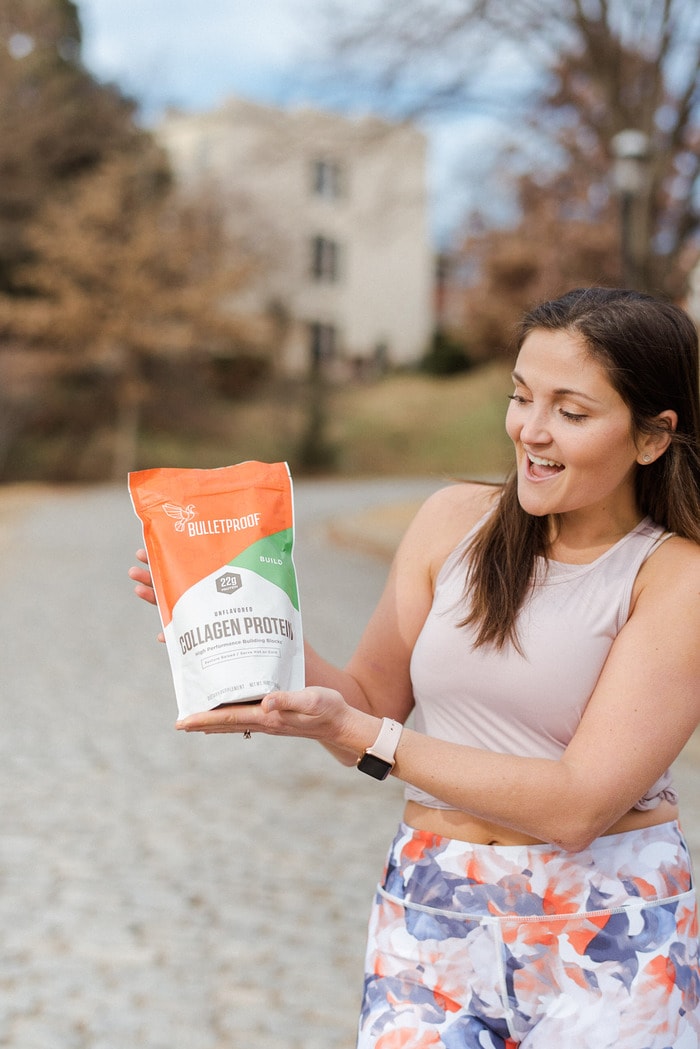 First things first, collagen is a protein. It is a major component of bones, skin, muscles, ligaments and tendons. It provides structure and support throughout your body. It's known as the 'glue' that holds your body together. Your body makes it, but as you age it produces less and less quality collagen.
There are four key nutrients that help increase collagen production: vitamin C, proline, glycine, and copper. Let's break these down:
You're probably familiar with vitamin C. You can find this vitamin in a lot of bright, colorful foods: strawberries, pineapples, oranges, mangoes, brussels sprouts, kohlrabies, kiwis, papayas… the list could go on.
Proline is an amino acid that is found in meat (and shark cartilage, since, ya know… we all eat that).
Glycine is another amino acid, but it's found in a lot of plant sources such as beans, spinach, kale, cauliflower and pumpkin. It can also be found in bone broth, meat, dairy products, poultry, eggs and fish.
Copper is a mineral found throughout the body. The top food sources of copper are beef liver, sunflower seeds, lentils and almonds.
Simply eating high-quality protein also helps with collagen production — it gives your body the amino acids it needs to make new proteins (like collagen!).
There are a few things that can hurt collagen production. Number one on this list is sugar. Is sugar good for anything? I'll let you be the judge. Sugar interferes with collagen's ability to repair itself. Red flag! The sun is second on the list of damaging factors. It can reduce collagen production within your body, so don't forget your daily SPF! The last thing is smoking, which can also reduce collagen production.
So now you might be wondering how you can get more if your body is producing less. There are some natural food sources of collagen, however there is some speculation around whether consuming collagen-rich foods increases the collagen levels in your body. Basic science lesson for you: when you eat protein, it's broken down into amino acids during the digestive process and then reassembled into the proteins your body needs. SO eating collagen doesn't necessarily mean that your body is going to make collagen (and use it to help your beautiful skin). Just an FYI.
Sources of Collagen:
Natural food sources include bone broth and the connective tissues of animals.
Supplements! There are hydrolyzed collagen and gelatin (cooked collagen). You just want to make sure these supplements are coming from high-quality sources. I usually go for grass-fed bovine collagen.
Because collagen comes from animals, there are no plant-based sources. However, there are some plant-based supplements that are said to boost collagen production like these beauty chocolates and this blend of plant-based herbs.  I haven't tried these products yet, but I'm intrigued.
Collagen Brands
I'm fond of the following brands: Bulletproof, Vital Proteins, Primal Kitchen and Further Food.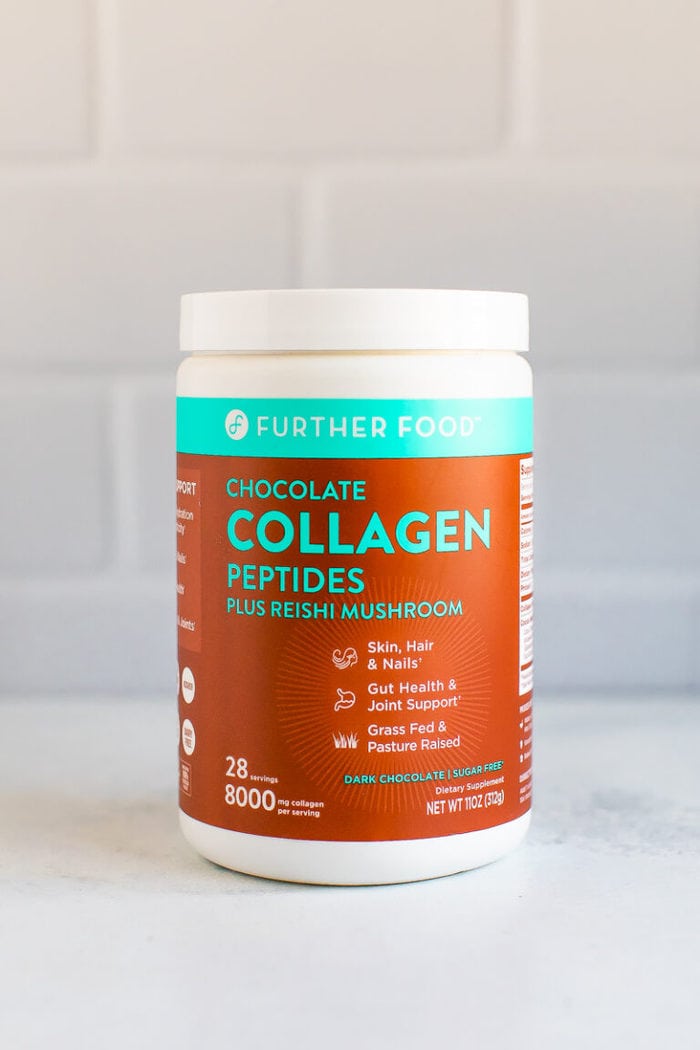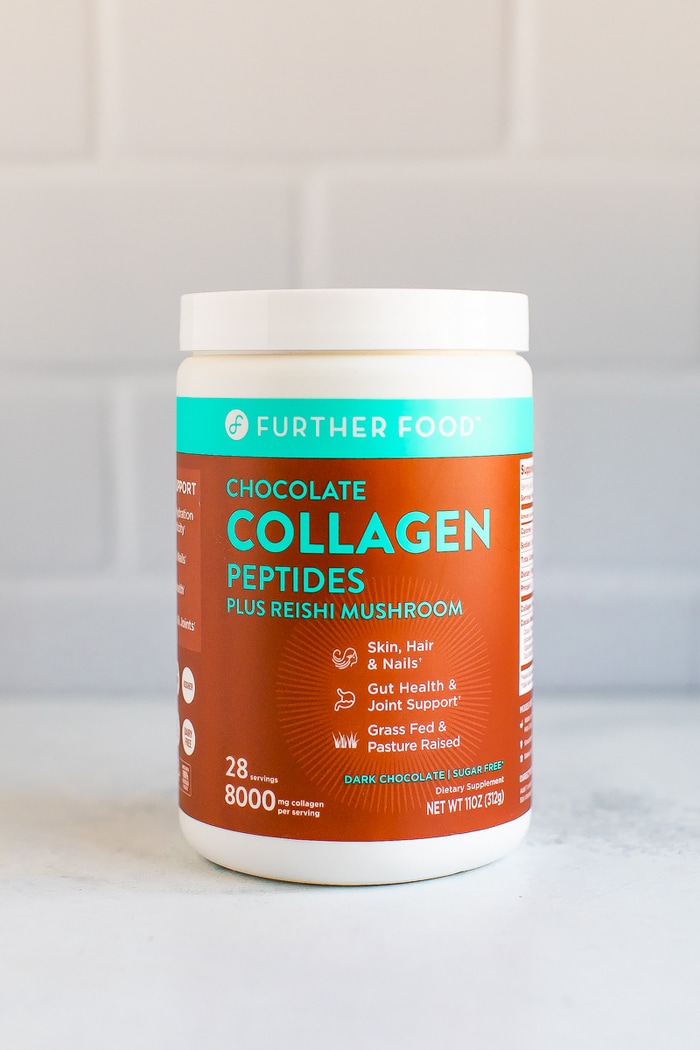 I usually buy my Primal Kitchen products from Thrive Market. If you haven't tried Thrive Market yet, it's like Costco but for natural products, and it's all online. I have a deal for 25% off your first order + a free 30 day trial.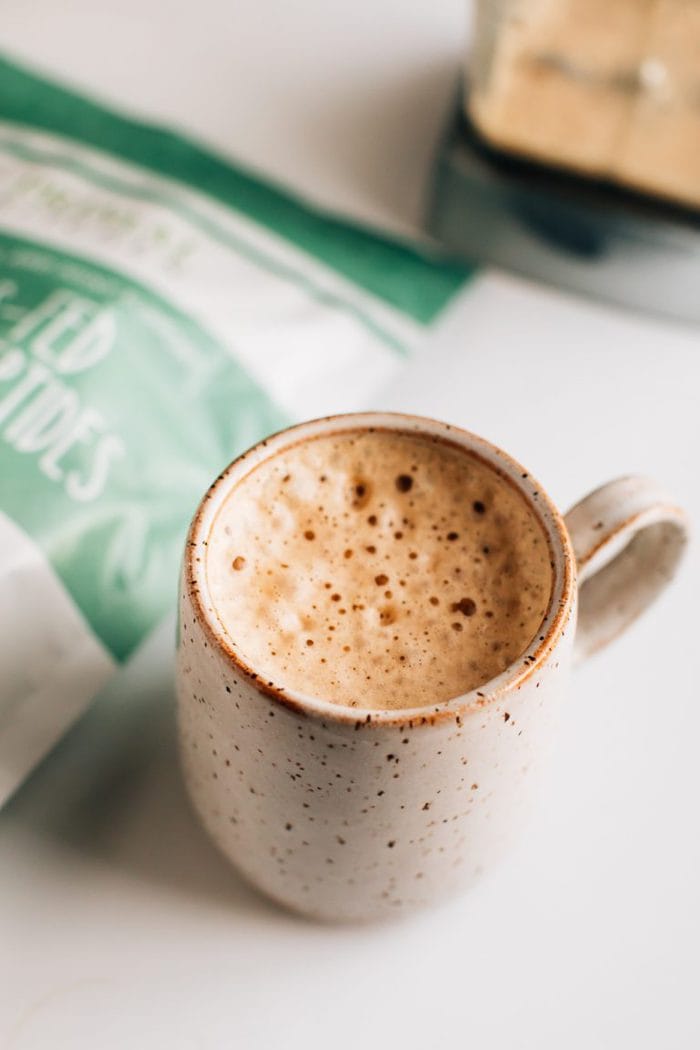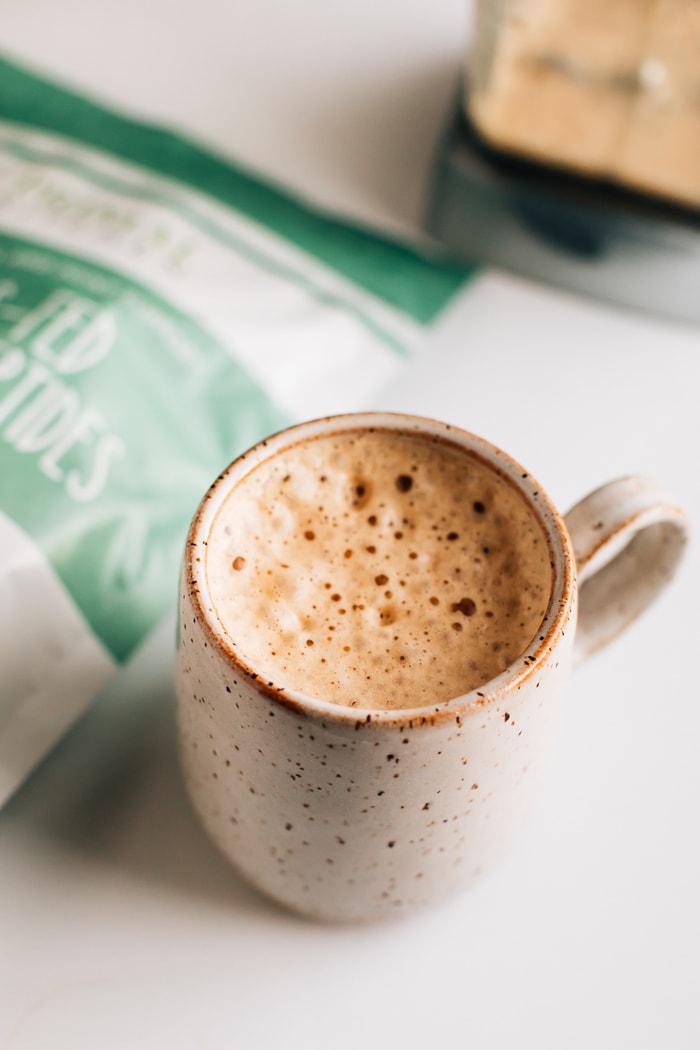 Benefits of Adding Collagen into Your Diet:
There aren't many studies on collagen supplements, but the ones that exist do show benefits! Collagen supplements are proteins broken down into smaller peptides, which are more easily absorbed. Here are some of the benefits that people have noticed:
Improved skin texture and hair

More muscle mass

Reduced joint pain

Improved leaky gut

Strengthened hair, teeth and nails

Improved liver health

Boosted immune system

Better sleep

More balanced blood sugar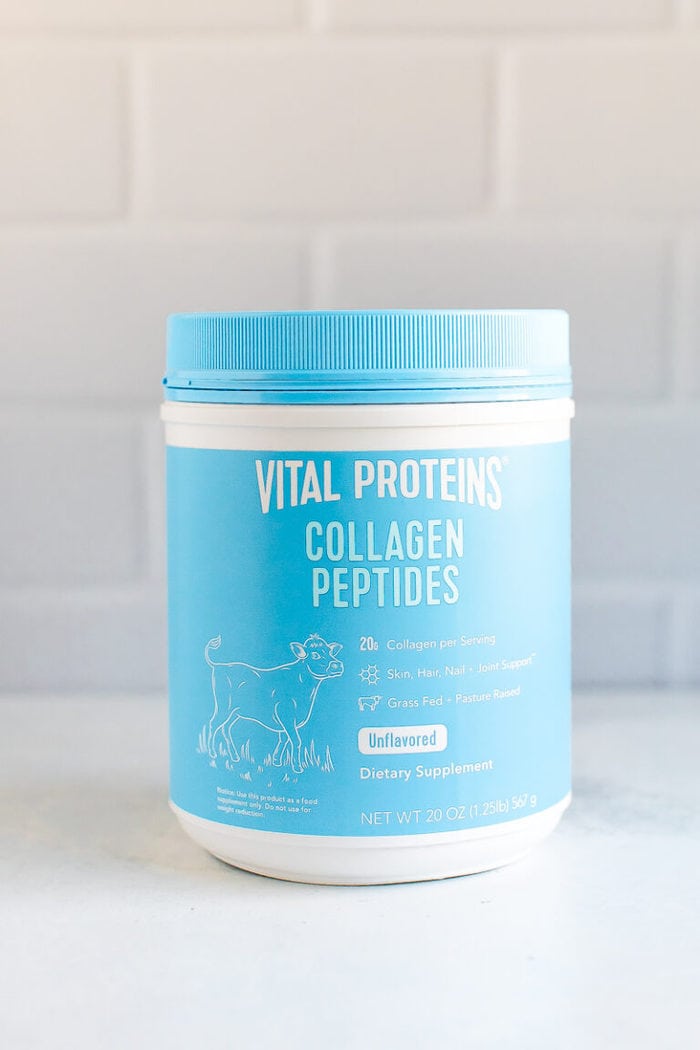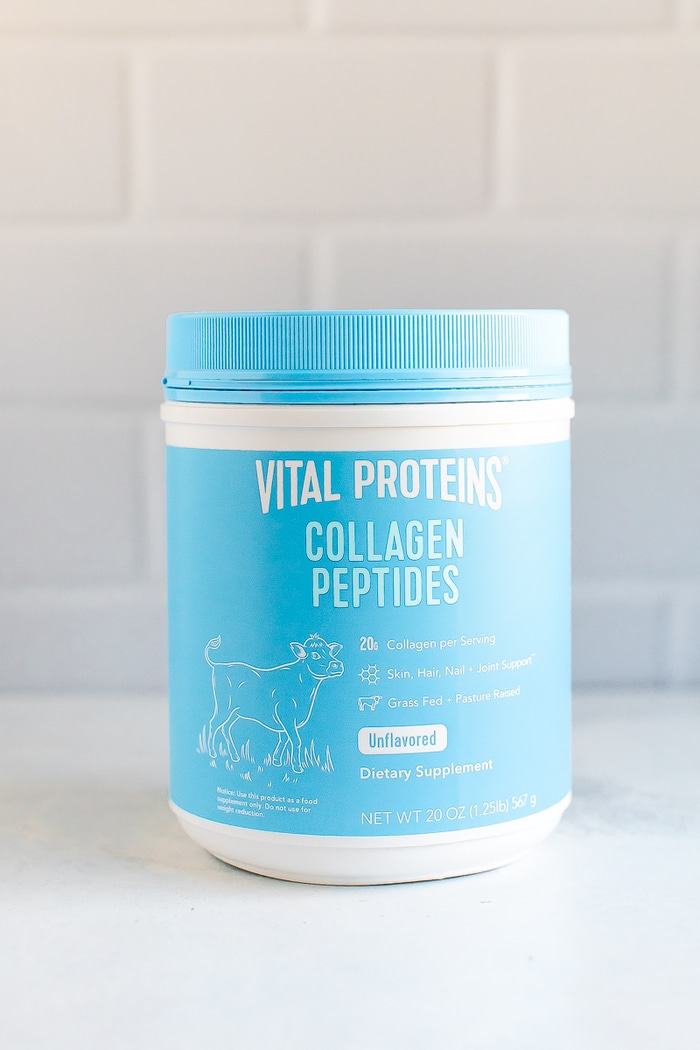 Can collagen help you lose weight?
If you change nothing else in your routine and just start taking collagen, no it will not help you lose weight. If you're looking to support your joints and bones so you can be more active and healthy, incorporating collagen can help! In turn, if you're more active and making healthier decisions all around, yes you'll see weight loss. Does that make sense?
What are the side effects of collagen?
Some people experience upset stomach or feeling "full" after taking collagen supplements but there haven't been many other reported negative side effects.
My Experience with Collagen Supplements
I've been hearing the buzz about collagen for quite some time now, and it seemed like everyone was slinging collagen at Expo East last year. I've made and enjoyed bone broth occasionally and added the hydrolyzed collagen in my coffee here and there, but this month I'm committed to having at least 2 Tablespoons of collagen powder every day — either in my coffee, water or a recipe. (I recently made some collagen protein balls, which I'll be sharing the recipe for soon.) Overall, I'm excited about this little experiment because it's an easy thing to add into my daily routine, and even if I don't see any amazing skin/health benefits, at least I know I'm getting in a little extra protein each day. There's really nothing to lose! Plus blending collagen protein powder into my morning coffee makes for such a frothy and delicious cup of joe. 
If you're just getting started with using collagen adding it to your coffee, water or smoothie is a great place to start because it's tasteless and blends easily into hot or cold beverages!