Hi there! I've been getting a few questions about the Tone It Up Plan so I thought now would be a great time for me to do a quick update about how I got started with the program and what I love about it.


After finishing the Body for Life 12 week training program this summer, I was disappointed with the results and ready to switch up my routine. During this time I saw a lot of talk about Tone It Up (TIU) on Twitter and started following the TIU workout videos and blog. I had already began adding more cardio back into my workouts and doing more full body routines. The TIU workouts were the perfect way for me to change things up because most are short (about 30 minutes or less) and require little equipment. Plus I love Katrina and Karena's (K&K) positive attitudes!
I was enjoying the workout videos and quickly became curious about the nutrition plan. I consulted a few ladies I knew who had previously bought the plan and with their recommendations decided to go ahead and spend the $$ on it, even though it was a little pricey. At the time I bought it there wasn't a pescatarian plan (now there is) so I went with the vegetarian version. I love reading about nutrition and studying different diet plans so I was excited to read their guidelines and advice.
A lot of the information in the plan was stuff I already know (or already do), but it has a ton of great information for people who are just starting out with trying to move toward a healthy lifestyle. It's easy to get overwhelmed when you're making those first steps so it's nice that the plan lays out everything in a way that's easy to understand. Plus, there are a few nuggets of new information, like the 7 Day Sim Down, which is great for getting ready for a big event.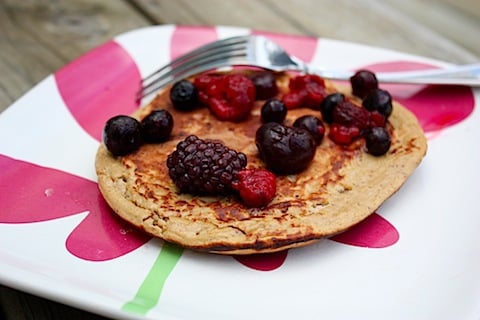 What I like about the plan is that it's more of a lifestyle than a diet and focuses on eating clean. The basic principles are similar to Tosca Reno's and as you all know, I love her and her books! The plan pretty much aligns to how I try to eat regularly, but I have picked up a few tips and new recipes that help keep me on track. If you've been reading EBF for the past few months you've seen my new love of protein pancakes, a recipe I was introduced to through the Tone It Up plan. And if you follow me on twitter and facebook, you've probably noticed my mentions of Tone It Up there as well. (Just so you know, those tweets about waking up for a #bootycall are a Tone It Up reference to waking up early to get in a workout. ;))
Typically I'm a morning person so I've always liked to exercise in the morning but lately I've been staying up too late and sleeping through the little bit of time I have before work to workout. The Tone It Up plan stresses waking up and doing some sort of workout- even if it's just walking or running 15 minutes from your house and then walking or running the 15 minutes back. It's a different way of thinking for me because I used to think I needed to get my whole workout in at one time. Since buying the plan I've been switching things up a bit by squeezing in 30 minutes of cardio in the morning and doing strength training or core work later on in the day. It works out great for those days I just can't get myself up early enough for a trip to the gym.
I also really love the community aspect of the being a member of the Tone It Up team. The team is full of supportive people (mainly women) that all have the same goals of getting healthy or maintaining a healthy lifestyle. Come to think of it, I have never seen a negative comment on the TIU facebook page or in the online community. Having people to check in with (even if it's online) can be super motivating and help you realize that you're not alone in your goal to be a healthier, happier you! I've even seen local groups formed from the TIU team where the group plans meet-ups for meals or workouts.
Speaking of which, I have yet to find any TIUers in Richmond. If you're out there, let me know. 🙂
K&K upload a new workout video every Tuesday (that's today!) and post other check-in videos throughout the week. The online community, workout videos and emails are all free so I highly recommended checking them out! Some of my favorite workouts are the RUSH, Itty Bitty Bikini, and Shredmill.
To top it all off, I'm going to be working with Katrina and Karena as a Tone It Up ambassador and will be collaborating with them in the near future. I'm totally pumped about this opportunity as I love the Tone It Up girls, the team and the overall mission to help people get healthy. This blog is about helping others realize that eating healthy doesn't have to be a challenge and that working out can be fun so the collaboration seemed like a natural fit!
I think that's all I have for today. Have a lovely Tuesday and don't forget to check out the Tone It Up Tuesday workout that will be released today.