Not sure if I mentioned this or not, but I'm pretty much loving chia seeds right now. Isaac's a little worried that I might start to sprout green body hair, but I ain't scured, as demonstrated from the photos below. At one point I ran out of seeds (sad, I know) but the chia fairy came to the rescue and this weekend I've been eating big bowls of cookies n cream oat bran, oatmeal, chia, banana, and cinnamon. (What a mouthful, in more ways than one.)
Chia Seed Oatmeal
1/4 oat bran
1/4 cup oatmeal
1 cup water
1/4 cup unsweetened vanilla almond milk
1/2 banana
1 tablespoon chia seeds
cinnamon to taste
Cook the oatbran, oatmeal, and sliced banana in the water and milk on medium heat by stove top. After about 5 minutes, or when the oats get thick enough for your tastes turn off the stove and mix in about 1 tablespoon of chia seeds. Let the oats sit for about 5 minutes, transfer into a bowl and add the toppings of your choice. I love to use nut butters, granola, nuts, or coconut. Enjoy.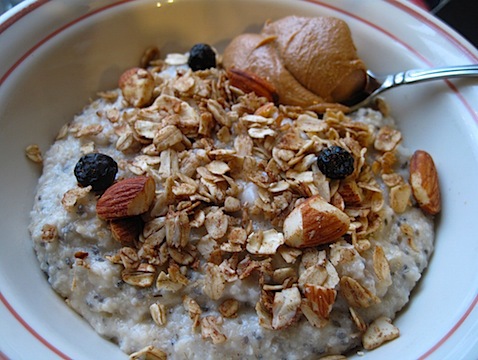 Delicious….
And, here is where all the chia seed goodness is coming from
Tiny little grains of really BIG nutrition – Check em out!
As promised here is the recipe for my confetti quinoa is below. The best part about this recipe is you can seriously add any veggie you would like and I'm sure it would still taste lovely. So feel free to have fun with it.

Confetti Quinoa
1 1/2 cup quinoa **
3 cups water
1/8 cup sundried tomatoes (soaked in water to rehydrate)
1/4 cup raisins
1/2 cup feta cheese crumbles
7 leaves of basil (finely chopped)
1/2 yellow bell pepper (chopped)
1/2 red bell pepper (chopped)
Dressing:
1/2 tsp. olive oil
11/2 tbsp. balsamic vinegar
11/2 tbsp. rice vinegar
11/2 tbsp. water
2 tsp. garlic powder
Black Pepper (to taste)
Sea Salt (to taste)
**Quinoa from the bulk bins will need to be rinsed and then cooked, I used Bob's Red Mill and it is already rinsed.
Bring water to a boil, add quinoa and cook on medium heat for 10 minutes or until the water is fully absorbed. After the pot had cooled, I put the quinoa in the fridge overnight, but if you are in a rush, spread it on a cookie sheet and let cool at room temperature for 30 minutes or so (don't rinse with cool water). Once cooled add the remaining ingredients in with the quinoa and prep the dressing by combining all the ingredients in a small bowl. Pour the dressing on the quinoa mixture and stir it well to coat. Serve right away or store in the fridge until you are ready to eat. Enjoy!
Happy Monday everyone. Make this week a great one.