Happy Hump Day! What's new and good with you?
I haven't done a WIAW post in a while so I thought I'd do one today to share what my eats have been looking like lately. It's a little different than what you're probably used to seeing me eat, but since being diagnosed with hypothalamic amenorrhea this summer I've been following the advice of my naturopath, acupuncturist and endocrinologist — working towards nourishing my body with lots of healthy fat along with moderate protein and carbs.
A little background info: in the past few years I started embracing healthy fats like coconut oil, nut butters and avocado but I was still mindful of my intake because I still had the low-fat=healthy mindset. Growing up in the 90's I was taught that fatty foods were bad for your health while non-fat and low-fat foods were healthy. I grew up eating a ton of processed foods thinking they were healthy because they were low fat and/or low calorie. I now realize how wrong that thinking was — most dietary fat is NOT bad. It's actually really important for a ton of bodily functions and crucial for hormone production. Fatty acids and cholesterol are the building blocks of hormones! With that in mind I've been working towards loading up my meals with healthy fats like avocado, fatty fish, coconut oil, nuts and seeds. I really want to try ghee as well so I ordered a bottle from thrive market this week. Can't wait for it to arrive.
So here are my eats from yesterday…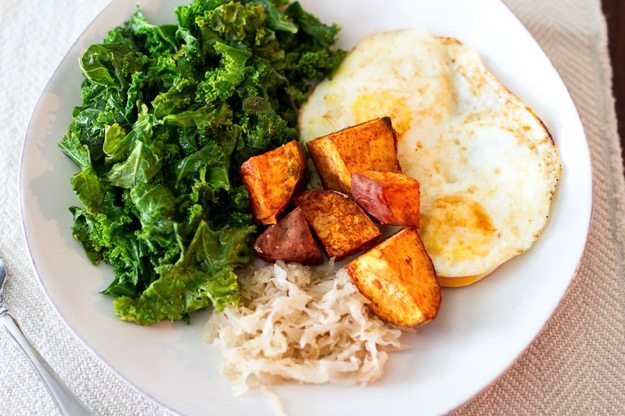 Breakfast — 2 eggs, coconut oil sautéed kale, coconut oil roasted sweet potatoes and sauerkraut. There was also hot sauce involved and a cup of coffee with brain octane oil.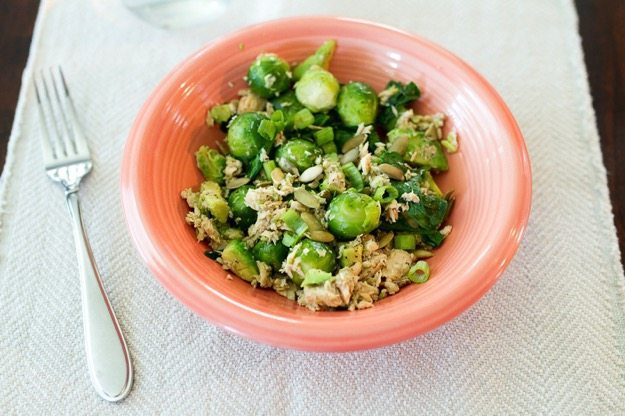 A Green Goddess bowl for lunch — a can of salmon sautéed in coconut oil with 1/2 an avocado, steamed brussels sprouts, spinach, pumpkin seeds and green onion. This meal sounds a little odd but it was soo good. I can't wait to make it again!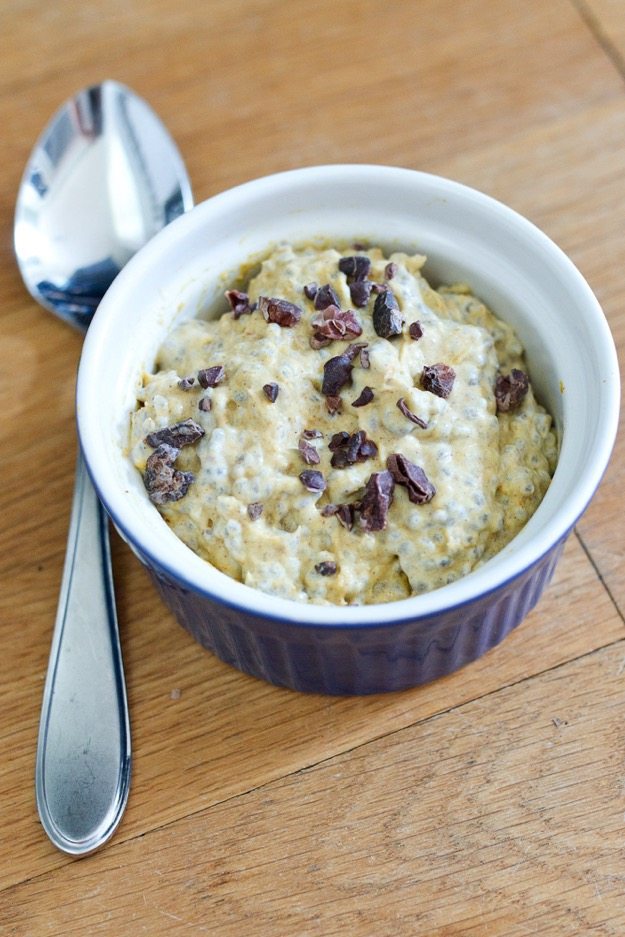 Chia pudding with cacao nibs as a mid-afternoon snack. This batch was made with full-fat canned coconut milk. Canned pumpkin may or may not have been involved. <– I still think it's a bit too early for pumpkin but I've been testing recipes this week and had extra pumpkin to use up. 🙂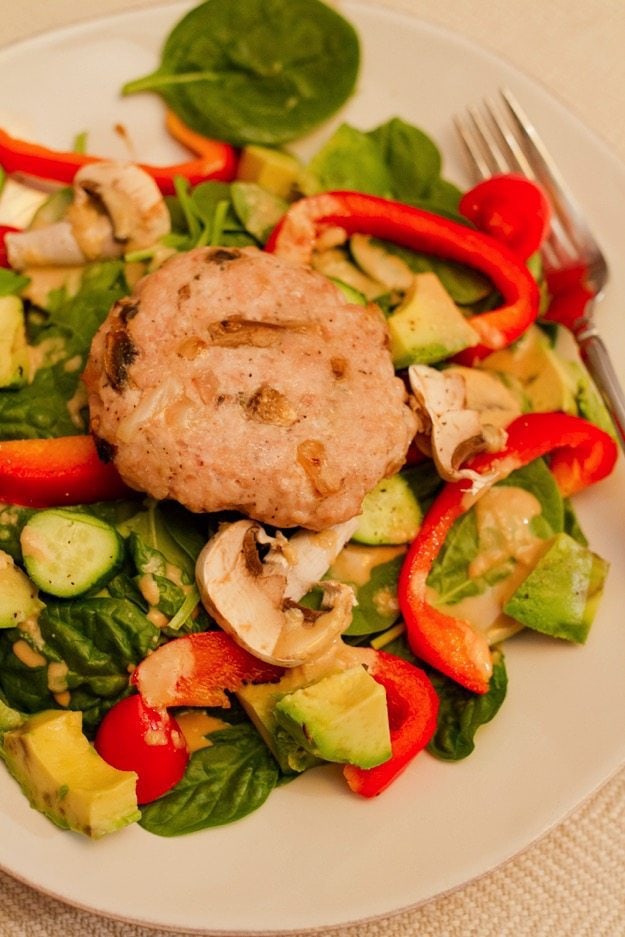 For dinner I snacked on spicy hummus with peppers and cucumbers while prepping a big spinach salad with 1/2 an avocado, lots of veggies and chicken burger on top.  This was delish!
Overall, I've felt awesome eating a high-fat diet with a good amount of protein and ton of veggies. Everything tastes really good when there's fat involved and it's really helped reduce my cravings for processed carbs and sugar. Here's hoping it helps my body regulate itself too. 🙂
Oh, before I go I want to share a few links about healthy fat and hormones that I've found helpful lately because I know there are a quite a few of you that are struggling with hormones issues as well.