What I ate Wednesday is back this week!! I didn't have the time or energy to pull out my big camera yesterday so I've got iPhone pictures for you today. Hope ya don't mind.
Here's what I munched on yesterday: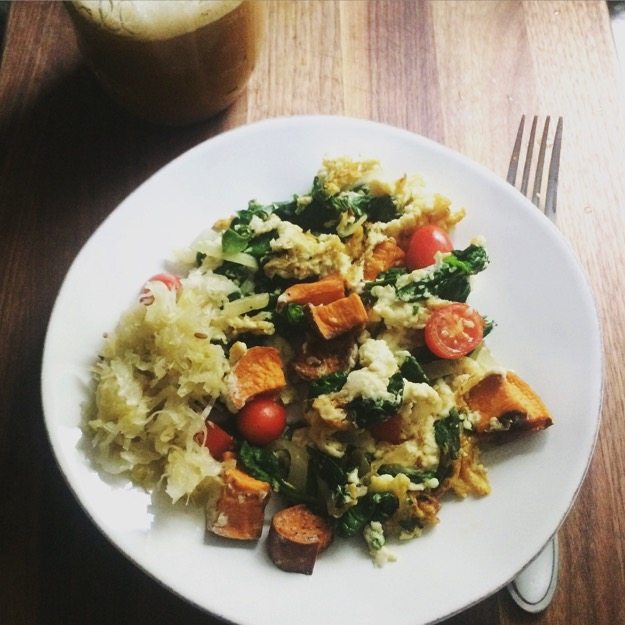 Bfast — egg white and veggie scramble with onions, leftover roasted sweet potato chunks, spinach, grape tomatoes and a side of sauerkraut. Gotta love getting in those probiotics first thing in the morning!
Oh, and a cold-brew iced coffee with almond milk served in a mason jar (a.k.a my summer coffee mug). The iced coffee was actually a new variety that Isaac and I tried this week. It might even be better than the epic iced coffee I posted about last summer. More details soon, I promise.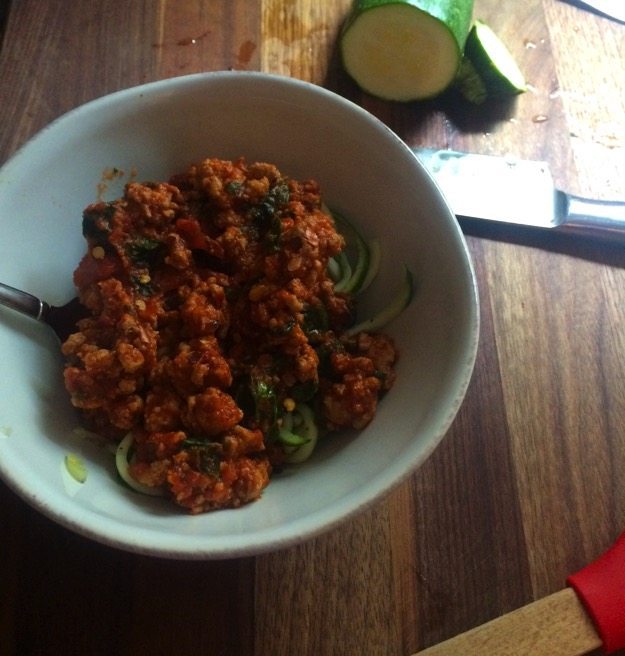 Lunch was leftover turkey marinara and zucchini noodles.
PS – If you don't have a spiralizer (affiliate link) yet, what are you waiting for? I highly recommend ordering one today. Two reasons: 1) You'll love it. 2) I'm sharing a pasta recipe on the blog next week and you need a spiralizer (affiliate link) to make it! 🙂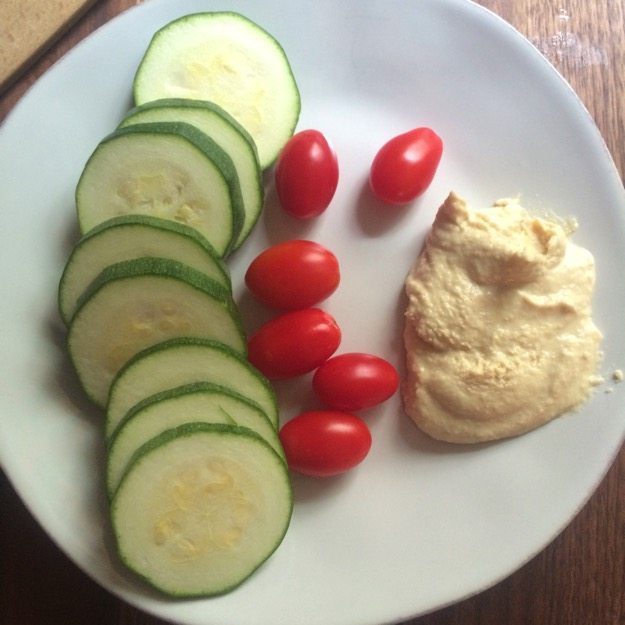 Afternoon snack #1 – veggies and hummus.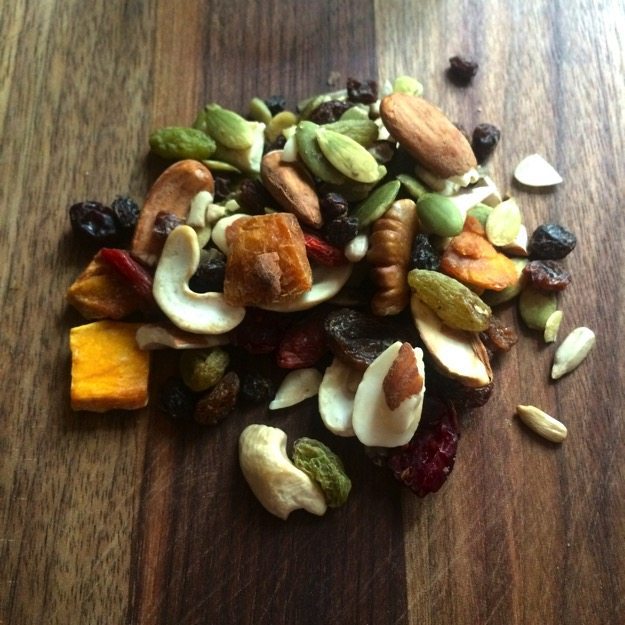 Afternoon snack #2 – trail mix.
I was sooo excited to see that my Whole Foods now has the Mango Fire Sprouted Trail Mix by Living Intentions. I seriously used to look for this trail mix at every Whole Foods I visited when traveling because for the longest time ours didn't carry it. I'm not sure if it's because of my request to the managers or not, but our store now carries Living Intentions products in the bulk section — three different sprouted trail mixes and the superfood cereals. I LOVE all of their products, but this trail mix is by far the best. It's sweet and spicy and perfect for a crunchy mid-afternoon snickety snack.
After shutting off my computer for the day I went for a quick run around our neighborhood. I totally underestimated how hot it was outside and thought I'd be able to head straight to a Pure Barre class after running. Yeah, there was no way. I was so gross and sweaty that I ended up having to shower before going to barre. Kind of funny, but what can you do.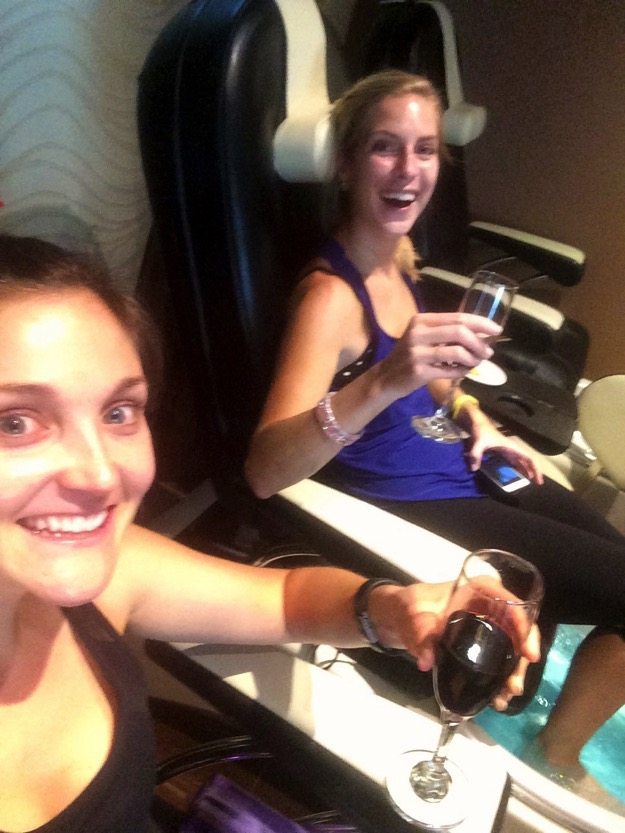 Post barre, Alyssa and I pampered ourselves with mani/pedis at Escape. There was FREE wine as well as cheese and crackers involved. I guess we'll count this as afternoon snack #3.
Btw, if you're local to RVA and enjoy getting your nails done, we were so impressed by Escape! Not only for the free wine, but Han and Kim (our nail techs) did such a great job — they were really thorough and ended up staying over an hour after close to finish our mani/pedis. I'll definitely be going back.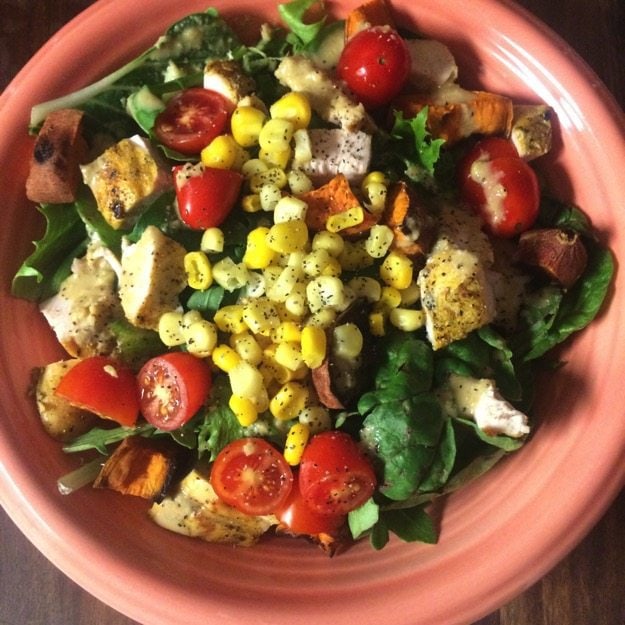 It was pretty late by the time I arrived home so for dinner I just tossed a quick salad together using veggies, the same roasted sweet potatoes from breakfast, grilled chicken and zesty tahini dressing. Easy peasy.
So there you have it. My eats for the day = all healthy meals and a little splurge on wine, which was totally worth it. 🙂
Question for you: what's your favorite food or drink to splurge on? 
Thanks again to Jenn, the mastermind behind WIAW, and to Arman for hosting the link-up this week.