Hi there! I hope you had a fabulous holiday weekend celebrating Easter/Passover/the spring weather. Isaac and I didn't get to do much celebrating since we're traveling but we've been having an awesome time in Austin, TX, which makes up for it.
I'm not even sure where to begin detailing our trip because we've already done so much and we've only been here for two nights. For starters, the weather is amazing – sunny, in the mid-80's with a nice spring breeze. The city has an artsy vibe with lots of locally owned places to go out – restaurants, cafes, food trailers and bars are on every corner. We've been living it up in that regard – lots of eating and drinking. Thanks to all the great recommendations I received from friends (including those on this post), it has been easy to fill our days with delicious food and fun activities…
Coffee every morning – totally necessary.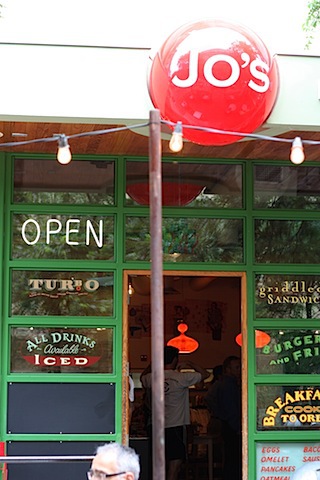 Jo's is known for their Turbo – a drink with coffee, espresso, hazelnut, chocolate and cream. Apparently it tastes like a cup of melted ice cream and has zero calories. 😉 It sounded amazing but we kept things simple. Almond milk cafe au lait for me and iced coffee for Isaac. I love any coffee shop that offers almond milk so Jo's scored high in my book.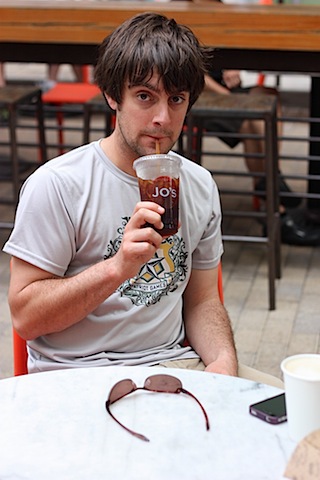 This morning we went to Progress and we both got iced toddy. The barista asked us if we wanted Mexican vanilla added to our coffee and at first I wasn't going to get it because I thought it was vanilla syrup but it was actually just vanilla extract. I loved the sweet flavor it added to the coffee. I'm definitely going to start adding a splash of vanilla extract into my coffee at home now.
We were on our way to Mt. Bonnell this morning so we also grabbed a quick bite to eat at Progress. Isaac got an everything bagel with lox and I got the oatmeal with steamed coconut milk, apples, raisins and almonds. The oatmeal was thick and hearty, which worked out well because we didn't eat lunch until after 2PM.
Other food experiences so far:
Berry Austin for fro yo.
Fro yo is always good! 🙂
Hula Hut for dinner on the water.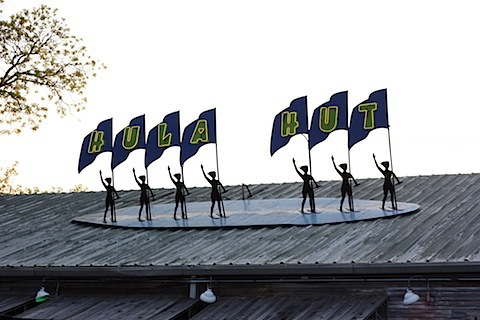 We arrived around sunset and were able to get a table outside on the patio so the view was great.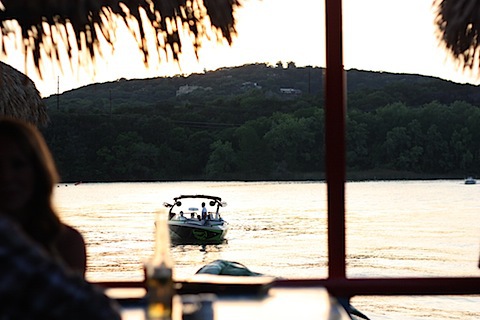 I happily sipped a skinny margarita while we waited for our table.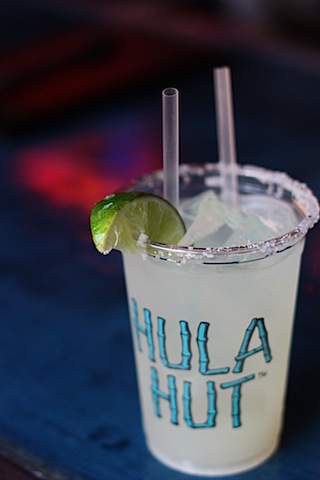 This tasty little drink had only 150 calories, about 400 less than a normal margarita!
We snacked on some chips and salsa before our meal. The chips were thin and warm, while the salsa was fresh and spicy. Definitely ate way too many of those, but that's what always happens with chips and salsa – they're addicting!!
For dinner I got the salmon tacos with black beans and Isaac got the regular fish tacos.
Our meals came with two tacos, which we split so each of us got to try both. Overall, the atmosphere at Hula Hut was really fun and the food was reasonably priced.
After dinner we met up a couple friends (Hi Megan + Jessie) for drinks. Isaac really wanted to check out The Ginger Man because they have a ton of beers on draft. We all grabbed a beer here. I had the 512 Pecan Porter, a beer brewed here in Austin that was nutty and dark but not heavy at all.
After we had our fill of beer we hopped over to Halcyons for s'mores.
So fun!
For lunch today we went to FoodHeads. Sarah had given it a great review so I was super pumped to try the sandwiches (and the pickles).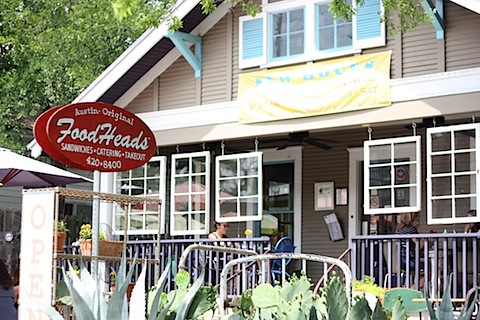 I loved the look of the place – a house turned restaurant with mismatched furniture and plenty of outdoor seating.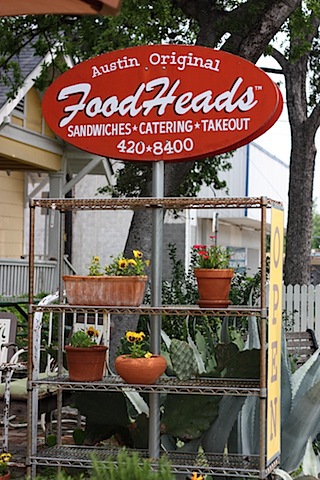 We enjoyed our sandwiches outside at a picnic table. Isaac had the bbq sandwich with pickles – both of which he loved! I had the make-your-own veggie sandwich on nine grain bread. It had a base of hummus, lettuce and tomato and I added roasted eggplant, roasted sweet potato slices, red onion and cucumber slices.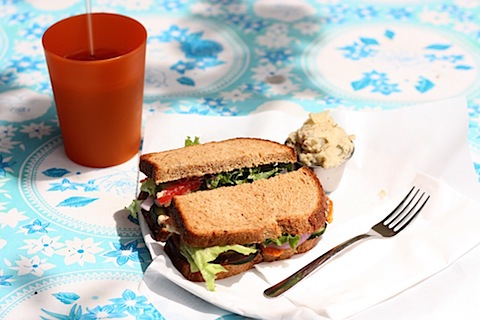 It was super tasty! I liked the roasted eggplant, but I think I am now officially obsessed with roasted sweet potato slices on sandwiches. Don't be surprised if I post a recipe for something similar soon. 🙂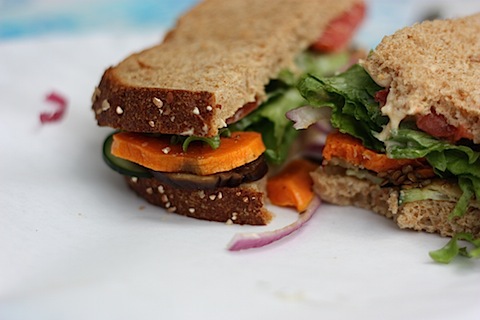 And last but not least, out favorite restaurant thus far has been Second Bar + Kitchen. We met up with a friend (Joe) who is from Richmond, but has lived here in Austin for awhile and he suggested it. Sadly, I didn't have my camera when we went here for dinner on Saturday night (I took this photo the next morning).
The atmosphere is really nice with modern decor and a lively crowd. It was pretty packed on Saturday night so we sat at the bar. The guys ordered the buffalo fried pickles and black truffle pommes frites. I skipped the pickles, but the fries were crispy and delicious.
For dinner we each ordered a large plate. I had the roasted salmon with arugula, eggplant caviar (mashed eggplant), almonds, feta and a garlic-mint pesto. The guys had the braised beef short rib and the grilled berkshire pork chop. Obviously I didn't try any of the meat, but both Isaac and Joe were raving about how good their entrees were. And, I loved my salmon. It was cooked perfectly with a little bit of crispiness on the top and the arugula salad and pesto paired perfectly with it. To finish the evening off we had a sample platter of desserts featuring cashew pistachio nougat, sweet potato whoopie pies, sour cherry pate de fruit and chocolate pudding pops. Everything was amazing and we all left with full stomachs from eating too much. Although the place was a little on the pricey side, it was worth every penny. We couldn't have been happier with the meal or the service.
As you can probably tell, it's been challenging to stick with my April goals this week, but since the weather has been so nice here we've been burning off all the food and drinks by doing a lot of outdoor activities. I even made it to a boot camp class at Whole Foods on Easter morning! <– More on the Austin Whole Foods later, it's massive and probably deserves it's own blog post. I've been there twice already. 🙂
We've also kayaked, walked the Greenbelt,
checked out Barton Springs (we didn't get in the water this time, but we'll be going back for a dip),
and walked up Mt. Bonnell.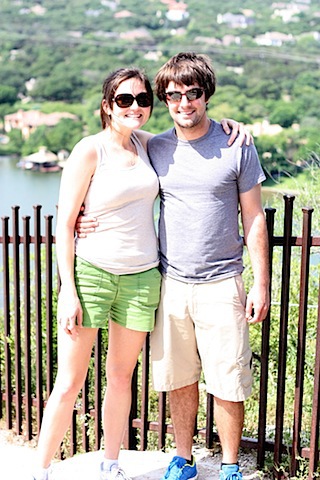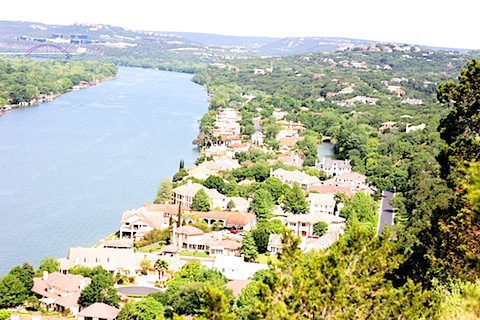 Check out the view of Lake Austin and those huge houses on the water. So pretty!
Now it's time to go eat again (surprise, surprise). We're headed to Parkside, the restaurant our friend Joe works at. Have a great evening!