Bulk bins are awesome! You can buy as little or as much as you want, the prices are typically cheaper than packaged items, and it saves on packaging and waste. What's not to love?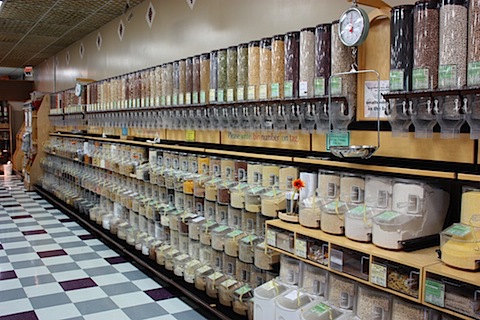 I tend to get overly excited when I see that a store has bulk bins. It might have something to do with my slight obsession with trail mix, dried fruit, and oatmeal, but we'll save that story for another time. There are several organic markets near me that have bulk bin sections and I always wonder which place has the cheapest prices, best selection, etc. I did a little investigating/note taking and decided to share my findings with you all.
For those of you unfamiliar with where to find bulk bins in Richmond, we have:
Ellwood Thompsons: Downtown area
Good Foods Grocery: Two locations, one in the West End and in the Stony Point Shopping Center. I did my research at the latter.
Whole Foods Market: Short Pump
Here's how the different stores weighed in: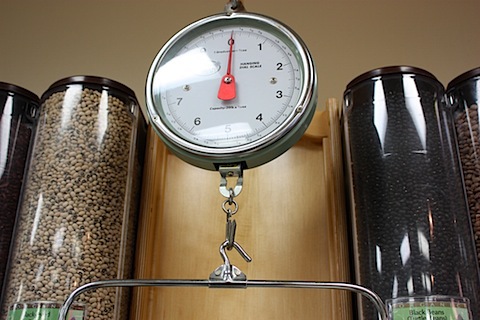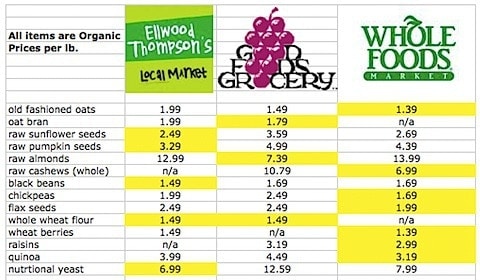 I looked at the prices for staple items that people tend to buy often (raw nuts, oatmeal, beans) and a few extras like wheatberries, nutritional yeast, and raisins. All items priced where organic, even though a couple of the locations carried both organic and conventional bulk items.

As you can see, Whole Foods had the cheapest price on the most items, but Ellwood's prices were pretty comparable and they were cheapest on quite a few items as well. Unfortunately, Good Foods Grocery is the most expensive, although I must say they have the best selection with many more items (sugars, flours, dried fruits, etc) that Ellwood Thompson's and Whole Foods simply do not carry in their bulk bins. It makes sense that the prices would be this way. Due to economies of scale, Whole Foods is able to provide cheaper costs whereas the two local markets are only purchasing for one or two locations and don't get such deep quantity discounts. Although, it makes me happy to see that Ellwood's (the store I can literally walk to from both my home and work) has prices that are quite competitive with Whole Food's and in come cases cheaper!
So there you have it Richmond – Whole Foods has the cheapest bulk bin prices in RVA, Ellwood's prices are awesome too, and Good Foods Grocery has the best selection. If you're looking for an obscure "health food" item – say oat flour or sucanat, hit up Good Foods as they will most likely have it in the bulk bins.
I hope this little experiment was somewhat helpful to you.
If you're a non-local reader, have you ever compared the bulk bin prices in your area, where the results similar?
-Brittany