We're headed to Greensboro NC for a wedding today, which kicks off our 2010 wedding tour – this one in NC, one in GA (the same weekend as HLS), and one in WI. I'm excited because I love weddings, despite the fact that I cry every time! One reason I reason I like attending weddings is to pick up ideas for my own wedding (whenever that might be). I plan to take lots of photos so maybe it can help inspire some of you future brides–to–be with planning details.
The wedding starts at 5 tonight so we made the 3.5 hour trek this morning and stopped by Panera for lunch once we arrived in the vicinity of our hotel.
I got my "usual" you pick 2 – a Mediterranean veggie sandwich with black bean soup.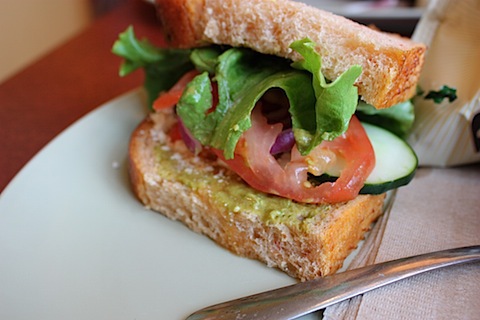 The sandwich and soup were delish and I saved the baked lays for later as a snack.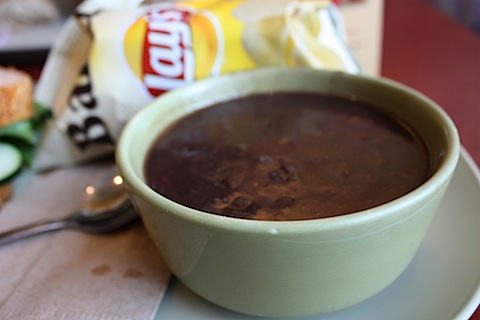 Now we plan to hang out at the hotel for bit and then get ready for the festivities – it should be fun.
I also wanted to say thanks for the thoughtful comments about my leg. It's still tingling and is quite bothersome when trying to sleep, but I think it's getting better. I recently picked up some homeopathic medication for leg cramps and numbness (zincum metallicum) and I have an appointment with a physical therapist first thing Monday morning. I really wanted to see an acupuncturist – both for this problem and for an overall check up, but it was just too expensive and isn't covered by my insurance. :/
I'm hoping at some point it will be covered because I'm learning more about Eastern medicine and think it's quite amazing. Of course I think Western doctors are helpful and medications are useful, but taking chemical pills with a plethora of side effects isn't really up my alley. Plus, I've had success with many homeopathic or natural remedies.
Other Fun Stuff Going On:
1. Lululemon Athletica, which sells yoga inspired athletic apparel, is opening a showroom here in Richmond. It's a smaller scale version of their regular retail store that will be open only on weekends to start. Hopefully they will do well enough to open a full store. I personally don't own any Lululemon apparel, mainly because the closest store is currently in Northern VA and the prices are expensive. But from what I've heard Lululemon gear holds up really well and is worth the pricey cost. I'd love to test out that theory with a tank and bottoms of my own sometime.
Here are the details:
Location: Downtown Richmond at the corner of Brunswick and Main
Opening Date: TBA (word on the street = sometime in August)
Excited and want to be in the know? You can do what I'm doing and follow LululemonRVA on Twitter, friend Lululemon on Facebook and join their email list.
Can you tell I'm kind of excited about it?
2. Don't forget to check out the Cake Pop giveaway I'm hosting! If you haven't entered, do so now – the contest ends Tuesday!
3. My review of The New Rules of Lifting for Women – Phase 1 is coming soon. I'm working on it now!
Have a great Saturday my friends!
-Brittany