We're home! If you follow me on Instagram, you probably saw that we traveled to New York this weekend for our friend's wedding. We drove up to the city with Isaac's parents and had a lovely time celebrating Adam and Erica. We also got to enjoy the city with some shopping and exploring. Everything was decorated for the holidays and the hustle bustle was in full-force so it was a really fun time to visit.
I was a horrible blogger and didn't bring my big camera with me so all I have to share are iPhone pictures. Hope ya don't mind!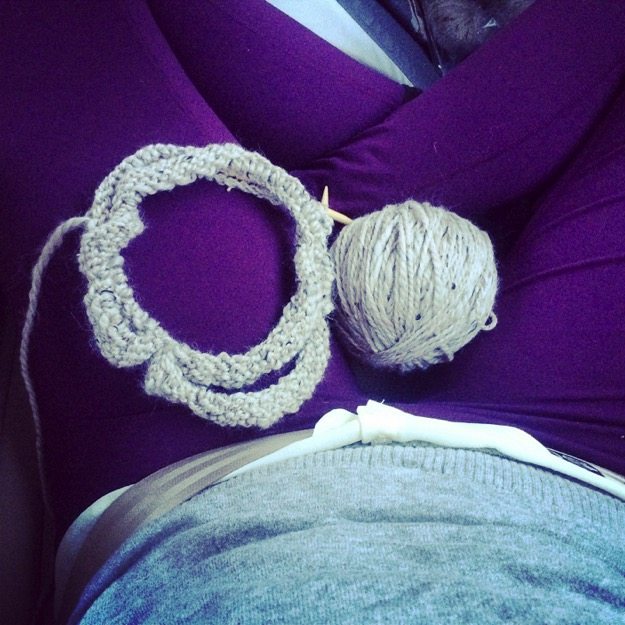 A little knitting on the drive. Isaac's mom, Ellen, is a pro knitter so she's been giving me "lessons" over the past few years. I tend to go through phases with knitting, but whenever the weather gets cold I start wanting to knit again. Since I knew I'd be with her all weekend (and in the car for over 12 hours) I started a new infiniti scarf project and got about 1/8th of it done. Hopefully I'll have some time over the holidays to finish it.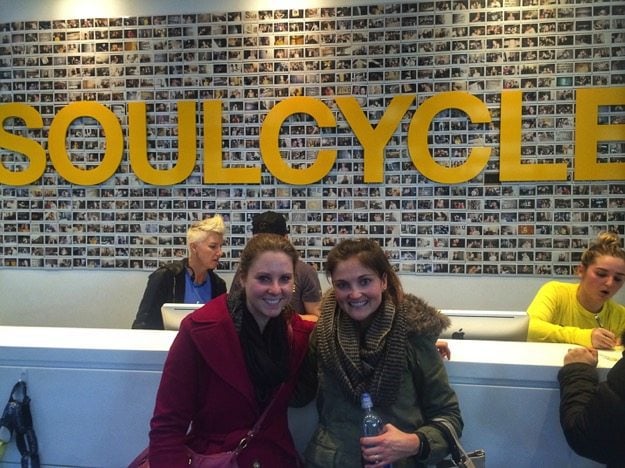 After arriving into the city and checking into our hotel I headed to a SoulCycle class with Lindsay. I really want to take a Pure Barre class as well but the closest location was a hike from the hotel and the open times didn't work with our schedule so it didn't happen. Oh well, SoulCycle was fun.
Friday night we attended the rehearsal dinner at Canaletto — such delicious food! Isaac was with Adam and the other guys most of the day on Saturday so I hung with the girls — we grabbed brunch at Felice, went shopping and got our nails done. I also hit up DryBar for a quick blowout.
Then it was time to get the party started…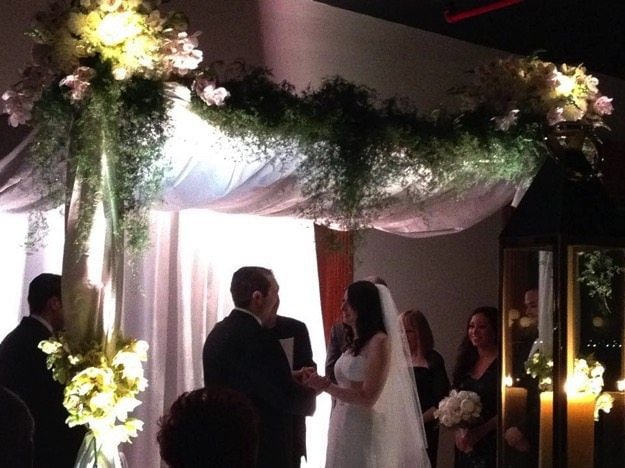 Both the ceremony and reception were at The Liberty Warehouse in Brooklyn. The space (and the views) were absolutely stunning! Adam and Erica did a great job adding personal notes to the ceremony. It was a really sweet wedding that had me in tears.
Here's a shot of my handsome date. 🙂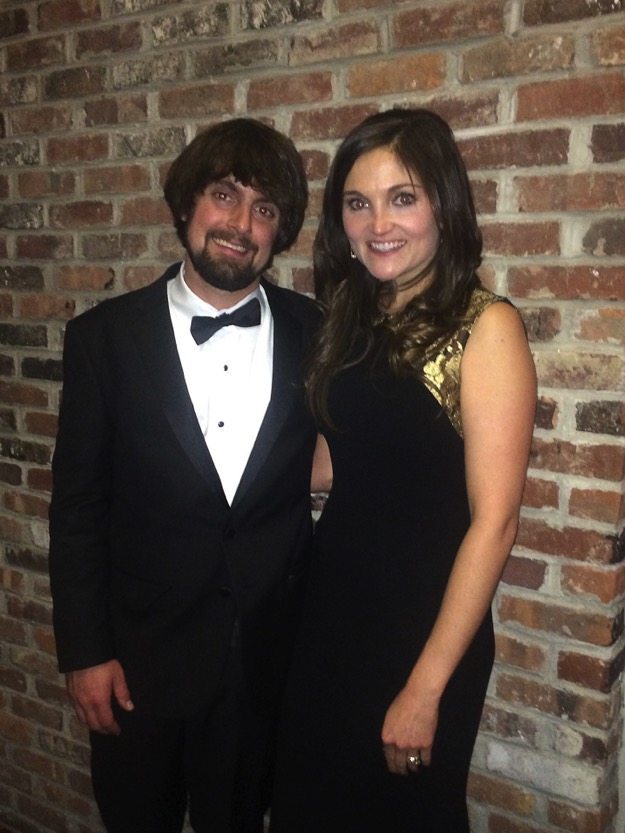 I debated for months about what dress to wear to the wedding and finally decided to try Rent the Runway (affiliate link). I was a little nervous since it was my first time so I ordered this dress (in two sizes) and a back-up dress just in case. Both dresses fit, but I'm really glad I decided to order the back-up dress because it fit better and ended up being the one I choose to wear.
The dress was comfy, classic, flattering and perfect for the occasion. I got the dress on Thursday and returned it via UPS today. Overall, I really enjoyed using Rent the Runway and will most likely be doing it again sometime soon. They have designer dresses starting at $30 and they even have tacky Christmas sweater rentals right now. 🙂
We had a blast dancing the night away with the bride and the groom. It was a late night so we slept in a bit this morning. Before heading out of the city Isaac popped over to Torst, his favorite Brooklyn beer bar and we grabbed brunch at Nights and Weekends.
I had the roasted pumpkin salad. It was tasty, but man was it spicy. Whew! I had sweat beads forming on my face the entire time I was eating it.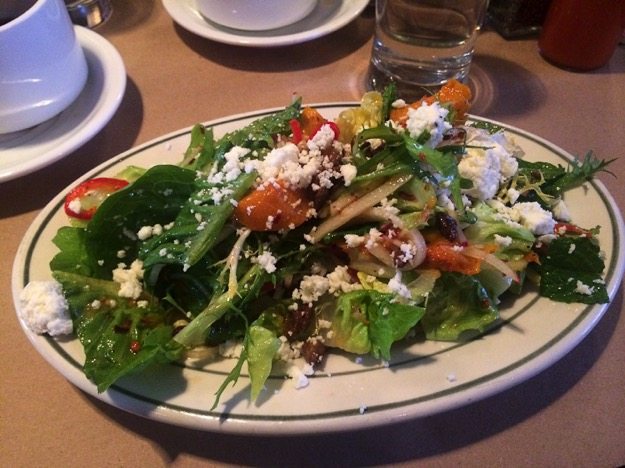 Before getting in the car for the six hour drive, we snagged coffee from Five Leaves and gluten-free pumpkin spice muffin from Konditori for the ride home.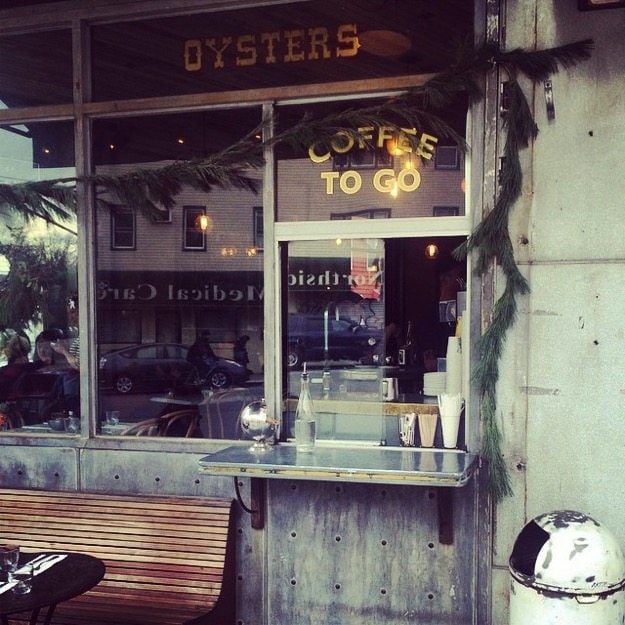 And now we're home getting ready for the week ahead — it's going to be a busy one because I still have a lot of holiday shopping to do and a couple fun events on the calendar… Happy Sunday friends!