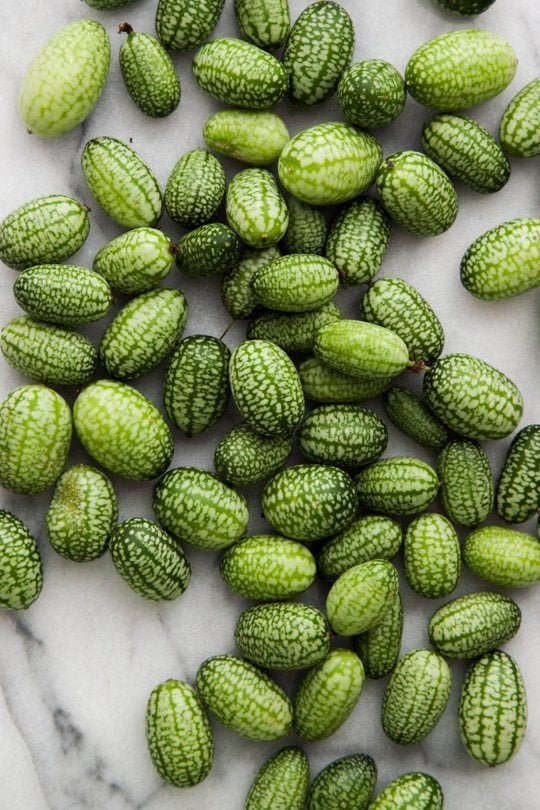 [source]
I'm always stumbling upon things — either via the internet or in everyday life — that I'd like to share. Whether they're informative, useful, delicious looking or just plain hilarious, I thought it'd be fun to do a little roundup every so often. 
Kris enlightened me to the fact that cucumelons exist. They're Mexican cucumbers that look like tiny watermelons (so stinkin' cute). I haven't had them before but apparently they taste like regular cucumbers with a hint of lemon. Given my obsession with all thing mini, finding and using them for this salad is obviously very high on my 2015 summer bucket list.
Whole Foods is my #1. I know people think it's more expensive (and it can be) but if you're a savvy shopper you'll know that there are deals to be had. And look, here are 28 items that are actually cheaper at WMF.
I've been loading up my amazon shopping cart with cookbooks from some of my favorite bloggers right now. I want them all.
Speaking of cookbooks, this Hippie Bowl has to happen. Gosh, I may actually have to go to the store and make it today.
The fact that the FDA is going after KIND Bar irritates me and proves that the FDA is a little behind the times. We now know that not all saturated fats are bad for you — those that come from nuts and coconut are HEALTHY. Really, it's sugar we should be worried about and guess what, KIND Bar offers a bunch of low sugar bars that are really good.
You know the days when you put your workout clothes on in the morning and somehow you look at the clock, it's 5PM and you still haven't made it to the gym? That's basically my life. Following fitness peeps (like these 25 Insta accounts) can help because all you'll see is fitness posts when you're procrastinating by scrolling through your feed. 🙂
My Spring 28 Day Transformation program starts Monday and I'm so so so excited! Can't wait to get started with this lovely group.
In case you didn't know, I'm a fresh spring roll fanatic. So much so, I have a whole board for them on Pinterest. As of late, I've been swooning over these and these.
My mother-n-law has me hooked on essential oils and I'm loving the DIY essential oil recipes on the Free People blog — here's one for stress and anxiety and one for cellulite.
I recently realized that one of my favorite EBF recipes has such an embarrassing photo. Definitely updating that one for you guys soon.
Hard core girl crush alert! I've been a big fan of Kathryn Budig for quite a while now, but she recently wrote this article about body acceptance and being insure about her belly and now I love her even more. The piece is totally relatable and such a good read. Oh, she also has a recipe for healthier gluten-free Oatmeal Creme Pies, one of my favorite Little Debbie snacks as a child. Apparently she and I both grew up eating the same type of foods. 🙂
We've had a few warm days which means it's almost time to break out the iced coffee — this recipe is seriously the best.
Given that it's Friday and all — here are a few good tips for eating healthy on the weekend.
Hope your weekend is lovely. <3
This post may include affiliate links. Thank you for your support.