First thing first, thank you for all the sweet comments about our engagement photos! You could probably tell, but I'm super excited about them. I literally can't stop smiling when I look at them. 🙂
It's crazy to think that this past weekend marked one year until our wedding weekend! The weather was absolutey gorgeous so we can only hope it's just as nice next year. Fingers crossed – all ten of them. 🙂 Anyhow, we had a pretty full schedule this weekend so here's a quick little recap of all the fun that went down.
Saturday morning I did a healthy snacking presentation for kids at the YoKid Richmond Challenge. It was hosted at Project Yoga Richmond, the community based studio I have mentioned before.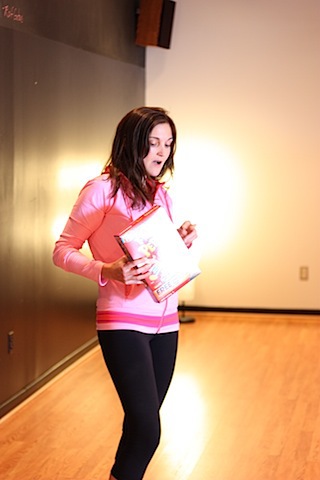 We talked about reading nutrition labels, why healthy snacks are important and then made one of my favorite snacks – trail mix!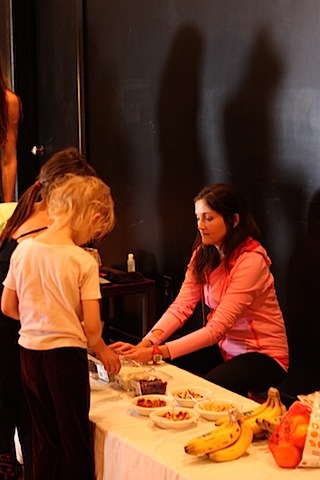 A visit to the South of the James Farmers Market was in order after the YoKid event…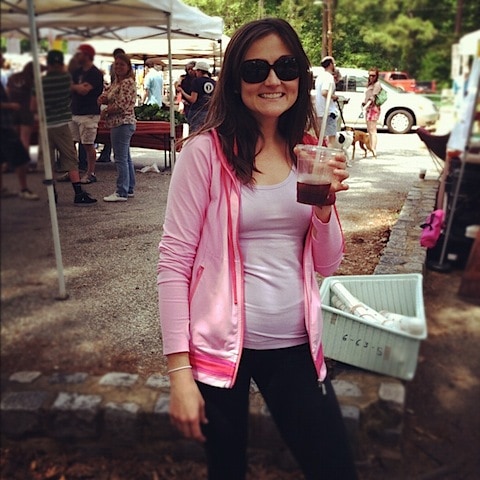 I'll never turn down a chance to visit the farmers market (or a free Blanchard's iced coffee).
Later in the day we had friends over for grilling out. The two highlights of the night included a strawberry salad with goat cheese feta and strawberries, roasted almonds and a maple balsamic dressing. The freshness of the goat cheese and the strawberries (which we had purchased that morning from the farmers market) definitely had a little something to do with how delicious this was.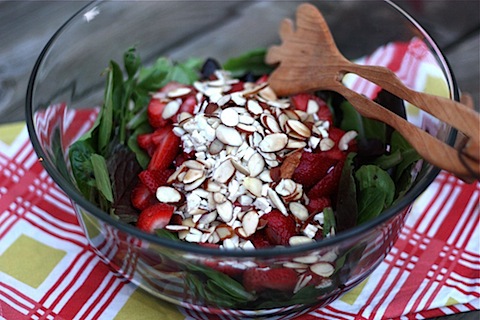 The other show stealer was the dark chocolate Zico coconut water martinis that Isaac made. They were dangerously amazing!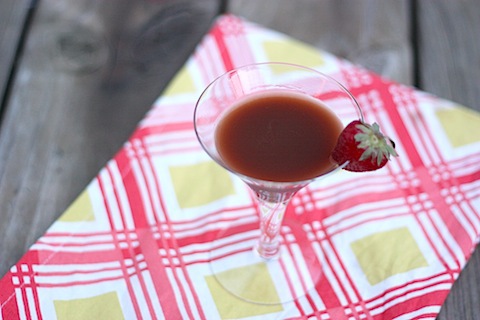 Dark chocolate Zico, vodka and kahlua!
On Sunday morning I went to brunch with my mom and nanny at Light Well, a fairly new restaurant in my hometown (Orange, Virginia). I was excited to try this place because they serve locally sourced foods and have a good variety of healthy options. I choose the daily quiche with garlic, zucchini and squash and a side salad with blue cheese, cucumbers, grapes and pecans.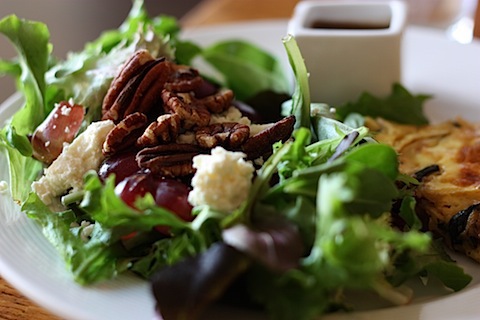 My meal was delicious and my mom and nanny enjoyed their dishes as well.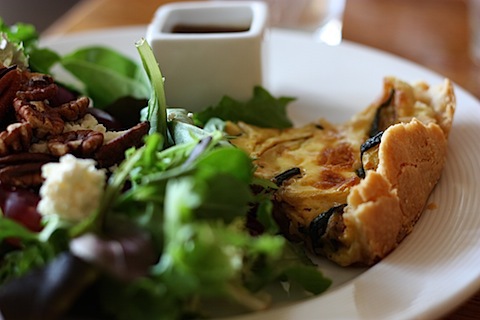 After brunch we went over my cousin's house and I got to meet my new little cousin, miss Hannah.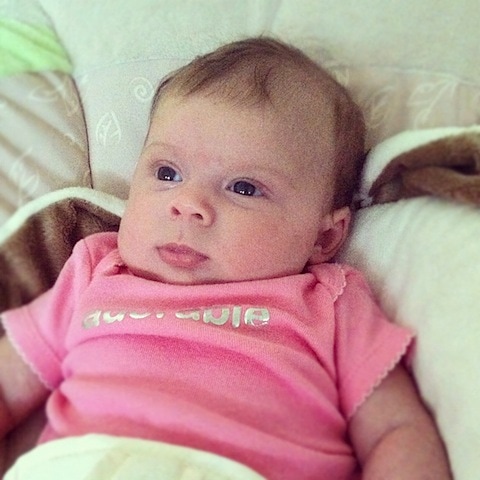 Her shirt says it all – adorable. 🙂
I part ways with my mom and nanny and headed back to Richmond to meet up for dinner with Isaac's mom and dad at Peter Chang's China Cafe, a new restaurant with a famous chef (Peter Chang himself) that everyone has been raving about. We all enjoyed the appetizers and entrees with ordered – definitely some of the best "Chinese/Szechwan" food I've had before – and this is coming from a lady that doesn't like Chinese food that much.
Bang bang shrimp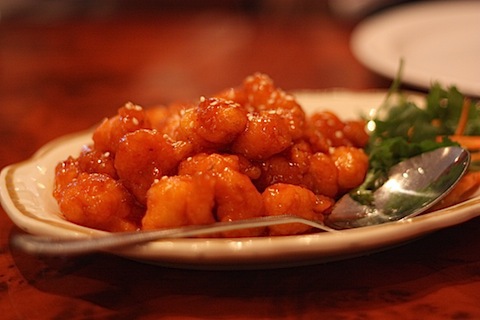 Dry fried eggplant – I had to order this after Stepanie's raving review.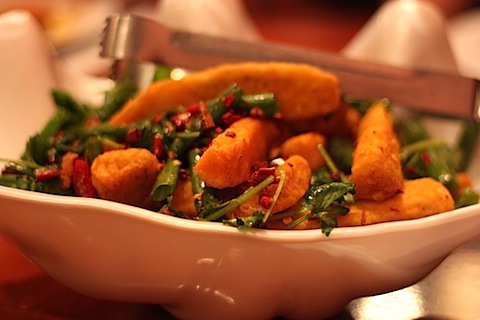 Shrimp with asparagus and snow peas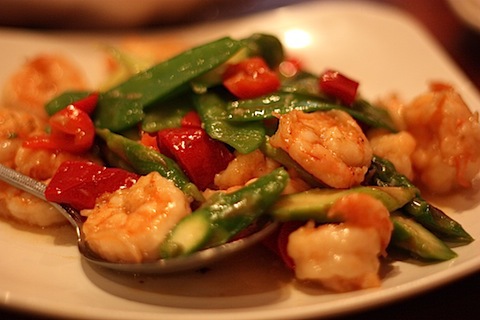 Bamboo fish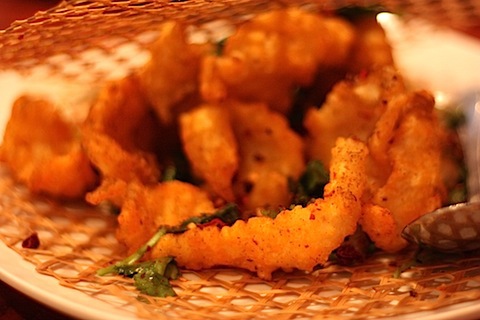 Overall, I think the bamboo fish and the shrimp with asparagus and snow peas were my favorite dishes. A couple things I did noticed – there were a lot of fried foods on the menu and everything was pretty spicy, although this make sense because Szechwan cuisine is known for it's liberal use of garlic and chili peppers. I try to stay away from fried foods, but I tasted a little bit of everything pictured above and was impressed because even though the dishes were fried they weren't heavily breaded or doused in oil.
To finish the weekend off we stopped by Whole Foods to get some groceries for the upcoming week. I found a little treat that was on sale in the ice cream isle – guilt free Arctic Zero Frozen Dessert.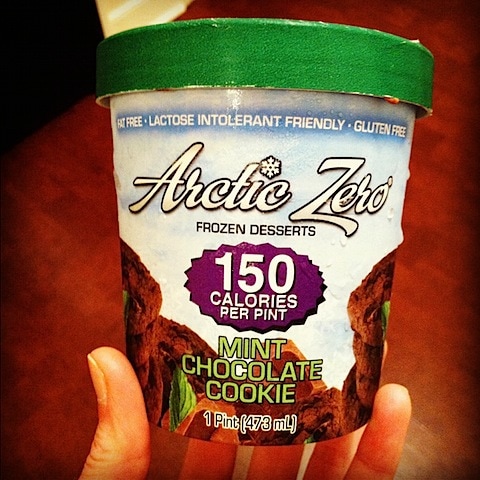 I tried a little bowl last night it was pretty good – it has less than 40 calories and only 5 grams of sugar in a 1/2 cup serving! It reminds me a lot of homemade protein ice cream. I was a little disappointed there were no cookie pieces despite the name Mint Chocolate Cookie, but it did satisfy my craving for ice cream for less than 40 calories! Definite win in that department. 🙂
I hope you had a fabulous weekend as well! Happy belated Mother's Day to all the moms out there!
Now it's time for me to head to work…