Thank you for all the sweet comments on my previous posts about our wedding. I really hope you all have enjoyed reading them as much as I have loved sharing them with you. And hopefully it's not annoying that I divided the photos into different posts — there were just waaay too many photos for one post.
If you're just tuning in, you can easily catch up by checking out the other wedding recaps I've posted:
Oh, and our photographers posted my bridal portraits on their blogs!!! Check them out here and here. These photos were taken about a month before the wedding on the day I did my hair and makeup trial. I think they turned out great.
Today I'm going to share some of the little details and decor from our wedding. I loved everything about our rustic chic look — it was simple, but still beautiful and it was perfect for an outdoor wedding.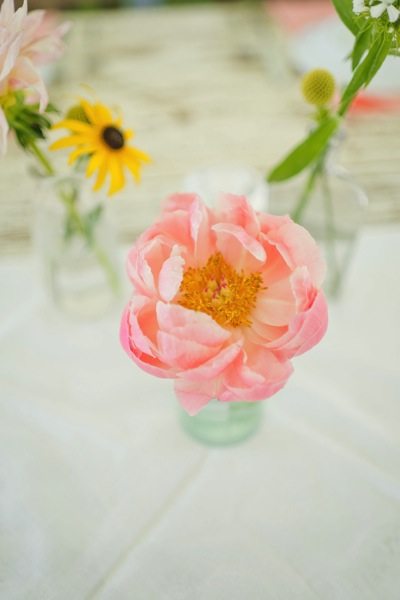 I'll start the flowers. Our florist was Petals, Flowers by Sarah. I knew I wanted a simple wildflower look and I wanted to try to source all the flowers locally. Sarah took my vision, ran with it and did such an amazing job.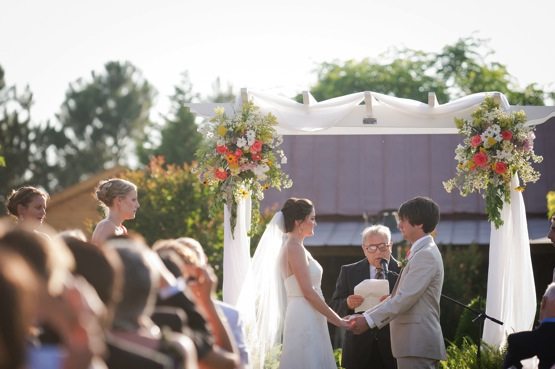 I loved all the flowers so much.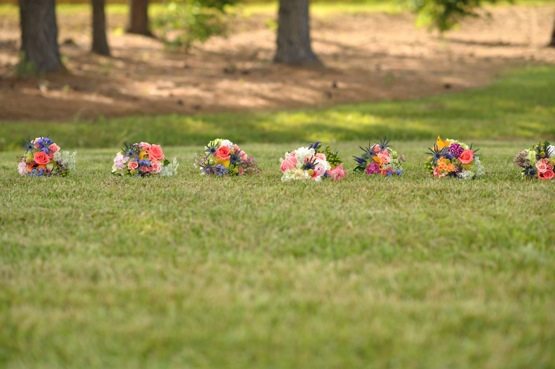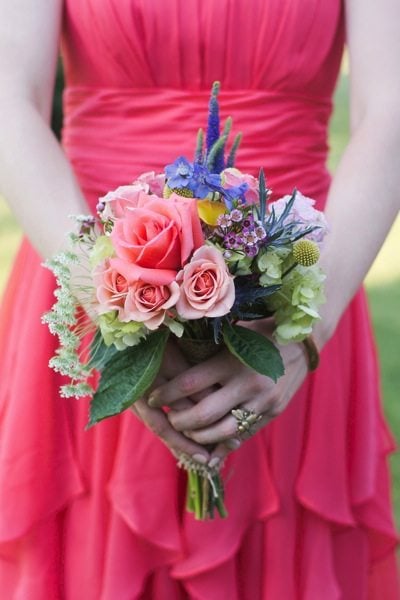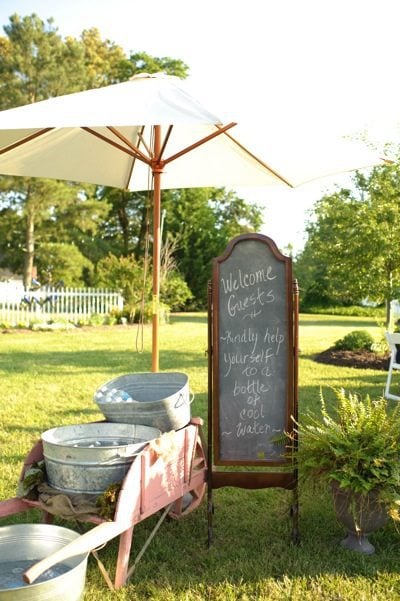 To keep with the rustic chic theme, we used vintage furniture throughout the ceremony and reception. Some items were owned by our venue (Clay Hill Garden Events), put most were provided by Somethin' Borrowed or New, a vintage rental company based out of the Hampton Roads area. They have some amazing pieces, which really tied our whole look together. When I arrived at the venue, I was totally taken aback by how beautiful everything looked.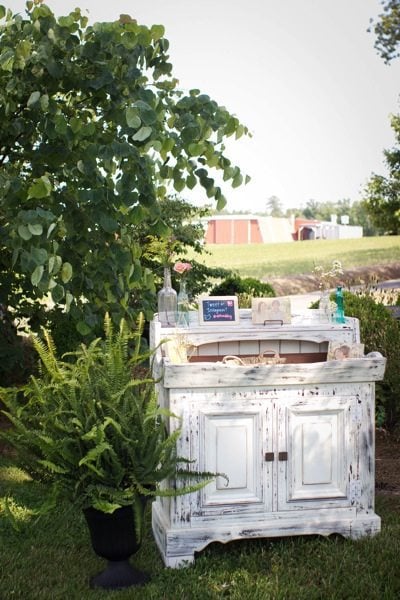 This stand was at the entrance of the ceremony site and had our programs sitting on it for guests to pick up as they walked by.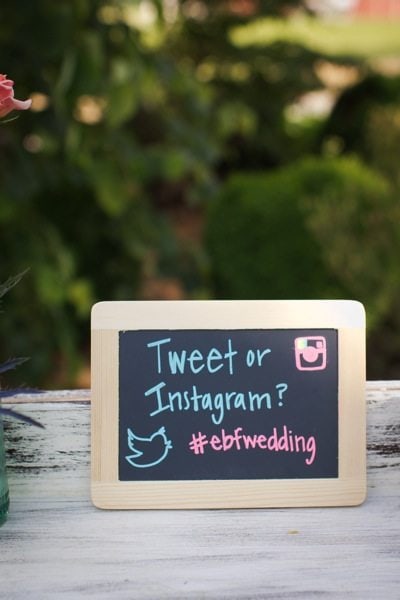 There was a hashtag, of course. 😉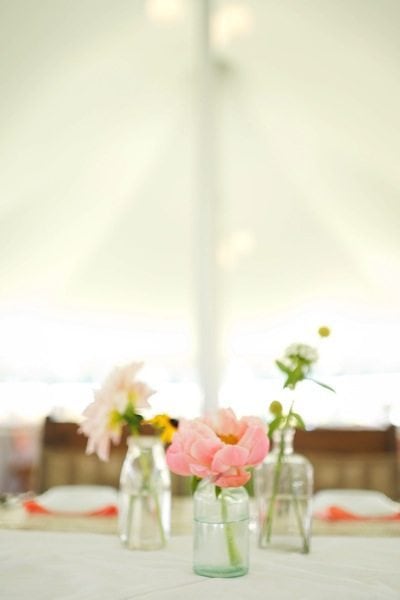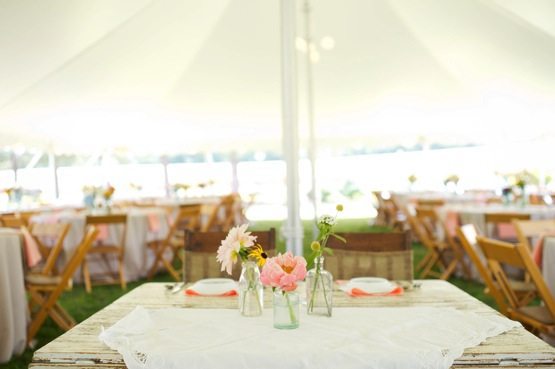 Here's the sweetheart table and chairs where Isaac and I sat during the reception. I loved having our own special table.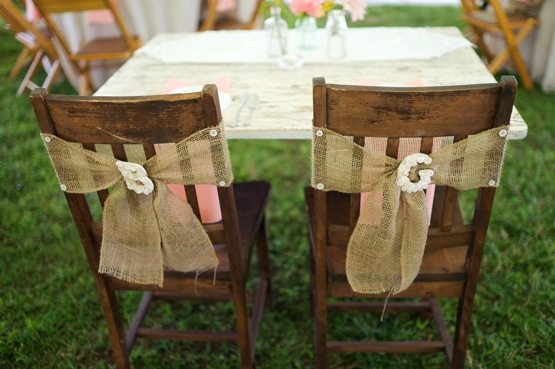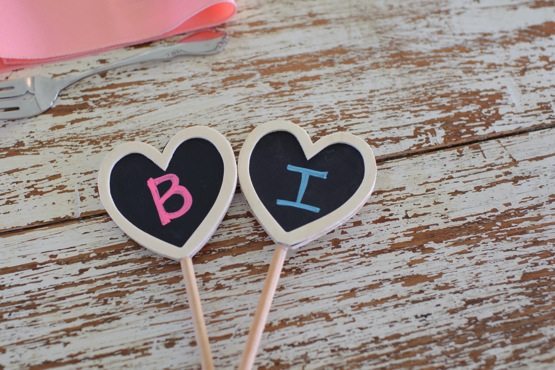 These little guys were a gift from Kris, the blogger behind Young Married Chic. We have her to thank for finding out about the Perfect Wedding contest and for our adorable favors (more on those below).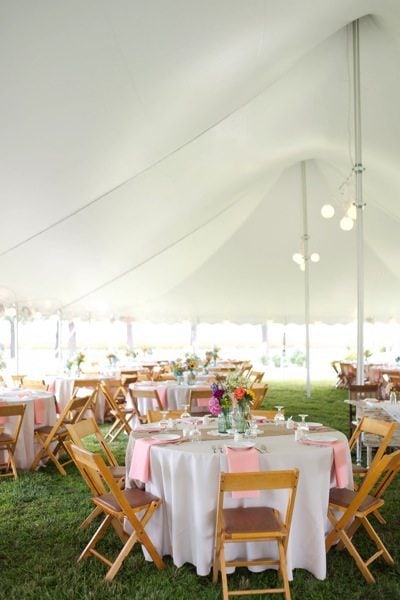 Here's the reception tent look — it was exactly the way I wanted it with burlap runners, coral napkins and wildflowers in blue mason jars for the centerpieces.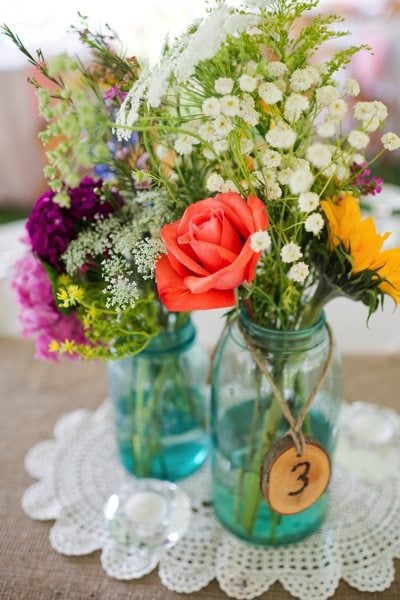 The little wooden table numbers were a DIY project that my dad took on for me. The best part is that they're made from a branch off my first Christmas tree!! My mom and dad planted the tree in our front yard after celebrating Christmas back in 1985 and the tree is still growing strong. I'm a very sentimental person and this piece of the wedding decor meant so much to me.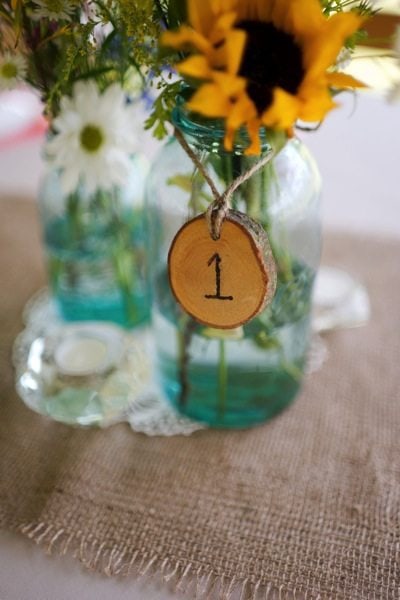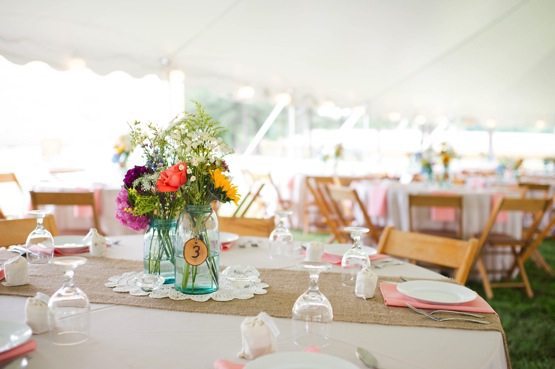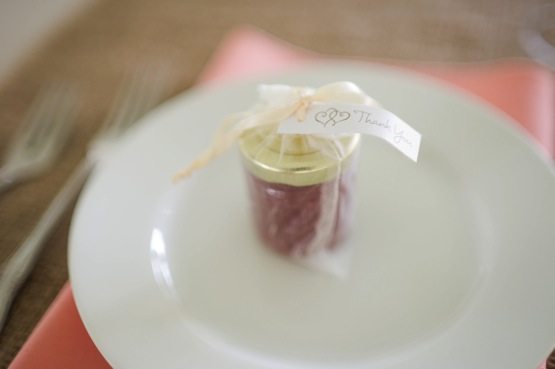 We had little jars of homemade jam sitting on the table as a favor for each guest. As I mentioned, the lovely Kris of Young Married Chic made them for us. The jam was so delicious too. Everyone has been raving about and commenting that they wished the jars were bigger. 🙂 FYI – Kris is seriously the cutest thing ever and her blog is full of drool worthy recipes, entertaining tips, fashion, workouts and everyday life in New York. Definitely check it out.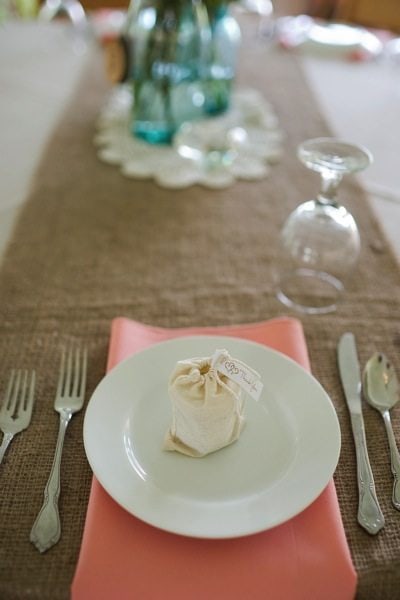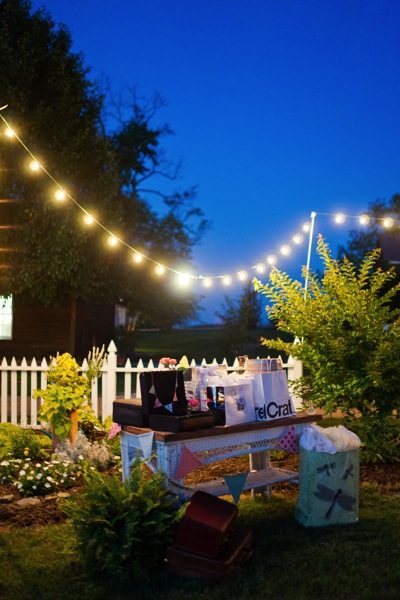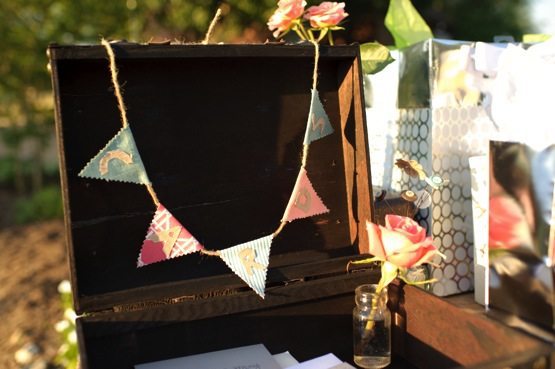 A friend of mine that works at a local fabric shop, u-fab, helped me make bunting signs (Thanks Alison). We used a small one to label the card suitcase, a large one to decorate the front of the gift table and then another large one to go behind the cake table.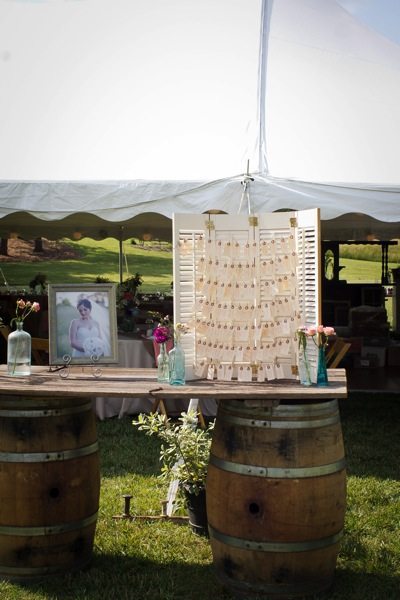 The shutter frame used to hold the escort cards was another DYI project. Isaac helped me a lot with this one! We actually found the old shutters at Habitat for Humanity and he hinged them together and tied on the twine. All the tags were handwritten by me and pinned on with the mini clothes pins by our wedding planner. <– I seriously don't know what I would have done without her. While I was busy getting ready with my girls the day of, she and her team were making sure everything was arriving and set-up just the way we wanted it.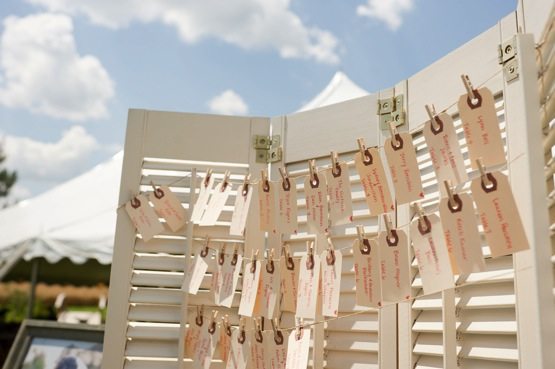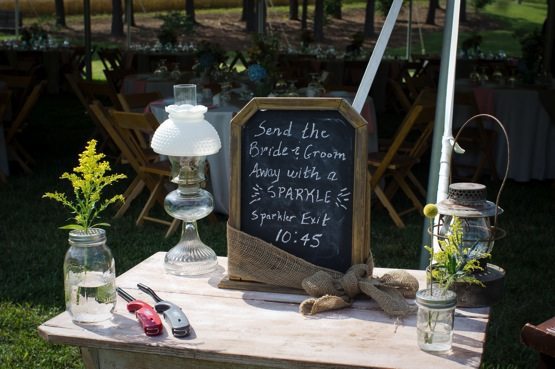 Oh, the cake!
Our cake was from Pearl's Cupcake Shoppe here in Richmond. Two of the layers were oatmeal flavored and two of the layers were deep dish apple pie. It was ahhh-mah-zing!!!!! If you live in Richmond and you haven't been to Pearl's before, I highly recommend going, today if possible. I always said I didn't like cupcakes, then I went to Pearl's… let's just say my attitude changed. They even have vegan and gluten free options too. Seriously, go an try their cupcakes or order a cake from them. I promise you won't regret it. 🙂
The little love bird cake toppers were borrowed from my good friend and bridesmaid, Beano. I wrote about her wedding and even featured a pict of the little birds back in 2010. She was kind enough to let me borrow them. Thanks Bean!
I made a tiny little bunting flag with a heart on it to go on top of the cake as well. <3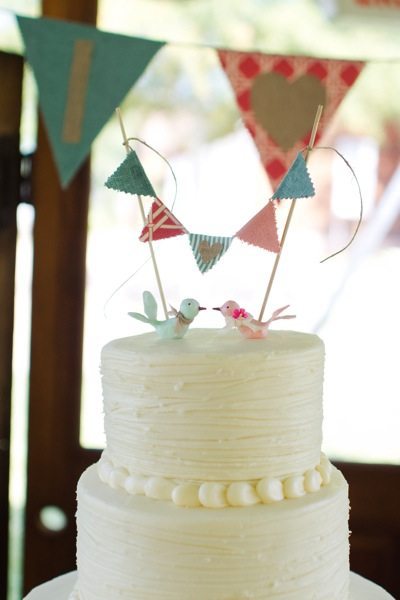 The cake knives were a gift from my wonderful matron of honor and her husband (Thanks Britt!). Isaac and I loved their design.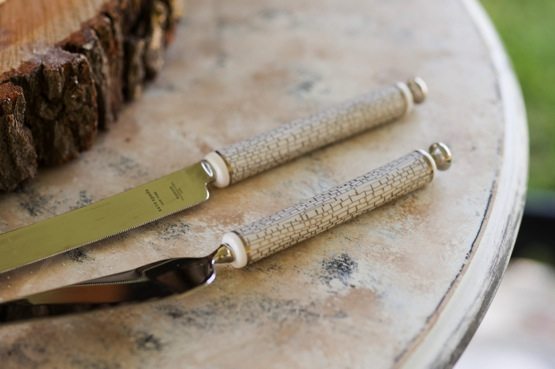 Our champagne flutes were also a gift, from a special set of parents from Isaac's school.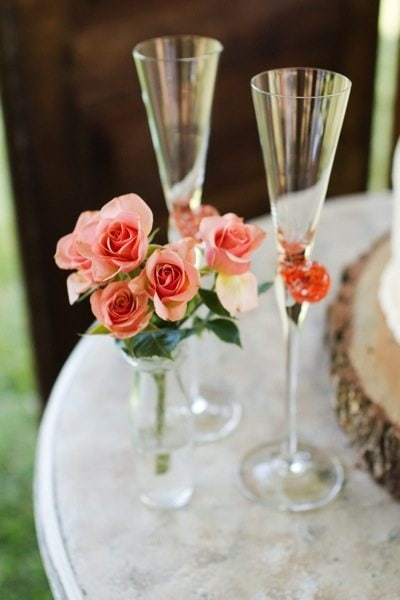 The barn was the main hub for all the food and I'll be getting to that in my next recap… which will be all about the PARTY, I mean reception.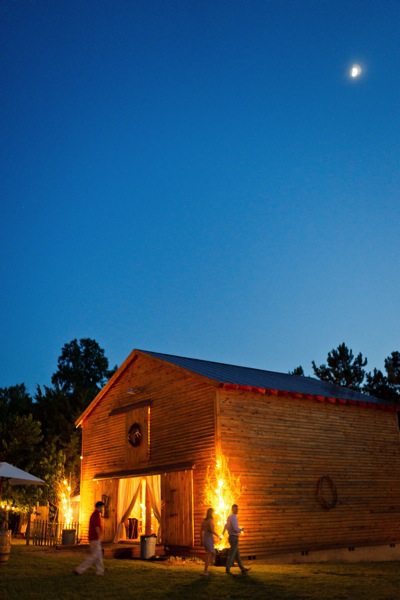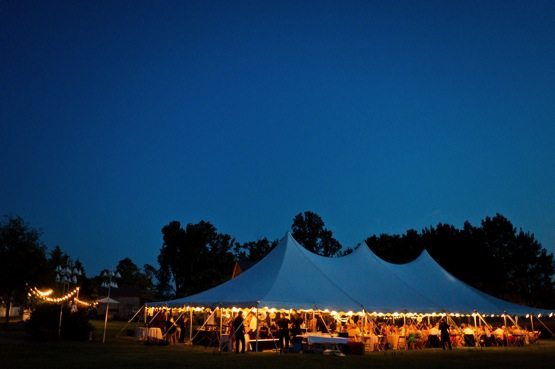 **All photos were taken by our photographers: Sharon Elizabeth Photography and Warthan Farms Photography. <3 them so much! Our wedding wouldn't have been so amazing without them and the Perfect Wedding giveaway.