Being a part of Brooke and Jon's wedding last weekend made me realize that it's already been three weeks since Isaac and I tied the knot. I've want to share a few wedding recaps with you all before too much time passes so I think I'll start today.
Oh goodness, where to begin…
The week of our wedding I worked Monday – Wednesday and took the rest of the week off. I'm so glad I did this because there were so many little things to to get done.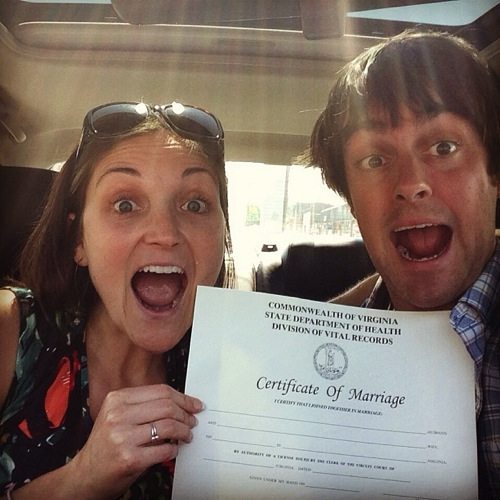 Like getting our marriage certificate (no big deal).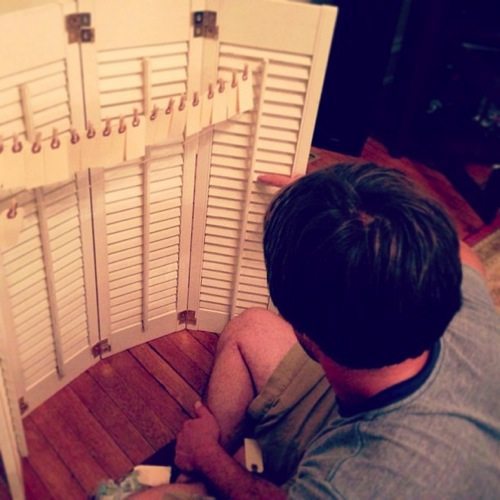 Isaac was off work as well so he helped out a lot with my DIY projects and all the last minute errands, which I was very appreciative of.
Thursday flew by and before we knew it, Friday morning (the beginning of our wedding weekend) had arrived. I woke up early to work out and then met up with a few ladies (my mom and nanny, Isaac's mom, and my bridesmaids that were able to make it) to get our nails done.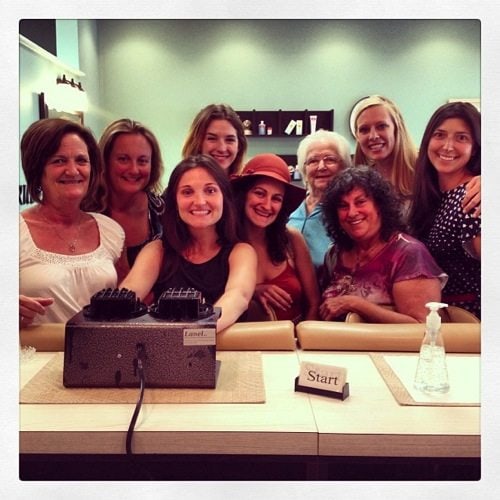 This picture is funny because I had messed up two of nails before leaving the salon and had to get them redone. Basically, everyone was just waiting on the bride's nails to dry. This always happens to me.
We went to Atir Nail Salon in Short Pump, which I highly recommend. They're an all-natural salon and do an excellent job. We had a big group so we had to spilt up but it worked out really well — one group got manis while the other group got pedis and vice-versa.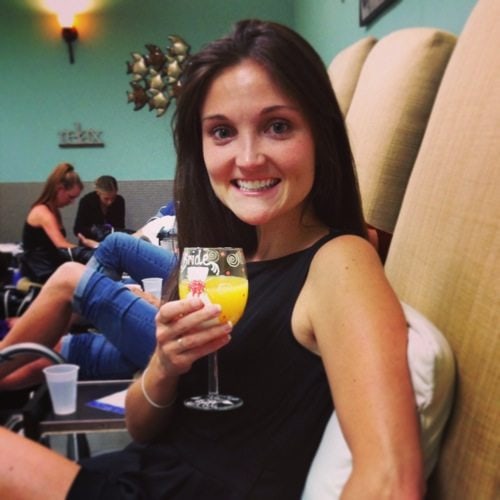 I got to use my bride wine glass (a gift from my MOH) again for mimosas while getting pampered. It was a really fun and relaxing way to start off the weekend.
After getting our nails done, the girls and I headed to Whole Foods to pick up something quick for lunch. Then everyone in the bridal party met up at our house so that we could carpool to the rehearsal at our venue, Clay Hill Garden Events, which is about an hour south of Richmond. This is when things started to feel real because all our friends were arriving and our house was bustling with excitement before we headed out.
My wedding planner, Shay (A Pinch of Charm), was waiting for us when we got there and took charge of the whole thing, which was awesome. One of the biggest things I would recommend to any bride is to consider hiring a wedding planner, even if it's just for the rehearsal and day-off coordination. I don't know what I would have done without Shay.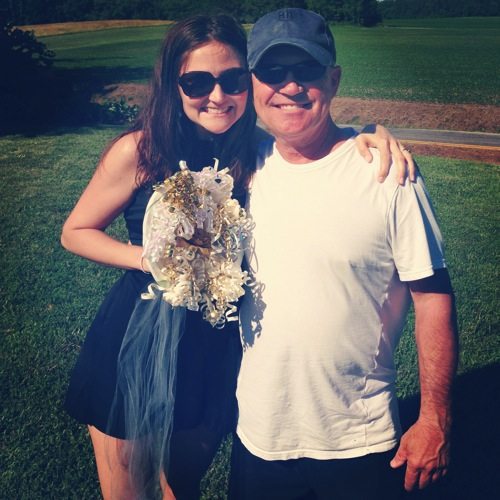 My dad and I at the rehearsal.
After rehearsing, we headed back to Richmond. Once we got back we had a little time to shower and change and then it was time for dinner. The rehearsal dinner was held at Mekong, a Vietnamese restaurant and beer bar that Isaac and I frequent (Isaac just a tad bit more than me). We debated back and forth whether to have the rehearsal dinner in Richmond or in Yale, VA (where the venue is located) but ultimately decided on Richmond. There weren't a lot of options in or around Yale and we wanted a place laid back and fun with good food and good beer — Mekong was the perfect spot for this! We only had bout 35 people so we served dinner family style, had two beers on tap (a his and hers) and wine for guests to enjoy as well.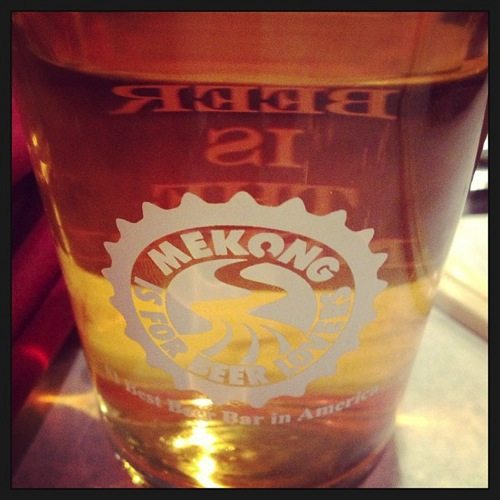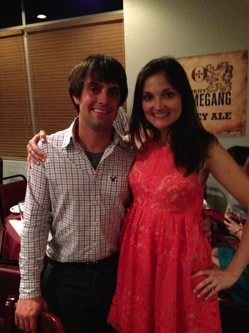 Don't mind me — just celebrating by drinking a little wine from the bottle.
I was starving by dinner time and didn't even think about getting any food photos (bad blogger). The food was really good, per the usual, and it was a blast catching up with so many of our friends that I haven't seen in a while.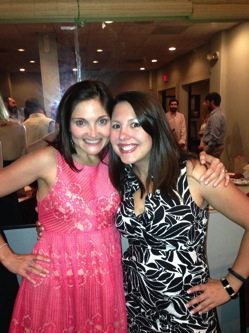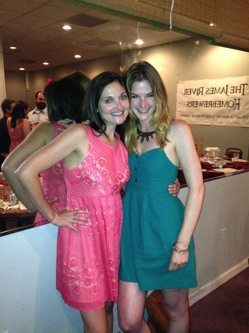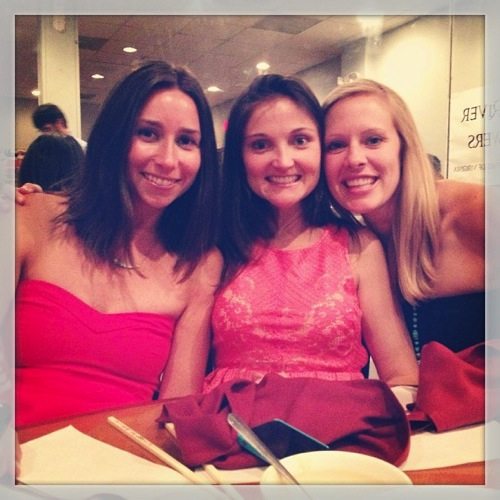 After dinner we surprised Isaac's parents with a cake for their 35th anniversary.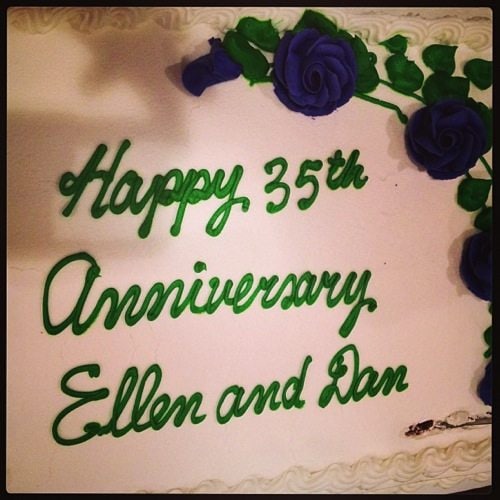 Their wedding anniversary is June 13th, one day before the rehearsal. We knew they wouldn't expect anything but thought it would be something sweet to do for them. 35 years is a big deal!!!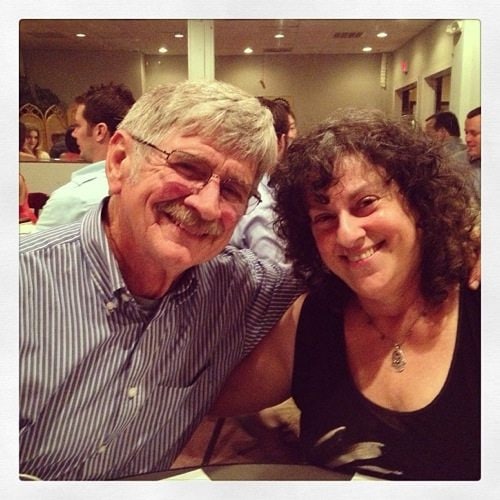 How cute are they?
After hanging out for a little while, I headed home with my maid of honor and two bridesmaids so that we could get a good night's sleep before the big day! It was so exciting to kiss Isaac good-bye that night knowing that I wouldn't see him again until I walked down the aisle the next day…