A quick recap of our weekend trip from Richmond to Virginia Beach with details about where we stayed, ate and what we did while visiting. 
Hey there and happy Wednesday. Things have been busy in this neck of the woods and I just realized I never filled you in on my weekend. On Thursday afternoon I got a text message from Isaac asking if I wanted to go to the beach for the weekend. I'm not sure why he thought he needed to ask — I ALWAYS want to go to the beach!
So when Friday afternoon came around we packed up and headed to the Four Sails Resort in Virginia Beach for a relaxing little weekend. We had wanted to go to the beach for our anniversary back in June but didn't get to so we decided this could be our anniversary trip! Virginia Beach is only a short drive (about 2 hours from Richmond) so it was still light out when we arrived and I captured this picture from our hotel balcony. Definitely a view I could get used to. 🙂
After unpacking we went for a walk to explore a little and then grabbed a bite to eat at Tautogs, a locally-owned restaurant recommended by Alyssa.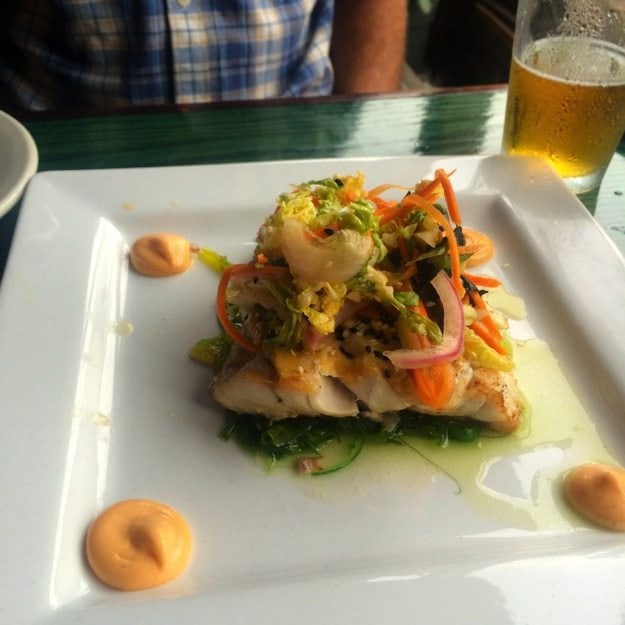 Everything was really tasty but I think the grouper special with miso and seaweed salad was my favorite. I'm a sucker for seaweed salad!
After dinner we walked the boardwalk looking for a good band to listen to. There were so many opportunities to listen to live music (for free!) which I thought was really cool. We ended up really liking Matt Redford's acoustic vibe so we grabbed a drink from Lager Heads, sat out on their patio and listened to him play for a while.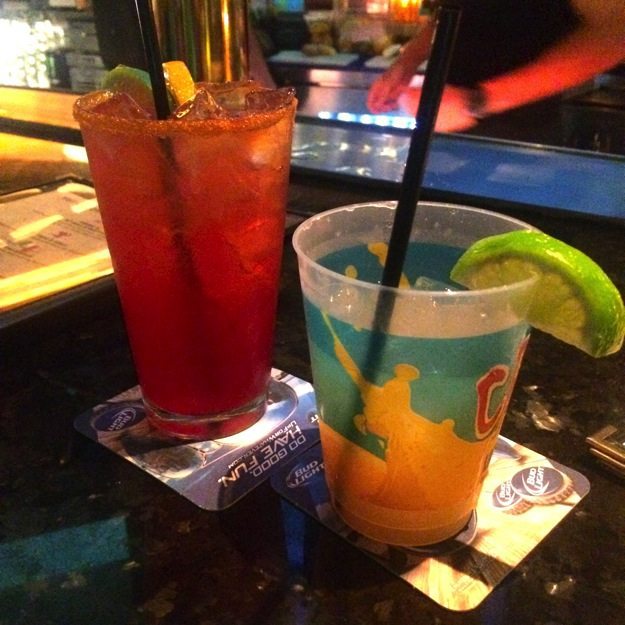 Speaking of drinks — I had the La Paloma Crush (without the Sprite since I don't drink soda). When I drink alcohol I usually skip the cocktail menu and go for something simple like wine or have vodka with soda water and lime but I must say, the La Paloma was really good. Tequila and grapefruit juice make a nice little combo — it might just become my new go-to.
Saturday morning involved a little Pure Barre Virginia Beach action.
Class was great, per the usual. <– I think it's safe to say that I'm hooked on Pure Barre. <3
Isaac picked me up from class and we swung by Whole Foods to grab a few beach necessities. We could have gone to another grocery store but I like to scope out the local Whole Foods whenever I'm in a new city. 🙂 The store itself was a bit smaller than ours in Richmond but I loved the beachy look of the outside.
We also went by Roast Rider for coffee and grabbed lunch from Fruitive to take out to the beach. I highly recommend both spots if you're ever in the area. Roast Rider has a laid-back vibe and their cold-brewed iced coffee was some of the best coffee I've had in long time — really rich, almost chocolatey and super smooth. We liked it so much we went by to get another iced coffee on Sunday morning before leaving.
And Fruitive… they're simply awesome! They offer a plant-based menu with fresh juices, smoothies, wraps, salads, etc. <— They're the same company I did my first juice cleanse with earlier this month.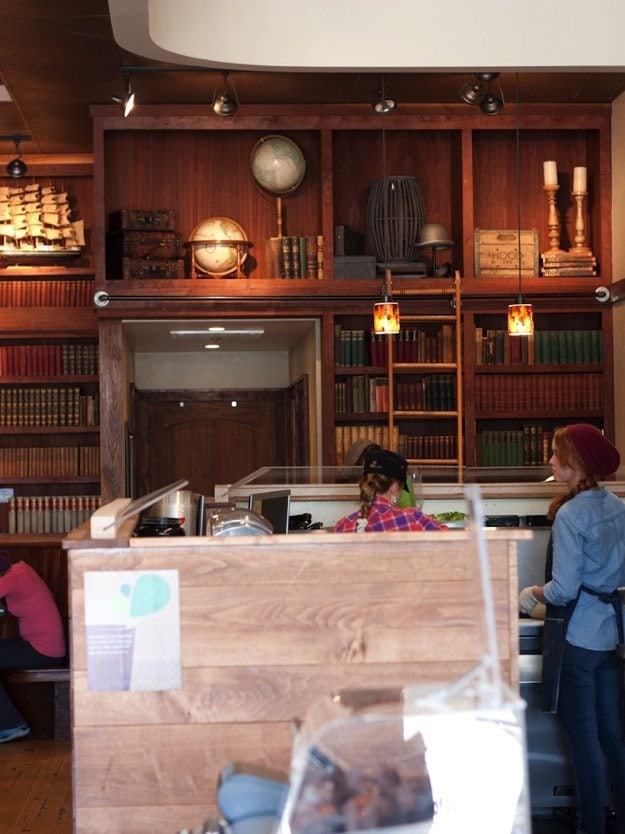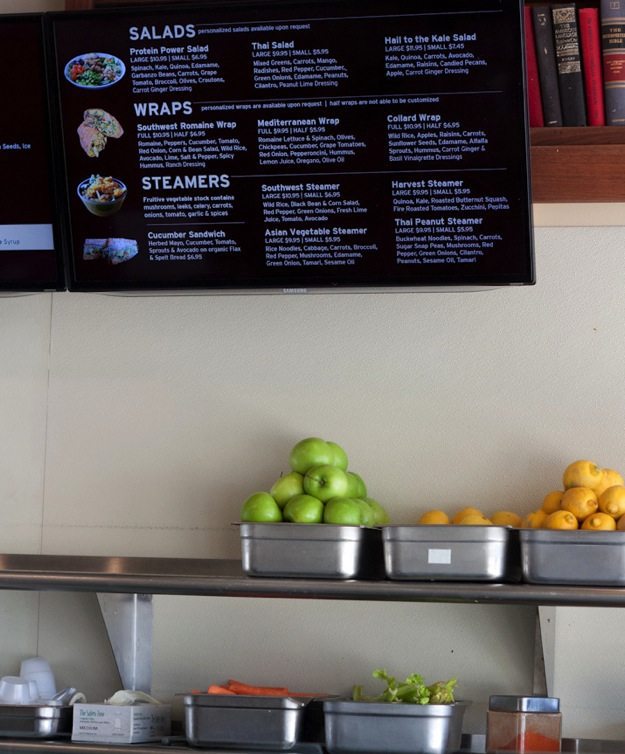 Everything we've tried at Fruitive has been delicious. I adore the Hail to the Kale Salad and Isaac and I both love the Mediterranean Wrap, but I honestly don't think you can go wrong with anything on the menu.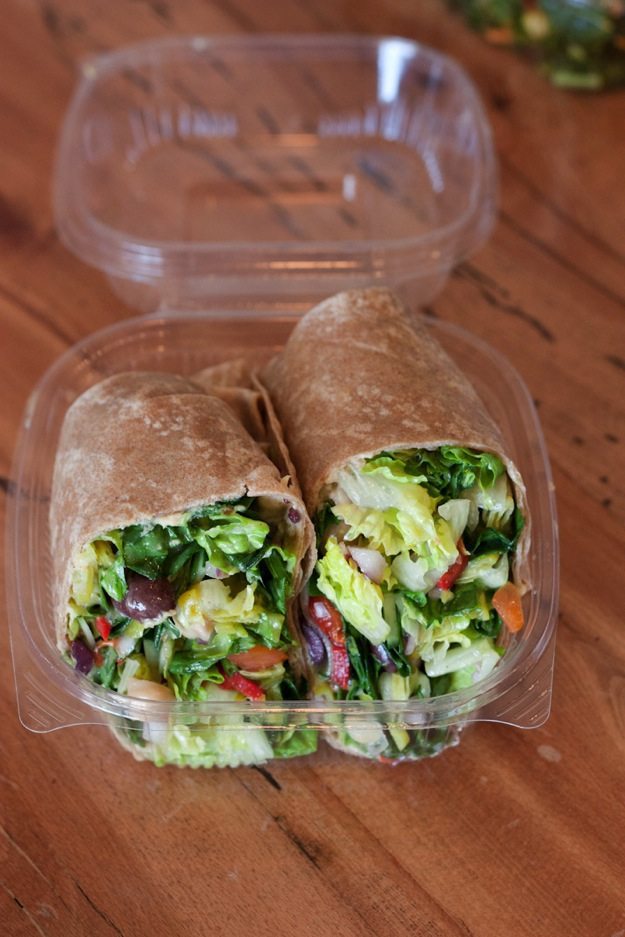 We spent the majority of Saturday on the beach. We were total tourists and bought one of those cabanas so that we had some shade. Well worth the $25 — we were able to stay out on the beach way longer than if we had been in the direct sunlight all day.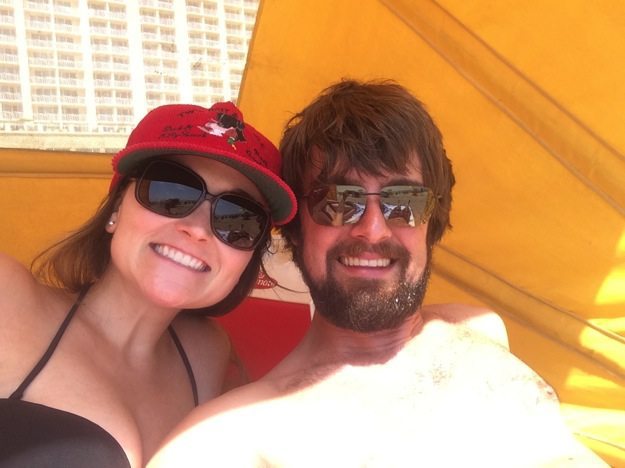 We even had some visitors stop by our cabana — Alyssa and her friend Rob.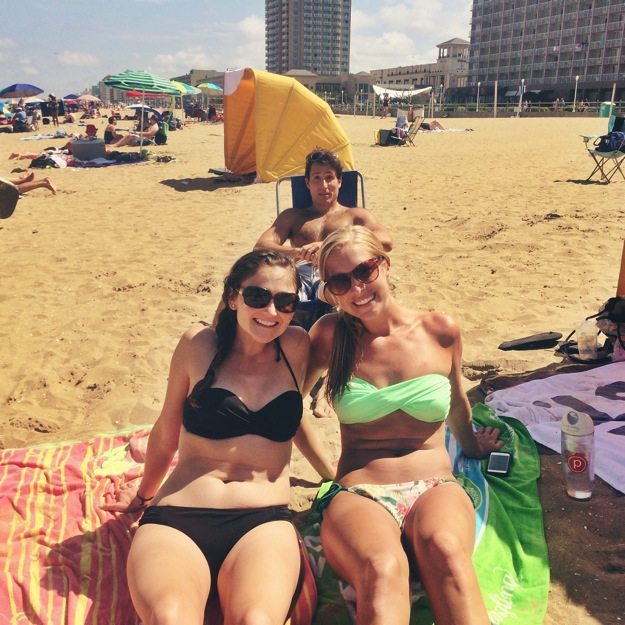 We lounged, got in the water, threw the frisbee and once the sun started to go down we went back to the room, showered and hit up two local breweries that were only minutes apart — Beach Brewing Co. and Young Veterans Brewing Co. If you've been reading EBF for a while you'll know that Isaac is a HUGE craft beer fan so whenever we're visiting new places it's standard for us to check out the local beer scene. We shared a flight at both breweries and although they both had good beer Beach Brewing had more options that I enjoyed. I liked the Pineapple Grenade at Young Veterans but all the rest were too hoppy for my taste. My favorite at Beach Brewing was Riptide — an Altbier.
Saturday evening we debated getting Indian food for dinner at Nawab but we ended up going to Baja Cantina because I had read online that they had the best fish tacos. The service was great but unfortunately the fish tacos didn't live up to the reviews. In my opinion, we have way better fish tacos here in Richmond — Tio Pablo, Boka, The Daily Kitchen — just to name a few spots. I also have an awesome grilled fish taco recipe if you're looking to make fish tacos at home. 🙂
Sunday morning we woke up early, rode bikes on the boardwalk (our hotel offered free bikes), went for one last dip in the ocean, grabbed coffee and then headed home for Isaac's sister's b-day party and a frisbee game.
Overall, we had a great time at the beach. I hadn't been to Virginia Beach since I was young and everything looked way different than I remembered it — it seems like they've done a lot to keep the place updated, clean and family friendly. There were a ton of restaurants, fro yo spots and shops right around where we stayed and free live music every night (on multiple stages along the boardwalk). I was impressed! Our hotel was one of the cheapest we found when researching different oceanfront hotels in the area. Although it was older and not nearly as updated as some of the newer hotels nearby (like the Oceanaire!!!). Our place had a lot of space, a full kitchen, jacuzzi tub, an oceanfront view and was really clean. Plus the staff was friendly. We couldn't have asked for much more.
Traveling to Virginia Beach? Check out VirginiaBeach.com for hotels, restaurants and things to do.