I've been very busy in the kitchen these past few days and a have a few recipes to share with you guys! I spent much of this past Sunday marking recipes that I wanted to make and the cooking as already begun. First thing first I whipped up some basil hummus to have with some tortilla chips and on a tofu wrap.
Basil Hummus (Makes 6-7 servings)
Inspired by ED&BV's White Bean Hummus with Fresh Thyme and Basil
1 can cannellini / white kidney beans (drained and rinsed)
1 tbsp freshly squeezed lemon juice
2 tbsp tahini
1 small to medium clove garlic, sliced
1 tbsp extra-virgin olive oil
2 tbsp red wine vinegar
½ tsp sea salt
¼ cup fresh basil, torn or roughly chopped
1-2 tbsp water (just to thin dip as desired)
freshly ground black pepper to taste
In a food processor, combine all ingredients except water and basil. Purée until smooth, gradually adding water as desired to thin dip and scraping down sides of bowl as needed. Add basil and purée briefly to incorporate ingredients.
This hummus is mild with a hint of sweetness- perfect for sandwiches, dip for veggies, tortilla chips, pita chip, etc.
I also started working on a recipe for one of my fav foods ever- a new trail mix combination! Do you remember my naked raw trail mix? This time it's not raw, but it's surely delish- I used roasted nuts and seeds, dried fruits, and carob chips.
There is two parts to this recipe as you need to roast your nuts and seeds before making the mix.
Tamari Roasted Nuts and Seeds
1 cup raw almonds
1 cup raw pepitas (pumpkin seeds)
1/4 cup tamari (wheat free soy sauce)
1 cup water
Mix together the tamari and water in a small bowl. Put each type of nut or seed (you could use any nuts/seeds you choose) in separate bowls so they keep their distinct flavor and cover with a portion of the tamari and water mix. Let the nuts/seeds soak overnight or 6-8 hours.
After soaking, drain the nuts/seeds and discard the liquid. Place nuts/seeds on a baking sheet and toast in the oven at 200 degrees. The smaller seeds should take about 1-2 hours, the larger nuts (like almonds or walnuts) should take about 4-5 hours. The best way to tell when they're fully roasted is to sample one- once they're perfectly crunchy, they're done.
Tamari roasted nuts and seeds are great alone, but awesome in a trail mix. The roasted almonds were the last ingredient to be added to my mix.
After roasting the nuts and seeds I simply mixed together all my ingredients. The other parts to my trail mix included:
1/4 cup carob chips
1/2 cup raisins
1/2 dried cranberries
This recipe is super versatile as you can choose which nuts, seeds, chocolate, and dried fruit you want to include. Choose your favorite combination and enjoy!
Last, but not certainly not least I made a very important recipe for the Foodbuzz Blogger Festival Sponsorship. I had recently received a loaf of 100% Whole Wheat bread as part of the the Foodbuzz Tastemaker program. About two days after receiving the bread I got the email about the Festival Sponsorship and knew I needed to submit a recipe as it would be my only chance to attend the Blogger Festival.
Here's the star ingredient- 100% Whole Wheat Bread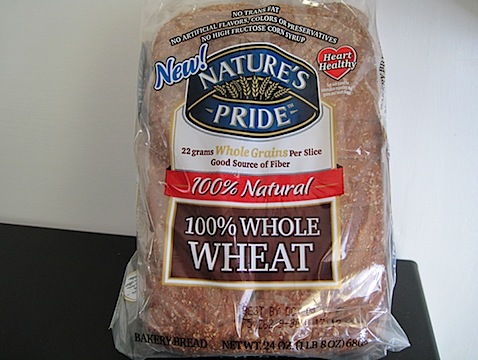 Healthy Veggie Stuffed Hummus Sandwich (serves 1).
2 slices- 100% Whole Wheat Nature's Pride Bread
2 tbsp – basil hummus (recipe above)
1/4 cup- alfalfa sprouts
3 slices- red onion (thinly sliced)
3- roasted peppadew peppers (sliced/chopped)
4/5 leaves- baby spinach
4 slices- cucumber (thinly sliced)
1 tbsp – feta cheese
Sea salt and ground pepper to taste
Lay the two slices of bread out on a plate or other surface. Spread the equal amounts of hummus onto one side of both slices of bread. Layer the remaining ingredients on one slice of the bread in the order listed. Carefully top with the second slice of bread, cut the sandwich in half and enjoy! This recipe could easily be doubled, tripled or quadrupled depending on how many people you are serving.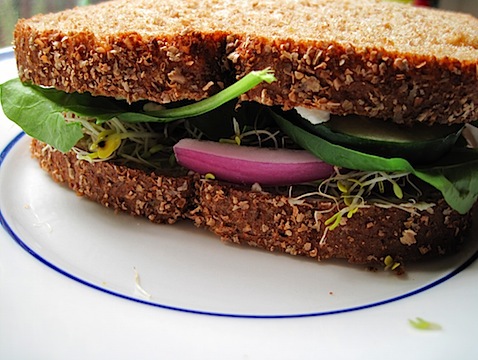 Veggielicious!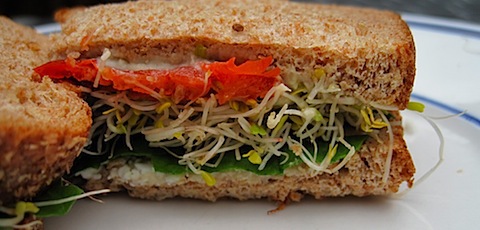 Yum!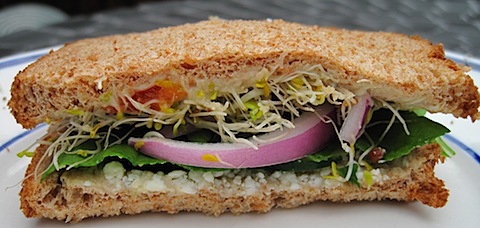 This sandwich was seriously one of the best I've had in a long time! All the ingredients have distinct flavors that work really well with one another and the sweet but semi spicy peppedew peppers totally make the sandwich. The 100% Whole Wheat bread is super soft and has a mild sweet taste to it. I read on the label that it does have a tad bit of honey and you can definitely taste it. I only ate half of the sandwich for lunch and saved the other half for my recipe tester- Isaac. He LOVED it as well and thinks I should win (totally wish he was the Foodbuzz judge!)
I sincerely hope my veggie stuffed hummus sandwich recipe is picked and I get to be one of the Nature's Pride "Bread Ambassadors" for the first annual FoodBuzz Blogger Festival. I would be unbelievably excited- I can't wait for the results!
On a more personal note- I made it to the 6AM spin class this morning. It was awesome. I really like the instructor and it feels great to be done with my workout for the day! I might have to make 6AM Spin on Wednesdays a habit. I just need to make certain I get to bed early or else the snooze button will definitely take over as it has many mornings before. Whether I make it to the gym in the morning or not almost completely relies on what time I hit the hay. If it's after 11PM, definite afternoon workout for me!
What about you- do you like to workout in the morning, evening, or a little of both?