Happy Monday – I hope you had a relaxing, enjoyable weekend with beautiful weather. My weekend turned out to be quite lovely and pumpkin-filled. Isaac was out of town but my mom and niece drove down to visit and spend the night with me – we hung out, ate soup and pumpkin cornbread for dinner, went to Sweet Frog for pumpkin fro yo, woke up early for the farmer's market and did a bit of walking around the city.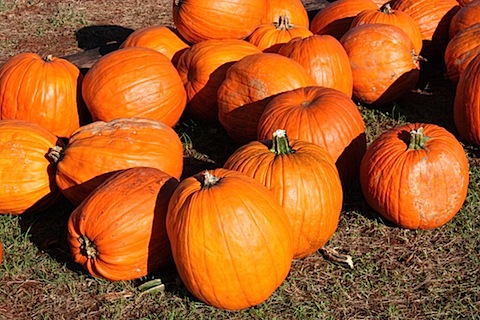 Sunday I spent the day getting ready for the work week, but there was some fun thrown into the mix as well. I met up with Stephanie for lunch at Whole Foods, did a little shopping and got in a good workout. The workout routine was a new one I found from Cassey over at Blogilates, who just so happens to post awesome workouts all the time!
Using the Sweaty Workout Routine as a guide I did the following full-body workout:
Warm up: treadmill for 5 minutes
10 squats, 10 burpees until you reach 50
30 alternating knee to same elbow in plank
10 power (jumping) lunges
10 burpees
10 straight leg dead lifts
Repeat everything above 2 X then move on to next section.
10 power pushups
20 bicycles
20 crunches
10 hanging leg raises
Repeat everything above 2 X then move on to next section.
10 front raises
10 lat raises
10 overhead presses
20 plank knee to opp. elbows
10 bicep curls
60 second plank
Repeat everything above 2 X.
Finish up with 20 minutes of cardio on the elliptical.
This whole workout took me about 1 hour and 20 minutes and I felt awesome when I was done. Casey said it made her sweaty and she wasn't kidding. I was a sweaty mess by the end of the workout – luckily I listened to her warning and wore dark colored bottoms. 🙂
Last but not least, I made a delicious pumpkin pizza for dinner last night. If you haven't noticed, I'm addicted to pumpkin at the moment and after remembering the kabocha pizza I had last year, I knew I needed to make a homemade version. I decided to use regular canned pumpkin for the sauce because that's what I had on hand and got a little creative with the spices and toppings. This was my first time testing out the recipe and besides using too much flour when rolling out the crust, it was a tasty success!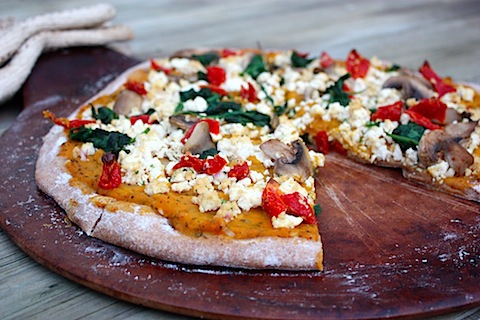 Vegan Pumpkin Ricotta Pizza
This unique pizza will surprise you with it's yumminess (and healthfulness). It features a whole wheat crust, hummus, pumpkin instead of tomato and a tofu ricotta in place of regular cheese, but definitely doesn't lack any flavor. I used a recipe from Whole Foods for the ricotta and it's fabulous – so good, I was eating it by the spoonful. I will note that while the ricotta was delicious, I did miss the melty cheese aspect we all love. Next time I will splurge and buy a vegan cheese that melts like Daiya mozzarella shreds to add a little melted action to the pizza.
Ingredients
Pizza crust (I kept it simple and used TJ's whole wheat)
Sauce
1 teaspoon olive oil
1/3 cup onions, finely chopped
3 cloves of garlic, minced
3/4 cup canned pumpkin
1/2 teaspoon dried basil
1/2 teaspoon dried oregano
1/4 teaspoon dried sage
1/4 teaspoon salt
1/4 teaspoon pepper
Toppings
2 – 3 Tablespoons roasted red pepper or garlic hummus
1 – 1 1/2 cup tofu ricotta
1 1/2 cup fresh spinach
1/2 cup sliced mushrooms
1/3 cup sun-dried tomatoes, sliced
crushed red pepper, optional
Preparation
Preheat oven to 375° and prepare pizza crust (make your own or follow the directions on the packaging).
Heat olive oil in a skillet and saute onions and garlic until fragrant and soft. Place cooked onions and garlic in a bowl and stir in pumpkin, basil, oregano, sage salt and pepper.
Saute the mushrooms and fresh spinach over high heat in the same skillet used for the onions and garlic. Cook until the spinach has wilted and most of the liquid has been cooked off.
Turn off the heat and let the veggies cool.
Place pizza on pizza stone or round baking sheet and spread a thin layer of hummus on the crust. Spread pumpkin sauce evenly over the hummus layer and sprinkle on 1 cup of tofu ricotta.
Take a few paper towels and wrap them around the cooked spinach and mushrooms to squeeze out any liquid still left – this will make sure the pizza isn't soggy.
Add spinach, mushrooms and sun-dried tomatoes to the pizza. Sprinkle on more ricotta, if desired.
Cook pizza stone or round baking sheet in oven and cook for 25-30 minutes** or until pizza crust is brown on the edges and the crispiness level you desire. Let the pizza cool for a few minutes, slice, sprinkle on some crushed red pepper and enjoy!
**The cooking time will vary depending on the type of crust and pan you use to cook the pizza. Just be sure to watch it carefully after it's cooking 15-20 minutes.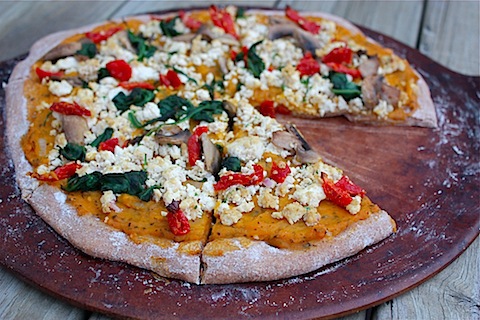 If you try the pumpkin pizza recipe, definitely let me know what you think! Pumpkin pizza not your style? I'd still recommend trying the tofu ricotta recipe – it tastes delicious and could be used in a ton of different recipes including stuffed shells or lasagna. It's a Health Starts Here recipe from Whole Foods so it's got great nutrition facts to boot.
So pumpkin pizza is pretty crazy, but I know there's other crazy pizza creations out there. What's the most unique pizza you've ever had?