During HLS I had the pleasure of hearing Dawn Jackson Blatner, RD and author of the The Flexitarian Diet, speak. She talked about "R.A.W. Blogging (Realistic & Achievable Wellness)" and featured:
Plant-based eating trends
Three steps to starting & sticking to a plant-based diet
Starter grocery list
Protein swap chart
Ten ways to go plant-based via super grains and colorful veggies
Key cooking techniques to get even die-hard carnivores to love their veggies such as the "coffee-principle", flavor-flavor training and umami.
During her presentation she mentioned using Quaker oats to make muesli for breakfast.
What is muesli?
Muesli was introduced in the early 1900's by the Swiss physician for patients in his hospital. Traditional muesli calls for more fruit than grains and includes grated apple, lemon juice, cream, nuts and just 1 tablespoon of rolled oats soaked in water. Today most muesli recipes are grain based. You can buy packaged muesli in the cereal section or make your own by combining oats, fresh fruit, dried fruit, nuts and spices and soaking the mix in water, juice or milk.
Last night I decided to make my own muesli recipe using a peach that was ripening rather quickly. After a little chopping, mixing and 8 hours of soaking, I woke up to a perfect bowl of peach muesli.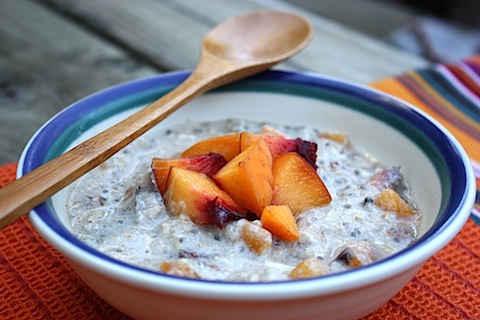 Print
---
Ingredients
This recipe makes 1 bowl of fruity muesli! It calls for natural cinnamon apple sauce but you could always use regular apple sauce and add a sprinkle of ground cinnamon. Also remember that you have to use old fashioned rolled oats, instant oats won't absorb the liquid.
Ingredients:
1/3 cup old fashioned rolled oats
2/3 cup unsweetened vanilla almond milk or other non-dairy milk
1 fresh peach, chopped (reserve a few pieces for garnish)
1- 2 Tablespoons natural cinnamon apple sauce
1 Tablespoon almonds, chopped or sliced
1/2 Tablespoon chia seeds or ground flax seeds (optional)
---
Instructions
Combine all ingredients in a bowl and mix well. Cover the bowl and let it sit in the fridge overnight, or at least a few hours. Take out of the fridge in the morning, stir, top with garnishing peach pieces and enjoy!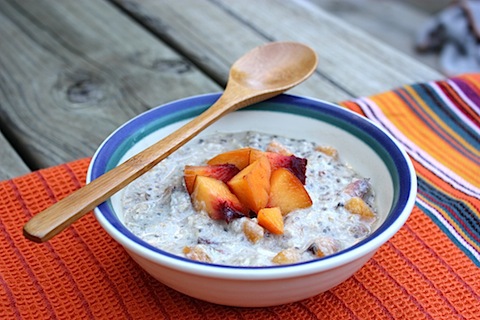 Muesli reminds me a lot of overnight oats but this mixture was heavier on the fruit and had more liquid than most of my overnight oat combos. Overall, it was a success- super flavorful, easy to throw together, healthy and filling. I calculated the nutritional facts using MyPlate on Livestrong and found that the peach muesli has about 320 calories and offers approximately 10 grams of fiber and 9 grams of protein. A healthy breakfast indeed!
Have you ever tried muesli before? If so, what's your favorite combination?