Vanilla Buttercream Frosting
0
Published Jul 04, 2023, Updated Jul 24, 2023
This easy vanilla buttercream frosting is rich, creamy, fluffy and super quick to whip up. It's perfect for piping onto your favorite cake, cupcakes or cookies.
Next time you're looking to make cupcakes or a cake, skip the store-bought frosting and make this easy vanilla buttercream frosting instead!
I don't make buttercream frosting that often, but with that said, everyone needs an easy buttercream recipe in their back pocket.
Not only is this frosting creamy, smooth and delicious but it can be whipped up in about 10 minutes with only 4 simple ingredients. It can't get any easier than that!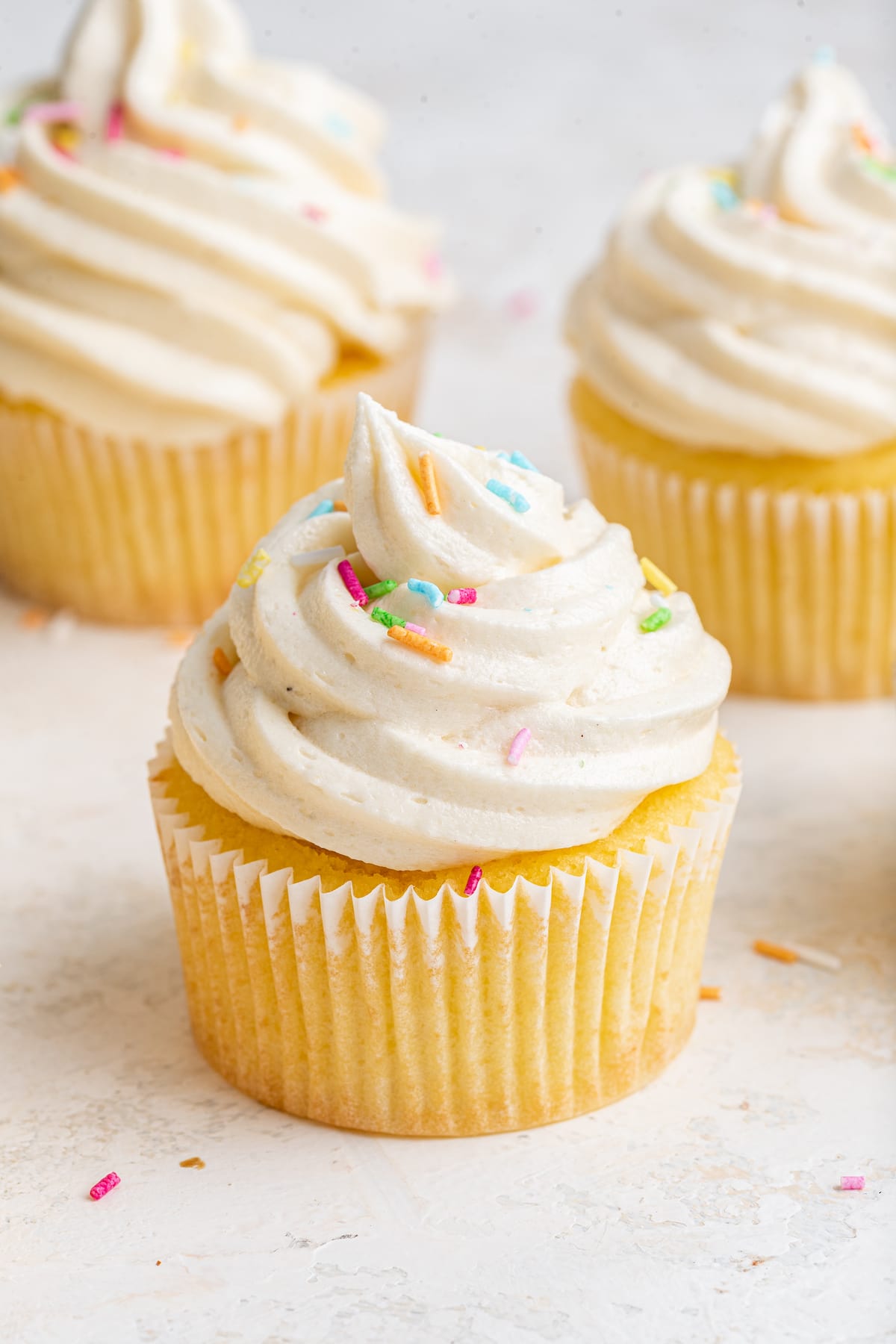 Why You'll Love This Recipe
The texture is thick, creamy and easily spreadable.
It works for frosting a variety of recipes including cupcakes, cakes and even cookies.
It's fresh, flavorful and made with better ingredients and less preservatives than store-bought frosting.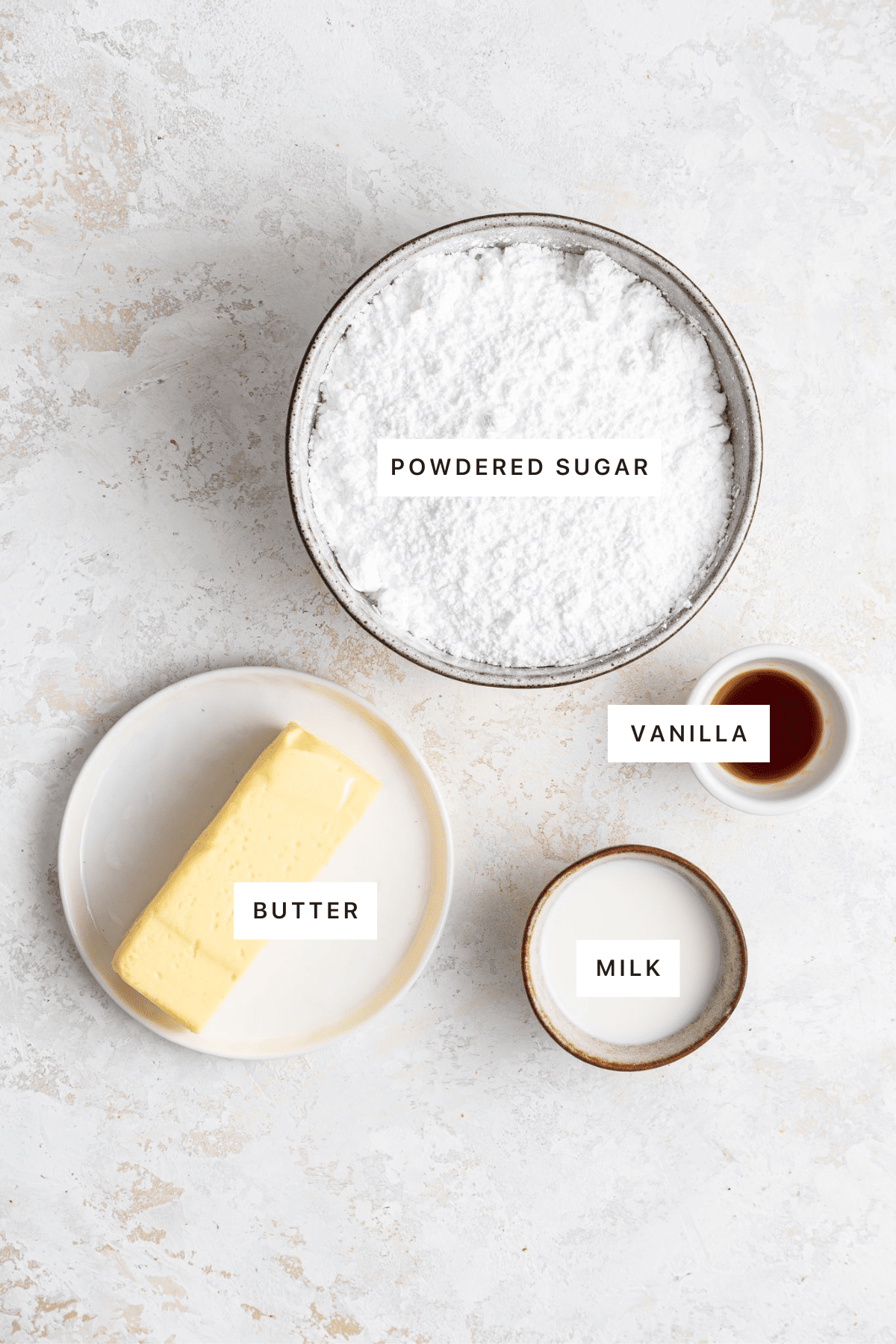 Ingredients Needed
One of the main benefits of making your own frosting is that you get to choose the ingredients and avoid some of the highly processed ingredients, like high fructose corn syrup and palm oil, found in store-bought frosting.
butter – I recommend using high-quality grass-fed butter. Both Kerrygold and Vital Farms are great brands. You can use salted or unsalted, whichever you prefer or have on hand.
vanilla extract – a touch of vanilla extract adds a lovely aroma and enhances the flavor. Make sure to use pure vanilla extract instead of imitation vanilla. This will give your buttercream frosting a more authentic and rich flavor.
powdered sugar – powdered (also called confectioners sugar) provides the right level of sweetness and texture, ensuring a smooth and creamy consistency that's easy to work with.
milk – a little milk is used to adjust the consistency of this frosting. Use more or less depending on how thick or thin you want your frosting. You can use regular dairy milk, non-dairy milk, half n' half or heavy cream.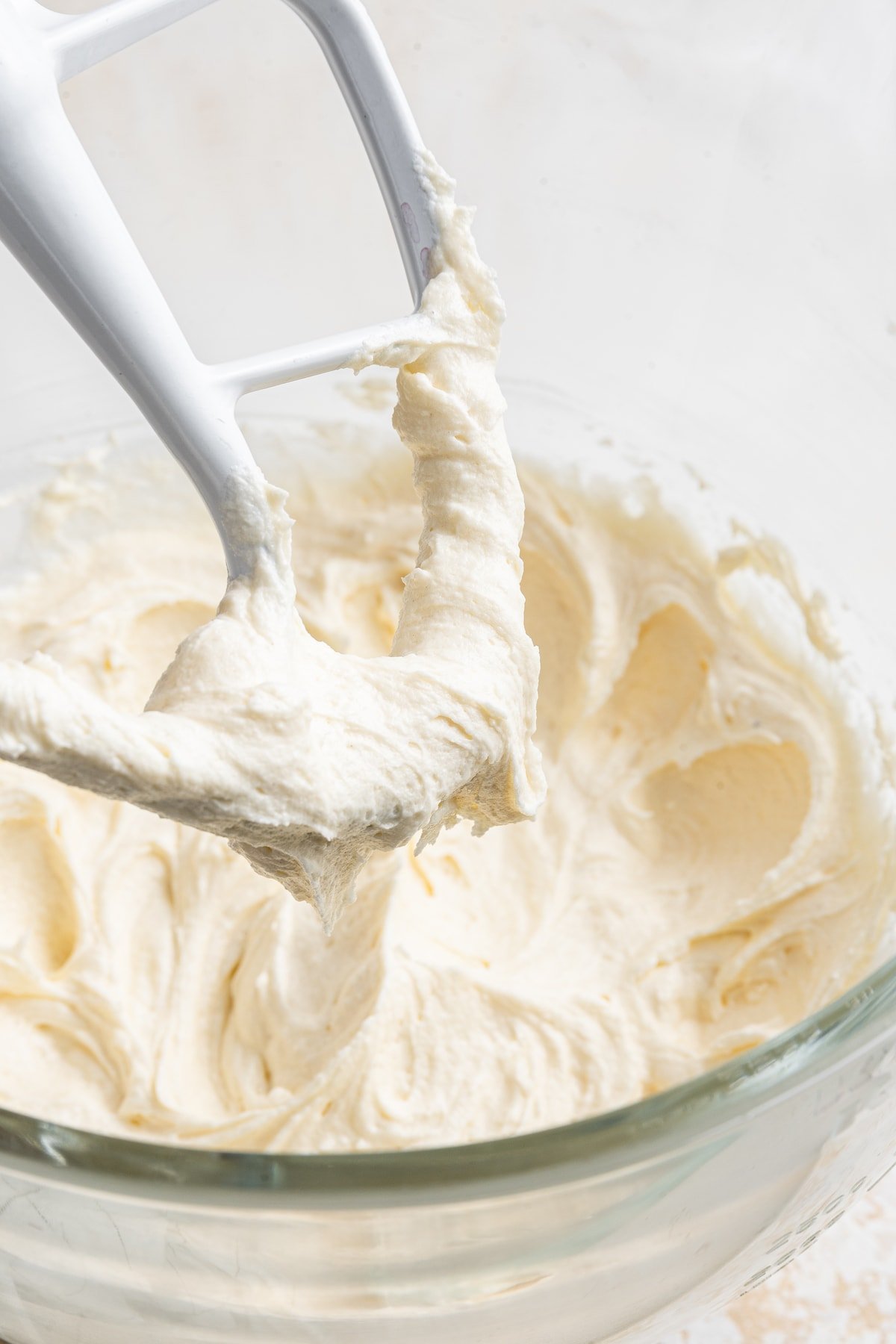 How to Make
Before you start making your frosting, make sure your butter has been softened to room temperature. This is key!! It will take about an hour for your butter to soften fully to room temp on the counter. Alternatively, you can soften your butter in the microwave on a plate for about 10-20 seconds. Just make sure to unwrap the butter from the packaging before placing it in the microwave and don't heat too long otherwise your butter will fully melt.
Combine butter and vanilla in a large mixing bowl using either a hand mixer or stand mixer with the paddle or whisk attachment. On medium speed, whip the butter and vanilla until the mixture is light and fluffy. Gradually add powdered sugar, one cup at a time, continuing to whip at medium speed until it's fully incorporated and smooth. To achieve the preferred consistency, add milk one tablespoon at a time. Once it's at the desired thickness, you're ready to spread the frosting on your favorite dessert.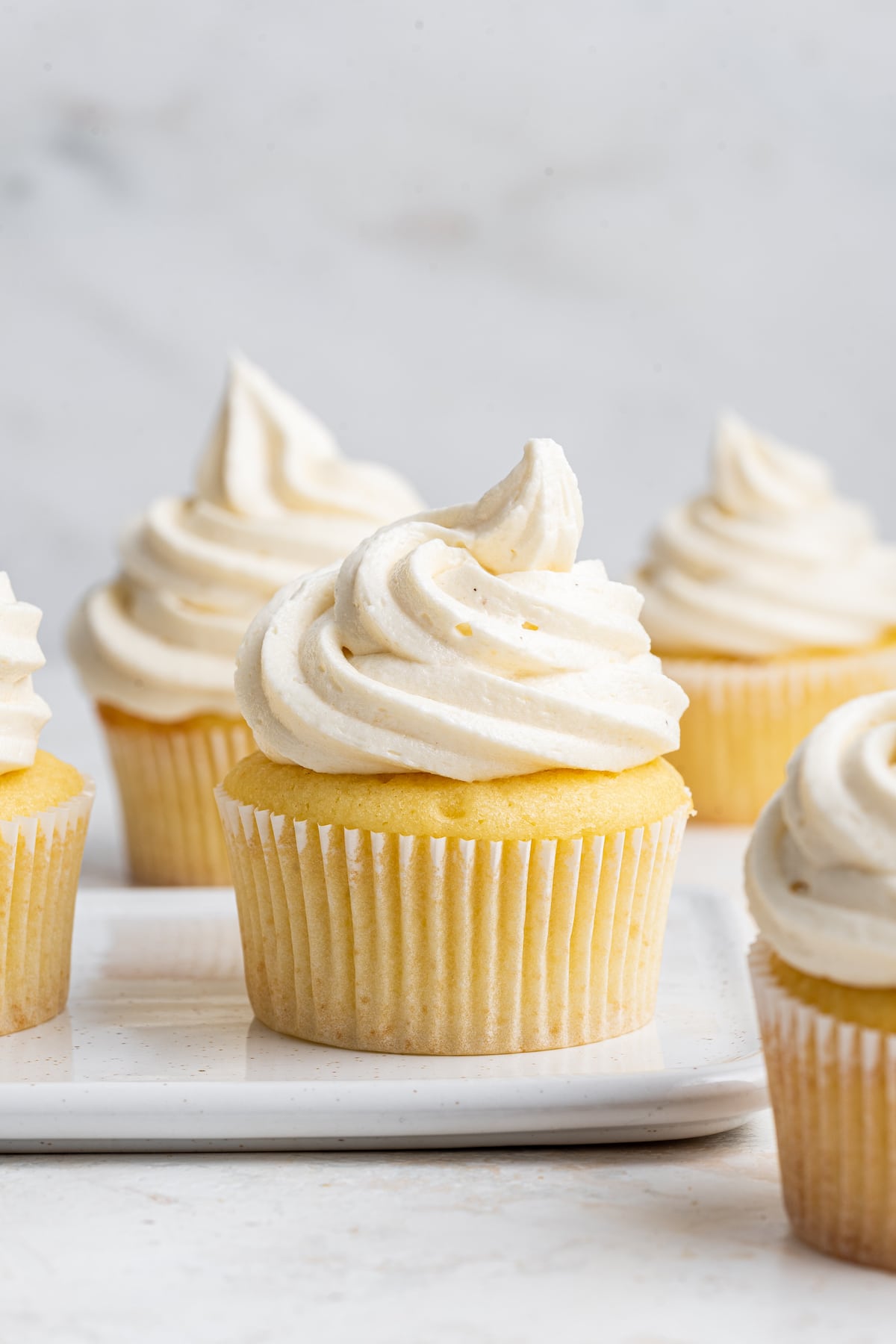 Substitutions & Notes
Make it vegan: It's actually really easy to make this buttercream frosting vegan or dairy-free. Simply use vegan butter like Earth Balance vegan buttery sticks or MIYOKO'S CREAMERY cultured plant milk butter and plant-based milk instead of cow's milk.
Low-sugar option: I haven't tried it, but for a lower sugar option, you should be able to replace some (or all) of the powdered sugar with a sugar substitute like powdered erythritol or Swerve confectioners' sugar. You may need to adjust the amount to taste.
Try other extracts: Instead of vanilla (or in addition to the vanilla) you can add other extracts like almond or coconut for fun flavor variations.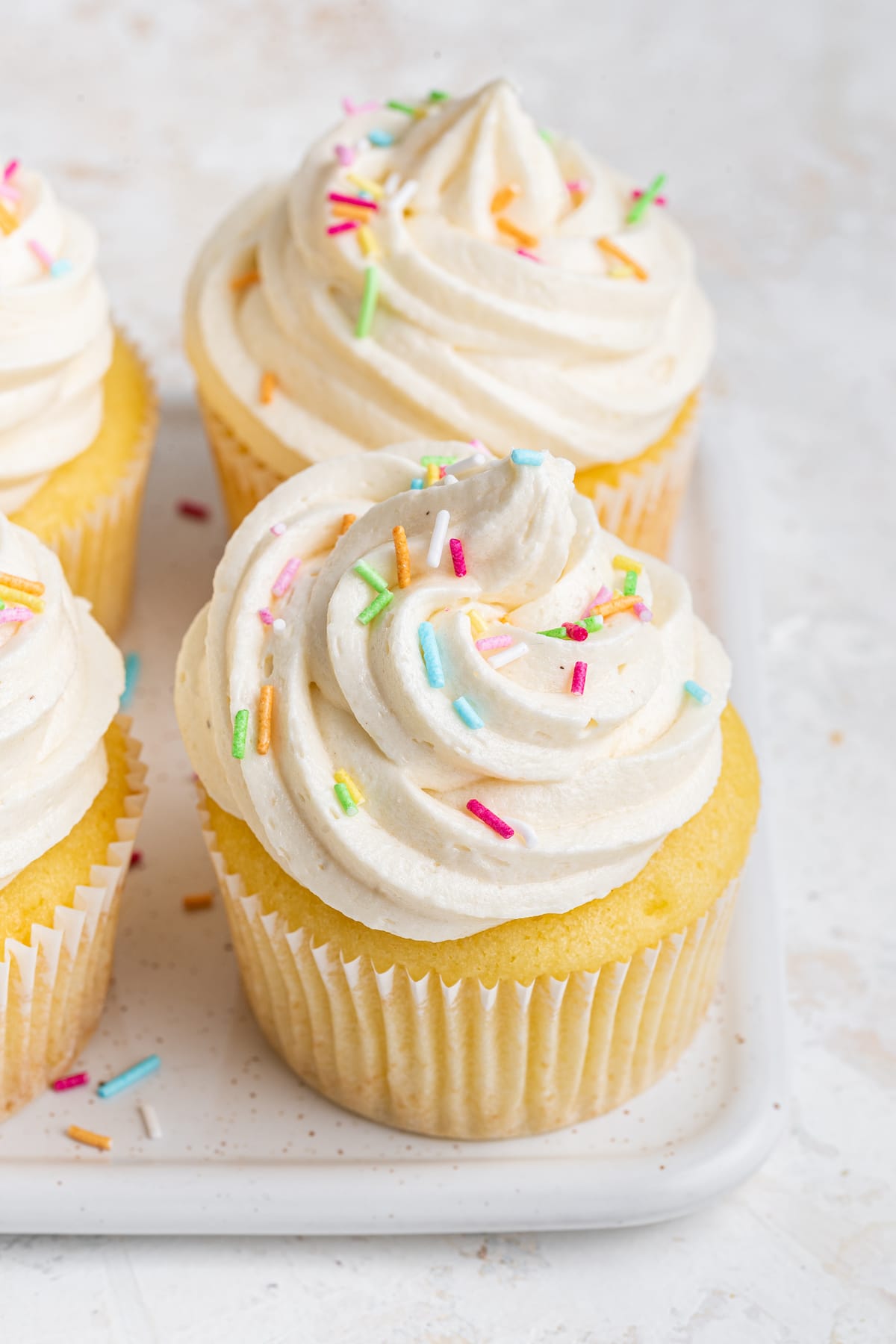 Tips for Success
Use room temperature butter: It's crucial to use softened butter that's at room temperature. This will ensure that your buttercream is smooth and free of lumps. Cold butter can result in a chunky texture and melted butter won't whip up properly.
Sift the powdered sugar: Sifting the powdered sugar before adding it to the butter helps prevent clumps and ensures a silky-smooth texture in the frosting.
Gradually add the powdered sugar: Adding the powdered sugar gradually while mixing helps to achieve the right consistency without making a mess.
Adjust consistency with milk: If your frosting is too thick, add milk one tablespoon at a time until it reaches the desired consistency. If your frosting is too thin, add a bit more powdered sugar.
Scrape the sides: Be sure to scrape the sides of the bowl with a spatula during mixing to ensure all the ingredients are well incorporated.
Don't over-mix: Whip the frosting until it's light and fluffy, but be cautious not to over-mix as it can cause air bubbles or the frosting to separate.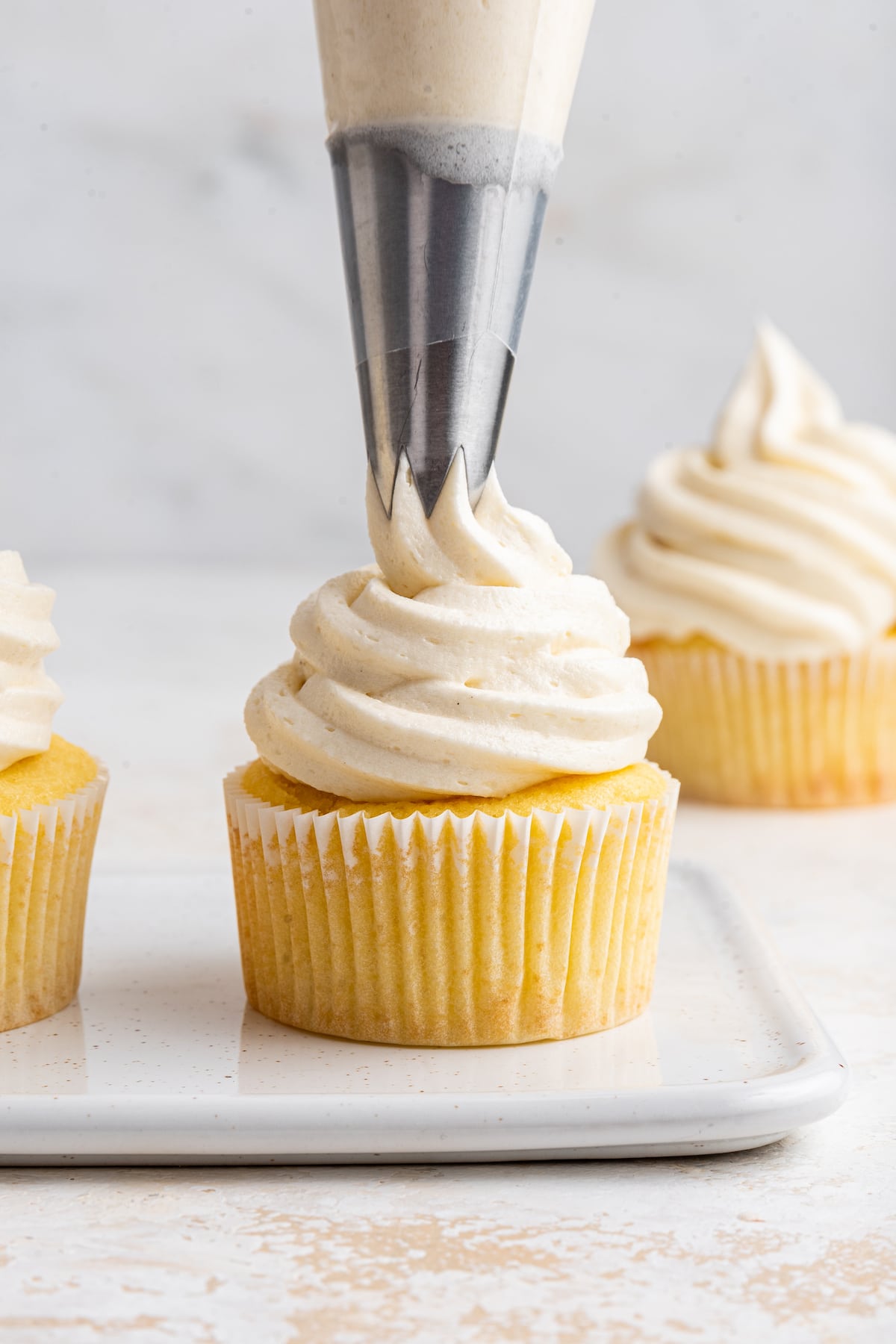 How to Frost
You can frost this in a variety of different ways! I usually use a knife or spatula to spread the frosting on cake or cupcakes but you could also pipe it! To pipe the frosting, scoop it into a piping bag or a plastic baggie. Cut the corner of the baggie and pipe out the frosting on your treats. If you're using the frosting for piping, just make sure it's thick enough to hold its shape. You might need to use less milk or add more powdered sugar to achieve a stiffer consistency.
Ways to Use Vanilla Buttercream Frosting
This recipe makes enough to frost 12 cupcakes or an 8-9 inch layer cake. Here are some recipes that would be delicious with this buttercream frosting: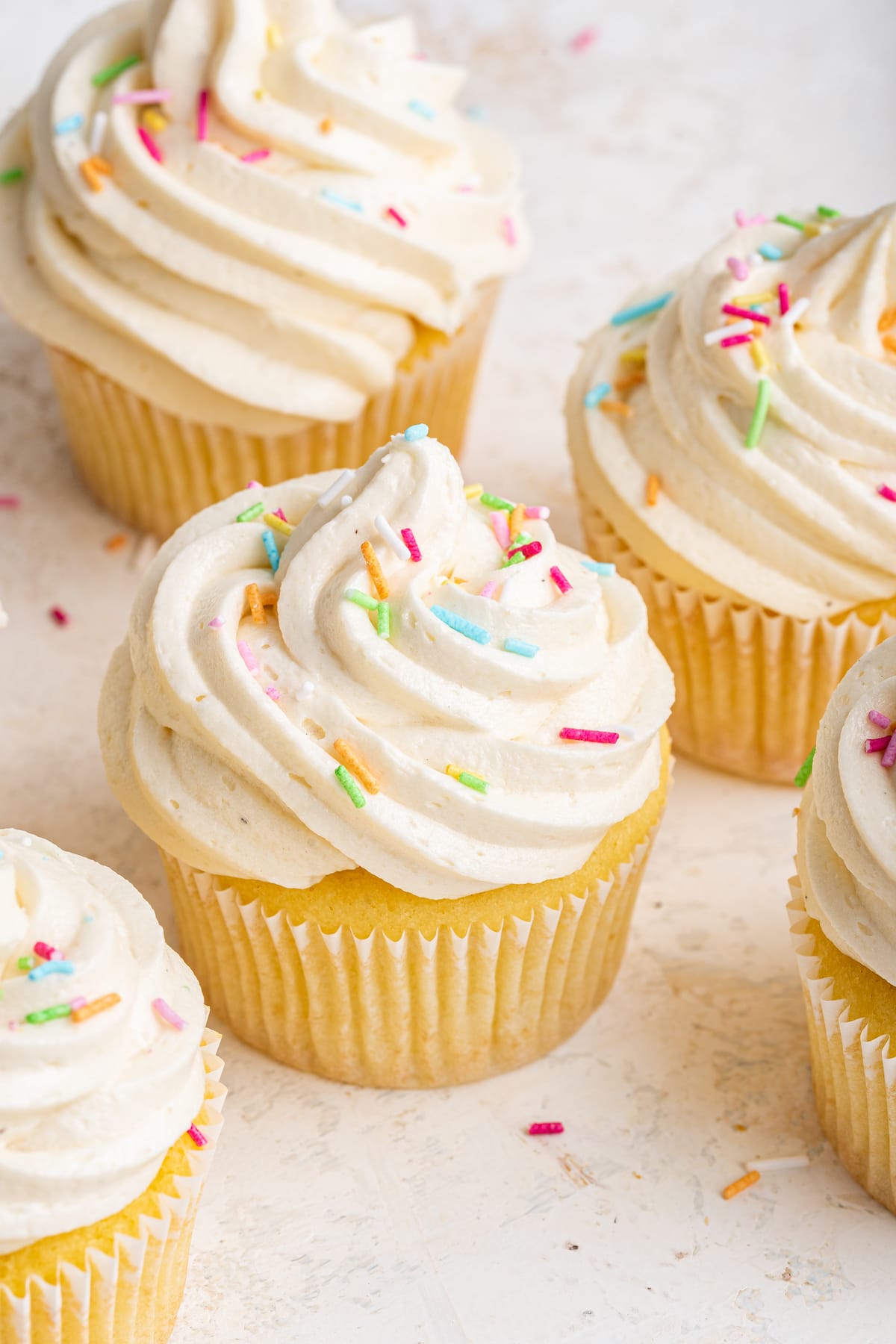 How to Store Leftovers
If you don't use all of this frosting right away, you can store it in an airtight container in the fridge for up to 5 days. When you're ready to use, bring it to room temperature and then re-whip with a handheld mixer or stand mixer before using.
Can I Freeze This Frosting?
Yes, you can freeze this vanilla buttercream frosting. Just place it in an airtight container or a freezer-safe plastic bag and freeze for up to 3 months. When you're ready to use it, thaw in the refrigerator overnight, then let it come to room temperature and give it a good stir or mix with a hand mixer before using.
More Frosting Recipes
Dessert Recipes to Try
Be sure to check out all of the dessert recipes here on EBF!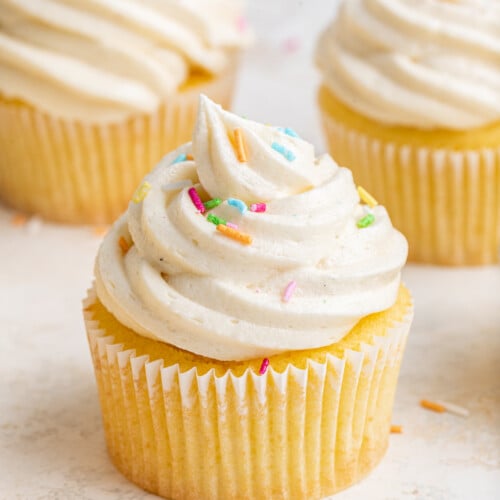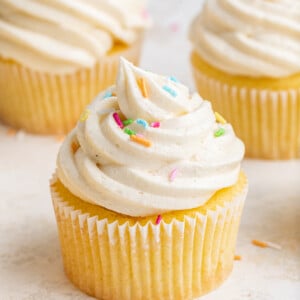 Vanilla Buttercream Frosting
This easy vanilla buttercream frosting is rich, creamy, fluffy and super quick to whip up. It's perfect for piping onto your favorite cake, cupcakes or cookies.
Instructions
Add butter and vanilla to a large mixing bowl and whisk together using a hand mixer or stand mixer with the paddle attachment on medium speed, until light and fluffy.

Add powdered sugar one cup at a time, whipping on medium speed until fully combined and smooth.

Add milk, 1 Tablespoon at a time until you reach your desired consistency.

Spread frosting on your favorite cupcakes or cake and enjoy!
Nutrition
Serving:
2
Tablespoons
|
Calories:
181
kcal
|
Carbohydrates:
26
g
|
Fat:
9
g
|
Cholesterol:
24
mg
|
Sodium:
63
mg
|
Potassium:
3
mg
|
Sugar:
26
g
Nutrition information is automatically calculated, so should only be used as an approximation.