Happy Saturday friends. I hope your day is off to a great start. It's been a wet one over here in RVA so I've been inside all morning catching up on e-mails, paying bills, etc. It's been a productive Saturday morning, although I'm still in my workout gear and haven't worked out yet… gotta get on that.
Speaking of being productive, there are a few things I've been meaning to post about but haven't had a chance to yet – including two recent dining experiences I had last week.
The first is brunch at Selba, which Sarah of The Smart Kitchen organized for local VA bloggers. This little group of local bloggers seems to be growing and we're expecting #VAis4Bloggers to be trending on Twitter any day now. Watch out for us! 😉
I have eaten at Selba once before (date night with Stephanie) and enjoyed it so I was excited to try their brunch.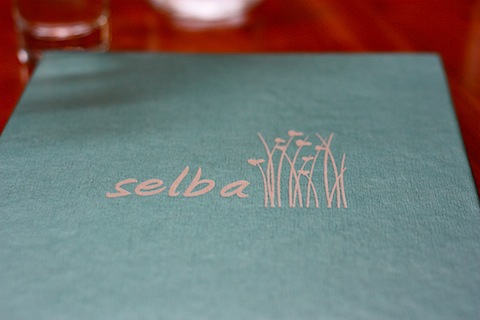 It took me forever to decide what to eat but once I heard Lauren order an egg white omelet I knew that's what I wanted.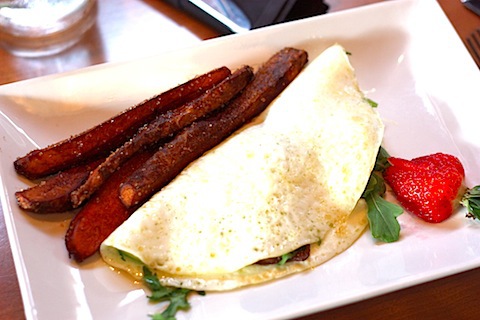 The egg white omelet was stuffed with goat cheese, mushrooms and arugula and served with two sides. There were a ton of great sides to choose from (hello sweet potato biscuit and stone ground grits) but I can never resist sweet potato fries so I ordered those and a cup of fruit.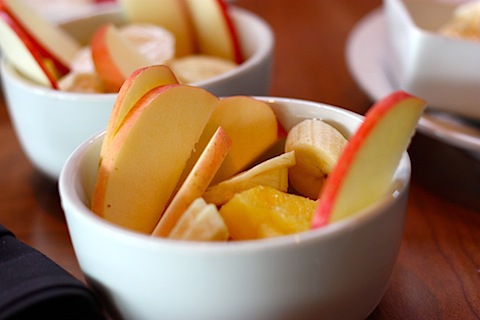 The omelet was pretty tasty, although a little on the oily side. I loved the sweet potato fries though. They were a mixture of white and orange sweet potatoes cut into steak fry size, cooked and dusted with cinnamon and sugar. So sweet and delicious.
Of course the company was a blast – lots of chatting, laughing and picture taking.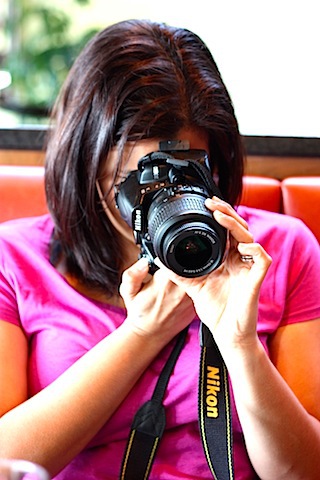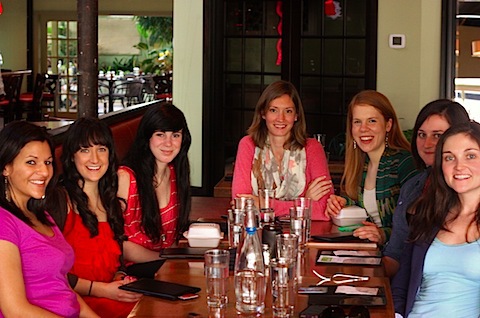 Here's a shot of the whole gang (thanks to Sarah for the photo!) – Gabby of Gabby's Gluten-Free, Liz of I <3 Vegetables, Alexa (Liz's friend from Ohio), Adrienne of Hippie Itch, Sarah of The Smart Kitchen, Lauren of Vegology and me. Such a fun group of ladies!
As if that wasn't enough blogger fun for one week, on Thursday evening I attended another meetup at The Empress. This dinner was sponsored by the Richmond Vegetarian and Vegan Meetup Group. I've been a member of the group since I moved to Richmond but haven't attended a ton of events. This one peaked my interest with a tasty menu and at the last minute I was able to recruit Liz to come along with me so that made it extra fun.
The menu at The Empress is always filled with organic, local and completely made-from-scratch items, many of which are gluten-free. The menu for Thursday evening's meetup was gluten-free, vegan and served family style. Here's what we had:
Wilted Spinach Salad with Chickpea and Wild Mushroom Rague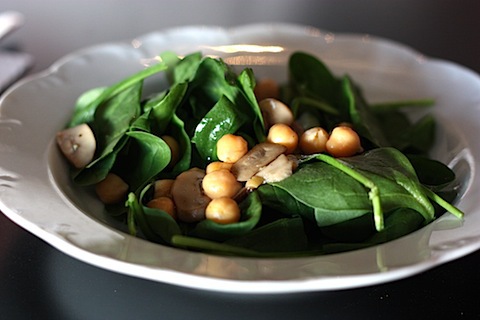 This was really light and delicious, but also had a little spiciness to it. I couldn't pick out the exact ingredients in the wild mushroom rague but I really liked the savory flavor and warmness it added to the salad. Umami at it's finest.
Grilled Local Vegetable Platter with Roasted Garlic Hummus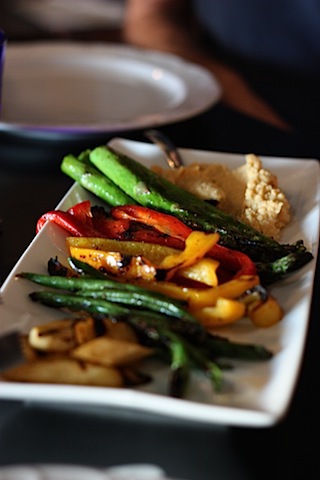 You can't go wrong with grilled veggies and homemade hummus. I loved the asparagus.
Vegetable Stir Fry with Rice Vermicelli, Chili Sautéed Veggies and Ginger Soy Sauce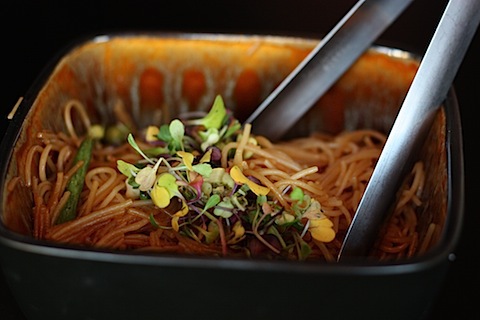 The noodles had a nice spice to them, but I kind of wished there had been a few more veggies in the mix.
Seitan (special gluten free Seitan) with Local Braised Greens & Smoked Carrots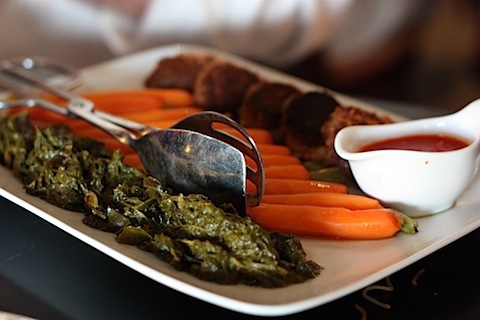 This dish was definitely the most interesting – especially since seitan is usually made out of vital wheat gluten. The special seitan served at The Empress is totally gluten free and made with a mix of grains, veggies and spices. Liz and I both agreed that it tasted similar to a bean burger or chickpea pattie. It lacked the normal chewiness of regular seitan but I actually think I liked it better because I didn't have to chew it forever. Plus I knew it wasn't going to hurt my stomach. <– I've never been tested for a gluten allergy, but I do know that every time I eat seitan my stomach turns into knots so I steer clear of it.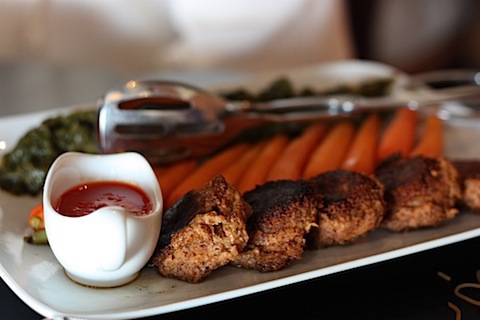 I definitely want to take Isaac back to The Empress because I think he would enjoy the food and cozy atmosphere. I'll also keep it in mind for when I have friends in town with special diets because they have a good selection of gluten-free, vegan, vegetarian and dairy free options.
All of the food was tasty and it was really fun to meet the other meetup group members at our table. One guy actually looked exactly like Abraham Lincoln so the whole time I kept thinking I was dining with the ghost of a former president (or Daniel Day-Lewis). Either of which would have been a-okay by me. 😉
Alright, I'm to the gym to do the Tone It Up Drop 10 workout in the April issue of Self Magazine – so excited about this one. I'll be sure to let you all know how it goes.
Have a lovely Saturday!