Happy Saturday friends. This past week was a busy one so it felt really nice to sleep in this morning! It's supposed to be in the mid 60's today and 70's tomorrow… happy weekend indeed!
One piece of the busy week included a healthy cooking demo with Virginia is for Bloggers at Kitchen Thyme on Thursday evening.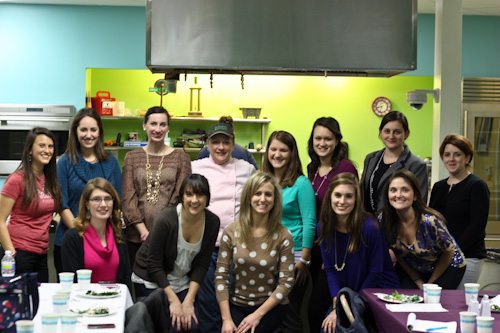 Chef Tammy of The Green Kitchen was the star of the show and us bloggers got to sit back, watch her cook (a.k.a. take lots of photos) and taste all the creations. It was awesome!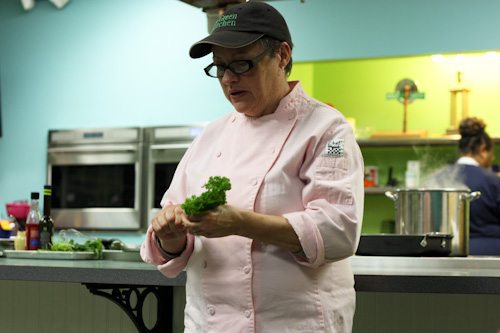 Chef Tammy had a ton of great cooking tips to share, along with some fun stories. I loved learning how she followed her passion for cooking and became a chef later in life. She's a real-life example of the quote: "Do what you love and you'll never work a day in your life." You can tell she loves what she does!
All the food for the event was donated by Relay Foods, the online grocery store I work for now and the recipes were pick by yours truly from the Relay website. 🙂 Pretty cool!  
On the menu for the evening: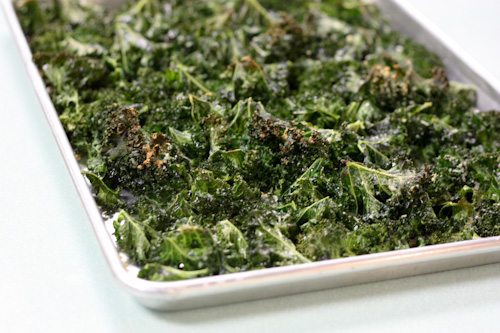 Baked Kale Chips – These were made with local kale from Tricycle Gardens and they were delish. I could have easily eaten that whole tray! That's why I don't make kale chips very often — the whole batch is gone in a day. Kale chips are seriously just as addictive as regular chips.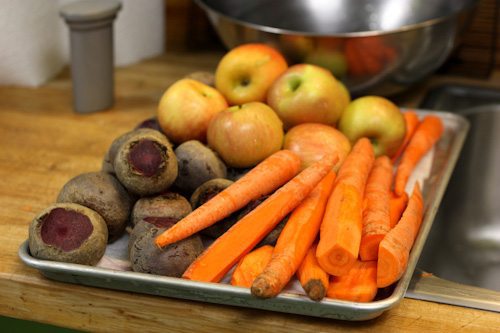 While nibbling on the chips, we sipped fresh juice made using the ABC Juice Kit that includes carrots, beets and apples.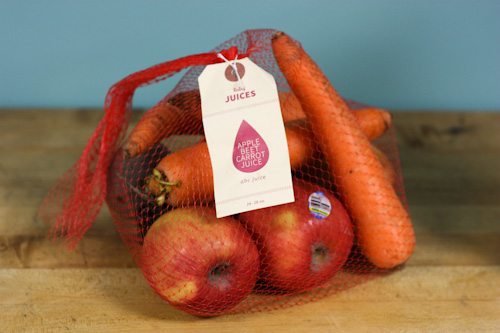 The juice was earthy tasting, but still fairly sweet. It really made me want to dust off my juicer and make some fresh juices at home, especially now that it's flu season — time to give my immune system a little boost!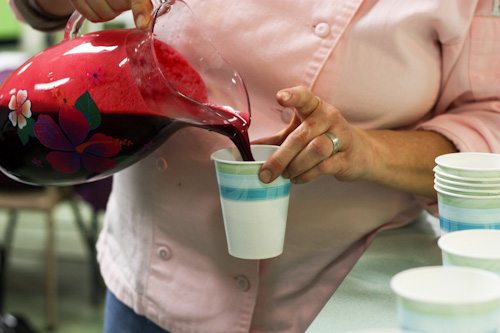 You know what I loved about this juice? The fact that I did't have to clean my juicer. 😉
Before the main course we enjoyed a hot out of the oven Carrot Pineapple Muffin.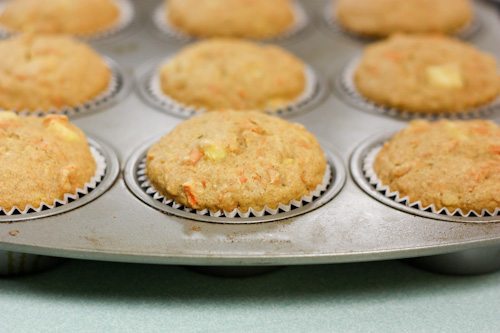 The muffins were made with whole wheat pastry flour, oat bran, agave and skim milk, egg whites and no extra fat. The batter wasn't overly sweet so the sweetness from the carrots and pineapple chunks really shined through.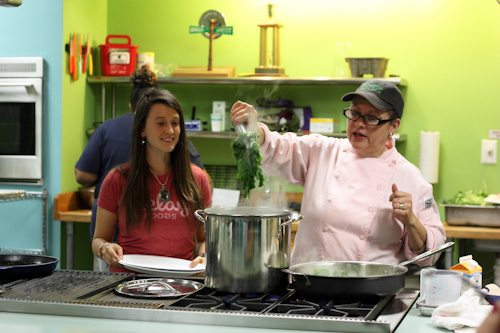 Next up, more greens! They seemed to be the theme for the night.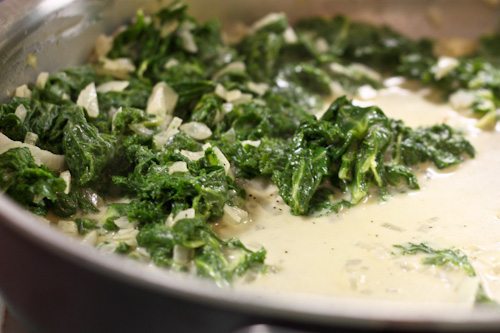 The Mustard Greens with Creamy Mustard Sauce were amazing. I never cook with cream and butter, but this dish really makes me want to. Thanks Chef Tammy, thanks! 🙂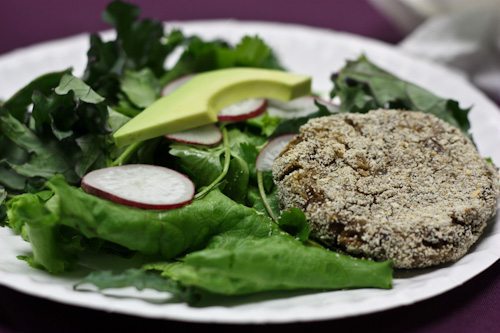 The last item for the evening was a Radish and Avocado Salad with Fresh Cilantro with a Lentil, Olive, and Mushroom Veggie Burger on the side. The salad was a-okay but the highlight of this dish was the veggie burger. I've come to the conclusion that olives are one of the best ingredients to include in a veggie burger recipe. I first realized this after making Dreena's Mediterranean Bean Burger recipe from Let Them Eat Vegan but the burger from the cooking demo solidified it for me.
Overall the event was a blast. I got to meet several VA bloggers I hadn't met before, learn a few cooking tricks and eat some tasty food. I'm already excited for the next Virginia is for Bloggers meet up. 
Have a great weekend!