Upper Body Pyramid Workout
4
Published Aug 25, 2015, Updated Jun 18, 2023
This pyramid workout targets your upper body with just five easy moves! You're using your own body weight for resistance so no equipment is necessary. 
Hey hey! How is your week going thus far? It's about to get better because today I have a quick pyramid workout for you. This pyramid workout is different than traditional pyramid training, but it certainly keeps you moving and is really fun.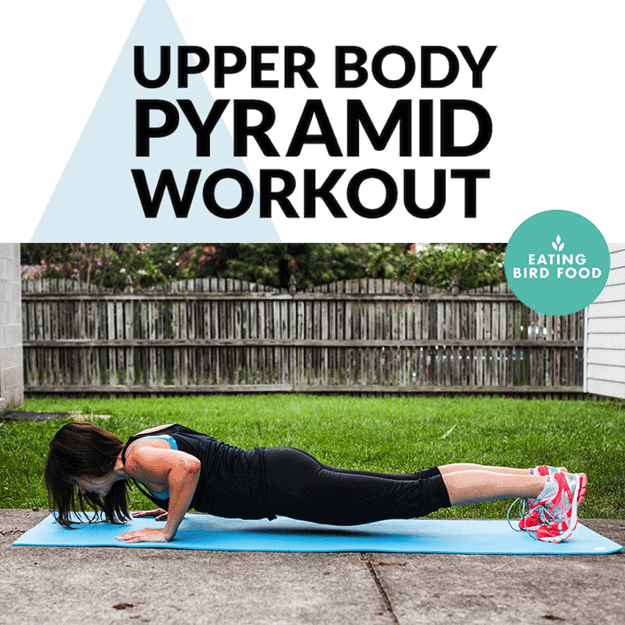 Why I love this pyramid workout:
It's quick and easy — great for beginners.
You're using your own body weight so there's no equipment needed.
Minimal rest. There's no built in rest breaks — just rest whenever you need to.
You can do it in a small space.
It's quiet so you can do it when the roomie, husband or kids are sleeping.
You can make it more challenging by completing the pyramid multiple times.

What I'm wearing — Alo Crops // Fabletics Oula Tank // Coobie Polka Dot Bra (similar to this one, just without the lace) // Asics sneakers
So one complete pyramid set would look like this:
10 Tricep Dips
20 Pushups
30 Boxing Arms
40 second Plank
50 Arm Circles
50 Arm Circles
40 second Plank
30 Boxing Arms
20 Pushups
10 Tricep Dips
Here's a breakdown of the moves:
10 Tricep Dips — Sit on the floor with your knees bent, feet on the floor, hands on the floor behind you with fingers pointing toward your body. Lift hips off floor. Slowly bend your elbows and lower your body close to the floor. Keep abdominal muscles tight. Extend arms through the elbows and repeat.
20 Pushups — Start in a high plank position, lower your body and push yourself back up. Make sure your body stays aligned and your hips don't sag.
30 Boxing Arms — Stand tall, with feet shoulder-width apart and knees slightly bend. Bend elbows in and make a fist with your palms. Perform a controlled punch across your body with the left arm, then repeat with the right for one rep.
40 second Plank — Hold plank in a forearm plank position. Make sure your body is in a straight line and your abs are contracted.
50 Arm Circles — Stand with feet shoulder-width apart, arms extended straight out to sides at shoulder height. Keeping shoulders down make 25 tiny circles forward and then 25 tiny circles backwards.
Want more pyramid workouts? Check out these: