Welcome to Tuesday!! We're one day closer to my favorite weekday: Mod Fam day, a.k.a Wednesday in layman terms.
Not sure if you all know this, but trail mix is one of favorite foods! So much so, it even had something to do with the name of my blog! My love for trail mix got me thinking of how delicious a trail mix cookie would taste. I added some key components of trail mix (dried fruit, nuts and chocolate) and a few "heath nut" items (flax seed and wheat germ) to a standard oatmeal cookie and sure enough, it tastes amazing.. This batch turned out perfectly – crisp on the outside and chewy on the inside!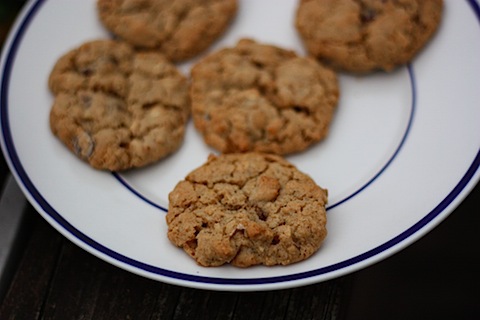 If you have a trail mix lover in your life, I'd highly recommend trying these cookies!
Or, you can check out other trail mix recipes at my roundup.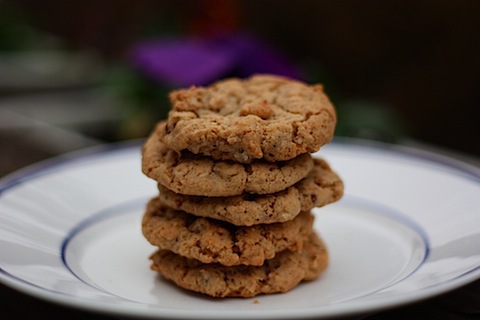 [print_this]
Trail Mix Cookies
Yield: 30 cookies
Ingredients
1 cup all-purpose flour
1/4 cup whole wheat flour
1 cup rolled oats
3/4 t baking powder
1/2 t baking soda
3/4 t cinnamon
1 T ground flaxseed (optional)
1 T wheat germ (optional)
3/4 cup granulated sugar
1/2 cup packed brown sugar
1/3 cup unsalted butter, softened
1 1/2 t vanilla extract
1 large egg
2 T water
1/4 cup chopped walnuts
1/4 cup semisweet chocolate chips
1/4 cup dried cranberries
Preparation
Preheat oven to 375°.
Lightly spoon flour into dry measuring cups; level with a knife. Combine flour and next 6 ingredients (through wheat germ), stirring with a whisk; set aside.
Place sugar and butter in a large bowl; beat with a mixer at medium speed until well blended. Add vanilla and egg; beat until blended. Gradually add flour mixture, beating at low speed just until combined. Add the water if the dough seems dry and stir in walnuts, chocolate chips and cranberries by hand. Drop dough by tablespoonfuls, 2 inches apart onto greased baking sheets. Bake at 375° for 12 minutes or until edges of cookies are lightly browned. Cool on pans 2 minutes. Remove cookies from pans; cool on wire racks.
[/print_this]
*Tip: I don't have wire racks so I just cool my cookies on paper towels on the counter. Works like a charm. 🙂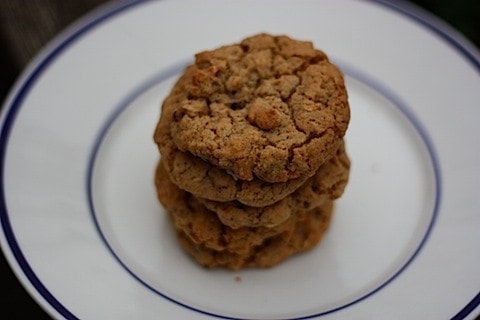 This is just a little precursor of what's to come over the next 12 days – holiday cookies galore! Get excited and in the meantime, send me your favorite holiday cookie!