Good morning friends!
Since we could all use a little extra motivation this time of the year, I thought a Monday morning motivation post would be perfect way to start the week off! There are so many different things that can we can do to keep ourselves motivated to eat nutritious foods, workout and live a balanced, healthy lifestyle. I recently posted my tips for staying motivated to eat healthy, but when it comes to working out, I use a ton of different methods to keep me motivated.
Here are my top five:
Making exercise a habit. Since my freshman year of college I have been working out 5-6 times a week. It took a while for me to build up this habit but that's the key- you have to continuing doing something routinely to form a habit and then it just sort of sticks. Now I feel out of sorts and crabby if I don't get in my exercise.
Realizing that exercise gives me energy and makes me feel good! I LOVE endorphins. 🙂
Finding workout buddies to schedule workouts with. It's much harder to bail on a workout if you know someone is at the gym waiting for you.
Switching things up. Doing the same workout every day makes you bored and also let's your body go into cruise control mode. I try to find new classes to take, add in strength training, take yoga classes and use cardio intervals. This keeps my body guessing and keeps me excited to workout.
Wearing workout gear that is comfy and fits well. I used to wear my high school gym shorts, ratty t-shirts and old sneakers to workout in when I first got started. It worked fine at the time but once I bought myself a good pair of sneakers and a few quality pieces of workout gear, I realized it really does make a big difference. Workout gear can also be a great reward for meeting fitness goals.
Speaking of workout gear – here are the Lululemon Astro Crops I got from the Orlando outlet last week.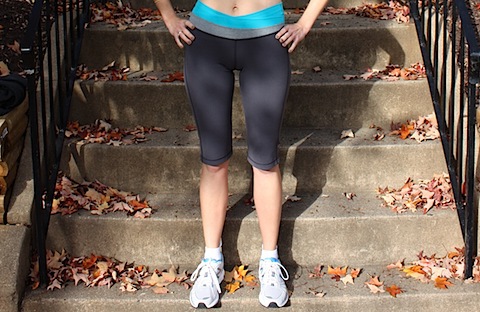 I normally stick with black workout pants so I really like that these are grey. I also adore the design of the waistband, which can be worn up for a higher rise (as pictured) or rolled down. They're form-fitting, but aren't too snug, making them perfect fro yoga or running. The coolest part is that they were even cheaper than the online price at the outlet. I'm all about getting a good deal on workout clothes.
Nice fitting bottoms are nice, but a key piece of workout gear for women is a good sports bra. Having your lady lumps unsupported can be painful and pretty much ruin a workout!
I own a variety of different sports bras, but I was recently sent a few Champion sports bras to review. I've owned Champion sports bras in the past so I know they are good quality and offer great support, however I didn't realize they offered such a variety of different styles and cute designs now. I guess I am a little behind on my sports bra research.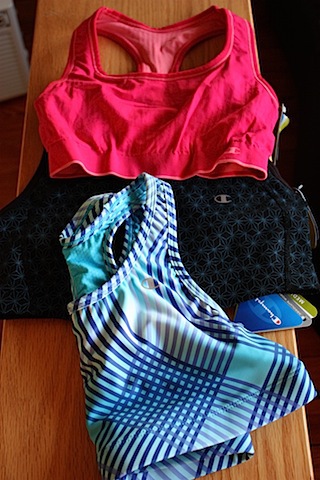 From top to bottom: Double Dry Seamless Reversible Sports Bra, Cotton-Rich Fitness Racerback Sports Bra and the Double Dry Absolute Workout Sports Bra. I was also sent the SHAPE™ T-Back but I was wearing it when I took the photo. 🙂
At this point I've had a chance to try them all out. Each of the bras offer medium support, which is prefect for medium-impact activities like walking, hiking and cycling. All the bras were comfortable and fit well, but my favorite was probably the Double Dry Seamless Reversible (the pink one) because it's super soft and made of a fabric that wicks away moisture quickly. This one also has a very comfy band – no digging whatsoever.
The Cotton-Rich Fitness Racerback is probably the one I will wear least. It will be great for yoga or walking but I usually try to stay away from cotton sports bras, especially when I'm doing workouts where I know I'll be sweating quite a bit.
Another favorite of mine is the Double Dry Absolute Workout. It's made of a silky smooth wicking fabric and the pattern is so fun! I actually wore this bra on a run and didn't have any issues so I think the level of support depends on your cup size as well.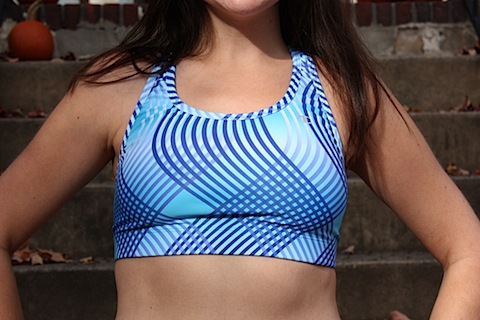 It also matches my new crops!! Not that anyone will know that because I don't ever workout in just a sports bra, but it's still makes me happy.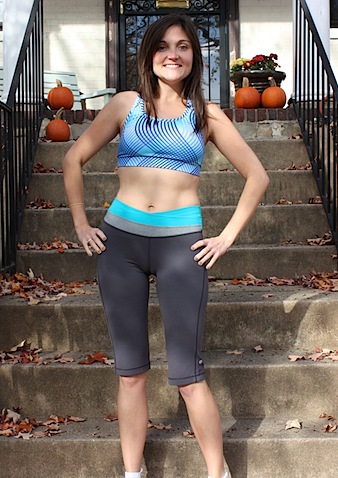 To be honest, I was VERY nervous to post this photo and almost didn't, hence the reason the other two photos above are cropped. I think posting it helps me to work on one of the goals I made for myself this year, which was to love my body, feel good in my own skin and be confident. Being able to post this photo portrays the sense of contentment and confidence with my body that I want to carry with me each and every day!
This is still a work-in-progress for me, but no matter your size, shape or weight it's so important to love yourself and be thankful for what your body allows you to do. Exercising is one easy way to remind ourselves that our bodies are truly amazing!
What things help you to stay motivated to workout? Does workout gear make you feel confident / increase your motivation to workout?