I'm pretty sure I mentioned this is my previous post, but last weekend at the Runner's World Half and Festival was an absolute blast. I got to spend three full days with an awesome group of bloggers, the editors of Runner's World (if you know what David Willey looks like, you'll know why this is so exciting… j/k… kind of), and thousands of runners. How could that not be fun? I previously recapped our full day of events on Friday so now it's time to share a little about the races and the rest of the weekend.
I thought I'd break it down by sharing my top five favorite things:
1.) The feeling after finishing my first race in over a year. This felt absolutely amazing! My time wasn't my best (57:47), but given that I haven't been running I was totally happy to complete the race in less than an hour. Heck, I was just happy to finish injury free!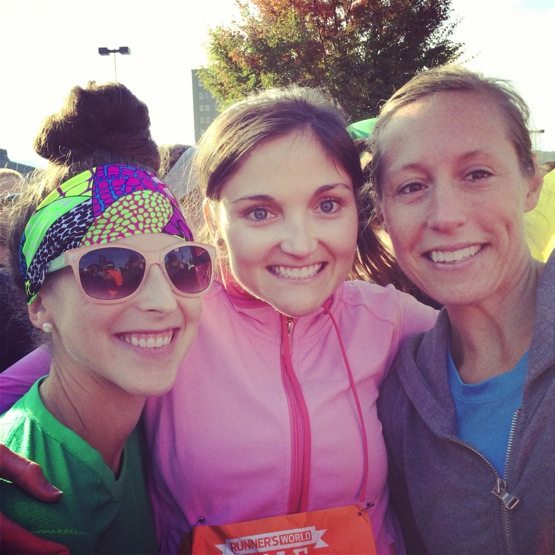 I started the race with these two ladies, Ashley and Ericka. After running with them for a little while we got disconnected. I turned on the Pandora workout station and rocked out the rest of the race on my own, which worked out fine.
The 10K course was beautiful — it goes through downtown Bethlehem, past Lehigh University — and I loved seeing all the colorful leaves on the trees. Here's a shot I took during the race.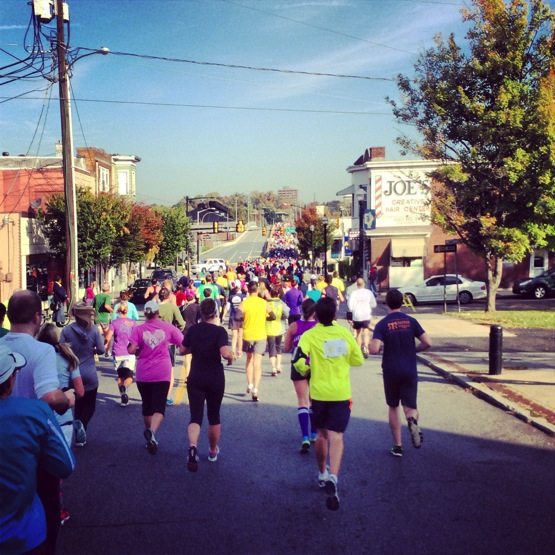 Miles 1-4 went by quickly as  I was just taking in all the views and enjoying the run. During mile 4 my left knee (which isn't the knee I injured last year) started acting up a little. I think I must have been unknowingly overcompensating. It wasn't hurting badly, just felt a little funny, so I pushed through. When I saw the mile 5 sign, my knee wasn't feeling too bad so I decided to kick up my pace a notch. This was probably my fastest mile. Once the finish line was in sight I started an all-out sprint and finished strong. It felt sooo good and made me remember why running races are so much fun! The energy, the people, the feeling when you cross the finish line — it's just an awesome experience.
Theodora finished a little bit before me and I ran into her as soon as I crossed the finish line. Hooray!
2.) Watching and cheering on the other runners. Since I was coming back from an injury, I decided not to go crazy and try to run more than one race over the course of the weekend. At first I thought it was really going to stink to sit back and watch everyone else cross the finish line of the half on Sunday, but to be honest, this was one of the highlights for me.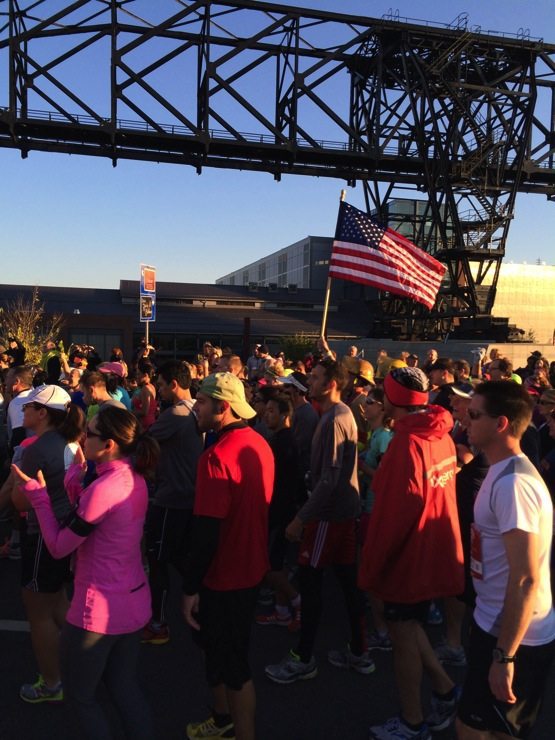 Meranda and I both weren't running so we stuck together and went to the start line before the race to see everyone off. The race organizers had the music  pumping to get the runners psyched up and I had a cup of hot coffee to keep me warm so all was good. I even got to snag a quick photo of Monica before she took off. 🙂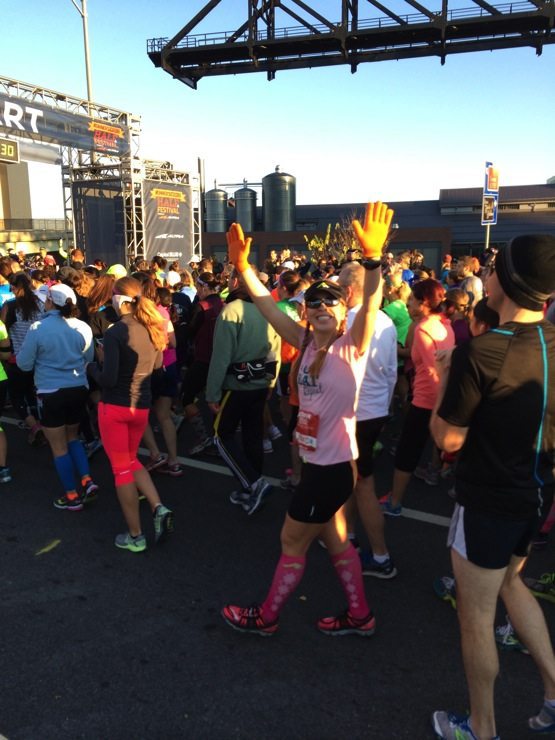 We had a little time to kill before the first runners would be finishing the half so Meranda and I headed to the Arts Quest building. It was so nice to have a building to warm up, go to the bathroom and grab a drink or snack during the races — the building was also available for racers before and after the races. Something you don't see every often at races!
Since I'm usually running the race, I've never been standing at the finish line before — it was such a cool experience to watch all the runners finish. I even got a little emotional watching… some people looked like they were pain, others sprinted in with a smile but everyone just seemed so determined. And then there were the couples that crossed the finish line holding hands… so adorable. It totally made me want to run a half with Isaac sometime.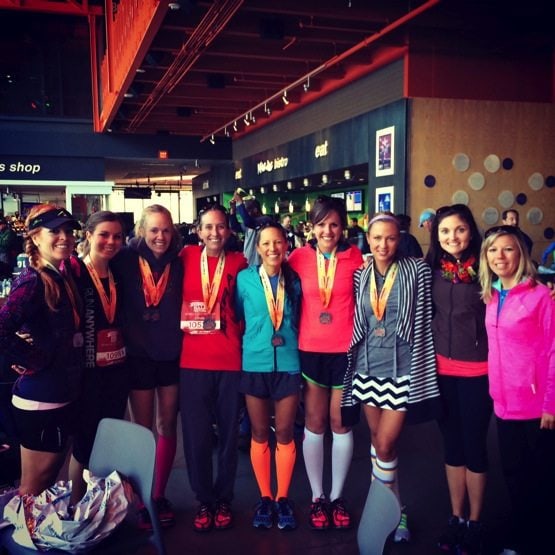 Here's a picture of Meranda and I with some of the bloggers after finishing the half. It's crazy to me how good they all look after running 13 miles… such babes!
3.) My roomies! Skinny Runner and Janae were the best roommates ever. It was a blast having a three-day slumber party with them.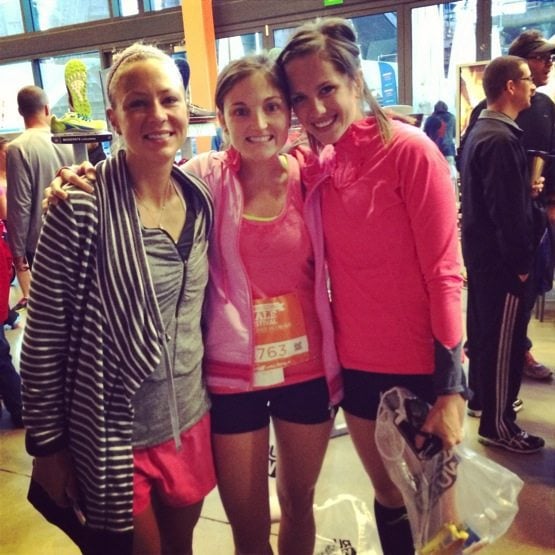 And these girls can run!! So inspiring to me as a "slow and steady wins the race" kind of gal.
4.) Dave McGillivray's key-note on Saturday night. Dave McGillivray is known for being the race director of the Boston Marathon, but there's more… In 1978 he ran across the United States to raise money for a charity (he's the original Forest Gump) and has since done a ton of runs/races to raise money for different charities (he's raised over $100 million!).
"Success is not the key to happiness. Happiness is the key to success. Do what you love; success will follow." <– Love this one!
During his presentation, he shared about his dream to be an athlete but the fact that he was always picked last and never very good a sports because of his size. He finally picked up running and found something he was successful at (although he actually had to drop out the first time he tried to run the Boston Marathon). He went on to run over 126 marathons with a PR of 2:29. His talk was so inspirational and his talk was super engaging — funny at times and emotional at times. If you're interested, this article does a good job detailing his full presentation and here's his book.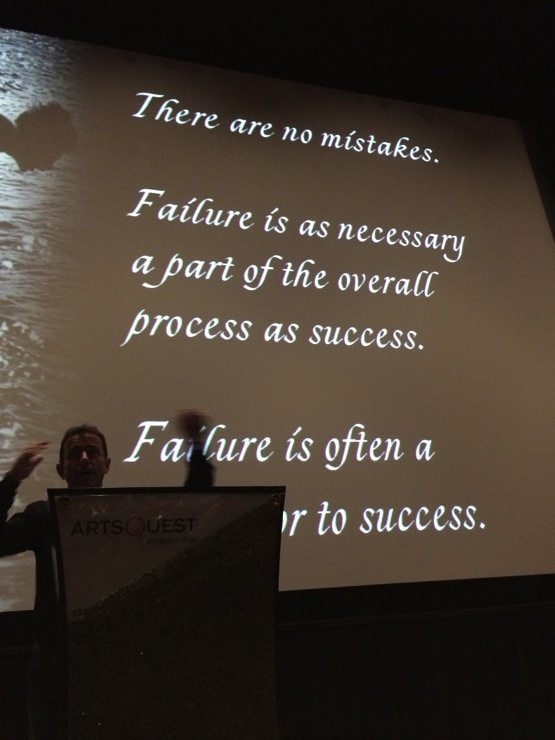 "There are no mistakes. Failure is as necessary a part of the overall process as success. Failure is often a precursor to success."
5.) The food… including peanut butter and pumpkin froyo!
Runner's World feed us well! From lunch that featured recipes from the Runner's World Cookbook to Dinner with the Editors, everything was delicious. We also had the Ruby Tuesday's salad bar twice and Panera once — I'm usually all about checking out at local restaurants but we didn't have a car and these two spots were in walking distance from our hotel so they worked. Plus Ruby Tuesday's does have a good salad bar!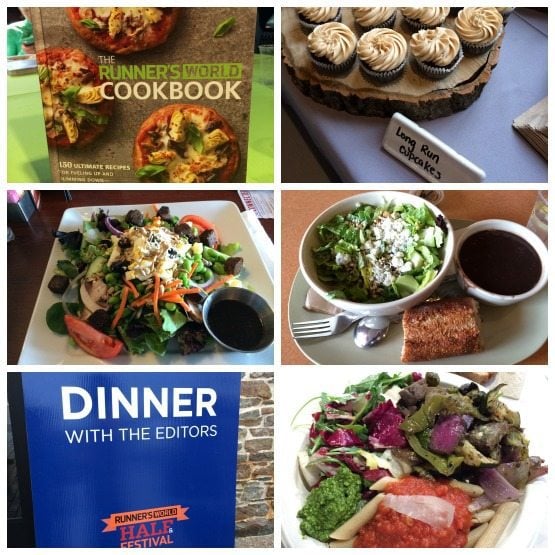 Oh, and I can't forget the fro yo from So Fun Yogurt.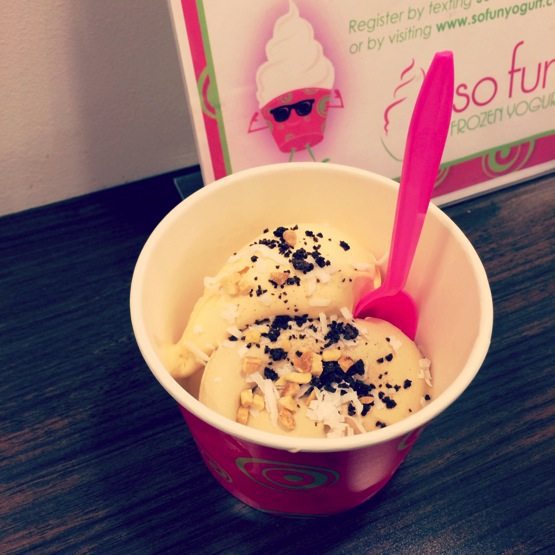 Pumpkin + peanut butter = best combo ever!
We went on Saturday night and then ended up asking our driver on the way to the airport to make a pit stop so we could get it one more time before leaving PA. Best idea ever.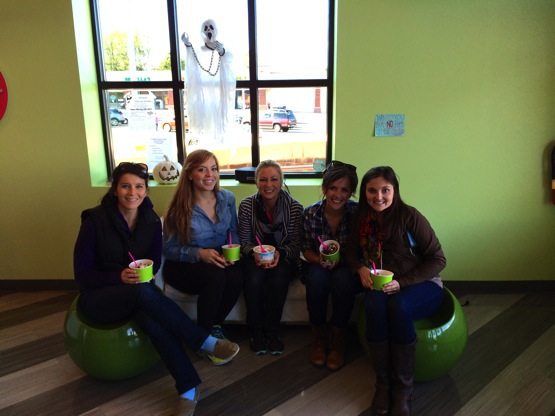 If you live near a So Fun Yogurt and haven't been yet, what are you waiting for? They have pumpkin and peanut butter froyo, plus at ton of sprinkles. I don't even like sprinkles, but I have to admit this sprinkle station was pretty legit.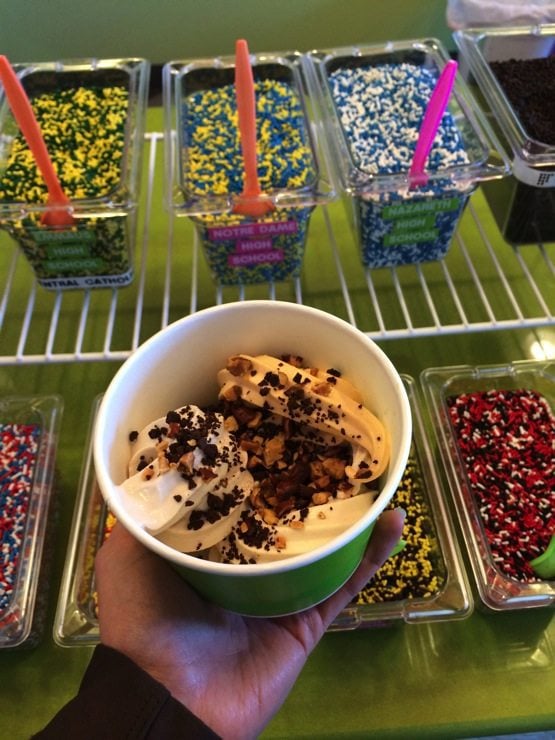 It's probably a good thing we don't have a So Fun Yogurt in VA. 😉
Thank you to Runner's World for inviting me to the Runner's World Half & Festival and covering the cost of my race entry, travel and accommodations. I had an amazing time and would love to go back next year for the weekend. It was such a fun experience to hang out with the editors of Runner's World (everyone was so friendly!). The races were well-organized, the town of Bethlehem was adorable and I feel like it would be a great event to bring the whole family to as there's something for everyone — seminars, races for kids, dog races, etc.
I also just googled and realized there's a brewery in Bethlehem, PA. The chance of getting Isaac to come with me next year just increased. 🙂