After drooling over all the healthy Thanksgiving recipes I found over the weekend, I was antsy to get in the kitchen. One dish that I didn't mention in the post was a vegan and gluten-free tofu stuffing recipe that Blossom Restaurant NYC posted on their Facebook page. Although I've never been a big stuffing person, the recipe sounded like the perfect Thanksgiving day vegetarian main dish, so I wanted to give it a shot.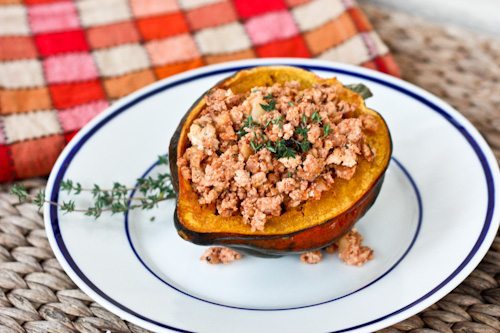 I'm so glad I did, because it's unlike any traditional stuffing I've ever tasted. It's packed with an amazing blend of flavors you don't normally find in Thanksgiving fare – miso and tahini, for instance. But then it also has the fresh herbs (thyme, rosemary and parsley) which really make it wonderful for Thanksgiving. Not only is it delicious on its own, but it tastes amazing stuffed inside a roasted squash.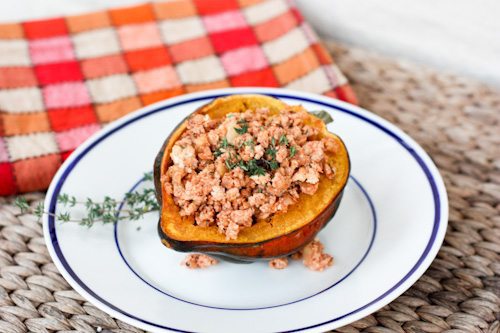 I'm already excited to make it again as a main course for Thanksgiving next week! <– BTW, I still can't believe Thanksgiving is next week!
Print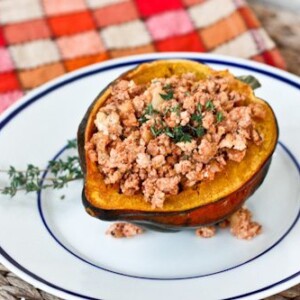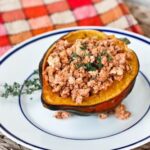 ---
Description
I tweaked the original recipe a bit by cutting all the ingredients in half (I didn't want too much stuffing on my hands this week since I'm making it again next week) and used coconut oil, but otherwise the ingredients and prep are exactly as Blossom NYC created it.
---
Scale
Ingredients
1

yellow onion, diced

1 Tablespoon

fresh minced garlic

1 Tablespoon

coconut oil

1

block fresh firm of super firm tofu

1/4 cup

white miso

1/8 cup

balsamic vinegar

1 1/2 oz

tomato paste

1 Tablespoon

tahini

1 Tbsp

chopped fresh thyme

1/2 Tbsp

chopped fresh rosemary

1/2 Tbsp

chopped parsley or more if desired

1 1/2 cup

s coarsely chopped raw walnuts
---
Instructions
Use a food processor

(affiliate link)

to chop the herbs and the onions, separately.
Saute onion and garlic in the coconut oil.
Squeeze excess water out of the tofu.
Crumble tofu into the pan and saute the mixture UNTIL DRY. Use super firm tofu (this is IMPORTANT!) and then use a potato masher to make it the consistency of bread crumbs.
Remove mixture from the heat.
Combine miso, vinegar, tomato paste and tahini in a bowl, stir through tofu and onion mixture, and mix well.
Season with salt and pepper to taste.
Add herbs and walnuts last.
Serve with whipped sweet potatoes, fresh cranberry sauce and mushroom gravy, or in baked squash!
---
You can serve it up like traditional stuffing if you'd like.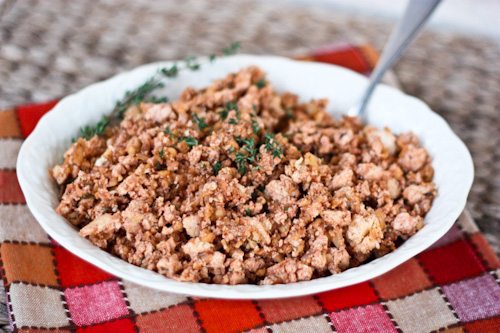 As you can tell, I went the baked squash route. I simply cut an acorn squash in half, scraped out the seeds, rubbed a little coconut oil on the inside of the cavity and baked (cut side up) for an hour at 400°. Once the squash finished roasting, I filled it with warm stuffing and dug in!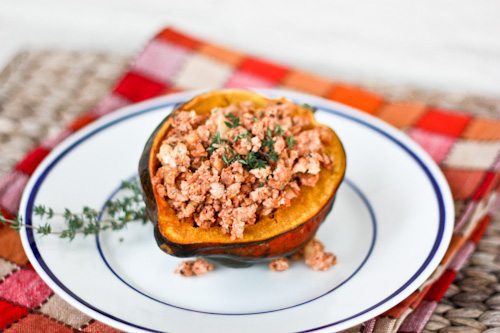 When making this dish as a main entrée for Thanksgiving, you could probably fill 5-6 small/medium roasted acorn squash halves with the stuffing recipe I posted. If you have more than 5 people and you're serving this as the main, I would double the recipe.
All the vegan + gluten free guests coming to your Thanksgiving feast will LOVE you if you make this. Trust me! 🙂
Speaking of Thanksgiving, is anyone else running a Turkey Trot? I really want to do the local Turkey Trot 10K here in Richmond. I asked Isaac if he would do it with me and he said Thanksgiving is supposed to be the laziest day of the year. I guess that means no. If he doesn't do the Turkey Trot with me, maybe I can get him to do the Arthritis Foundation Jingle Bell 5K run/walk on December 1. Holiday races are so much fun and I haven't done one in a few years so I'm excited to do at least one this year!