As most of you know, I love yoga. One question I frequently get asked is how to get started with yoga. This is understandable as yoga can definitely be intimating. I do a lot of yoga on my own at home now but if you've never done it before I highly recommend finding a beginner's class at a local studio in your area.
Of course, you can read up about the different class types and find diagrams of the poses online (this SparkPeople article is a great resource), but going to a beginner's/intro class is great because the instructor will be able to teach you the poses and make sure you are doing them correctly. I'm a firm believer that anyone can do yoga – you just have to find the right style for you!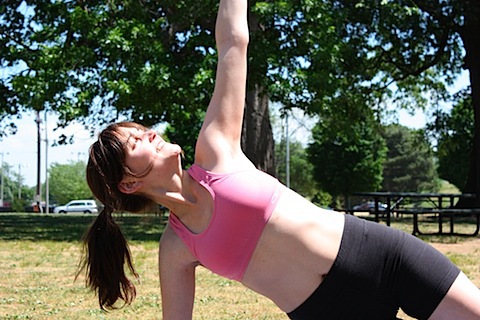 September is National Yoga Month so if you've been thinking about trying yoga for a while, this month is the perfect time to start. To celebrate many studios are offering one week of free yoga to new clients. Simply visit this site, find a studio near you that is participating and print out the voucher.
If you do decide to try it out this month, here are a few tips for your first yoga class –
Bring your own mat – this isn't 100% necessary as most studios have extra mats for people to use but if you are worried about germs at all, I would invest in a cheap mat to get started. Target has some good options.
Bring a bottle of water – despite what many people think, yoga can make you sweat!
Eat 1-2 hours before class – yoga is best done on an empty stomach. (Having a small snack 30 minutes before class is typically fine.)
Wear workout clothes that are comfy and allow you to move but aren't super loose – your clothes don't have to be skin tight, but dangling t-shrits and sweats often times get in the way when you're doing yoga.
Arrive 10-15 minutes early – most studios require you to sign a waiver before the class starts. This will also give you time to go to the bathroom, meet the instructor or chat with your classmates before the class begins.
If the instructor asks who is new and who has injuries at the beginning of class, don't be shy – these are normal questions at yoga studios and the instructor will be able to provide you with more instruction and help with adjustments if you are new or have an injury.
If something hurts or you're not exactly sure how to do a pose, ask the instructor – they're are there to assist you!
Be kind to yourself by accepting where you are – rest if you need to and only do what you can. Listen to your body, pushing yourself beyond comfort and pain is not what yoga is about.
If you're local to Richmond, you have no excuse because there are quite a few opportunities to try yoga for free:
Do you have any additional tips for yoga newbies? If you're new to yoga, do you have any questions?
Have a great Tuesday friends!