As most of you know, Isaac is a Montessori school teacher. He teaches 1st-5th grade, all subjects, all in one classroom. Ever since Isaac shared the news about our engagement with his students via Show & Tell, they have been really excited – particularly the girls. Apparently one of the hot topics is who our flower girl is going to be. Luckily I don't think we're having one so we won't have to choose. 😉
They've also had some fun ideas for how Mr. Isaac and I should tie the knot. Most of them involve us getting married at their school. One of them involves a baby piñata <– yeah… we didn't ask anything more about that one.
Once Isaac told them we had other places in mind, he received this little note…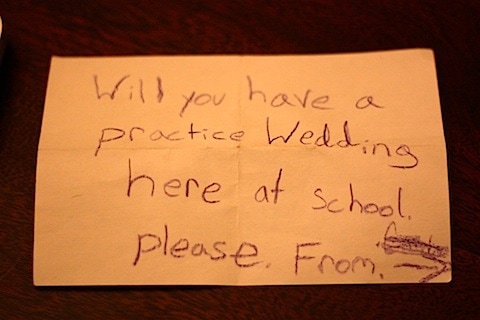 How cute is that?
While I'm not sure we'll be having our rehearsal at his school, I'm now 100% sure where we'll be having the wedding! After many weekends of touring and countless hours of research, we finally signed the contract for Lewis Ginter Botanical Garden! The funniest part is that Lewis Ginter was the very first place we looked that day after we got engaged and it's been one of our top choices. We thought it was going to be out of our budget but after realizing that many things were included in the cost (like a tent, chairs, tables, etc) it ended up being a viable option.
It's not the cheapest place, but also not the most expensive and it's naturally beautiful, which hopefully means we can spend less on decorations and flowers. We also love the location. It's close to our house and to many hotel options. Lewis Ginter also has an exclusive caterer, Meriwether Godsey. I've read great reviews about the food, which is awesome considering the food is a big deal! And, it's kind of nice that that we can already cross "choosing a caterer" off the list. 😉
The ceremony will be outdoors in the Grace Arents Garden.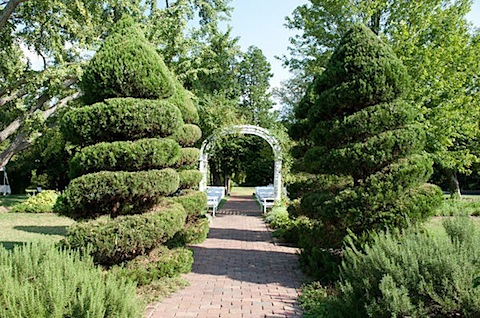 source
This charming garden dates back to the era of its owner, Grace Arents. The center sundial, gazebo, and arbors offer romantic ceremony options. During blooming season, the garden features roses, peonies, and a variety of herbs, annuals, perennials, and small shrubs; sculpted juniper topiaries anchor the Victorian garden.
The reception will be at the Bloemendaal House.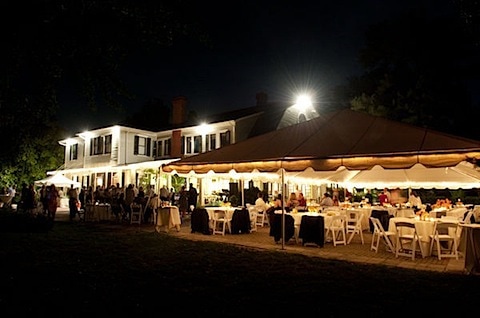 source
The top level of the house will be used for the bridal party to get ready and the rental includes formal rooms with fireplaces, cozy side rooms, indoor restrooms and a kitchen, which is where the food will be prepared and served (if we have it buffet style). The main party will happen outside under a tent on a brick patio.
I've been googling up a storm looking at photography blogs that have posted photos of weddings at Lewis Ginter. There are a ton out there, but here are a few if you're interested:
So now that we have the venue, we also have a DATE set – May 11, 2013!!
I'm so excited that some of the big things are falling into place. It seems like it took us forever to choose the venue but I'm really glad we had the time to really explore and look at a bunch of different options before choosing because now we're 100% certain this one is perfect for us.
As one of Isaac's students would say, it's "Time for Romans" (also known as Romance).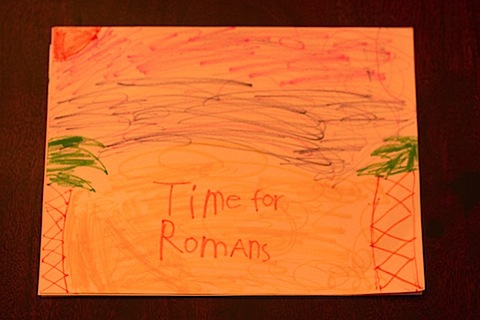 I absolutely love this – the palm trees, the sunset… looks like a honeymoon scene to me!