Thanks for all the sweet comments on my last post about the wedding! My plan to eat all real foods and drink more water has been going well. I haven't taken a photo of everything but here's a little preview…
Oat bran/Oatmeal Combination Oats. They were thick so I added a little extra almond milk on top. And of course, almond butter was involved. <– I'm addicted.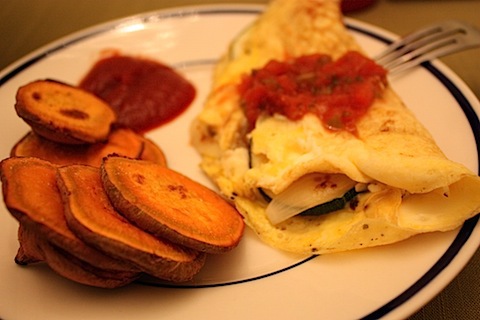 1 egg + 1 egg white omelet and sweet tater "chips" for din. Isaac was the best and had the sweet tater baking in the oven when I got home from the gym. 😉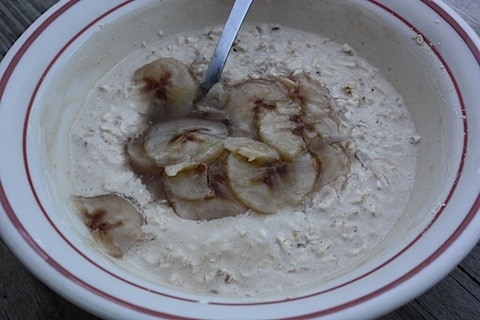 Overnight oats with protein powder and frozen banana.
It's funny to me that all the photos are of breakfast type foods. Pretty easy to tell which meal I like best huh?
Anyhow, I'm officially getting antsy for the weekend to arrive. Although, I'm glad it hasn't come too quickly as I have yet to pack. I typically pack at least 1 or 2 days in advance, but I was in a cooking mood last night after dinner so I put packing on the back burner and whipped up a couple treats.


Cinnamon Roasted Chickpeas
Ingredients:
1 cup cooked chickpeas
1 T coconut oil
1/2 t cinnamon
1/4 t pumpkin pie spice
1/8 t sea salt
Preheat oven to 450°. Mix chickpeas with oil and spices in a medium sized bowl. Scatter chickpeas on a baking sheet and bake for about 30 minutes, until the chickpeas have become dry and crispy.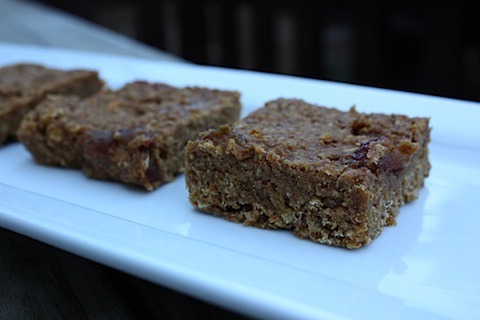 Carrot, Date and Oat Bars
adapted from Oat-Date Bars
Ingredients
18 dates, pitted, chopped and divided
8 baby carrots
1/2 cup water
1 large egg
1 1/4 cups quick-cooking oats
1/2 cup whole wheat flour
1/2 teaspoon ground cinnamon
1/4 teaspoon plus 1/8 teaspoon baking powder
1/8 teaspoon sea salt
Directions:
Preheat oven to 375°F and grease an 8 x 8-inch baking pan. In a high powedered blender, combine 9 of the dates, carrots and water; blend until very smooth. Add egg and blend just until combined. In a medium bowl, combine oats, flour, cinnamon, baking powder and salt and stir until combined. Add date-and-water mixture and remaining 1/3 cup chopped dates; stir until moistened.
Scrape into prepared pan, level the top with a spatula, and bake until firm and lightly browned around the edges, about 17 minutes. Cool in the pan and cut into 9 bars. Bars keep in an airtight container for about a week. They can also be individually wrapped and frozen until ready to eat; allow about 2 hours for them to thaw.
These bars are tasty, but have a natural flavor that isn't super sweet. I think next time I might add a bit of agave, honey or stevia for a touch of sweetness. For now the bars are perfect with a spread of almond butter / apple butter or even crumbled them over oatmeal or yogurt!
In other news, I wanted to share some information about an upcoming race in Richmond for all the local readers:
Saturday, October 16th – 9:30AM
10K Hill Run – Runners will tackle three tough hills, race through historic neighborhoods and dash along the scenic banks of the James River
5K Walk – Easy family walk through the community
After the race, join NRC supporters, volunteers and fellow runners and walkers at the Finish Line Party where you can enjoy delicious food, live music and tours of the NRC. All event proceeds will benefit the Neighborhood Resource Center (NRC), a grassroots educational and cultural center fostering personal growth and community change in Greater Fulton. The NRC helps youth achieve academic success through individual tutoring and a sliding-scale Montessori preschool.
I'm hoping my leg is feeling better so I can participate in this race. Isaac's school works with the NRC and I'd love help support them by racing. Anyone else interested in running it? Perhaps we could all meet up? Shoot me an email if you are interested…
Off to work for a big staff meeting. Then it's time to start packing! We're leaving super early tomorrow morning! Have a great Thursday.
PS – I found out last night that Modern Family is starting their new season next WEDNESDAY, September 22! I'm sooo pumped. I've been waiting all summer for my favorite show to come back!