Hi from Baltimore! I'm here for the weekend attending the Natural Products Expo (Expo East) and FitBloggin', a conference for health and fitness bloggers. This is my third year attending FitBloggin' (check out my recaps from 2010 and 2011 here) and I'm super pumped for this year's conference. Not only am I excited for two days of workouts and informative sessions, I can't wait to reconnect with old friends and meet new ones. If you happen to be attending either event,  please say hi!! The more people I get to meet, the better. Conferences are all about connecting with others. I love it!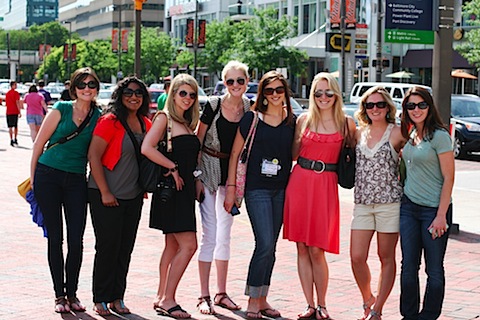 A group of us at FitBloggin' 2011
Things have been crazy busy this week so unfortunately I don't have a yummy recipe to share. Last night I saw that Gabby filled out a little "This or That" survey that's been going around the blog world and decided it would be fun to do. I don't think I've ever done one of these before (besides in an email chain back in high school), but this one is pretty interesting and I thought it would be a good way for new readers (or the new friends I meet this weekend) to get to know me. 
So here it goes: This or That
1. Run/workout in the heat & humidity or freezing temps and snow?
I hate being cold so I'd much rather run in the hot and humid weather than be freezing to death. I'm also pretty clumsy when it comes to running (or walking) in ice and snow so I tend to stay inside.
2. Have washboard or flat abs?
Flat abs – this has been a goal of mine for years and I'm still working on it.  Maybe it will happen for the wedding. 🙂
3. Dr. Oz or the Doctors?
hmmm.. neither. 
4. Cardio or strength?
A healthy mix of both.  
5. Cravings: Protein or carbs?
Carbs all the way. I am a cereal monster – it's bad. 
6. Jillian Michaels or Bob Harper?
Jillian – I love her workouts. 
7. Frozen Yogurt or Ice cream?
Both! I don't really like cake or cupcakes (well, I take that back because Pearl's totally converted me) BUT in general I LOVE frozen desserts: ice cream, fro yo, frozen custard, gelato – I like them all.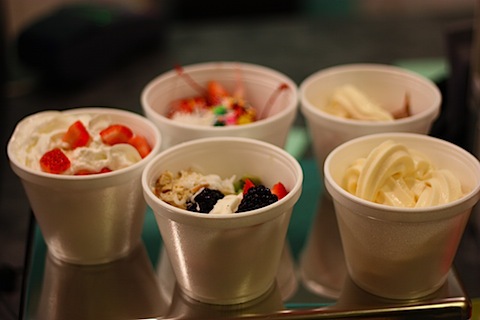 8. To train: upper body or lower body?
Upper body. I'm determined to do an unassisted pull-up one day. 
9. Protein powder or food with protein?
Both. I love protein pancakes and smoothies with protein powder, but I try to limit my consumption of powder to one serving a day. Sometimes it's fun to make baked goods with protein powder though, for instance these banana carob protein bars rock!
10. Lunges or squats?
Squats.
11. Sweet or salty?
Both. It totally depends on my mood. I actually love sweet/savory combos (like this breakfast sandwich).
12. Workout attire: cute or comfy?
Both. I like being comfy but I also like to look cute. I love workout leggings/capris so you'll almost always see me in those instead of running shorts (unless I haven't done laundry in a while).
13. Body Pump or heavy lifting?
Body pump. I have a small frame and scoliosis so I feel more comfortable using my body weight or lifting manageable weights. 
14. Yoga or pilates?
I love them both! Currently I'm into doing pilates on the reformer and hot yoga.
15. Nike or Adidas?
Nike. 
16. Running on treadmill or outdoors?
Outdoors if it's nice out.
 17. Whole Foods or Trader Joe's?
Both. I go to Whole Foods for produce, specialty items and the bulk bins. I go to Trader Joe's for nuts, dried fruit, condiments (olive oil, dressings, etc.), frozen fruit, Dr. Bronner's soap and fun snacks (like seaweed snacks and peanut butter filled pretzels).
18. Summer or Winter Olympics?
Summer.
19. Exercise classes or videos?
I like them both for different reasons. Classes are a great way to switch things up and make sure I'm pushing myself and videos are perfect when I don't have time to drive to the gym to get in a workout. I love doing a 20 minute JCORE video or a quick ToneItUp workout before work. 
20. Steamed or roasted veggies?
Roasted. If you know me, you know my motto – everything tastes better roasted. Need some roasting inspiration? Check out my Roasted Zucchini and Summer Squash, Cracklin' Cauliflower, Crispy Sweet Potato Fries, Roasted Root Vegetables or Easy Roasted Broccoli.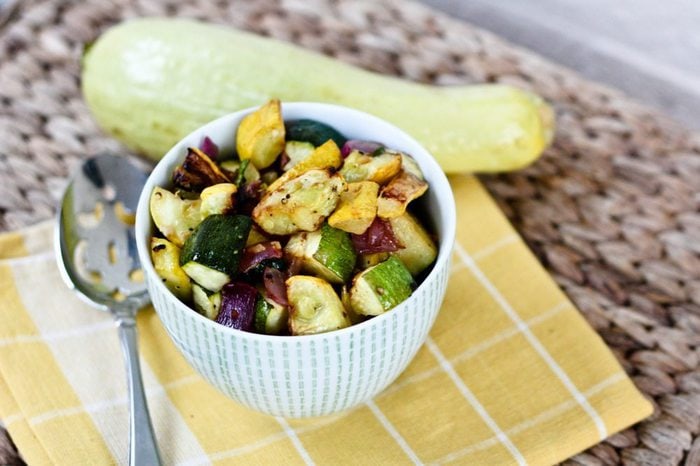 Have a lovely Thursday friends!