Rise and shine. For some reason unknown to me I am awake at 6:05 on a Saturday morning. Hopefully this means I can get an early start and be super productive today!
Rewinding 24 hours back to yesterday, here's how Friday went down.
I woke up to a cold bowl of overnight oats.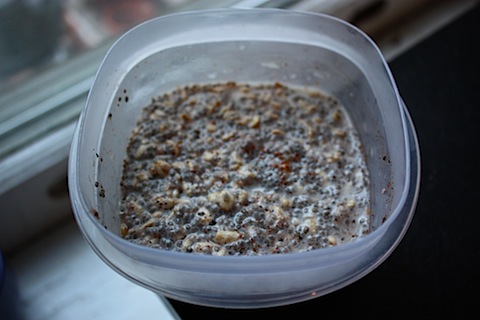 Twas a delicious blend:
1/2 cup old fashioned oats
3/4 cup unsweetened vanilla almond milk, 1/4 cup water
1 T chia seeds
1 T Sunwarrior brown rice chocolate protein powder
Vanilla bean
Cinnamon
Work was fun. There was an estate sale going on 2 doors down so a co-worker and I were able to check that out on our mid-morning "smoke" break. 🙂 I got 2 Giro bike helmets for quite a steal, so now there's no reason to deny Isaac's request to bike places.
For lunch my co-worker and I went to celebrate her 60th birthday at Olio, a little European Market. She had never been before and I fell in love the first time I visited the place so I wanted her to try it out.
There's so many interesting sandwiches and salads on their lunch menu I couldn't decide what to get so I stuck with the same thing I ordered last time because I knew it was heavenly, the veggie hummus wrap.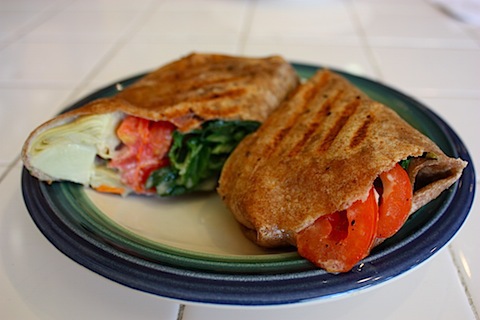 Garlic hummus, basil, red peppers, roasted tomatoes, artichoke hearts and greens were stuffed into a thin grilled wrap. It did not disappoint and neither did my co-worker's lamb wrap. We both really enjoyed our little lunch outing.
After work Isaac and I both were quite hungry, which was perfect because I had Gina's Eggplant Curry slow cooking all day and our house smelled like an Indian restaurant when we walked in. Too bad I can't have a different Indian dish cooking in the crock pot each day, because I could really get used to coming home to a curry filled house. 🙂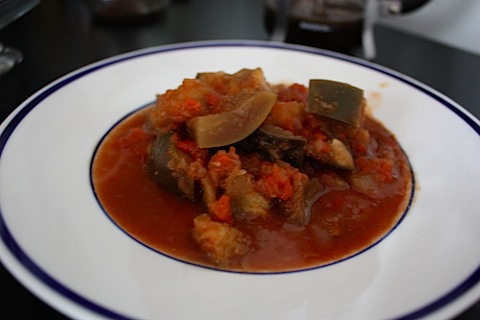 The curry turned out great. It was flavorful and spicy – I used 1/4 t. of cayenne pepper as listed in the recipe. The only thing I would recommend to add is a little tomato paste or thickening powder, like arrowroot, because mine turned out a tad runny. Although, this may have happened because I didn't drain my diced tomatoes well enough. I'm excited to buy some naan today and try the leftovers, as I'm sure it will be even better today once the flavors have had a chance to really meld together.
After our little Indian feast we swung by Balliceaux to wish Happy 40th Birthday to a friend and fellow social media lover, whom I met via Twitter. I had a glass of Pinot Noir while mingling with folks at the party.
The highlight of the night (maybe day!) was definitely the b-day girl's specially requested cake, which was toted by her sister all the way from South Carolina.
The Ultimate Coconut Cake from Peninsula Grill in Charleston, SC.
"Twelve layers of pure indulgence, The Ultimate Coconut Cake is infused with coconut and fresh vanilla. Unlike most traditional coconut cakes, the pound cake center is topped with an icing made from cream and butter, coated in toasted coconut and dripping with simple syrup."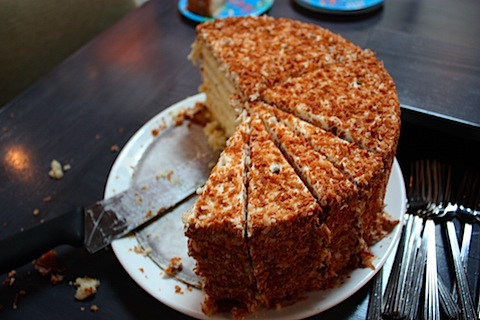 How amazing does it look? Well times that thought by 100 and that's how amazing it tastes. Seriously! Isaac and I spilt a large piece and savored each bite. The layers of icing and the toasted coconut topping make it one the best, if not THE BEST, coconut cake I've ever tasted!
And apparently the cake is famous in the culinary world considering Bobby Flay has been quoted saying "All time favorite dessert", Martha Stewart – "The richest filling, and the best ingredients…" and The New York Times – "A little slice of heaven…"
Just so you know, you don't have to live in SC to taste this, you can order the cake and have it delivered directly to your house. Just thought I would throw that out there.
Isaac and went to a friend's house and hung out for a while, then rented a movie and snuggled on the couch for the evening. And when I say snuggle I mean cried like a baby all night because of how sad the movie Precious was. Oh my goodness, this movie is good, but it's simply heart wrenching to watch…. It makes you really appreciate the small things in life, like having parents who love and provide for you.
Alright, I am off to enjoy Saturday to it's fullest. I hope you plan to do the same. I'll be back later with a special Yoga post.
-Brittany