Hi friends. I hope you had a lovely weekend. Here's a look at mine (through iphone photos)…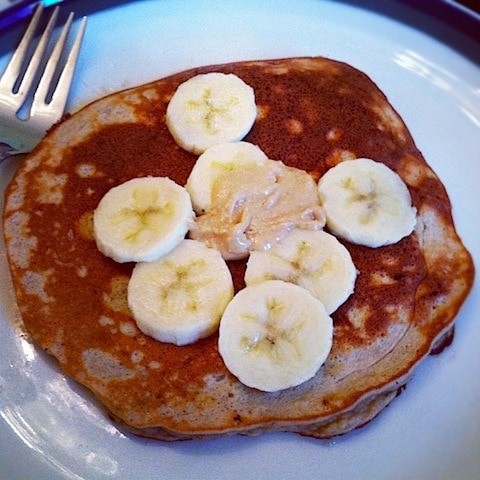 Protein pancakes every morning – made with Sun Warrior's new Warrior Blend, which is thicker than their classic protein powder. I've found I have to add a little almond milk to the protein pancake batter, but it also dissolves much easier and makes for fluffier protein pancakes. I'm a fan!
For this pancake I used 1/4 cup egg whites, 1 scoop vanilla protein powder (Warrior Blend), 1/2 mashed banana, splash of unsweetened vanilla almond milk, 1 tsp. chia seeds and a dash of cinnamon.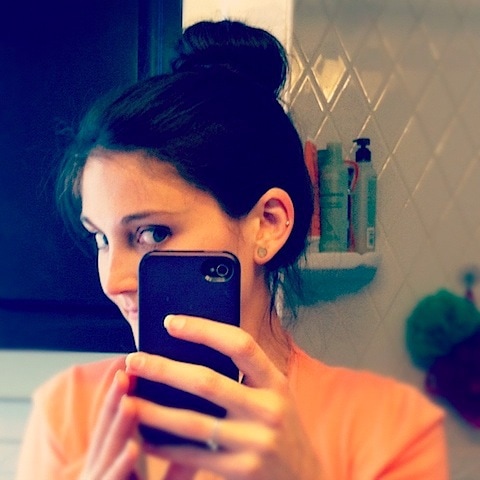 I perfected the sock bun! Apparently this is an old trick but I never knew about it until seeing it on this blog post. I used an old brown sock that belonged to Isaac and it worked like a charm. I love how full it makes my bun look.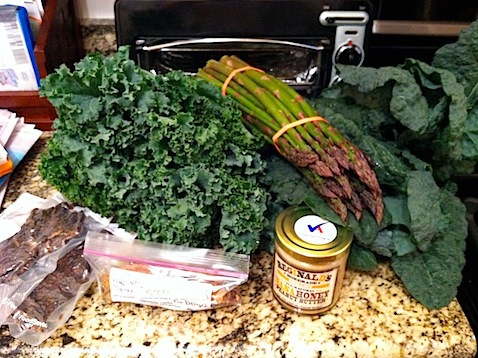 Our favorite farmers market, the South of the James Market, opened this weekend. I had been counting down the weekends until it opened and was so excited that I dragged Isaac there at 8AM on Saturday morning. It was glorious. The weather was perfect and there were so many vendors – even more than last year! We picked up a few things – lots of kale (curly and tuscan), asparagus, Reginald's Homemade Nana Honey Peanut Butter (OMG- so good!), dried chicken finger treats for Olive (they're gross looking, but she loves them) and two packages of beef jerky for Isaac.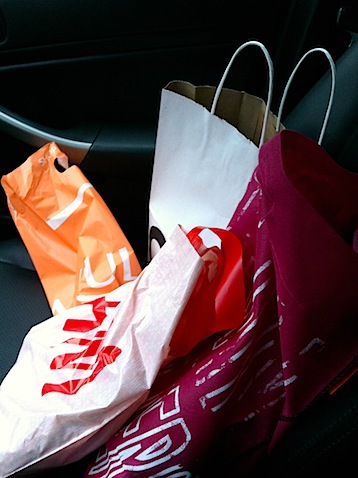 A little shopping spree went down on Saturday. Our engagement photos were postponed until this coming Thursday and I started second guessing the dress and belt I bought. I ended up taking it back to Urban and getting another dress. Funny enough I'm still sort of undecided to about what I'm going to wear. Luckily my friend who is a stylist in L.A. is going to come over and help Isaac and I get ready. (Thanks Laurel!!) She also offered to do my makeup, which is amazing because I won't have to pay for it or be scared to death of having an overdone face in the photos. Laurel knows my style and will be able to make me look natural. I'm so excited that she's home this week and can help out.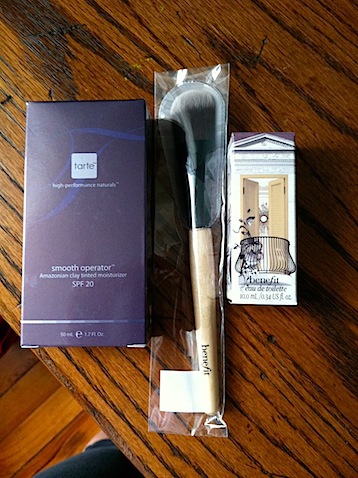 Speaking of makeup, I read online that mineral makeup (which is what I use on a daily basis) isn't so great for photos so I went to Ulta and scooped up some Tarte tinted moisturizer and a brush. I have a few other Tarte products, including two different types of eyeliner. Their products are eco-friendly and cruelty free and they work great. I'm already a huge fan of the moisturizer – it offers the perfect amount of coverage.
Oh and I also grabbed a tiny bottle of Benefit's So Hooked On Carmella perfume. I love vanilla scented fragrances and this one was calling my name.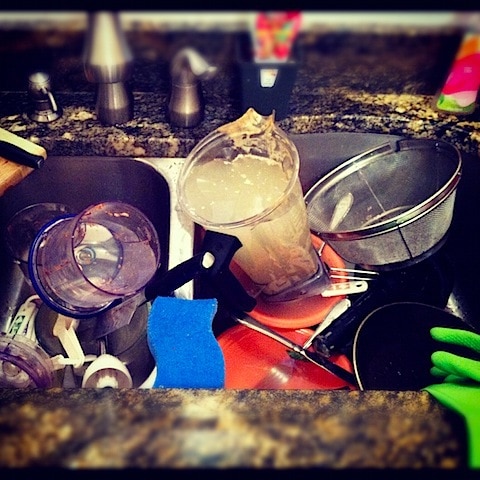 And the above picture is what my sink looked like last night after prepping bean burgers and garlicky kale for the week ahead. Both recipes turned out to be delicious and well worth all the dishes, although I still wish there was some sort of magically dish fairy that washed my dishes for me. It would make cooking even more enjoyable.
Time for me to head into the office. I have some exciting things on the agenda for this week – I'm starting a new bootcamp class tonight, taking engagement photos on Thursday and giving a healthy eating presentation at the YoKid Richmond Challenge on Saturday. Whew! I also plan to have a few fun posts for you all. Be on the lookout for those. Happy Monday!