Evening friends! I hope you're having a wonderful week. In case you haven't heard, the first NFL game of the season is tonight. This means Isaac is glued to the TV so I figured now would be a great time to work on a blog post. As I mentioned in my last post, we went to the beach for Labor Day weekend. It was a relaxing couple of days with beautiful weather, good company and great food. We were staying with Jess, one of my bridesmaids and bff from high school, at her family's house in Nags Head. Her mom and dad made us dinner both nights we were there and we ate like kings (and queens).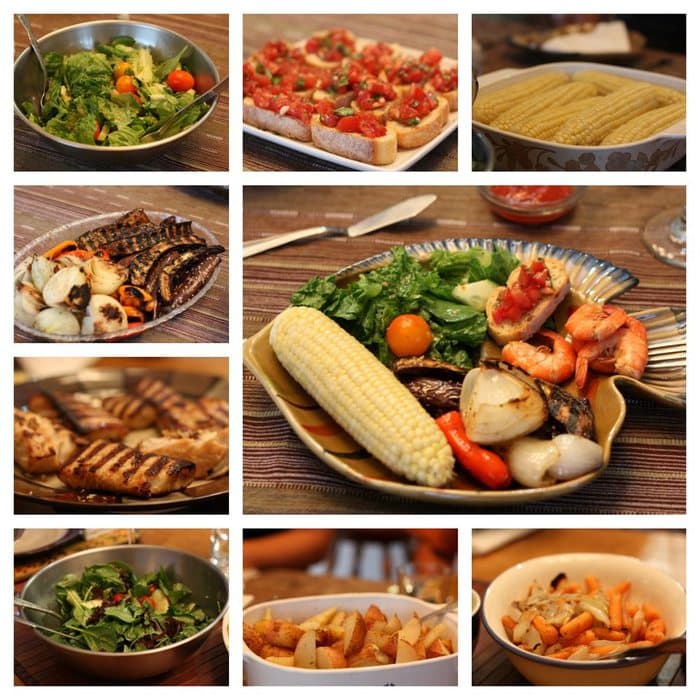 We had crabs and shrimp one night and cobia the next, lots of grilled veggies and fresh salads. I love crabs and rarely get to eat them so having them was a real treat. One of my favorite dishes from the weekend was the sesame grilled eggplant that Jess' dad made.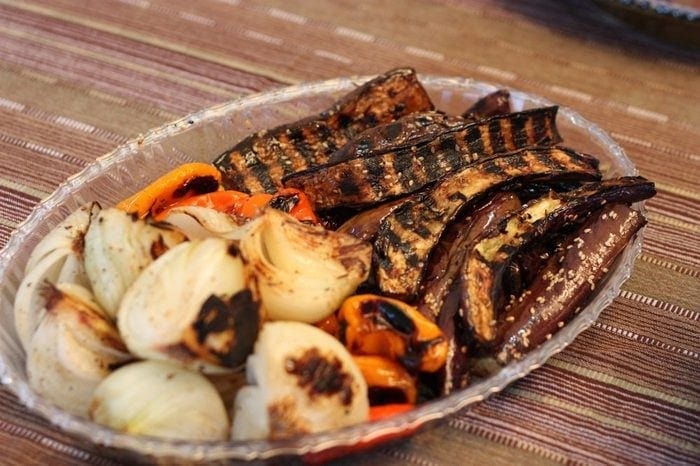 I actually found the recipe for the grilled Japanese eggplant online and made a roasted version last night for dinner. It was so good!!
From the looks of all the food photos one might think all we did was eat, but I promise we did other stuff as well. Jess and I went for a run one day and a bike ride the next. We swam in the ocean, played cards, relaxed and simply enjoyed the final weekend of summer. 
We even woke up early one morning to stroll the beach while the sun rose.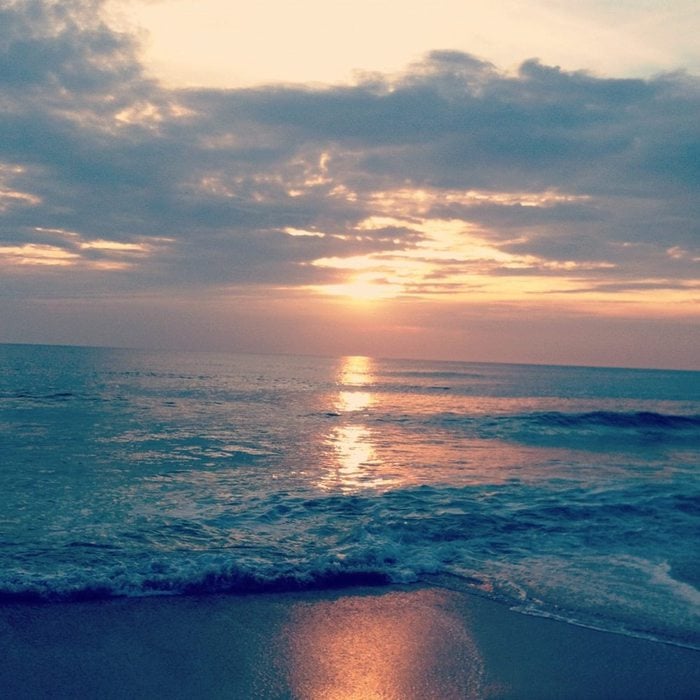 Doesn't get much better this.
Here's Jess, Patrick and Frisco.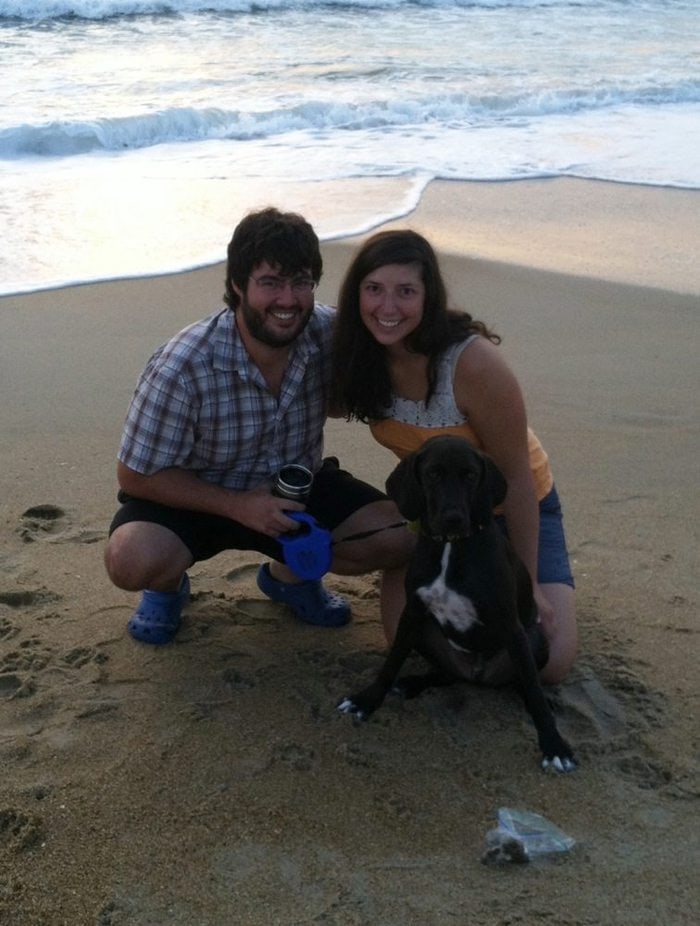 and Isaac and I.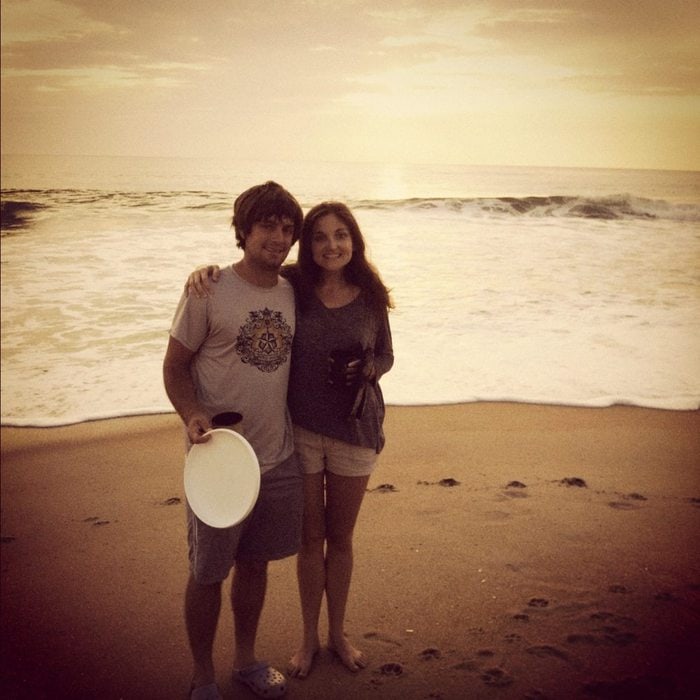 Another highlight of the trip was trying this new-to-me powdered peanut butter from Just Great Stuff.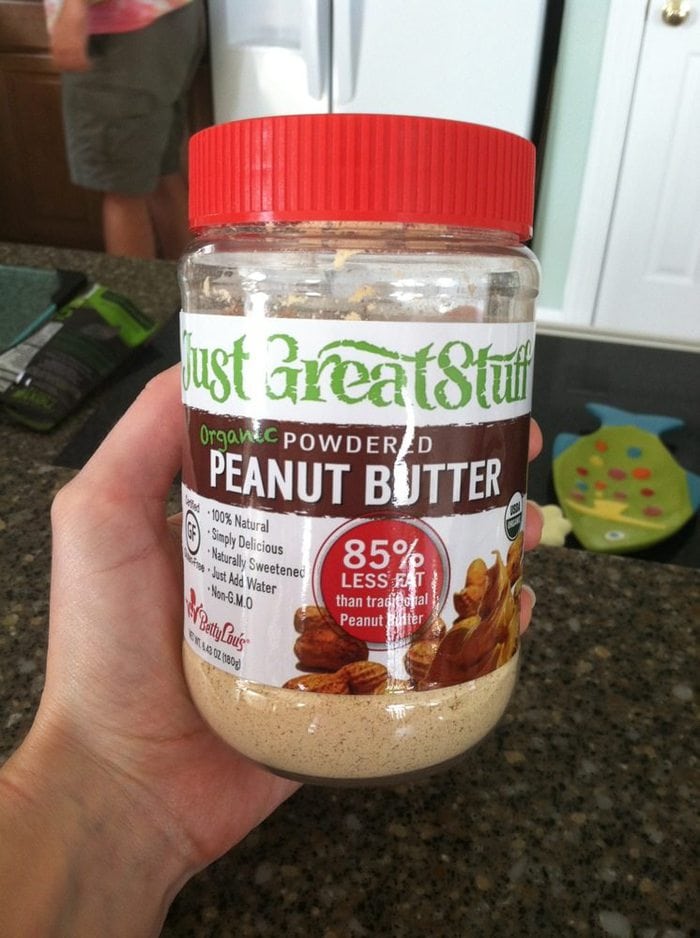 If you haven't heard of powdered peanut butter, it's a low-calorie alternative to peanut butter with 85% less calories from fat. The peanut powder is made by squeezing oil out of roasted peanuts. To use it, you mix the powder with a little bit of water and it forms into a spread with a similar constancy to peanut butter and the same great flavor. The best part is that you can eat two Tablespoons for 45 calories instead of the 180-190 found in regular peanut butter. 
Jess bought the Just Great Stuff (JGS) brand from Wegman's before the trip and brought it for us to try over the weekend. I'm pretty much hooked on Bell Plantation's PB2, so naturally I was really excited to try this brand. As it turns out, I think I might like it better than PB2. I haven't done a side-by-side comparison, but the consistency of JGS is more similar to regular peanut butter than PB2 is and it has a little crunch to it, which I like. It's also organic (PB2 isn't) and it's sweetened with coconut sugar instead of regular sugar like PB2. The only downside is that Just Great Stuff is more expensive than PB2. I want to buy my own jar of JSG soon, but I'll probably continue to use PB2 as well. 
I realize that fat and calories aren't bad for you and I'll NEVER give up eating regular nut butters. But on the other hand, I'm definitely a volume eater and it's nice to have a low-cal powdered peanut butter on hand for certain things:
It's great mixed into cottage cheese and plain greek yogurt
It makes a lovely, low-cal protein pancake or oatmeal topping
I love using it in smoothies (good examples include the Green Elvis and this Peanut Butter and Jelly Smoothie)
Eating by the spoonful <– There is built-in portion control because you only mix up how much you're going to eat at once. Plus, you're less likely to dip the spoon back in for "one more bite"  because eating powder by the spoonful just isn't very appealing. 🙂
Have you tried powdered peanut butter before? What's your favorite thing to make with it?