It's hard to believe that Thanksgiving is only a few days away.
You'll be happy to know that I convinced Isaac to the run the Turkey Trot 10K with his sister and me. 😉 After the trot we're sticking to our normal Thanksgiving day routine and heading south to have dinner with Isaac's family. I'm excited! So much so, I spent a good portion of my weekend testing out pumpkin recipes… I'll be sure to post about those soon (hopefully tomorrow) but for now I wanted to share a quick workout challenge I'm going to do this week.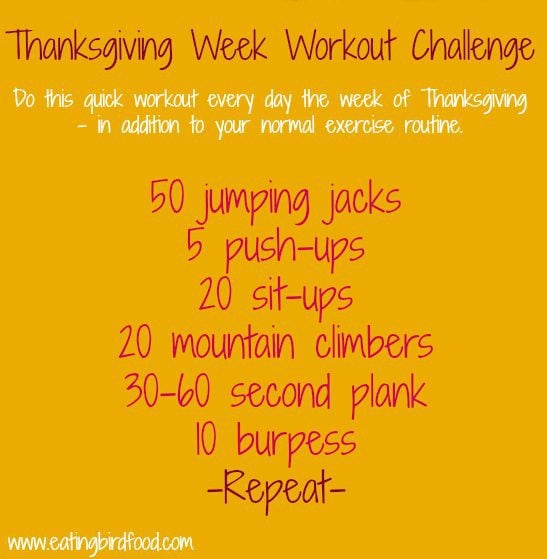 I was inspired by a Pinterest workout that Jamie Eason posted on her Facebook wall and I decided to challenge myself to add this quick workout to my normal routine this week. I'm still doing P90X so this will be in addition to whatever P90x workout I do for the day.
The workout is short but definitely gets your heart rate up. It's great to do as soon as you wake up in the morning, right after work or before bed.
Do this workout every day this week, indulge in a delicious piece of pie (or some other tasty dessert) on Thanksgiving and feel no guilt. That's my plan!
This post may include affiliate links. Thank you for your support.