Hello there. I hope everyone who celebrates had an amazing Thanksgiving. Ours turned out to be quite nice!
I wanted to share with you the two dishes I made because although they were perfect for Thanksgiving, they're really not holiday specific and would be wonderful anytime. For instance, the appetizer I made was a Pumpkin Spice Cashew Cheese Dip served with apples and pita chips for dipping.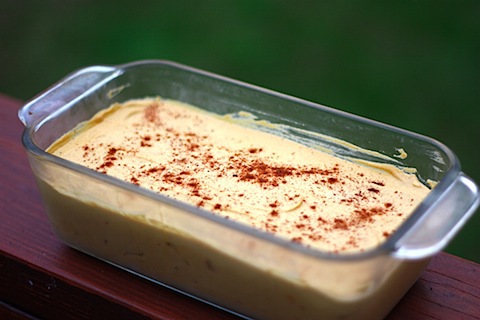 After seeing the recipe over at Healthy Happy Life I knew I needed this pumpkin dip in my life. And, I was right – everyone, even the non-pumpkin lovers, agreed that it was one tasty dip.
It's pumpkin flavored and sweet, but it also packs a punch with a bit of cayenne pepper and citrus juice. No one would have guessed it was made of soaked cashews instead of cream cheese!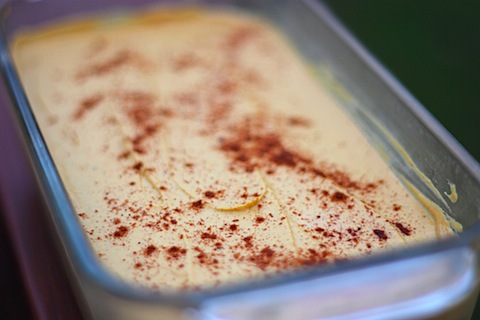 I followed the recipe and used a deep dish for baking because I wanted the dip to stay creamy. After baking, it was still smooth, creamy and amazing! Although I liked the dip warm, I almost prefer it room temperature or cold. There are left overs and I've been eating it cold all day – on apples or bread. Soooo good!
The second dish on my list was Cracklin' Cauliflower — a copy cat recipe of my fave Whole Foods hot bar dish. There are several recipes for this dish floating around the internet and I used this one for inspiration, but my exact ingredients are below.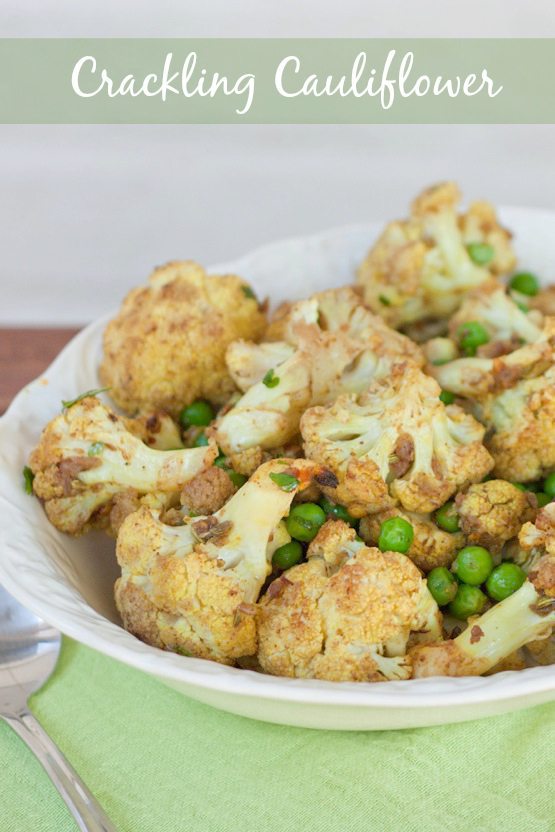 Roasted cauliflower is always tasty, but when it's coated with curry and spiciness, it's even better!! Trust me.
Ingredients
1

bunch cauliflower cut into florets

1/2

large red onion, diced

1/4

cup olive oil

1/2

tablespoon curry powder

1/2

tablespoon garam masala

1/2

tablespoon fennel seed

1/2

teaspoon crushed red chile flakes

1

teaspoon salt

2

cloves garlic, minced

1

tablespoon fresh ginger, grated

1

teaspoon ground pepper

1

cup frozen peas

1/4

cup cilantro, chopped
Instructions
Preheat oven to 400°
Chop cauliflower into florets. Combine oil and spices (curry powder through pepper) and toss with cauliflower and red onion until all pieces are well-coated. Place cauliflower in a baking dish and roast for 25 to 30 minutes, stirring about every 15 minutes for even cooking. The cauliflower should be crisp-tender and golden brown when done. Place in a serving bowl and stir in Peas and Cilantro.
[/print_this]
As I mentioned, both of these items went great with our Thanksgiving feast, which was delish and primarily prepared by Isaac's Aunt Beth…
But, they're GREAT recipes overall so feel free to try them out whenever you'd like. 🙂
Today we hung out with Isaac's Mimi and Poppy for breakfast, took our friend to the airport (bye Aub!) and stopped by the mall for the quickest visit ever. We hit up Anthropologie, Saks and Dicks, then darted out of there. Now we're meeting up with friends for an evening rendezvous.. should be fun!
Riddle me this – Are you still stuffed from your Thanksgiving feast?