Delicious tempeh collard wraps with hummus, slices of baked sweet potato, green pepper, red onion and cranberries.
Lately I've been making a lot of repeat meals — including collard wraps, which I've literally been having for lunch almost everyday. It all started with the Bean Burger Collard Wraps and now I'm officially hooked on them. I've been making a version with mango and tempeh, but I've also been experimenting with recipes of my own. They're so easy and versatile, you can make so many different combinations.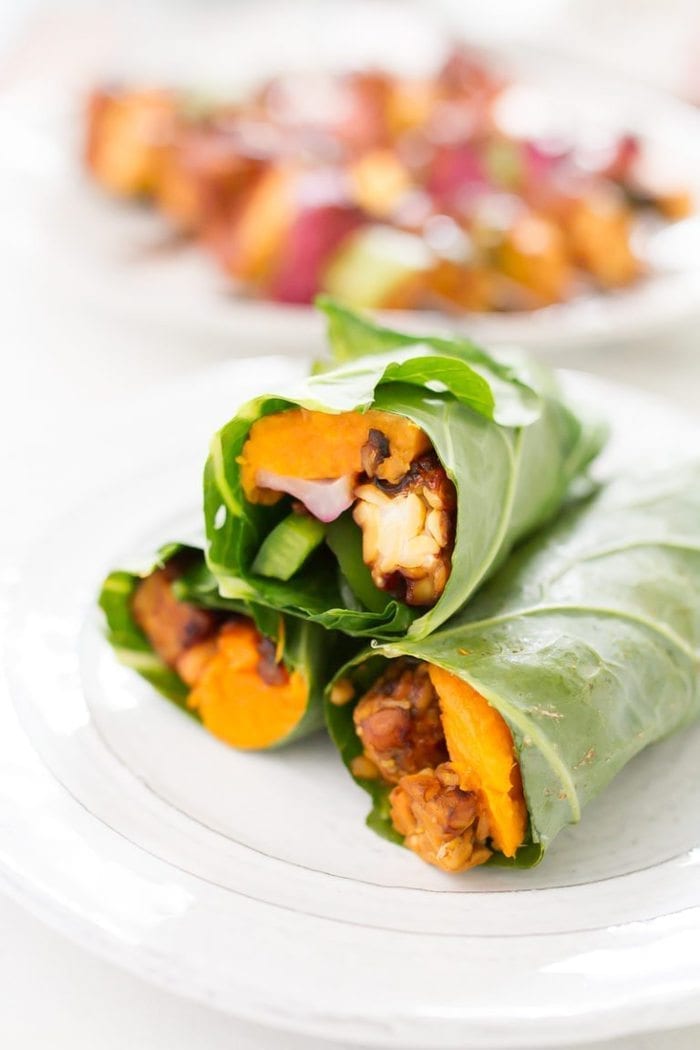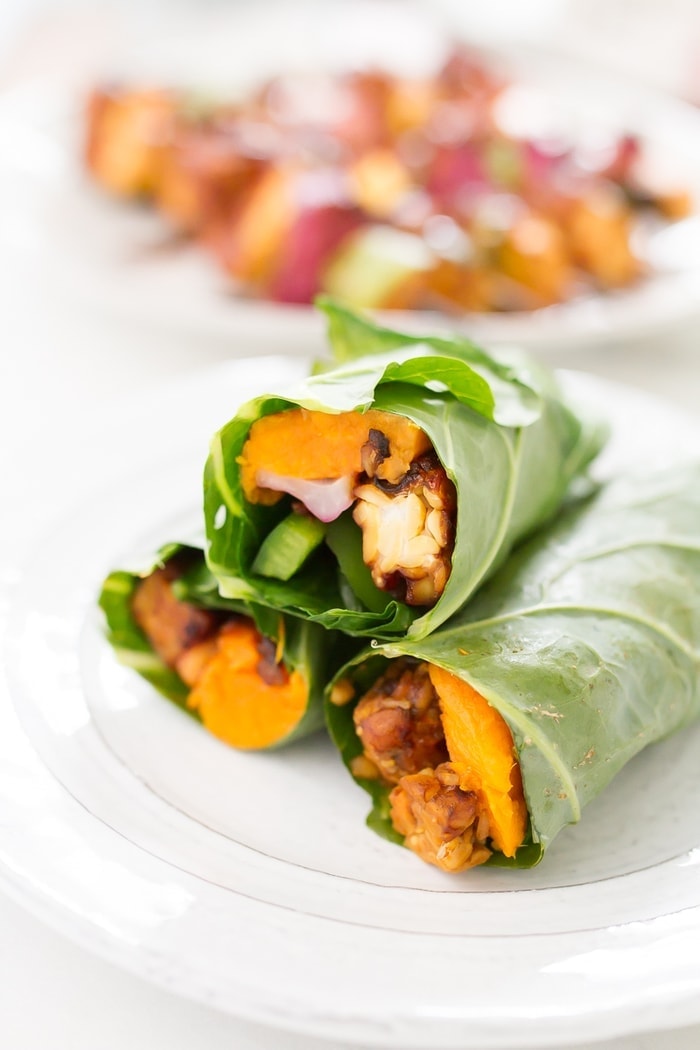 The idea for yesterday's creation stemmed from one of my favorite sandwiches in Austin that had slices of sweet potato in it. I put two very different flavors and textures together, that of tempeh and baked sweet potato, and surprisingly it turned out to be fabulous. Definitely one of my best collard wraps yet!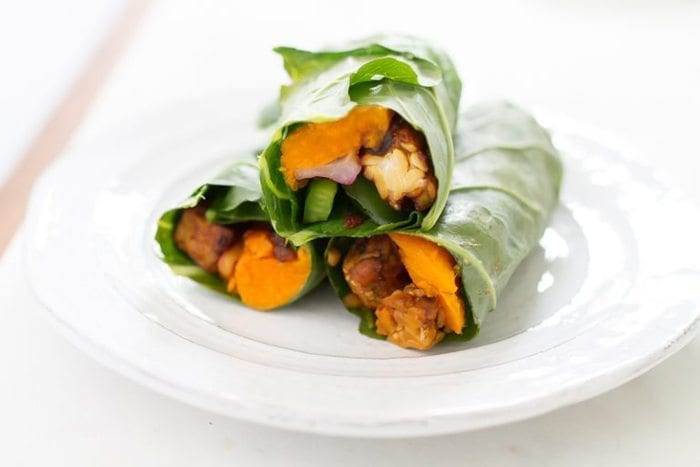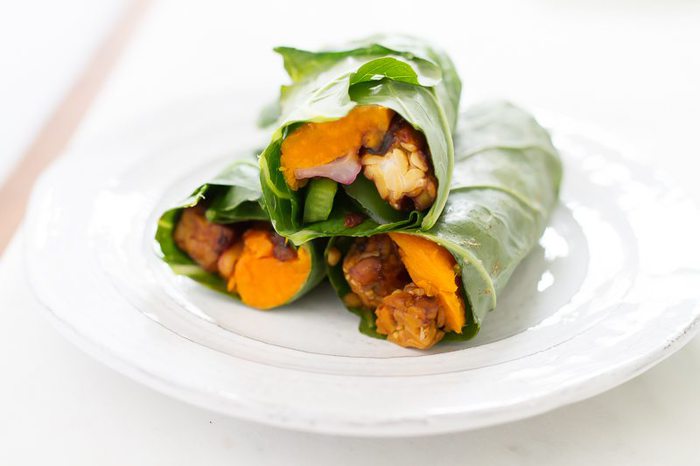 Print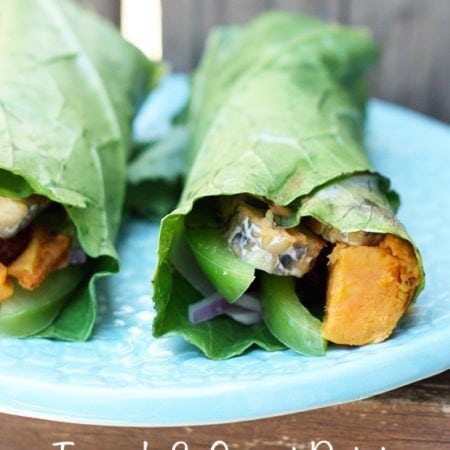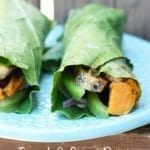 Tempeh and Sweet Potato Collard Wraps
Author:

Eatingbirdfood.com
Prep Time:

5 mins

Cook Time:

10 mins

Total Time:

15 mins

Yield:

1

1

x
---
Description
A delicious tempeh collard wrap with hummus, slices of baked sweet potato, green pepper, red onion and cranberries.
---
Scale
Ingredients
2

collard green leaves, washed and dried

1/2

block (6 oz) of tempeh, chopped into

1/4

inch slices

2

–

3

Tablespoons hummus

1

small baked sweet potato, sliced into

1/4

inch slices

1/2

green bell pepper, sliced

1/8

red onion, chopped

1/8 cup

dried cranberries
pinch of ground pepper and sea salt, optional
---
Instructions
De-stem your collard leaves. I use a paring knife to shave down the stem rather than cutting it out completely.
Heat non-stick skillet on medium heat and place tempeh slices onto pan. Let cook on each side for 3-4 minutes, or until it's starting to brown a little. You don't really have to cook tempeh as it's safe to eat straight from the package but I like to warm it up a bit.
Place the collard leaves on a flat surface, spread 1.5 Tablespoons of hummus near the top/middle of each leaf, fill each leaf with half of the remaining ingredients and wrap up like a burrito.
Cut each wrap in half and enjoy.
---
---
Notes
Your sweet potato needs to be baked beforehand and cool enough to slice into chunks. I like to use the oven to bake my potatoes but the microwave works in a pinch. I haven't had any trouble wrapping these, however if your collards seem hard to wrap you can steam them for 20-30 seconds by laying them on the same pan you use to heat the tempeh while it's warm.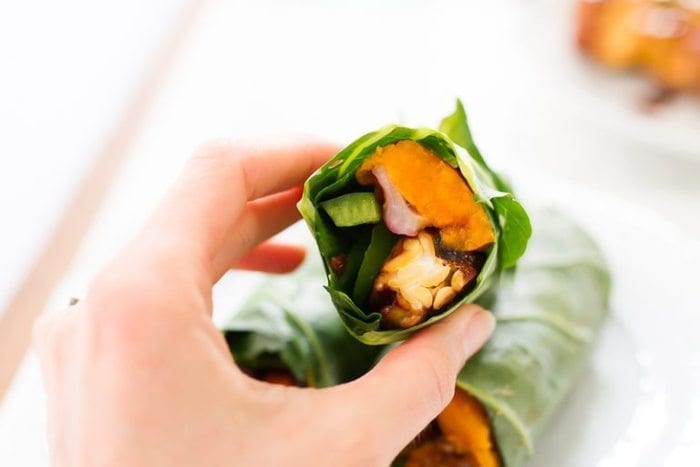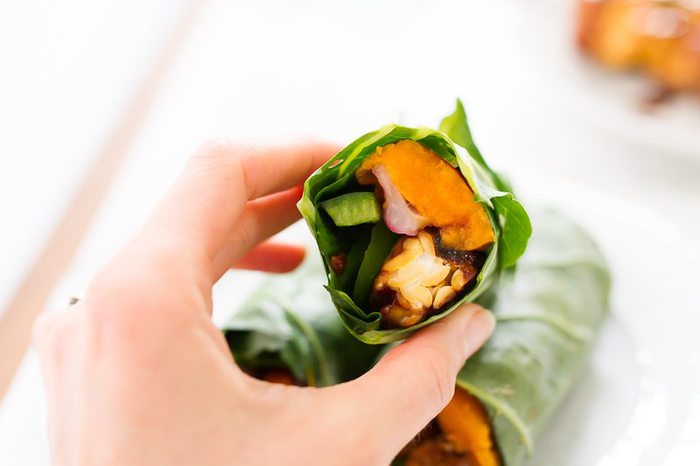 You'll notice the stem is missing from this collard wrap and that's just because I cut out that portion when I sliced the wrap in half and ate it before the photos were taken. Don't judge, I was hungry. 😉
New to Tempeh?
If you're new to tempeh and a little apprehensive to try it out, don't be! It's just cooked soybeans (think edamame) that have been fermented. The fermentation process binds the soybeans into a cake/patty and the end result is a vegetarian food that is very high in protein and calcium. It's similar to tofu, however there are some differences – tempeh is less processed, has a stronger flavor that is kind of nutty and also has a bit more texture.
If you're looking for a good recipe to try tempeh for the first time, I recommend this Orange Pan-glazed Tempeh or my Curried Cauliflower with Tempeh. I also recommend buying the Light Life Three Grain variety as it has the mildest flavor and hardly any aftertaste, which I found to be an issue with some other varieties I've tried. You can find tempeh in the refrigerated section near the milk and cheese at natural food stores like Whole Foods, but it pops up at some regular grocery stores as well.
I hope you love these tempeh collard wraps as much as I do!