As you've probably noticed, I've started to stray away from posting my meals. Mainly because they're usually just normal things I throw together without much thought or a recipe. It's been pretty similar lately but some of my last few meals have been somewhat interesting for one reason or another:
Exhibit A: Today's lunch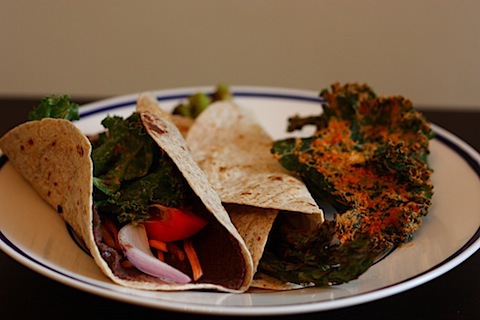 Two tortillas – one with leftover black bean dip and veggies, the other with honey goat cheese and asparagus. And the last of the kale chips. (Those didn't last long.) Just in case you were wondering, the goat cheese and asparagus tortilla is the interesting part. 🙂
Exhibit B: Dinner last night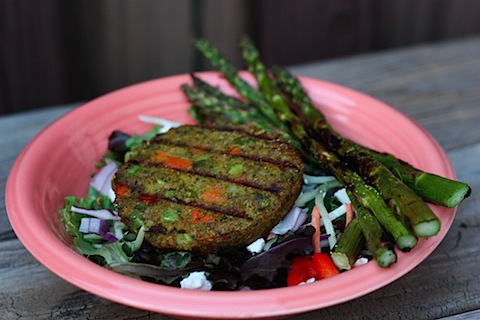 Doctored up salad – spring mix topped with a grilled Dr. Praegaer's California burger and roasted asparagus. I don't know what it is with me and California but I tend to LOVE veggies burgers with California in the title. <–Amy's California burger is my fav as well! I think it's a sign.
Exhibit C: Dinner a few nights ago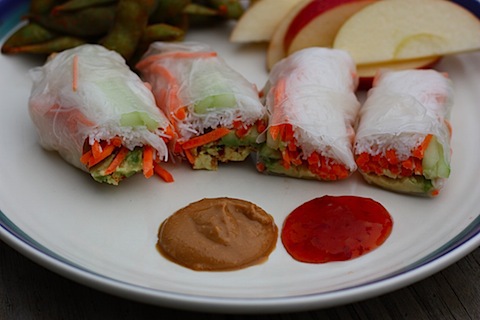 Fresh spring rolls with spicy Thai tofu, avocado, rice noodles, cucumbers and carrots with a peanut and sweet chili sauce. I paired the rolls with some of Trader Joe's new edamame (red chile and garlic flavored – yum!) and apple slices. Fresh spring rolls mean that warm weather is around the corner right? The more I eat them, the faster spring will arrive.
Exhibit D: Tonight's dinner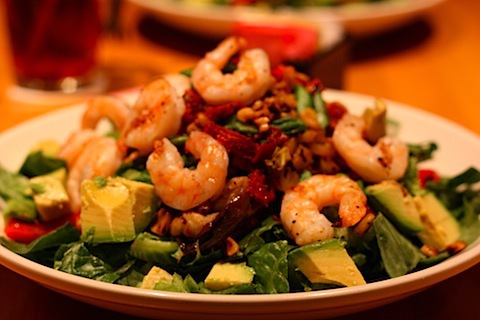 A Roasted Vegetable Salad from California Pizza Kitchen with shrimp. It was large and tasted fresh, but CPK is definitely more pricey than I remember it being. This salad cost $19.00!!!
The company I had for dinner made the pricey salad 100% worth it…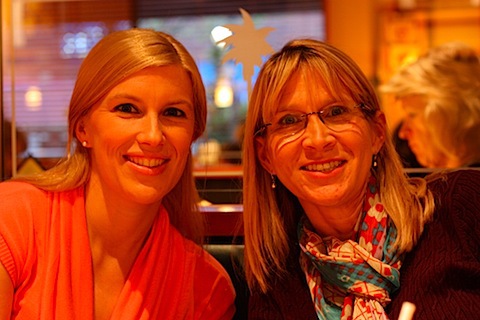 Stephanie from Cookin' Fanatic and Yvette from Chobani.
Stephanie and I see each other quite often, but it was my first time meeting Yvette, who is here on a business trip. Yvette is a total sweetheart and knows her stuff when it comes to Greek yogurt. 🙂 The three of us had plenty to chat about over dinner and the evening was a total blast!
Now it's time for me to get some much needed beauty rest. I'll be back soon with an update on my back issues/plan of action.