Sweet Potato and Parsnip Spiralized Latkes
8
Published Dec 08, 2015, Updated Oct 26, 2021
Make colorful and healthy latkes from spiralized sweet potato and parsnip noodles.
Hanukkah is here! Isaac and I celebrated on Sunday, the first night, with his family — munching on latkes, spinning dreidels, lighting the menorahs (Isaac's mom has quite the collection) and exchanging gifts. Isaac and I light our menorah and exchange gifts throughout Hanukkah at our place, but getting together with his family to celebrate is always the highlight of the holiday. We have a lot of fun!
Isaac's mom is the ultimate latke maker so there's never been a need for me to make latkes during Hanukkah, but this year I decided I wanted to try making a healthier version — baked instead of fried with spiralized veggie noodles.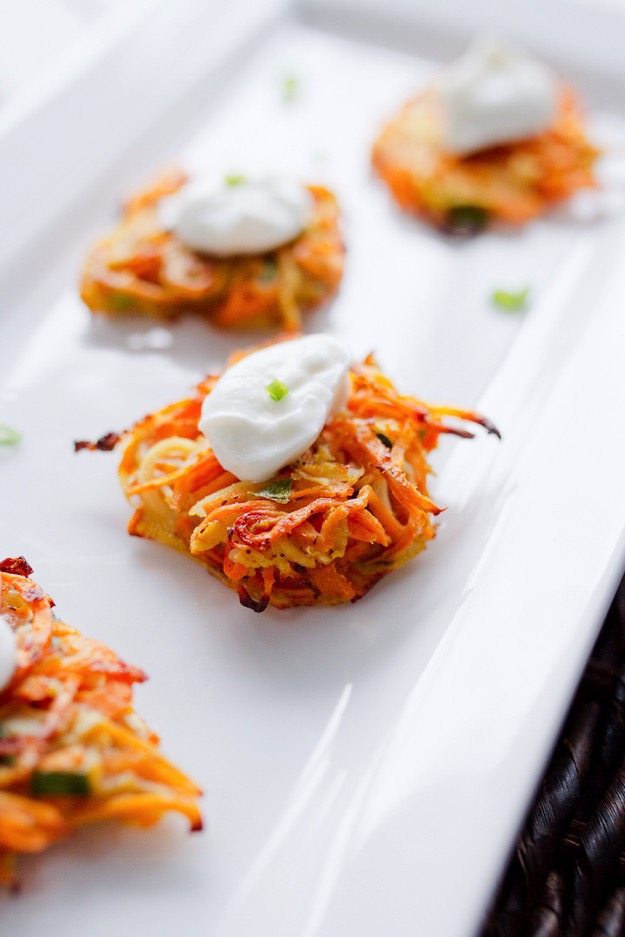 I was actually spiralizing sweet potato noodles for another recipe (coming soon!) when I thought of the idea to use the noodles to make latkes.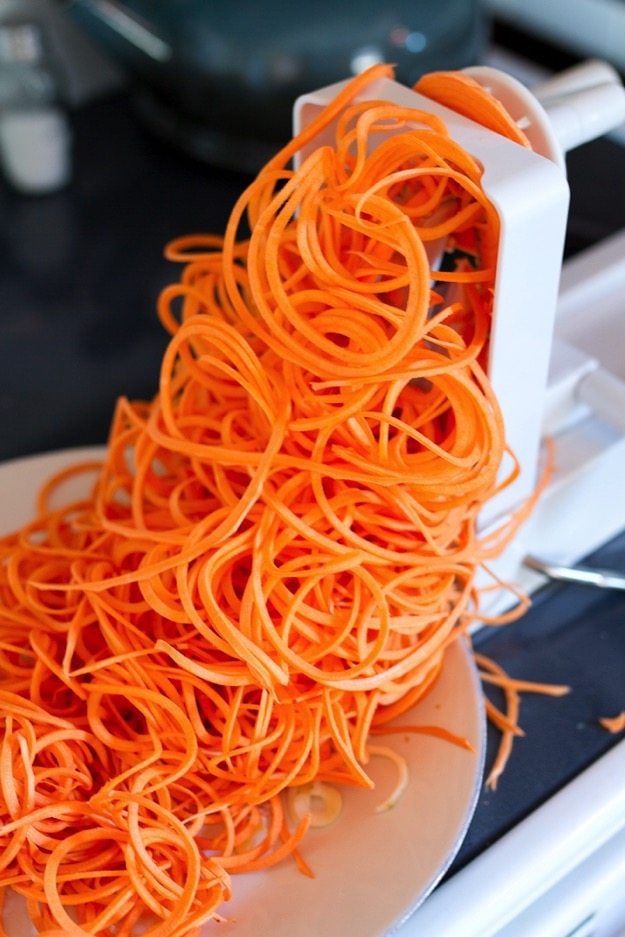 I used the C Blade on the Inspiralizer for the noodles, but if you have a different spiralizer just make sure your noodles are on the thinner side.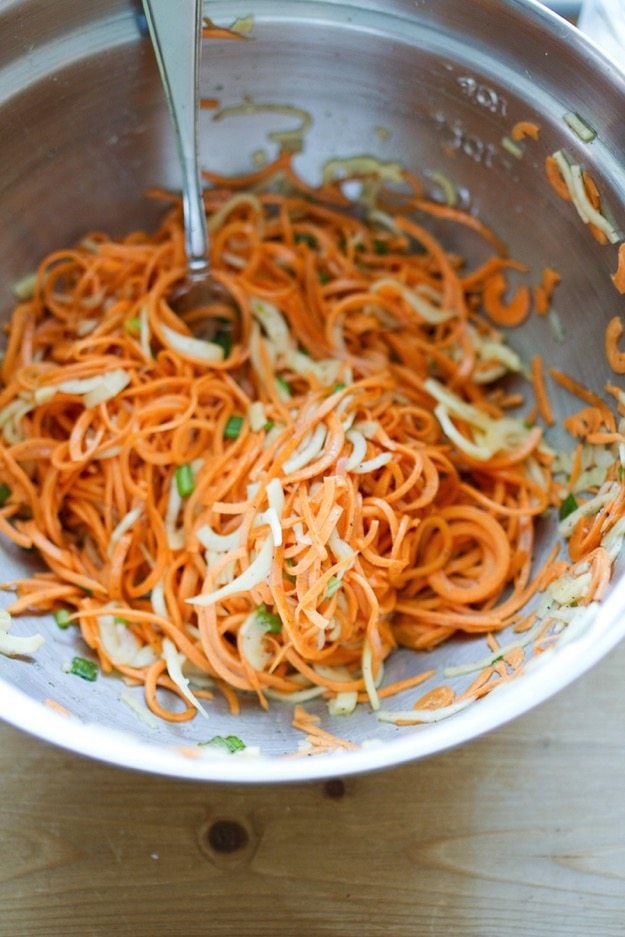 I seasoned the noodles few simple ingredients and added eggs to help bind everything together. I found that I didn't need any flour, but if you feel like you need some I'd recommend using almond flour. The mixture does get a little wet towards the bottom of the bowl, but I think that's normal and it didn't bother me. I just squeezed out any extra liquid and tossed it once all the noodles were formed into latkes.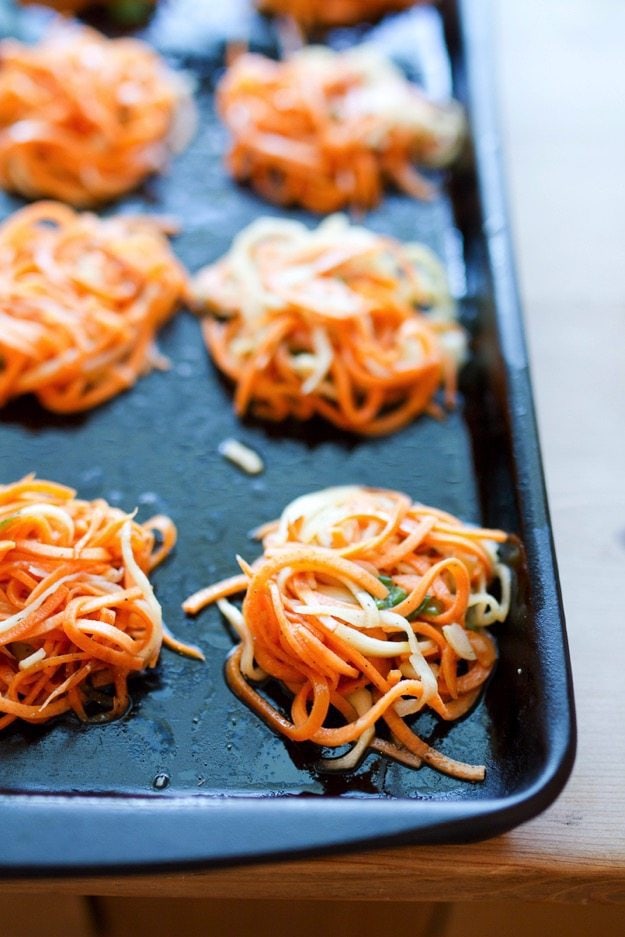 Here are the latkes pre-baking. Aren't they cute?
As it turns out, spiralized noodles make perfect little nests (pancakes) and bake up quite nicely! They even get a little crispy like traditional latkes.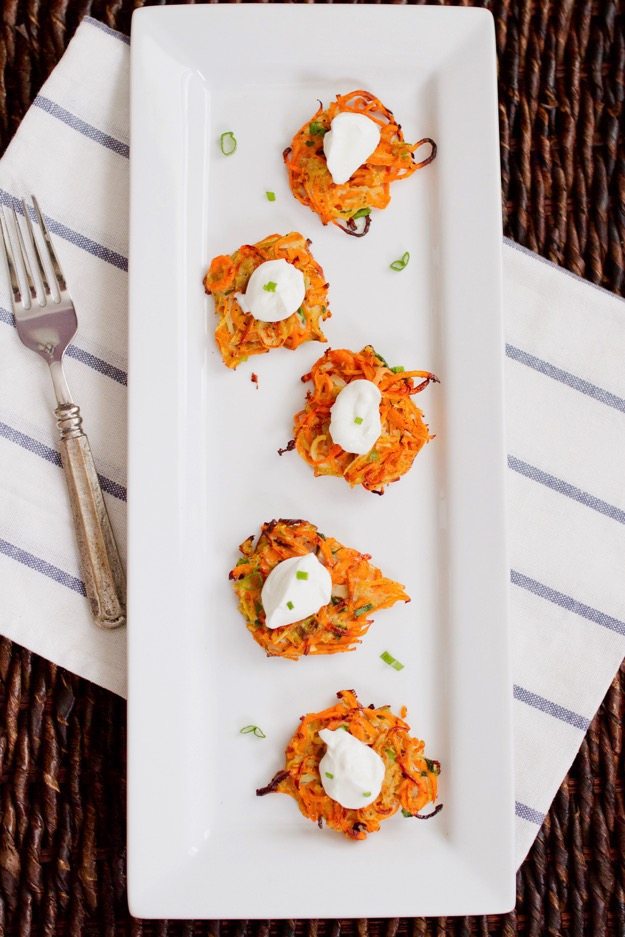 They're also really flavorful. Sometimes fried things just taste like crispy fried things without much flavor, but because these latkes are baked instead of fried, you can really taste the sweet potato, parsnip and seasonings.
I love how bright and colorful they are as well!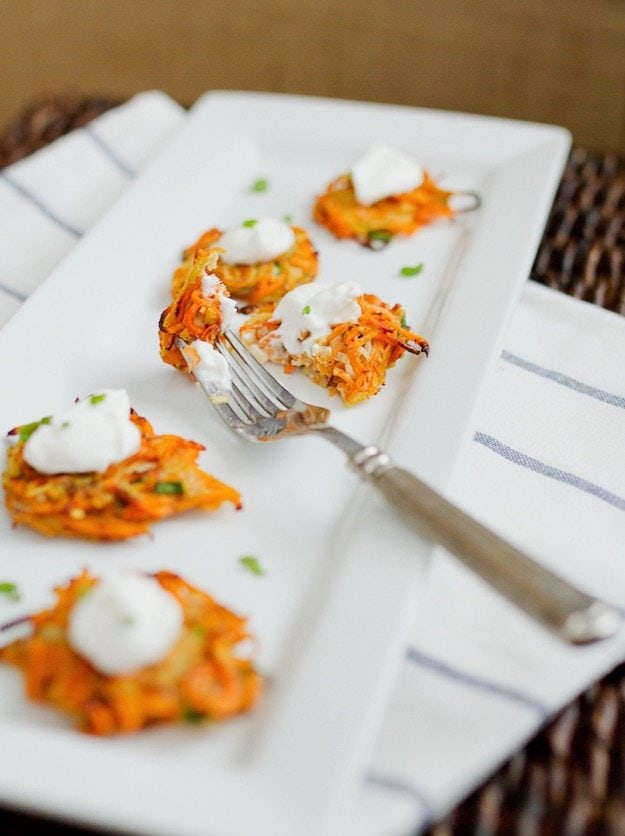 Isaac and both really enjoyed these so I brought a batch to Isaac's parents house on Sunday night to share — that way we all could have a few fried latkes as well as some of these. It's all about balance, right. Especially this time of year! 🙂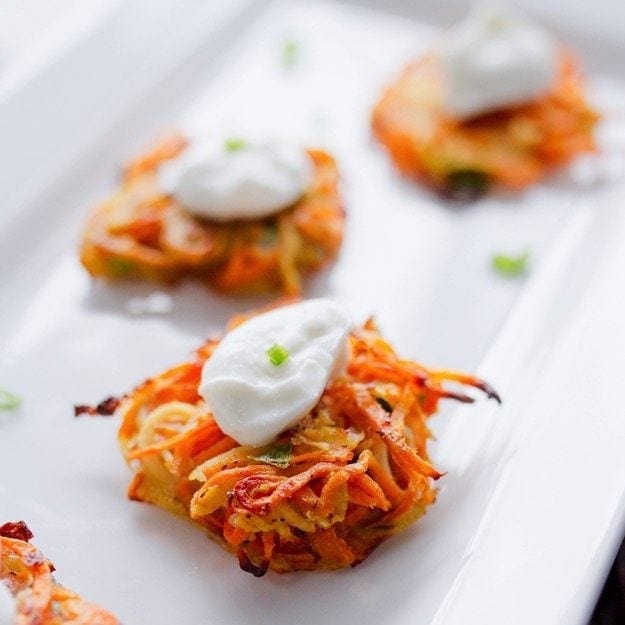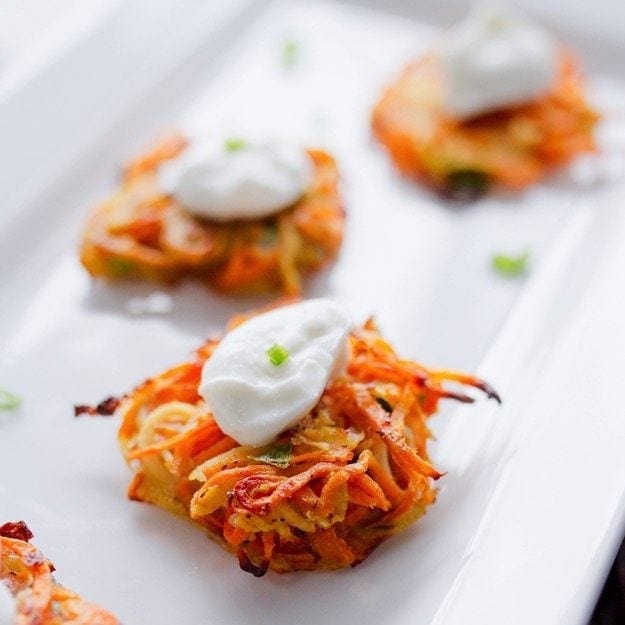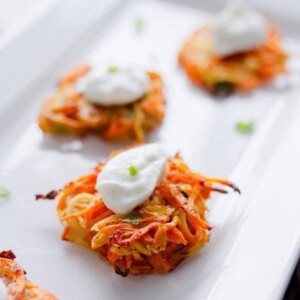 Sweet Potato and Parsnip Spiralized Latkes
Baked spiralized latkes with sweet potatoes and parsnips make a flavorful and healthy twist on regular potato latkes.
Ingredients
1

medium sweet potato

,

peeled and spiralized

1

large parsnip

,

peeled and spiralized

4

cups

boiling water

1

egg + 1 egg white

,

whisked

2

scallions

,

green part only, chopped

1/2

teaspoon

garlic powder

1/2

teaspoon

sea salt

1/2

teaspoon

ground pepper

1

teaspoon

oil for greasing the pan

plain greek yogurt and applesauce for serving
Instructions
Preheat oven to 425° F. Prep a baking sheet by spreading about 1 teaspoon of oil to prevent the latkes from sticking.

Bring 4 cups of water to a boil. Add spiralized sweet potato and parsnip noodles to a large colander and pour boiling water over top. Drain noodles well and allow them to cool a bit — about 10 minutes or so. Scooping out a handful at a time, put the sweet potato and parsnip noodles into a clean kitchen towel and squeeze to remove as much liquid as possible.

Place squeezed noodles into a large bowl with eggs, scallions, garlic powder, salt and pepper. Mix well. Using a fork or your hands, scoop out some of the noodles and place onto the prepared baking sheet in the shape of a little nest. Each latke should use about 1/4 cup of the mixture and you should get about 12-14 latkes, depending on size. Press each latke down a bit with your hands. Place baking sheet in the oven and cook for 10 minutes. Remove sheet from oven, flip latkes over and cook for another 10 minutes until latkes are golden brown in color (the edges might get extra brown). Remove from oven and serve with apple sauce and plain greek yogurt (or sour cream).

Alternatively, you can cook the spiralized latkes in a skillet. Heat a little oil (about 1 teaspoon) in a medium sized skillet over medium heat. Once oil is hot, use a fork or your hands to scoop out some of the noodles and place in the skillet in the shape of a little nest. 2-3 latkes should fit in your skillet at one time. Cook on one side for about 3-4 minutes until golden brown. Press latkes down with your spatula to flatten a bit, flip and cook for another 3 minutes. Remove latkes from the pan and enjoy.
Nutrition
Serving:
2
latkes
|
Calories:
80
kcal
|
Carbohydrates:
13
g
|
Protein:
3
g
|
Fat:
2
g
|
Fiber:
3
g
|
Sugar:
2
g
Nutrition information is automatically calculated, so should only be used as an approximation.