What's your favorite cookbook?
It's a question I get asked often and frankly, it's a hard one to answer. I have a massive collection and although I don't use them nearly enough, I do have a few that are my favorites. You can tell by the food stained pages and ample bookmarks. I've written about some of them before including my recent review of Dreena Burton's Let Them Eat Vegan! (LTEV).
Since this is a pretty popular topic, I thought I would start featuring some of my favorite cookbooks every once in a while. Hopefully it will help me use them more often and help you all decide it the cookbooks are up your alley and worth purchasing. Total win-win, right? Hopefully so!
The cookbook I'm featuring today is Super Natural Every Day by Heidi Swanson. I've been a fan of Hiedi and her blog, 101 Cookbooks, for a few years now. Her recipes are wholesome and simple, but also unique and very flavorful. I also love her style of photography – it's lovely. Just check out her latest blog posts to see what I mean. I haven't tried a recipe of hers that I didn't like, but this orange pan-glazed tempeh is one of my absolute favorites.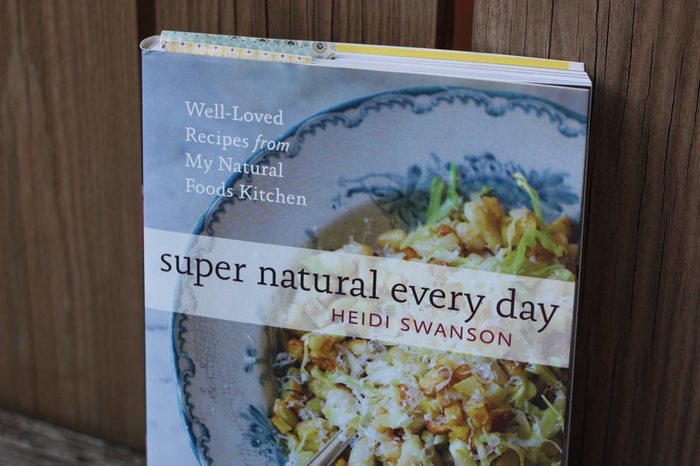 I've made several dishes from Super Natural Every Day including the millet muffins, weeknight curry and the black pepper tempeh. Isaac absolutely loved the muffins and I was a huge fan of both the curry and the tempeh. This past weekend I tried another tempeh recipe from the book, Pomegranate-Glazed Eggplant with Tempeh.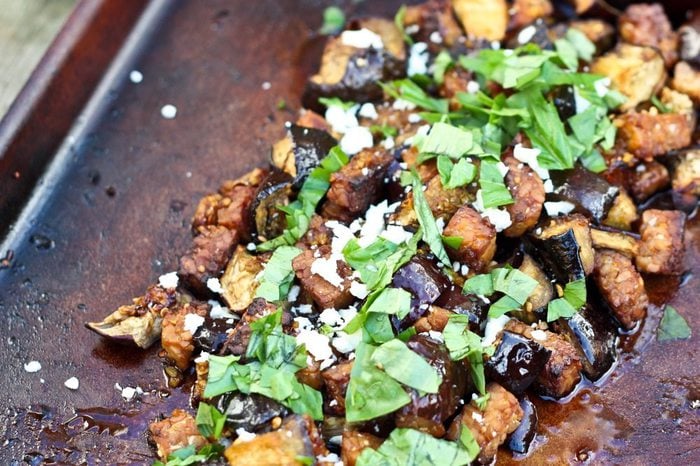 Gotta love it when the finished product turns out looking similar to the photo in the cookbook. 🙂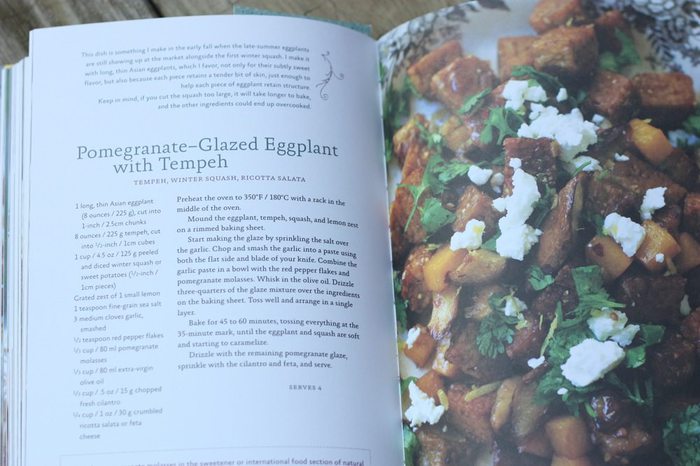 The main reason this recipe caught my attention is that it called for pomegranate molasses, something I just so happened to have a bottle of in my pantry (Thanks Jess!).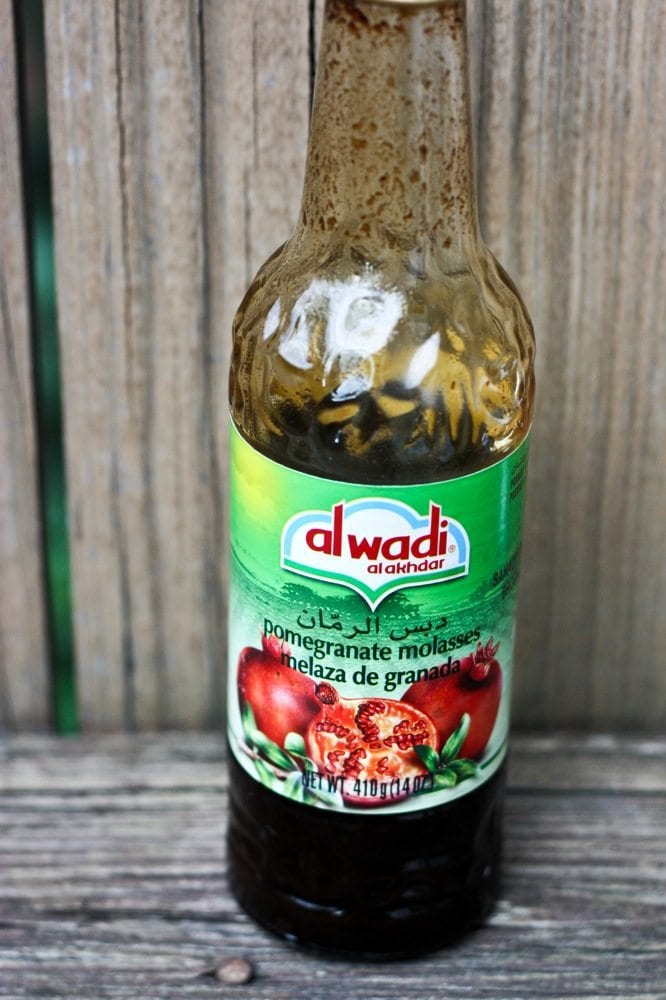 It has been begging to be used for quite sometime so I was happy to put it to good use.
I followed the recipe for the most part but subbed a few ingredients based on what I had on hand, per the usual. I ended up subbing out the cilantro with basil, the olive oil with coconut oil and skipping the winter squash. The final result turned out beautifully. The tempeh and eggplant were baked to perfection – the eggplant tender and silky, the tempeh crispy and delightfully flavorful. The goat cheese and basil topping complemented the flavors of the pomegranate glaze wonderfully. As you can tell, Heidi has a serious knack for tempeh recipes!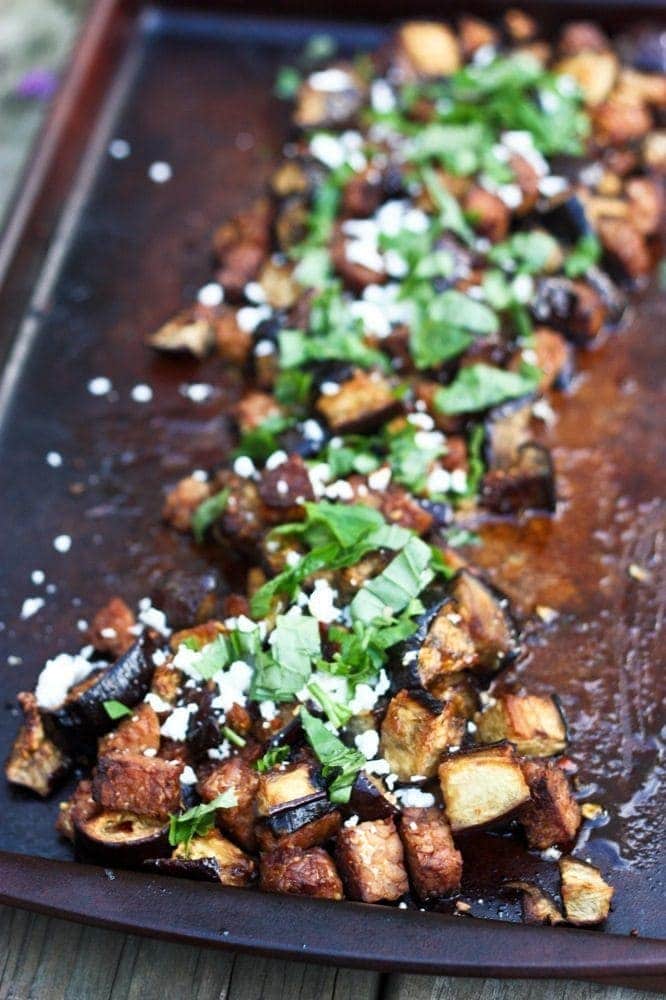 The only complainant I have is that the dish was a little on the tangy side. It's probably my fault for leaving out the roasted winter squash. It's sweetness would have been helpful in mellowing out the tanginess so next time I definitely won't leave it out. I'm not even sure why I did.. I love all things roasted squash so it really makes no sense. I think I had a brain fart. <– Did I just write that? I'm pretty sure I've never said that in real life. Oh well.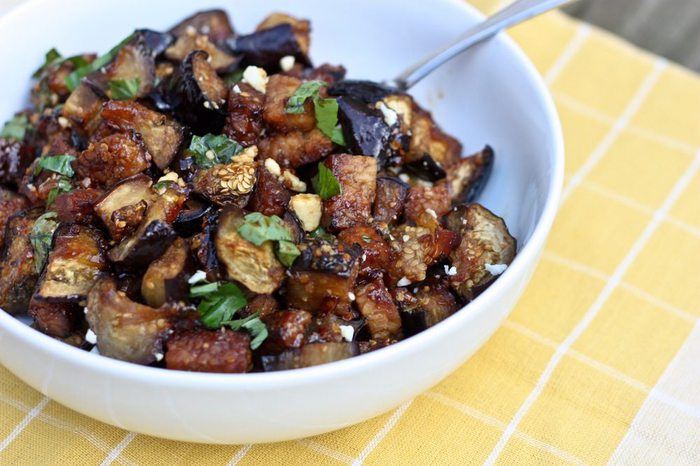 So yes, if you're looking for great cookbook to add to your collection, I would highly recommend Super Natural Every Day. To get a feel for the cookbook, check out the pdf preview. It has a few of the recipes you'll find in the cookbook, including the recipe for Isaac's favorite millet muffins!
Happy Wednesday friends. I'm still following the Tone It Up Beach Week plan and feeling more beach ready each day! Time for me to get in my morning HIIT workout and have my protein pancake and ACV. Have a lovely day.