Yesterday we ventured to Charlottesville to visit with friends. The weather was mild for an August day and perfect for exploring.
First stop, Carter Mountain Orchard. We were going to pick peaches but apparently the orchard had been picked out so you could only pick apples. It was okay because I wasn't really dressed appropriately for picking anyway so we decided just to buy some pre-picked peaches and apples (and apple cider donuts) and call it a day.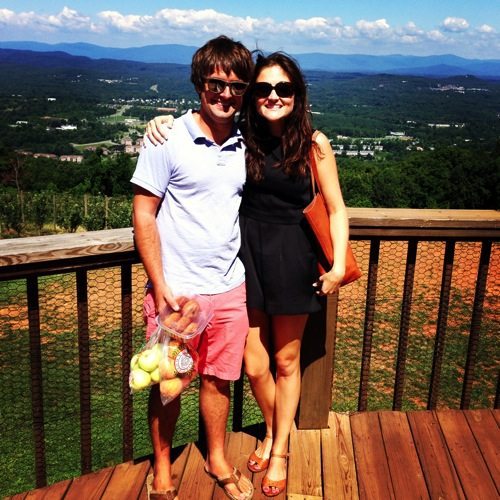 We ate a mid-morning snack at the orchard and then headed on our way to meet up friends for lunch and beer on the Brew Ridge Trail.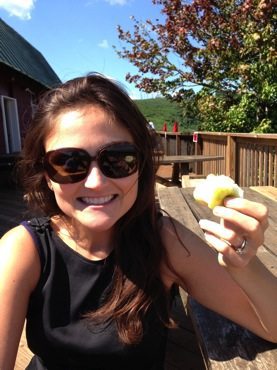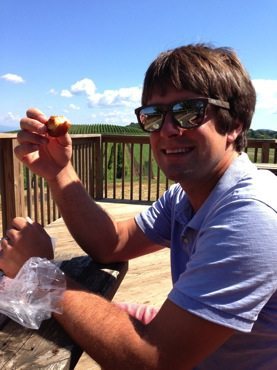 Human friends and dog friends. 🙂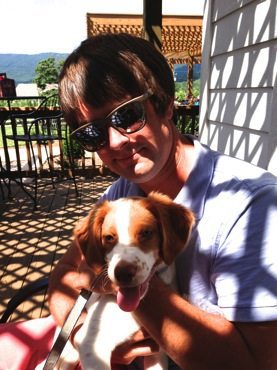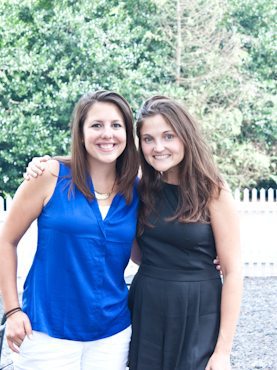 Angie and I went to elementary through high school together and she was a bridesmaid in our wedding. She and Kirk live in NOVA and we don't get to see each other as often as we'd like. They had a birthday party to attend in Gordonsville so we decided to meet up for lunch near Charlottesville beforehand.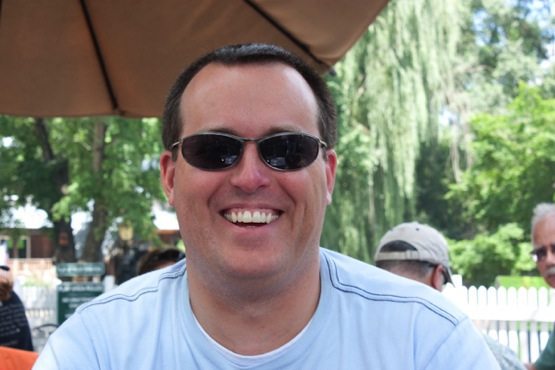 We decided on Blue Mountain Brewery since it was dog friendly and they'd be bringing their new puppy, Fletcher. It's also one of our favorite local breweries! I was too caught up in chatting with Angie and Kirk that I didn't end getting any pictures of my meal. It wasn't anything too crazy though — just a hummus plate, grilled tofu salad (with Twin Oaks Tofu) and a Barefoot Bucha ginger kombucha.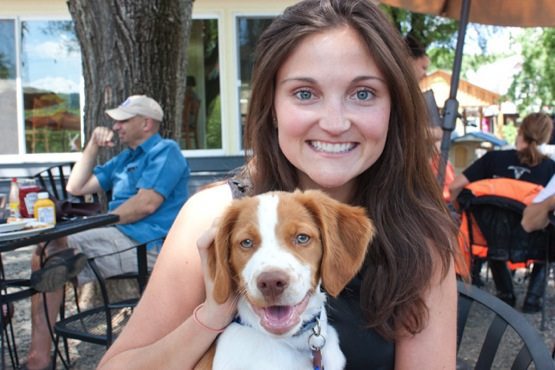 Fletcher totally stole the show!
After lunch we ventured over to Wild Wolf Brewery for one more drink. Soon after Angie and Kirk headed out to go to the birthday party and Isaac and I headed over to C-ville.
Isaac LOVES Beer Run so we went there to shop around and hang out for a bit. I had an iced coffee while Isaac sipped a beer. The weather was so nice outside. We just hung out, chatted and enjoyed the relaxing day.
Then… we made our last stop: Dinner with Kath, Matt and Mr. Mazen.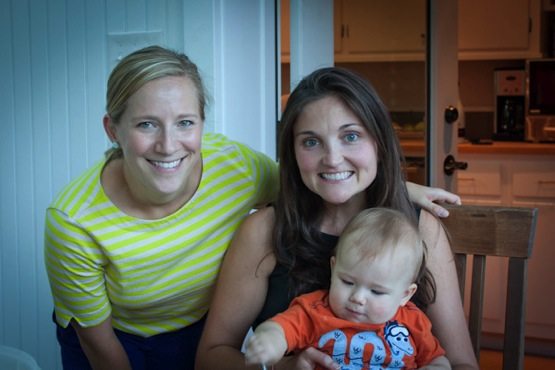 Both of our guys (Matt and Isaac) are really into beer so we sampled a few beers while catching up before dinner. I'd only meet Mazen once before and he was a tiny guy then so it was fun to play with him and see him crawling over all of the place, pulling himself up and even talking a little bit. Such a cutie!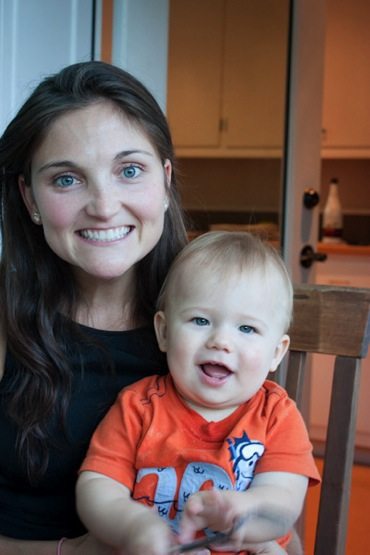 He was a little shy in the beginning but he warmed up to us pretty quickly. Isaac even had him laughing after dinner.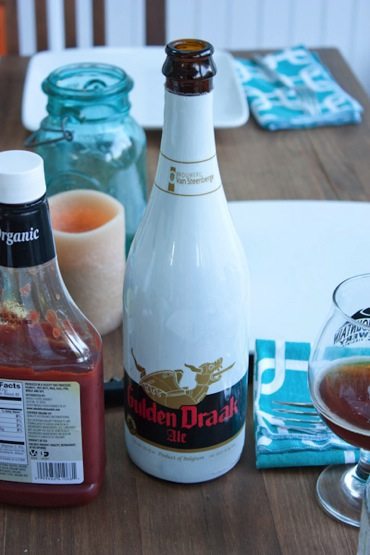 I think this Gulden Draak was my favorite beer of the evening — strong, fruity and delicious.
For dinner, Matt was the grill master and whipped up NoBull Burgers, grilled zucchini, carrots and okra fries.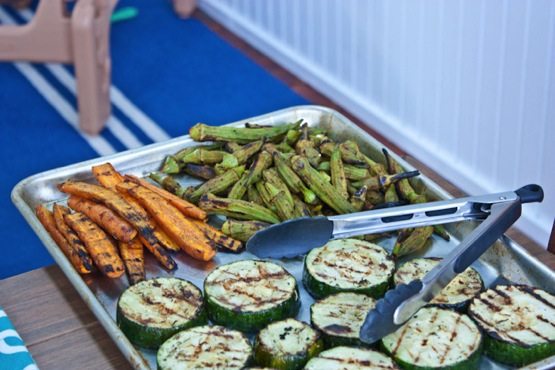 I love NoBull Burgers so I was excited when Kath said they were on the menu for dinner. (Read my review of NoBull Burger here). I had mine on a seedy Dakota bun from Great Harvest Bread Co. (Matt and Kath own the Charlottesville location) with all the fixin's — tomato, basil, a pickle and ketchup. I usually eat burgers on top of a salad so it was a nice treat to have the whole burger experience. So so good!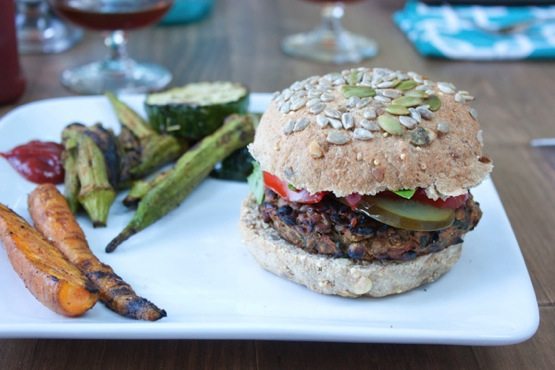 We finished dinner off with Isaac's mom's chocolate chip cake with a spoonful of toasted marshmallow ice cream that Kath picked up from a local vendor at the farmers market.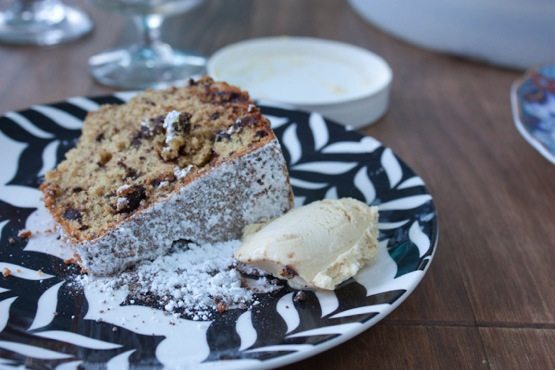 I've had Ellen's cake many times and it's always amazing, but the toasted marshmallow ice cream was new to me. It had the exact flavor of a toasted mallow and the same mouth feel. Apparently the lady that makes the ice cream makes s'more ice cream sandwiches with it. Note to self — definitely need one of those in my life next time I'm in C-ville on a Saturday morning!
Overall, dinner was delicious and the company was even better.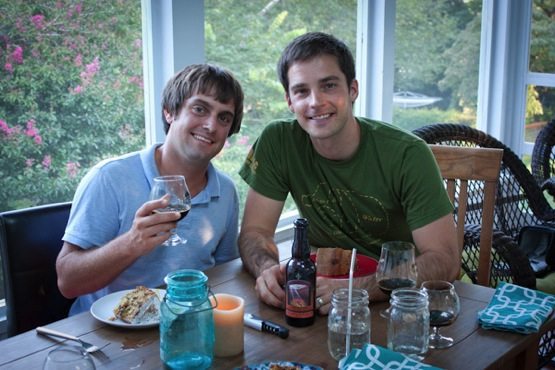 Cheers to a day full of friends and fun. Oh, and beer. Lots of beer — at least for Isaac. 🙂 Hopefully your weekend was a blast as well.