Summer Weekend in Portland Maine
12
Published Jul 24, 2017, Updated Mar 20, 2023
Last October Isaac and I visited Portland, ME and fell in love. Isaac had been before and convinced me that the city was worth riding 13 hours in a box truck (one way). He was totally right and we had such a blast spending Halloween weekend there. When I found out Isaac would be traveling back to Portland this summer for an event I immediately signed up to take the trek again. I'd heard amazing things about Portland summers. Plus, my friend Jenny and her fam live there so in addition to visiting a beautiful city we get to spend time with them when we visit. Double win!
Since I've already posted a Portland Maine Travel Guide this post will just be a little recap of our recent trip.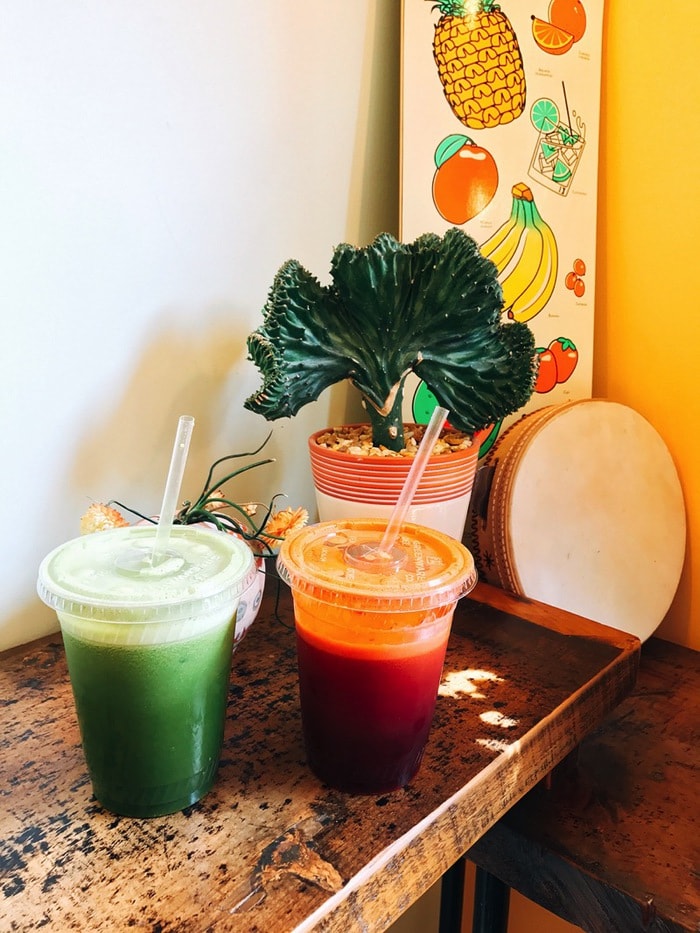 We arrived late on Thursday night and crashed hard after a quick dinner. Friday morning we grabbed juice at Flying Fox Juice Bar (green for me, beet and carrot for Isaac) and then made a stop at Tandem, a coffee roaster and cafe that we discovered and fell in love with last year. FYI – the baked goods are amazing at Tandem, but we had brunch plans so we just got coffee this time.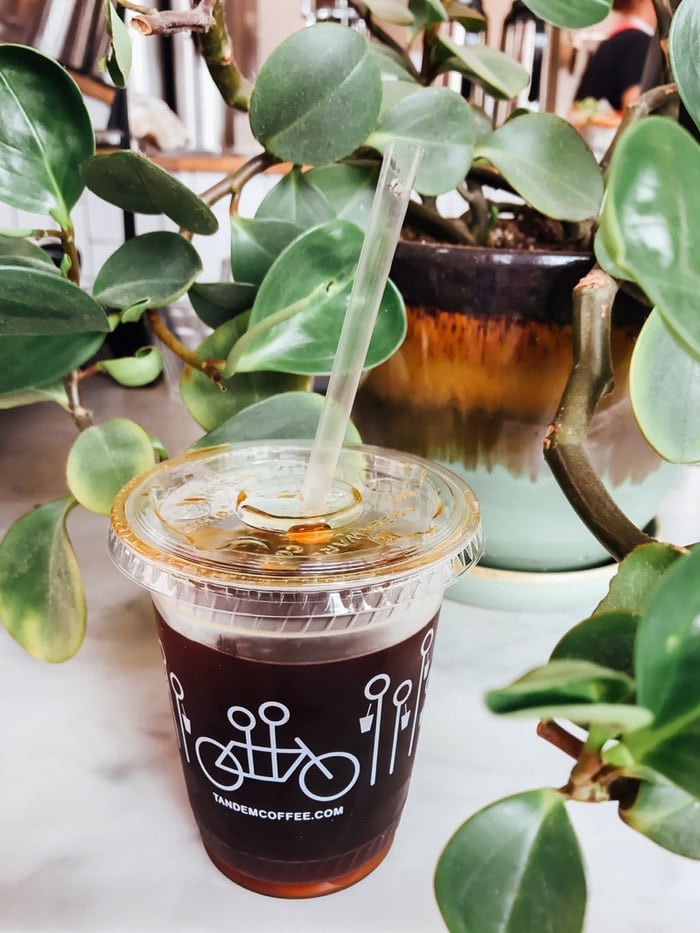 Brunch was at Duckfat, a Portland hot spot that I didn't make it to last fall.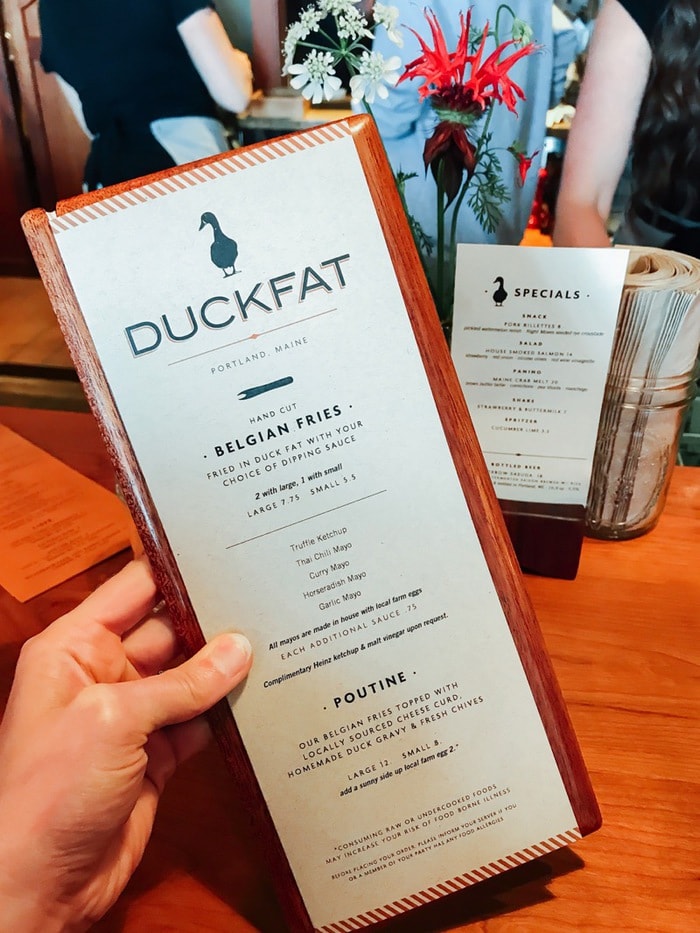 Isaac had been before and said we had to get the fries. If you know me, you'll know that this didn't take much convincing. The fries are fried in duck fat and are quite possibly the crispiest, most delicious fries you'll ever eat. Also, truffle ketchup and curry mayo…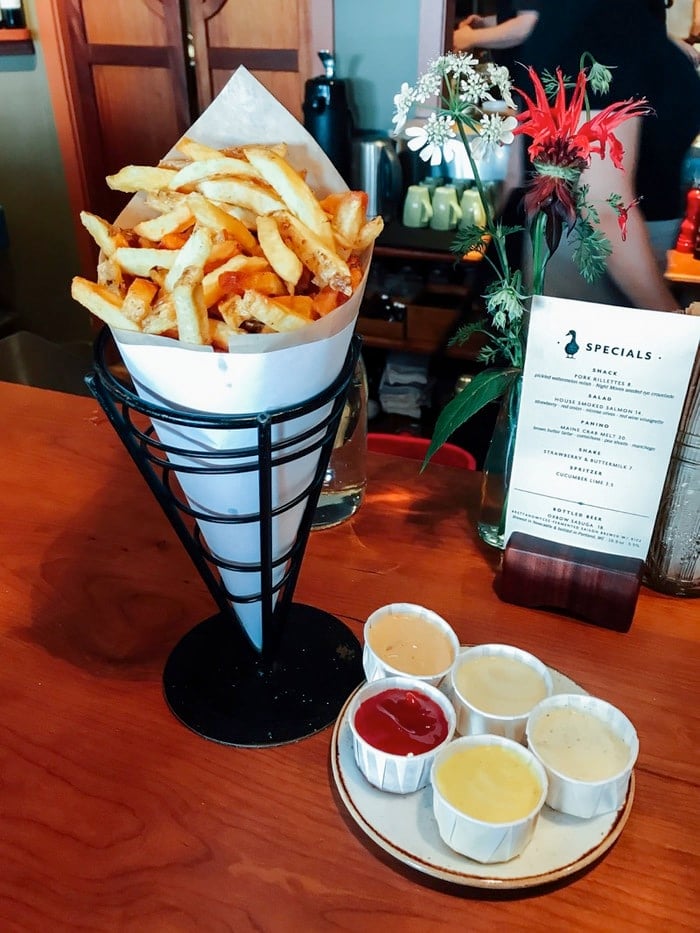 To balance out the fries and stick with my #saladeveryday goal I order one of the daily specials, a smoked salmon salad with fresh berries and radishes. It was so good!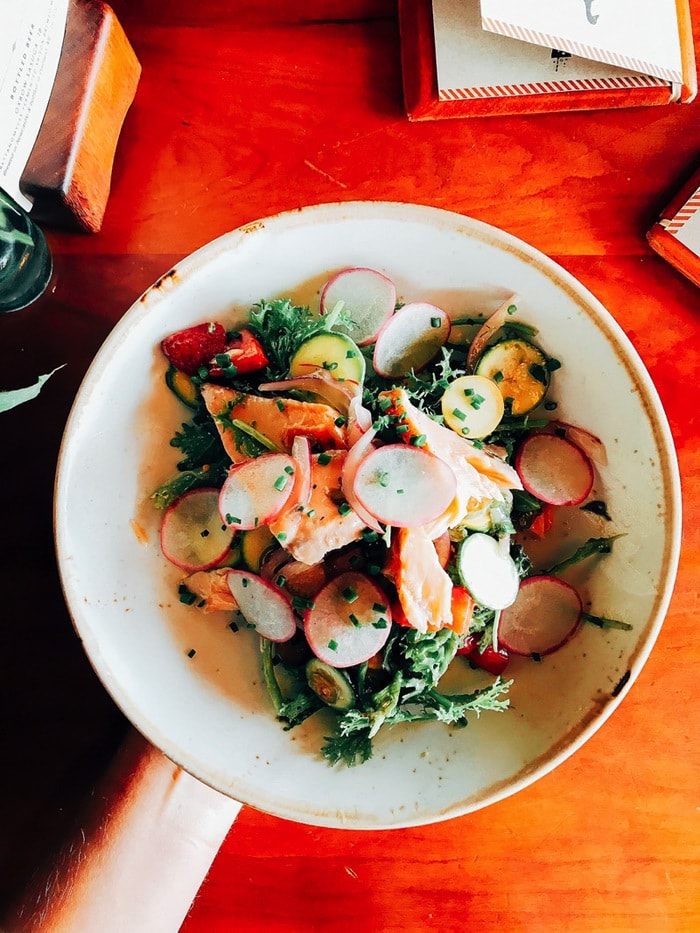 After brunch we did a little exploring by boat with Peter of Bissel Brothers and some new friends.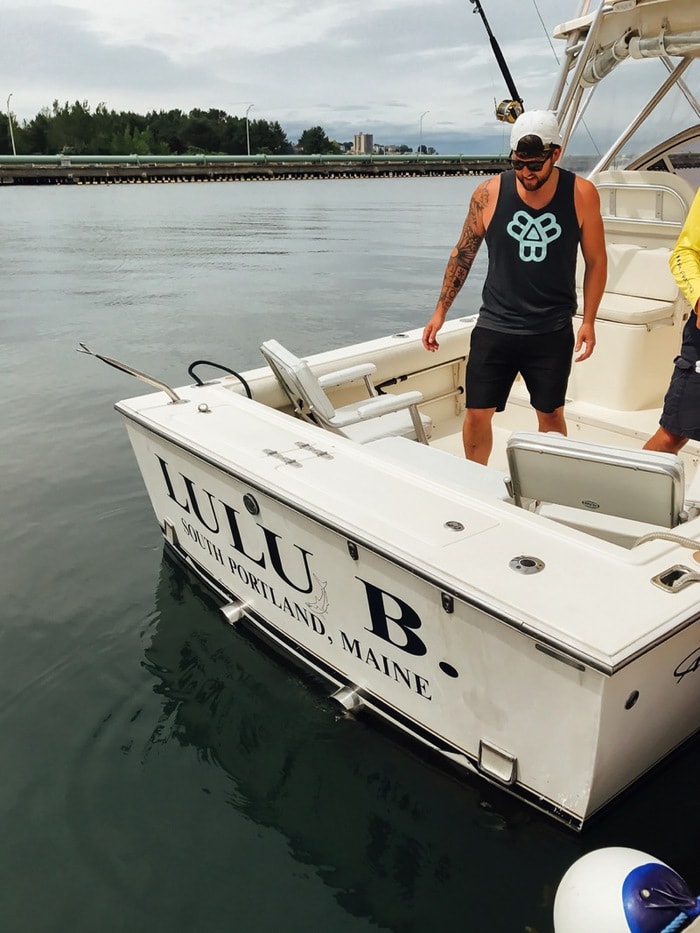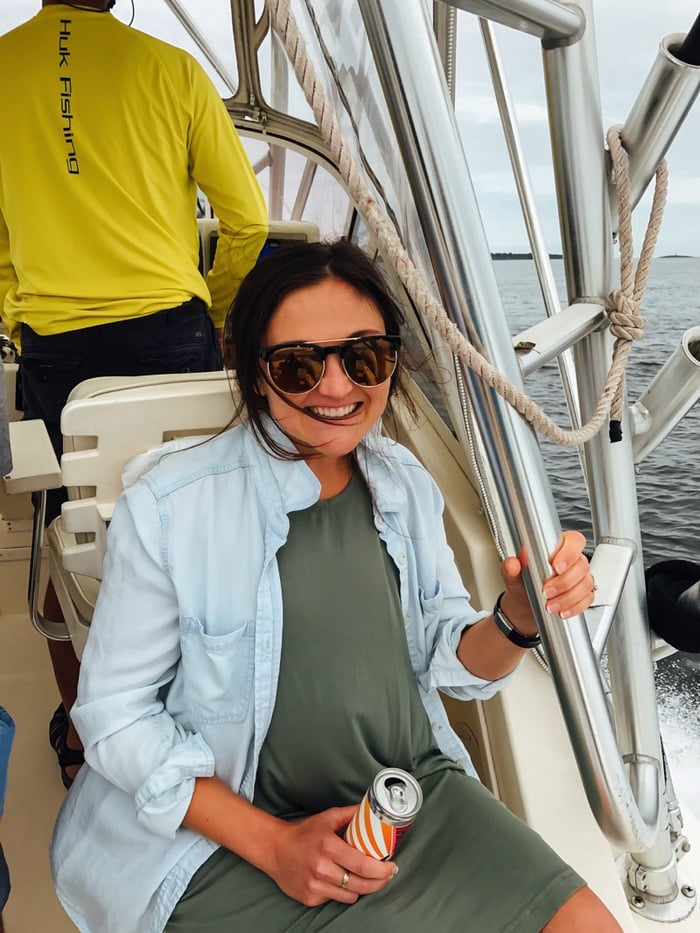 The guys from Union Beer Distributors introduced me to the canned wine I'm holding in this picture. It's called ramona and it's a sparkling organic wine blended with grapefruit juice. It's a little on the sweet side, but I love all things sparkling and grapefruit so it was right my alley. Plus, I've been on a big canned wine kick this summer. If you're in the market, here are two of my recent favs: Scarpetta's Frico Frizzante and ArcherRoose rosé.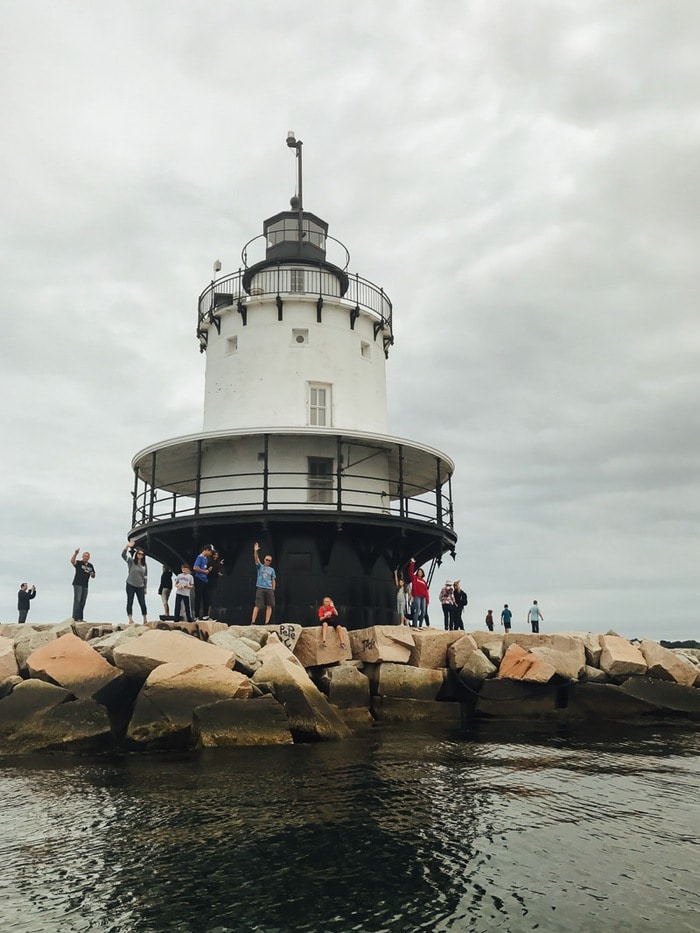 It was so cool to pass by the lighthouses and little islands right off the coast. We passed one island that's currently for sale… for just 8 million you can get a 84-acre island with a mansion. That doesn't seem too bad for a whole island, right?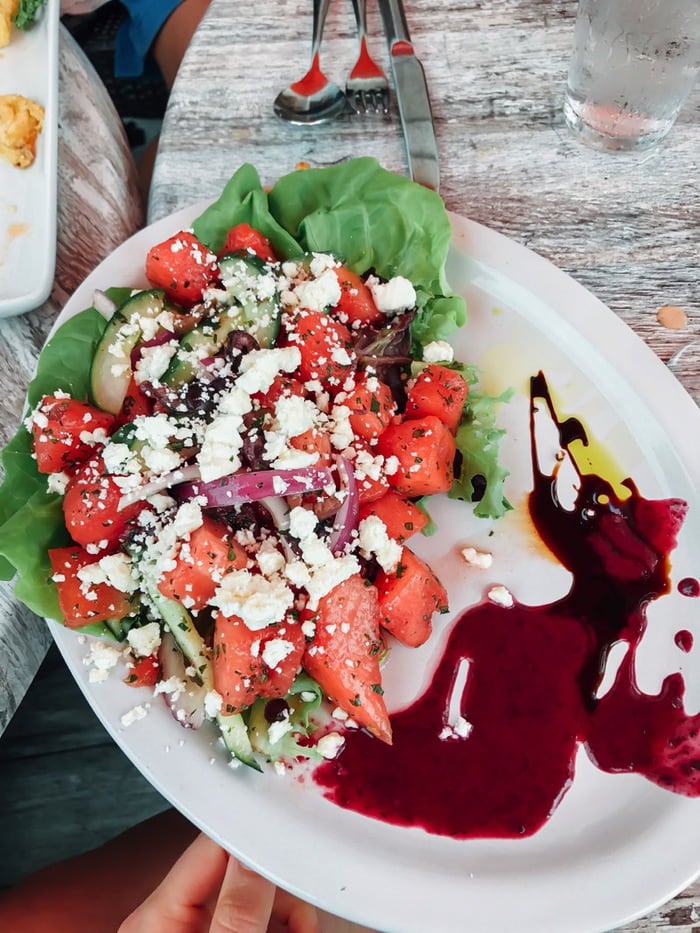 We made one stop at The Dolphin Marina and Restaurant for drinks and a bite to eat. The view here was absolutely gorgeous and this watermelon and feta salad hit the spot!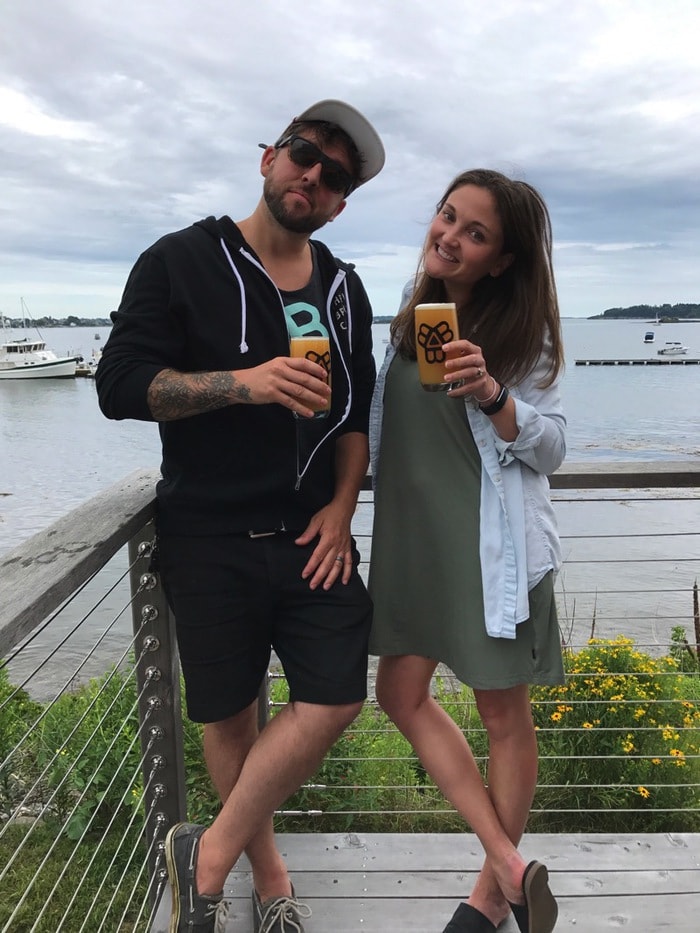 The next morning my friend Jenny picked me up so we could do a quick run on the Back Cove Trail and then grab coffee at Coffee ME Up.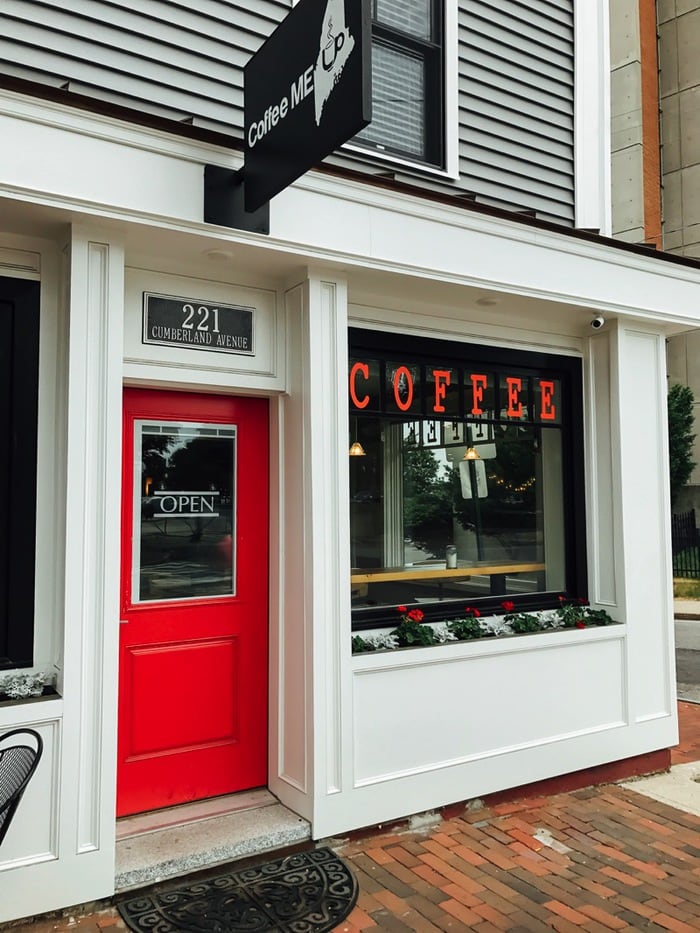 The big event of the weekend and the main (get it?) reason we were in Portland was for the Pils and Love festival hosted by Oxbow Brewing Company.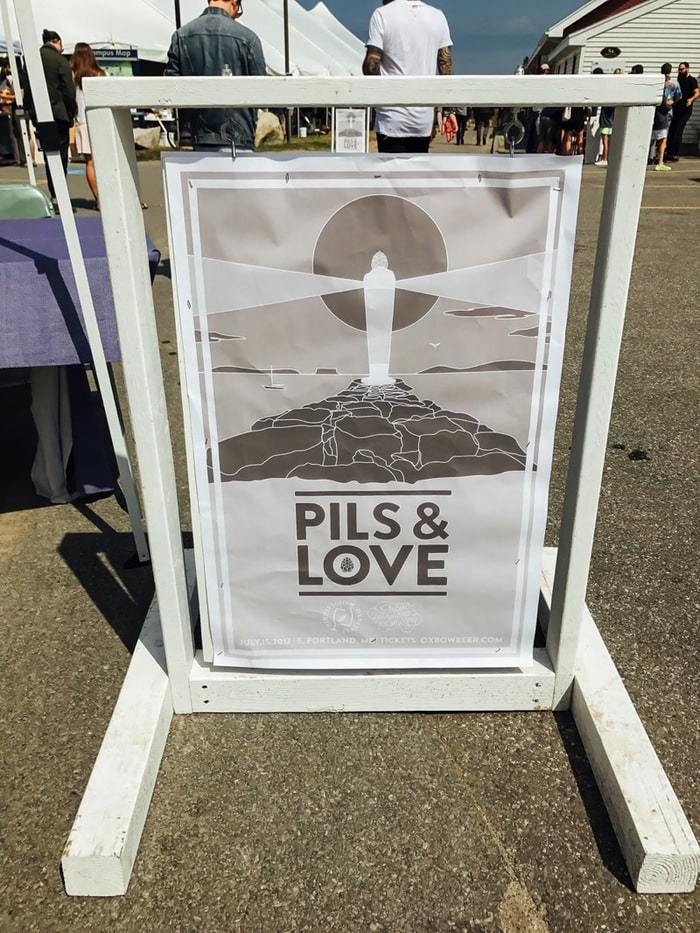 The weather was perfect and the location was absolutely gorgeous. Not a bad way to spend a Saturday afternoon — sipping pilsners from all over the country with this lovely view.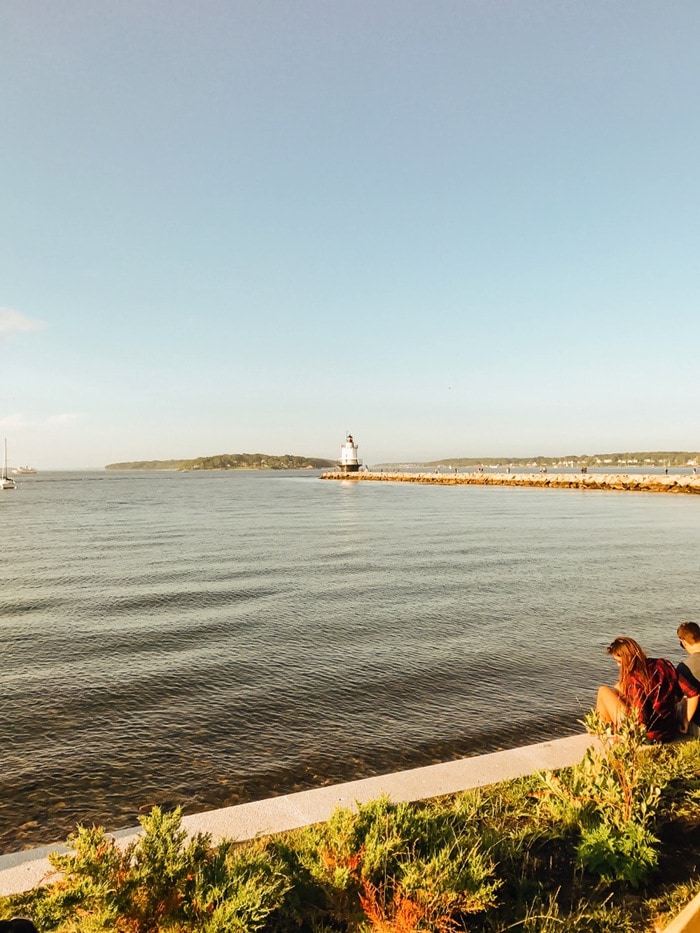 Oh, and eating lobster tacos in a cheese taco shell from Highroller Lobster Co.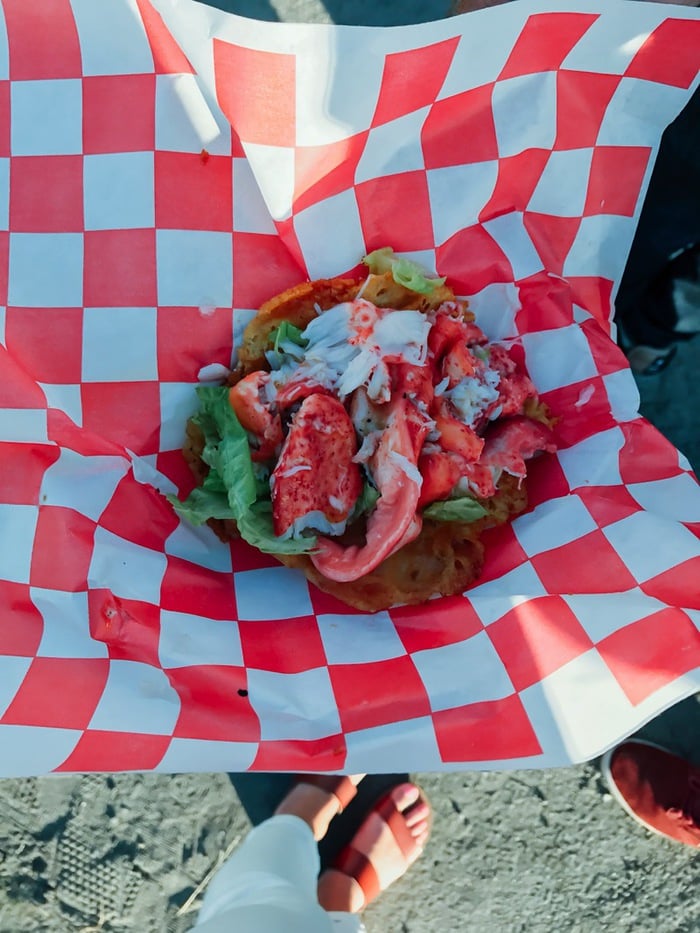 Other highlights of the trip include hanging out with Matt and Dustin from The Veil Brewing Co. Saturday afternoon we ate lunch at Eventide Oyster Co., where everything was absolutely delicious.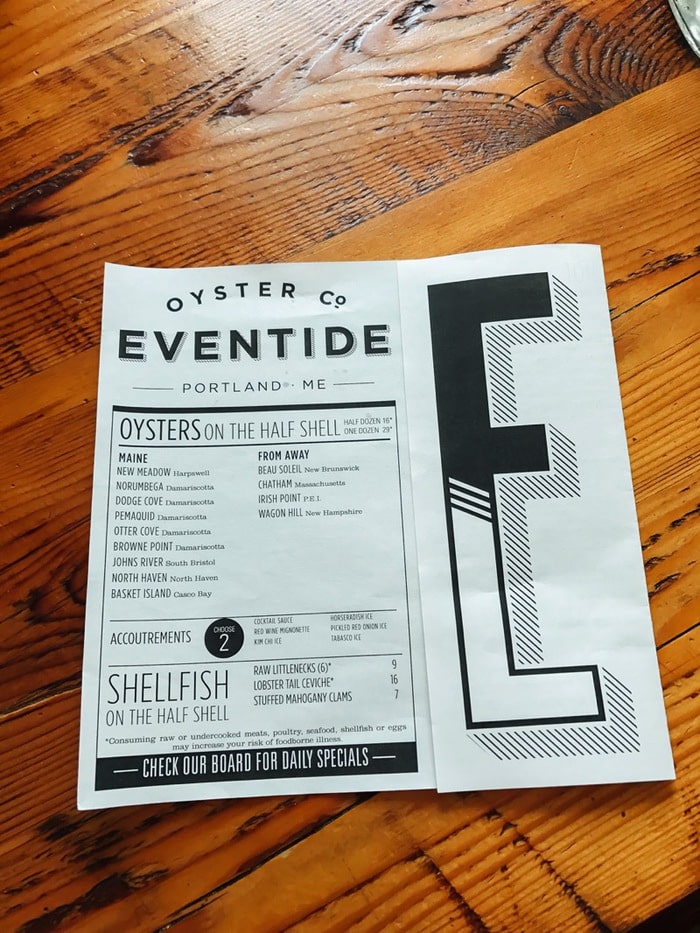 The guys had oysters and lobster rolls so I had a bite of Isaac's, but also ordered a salad and the lobster stew.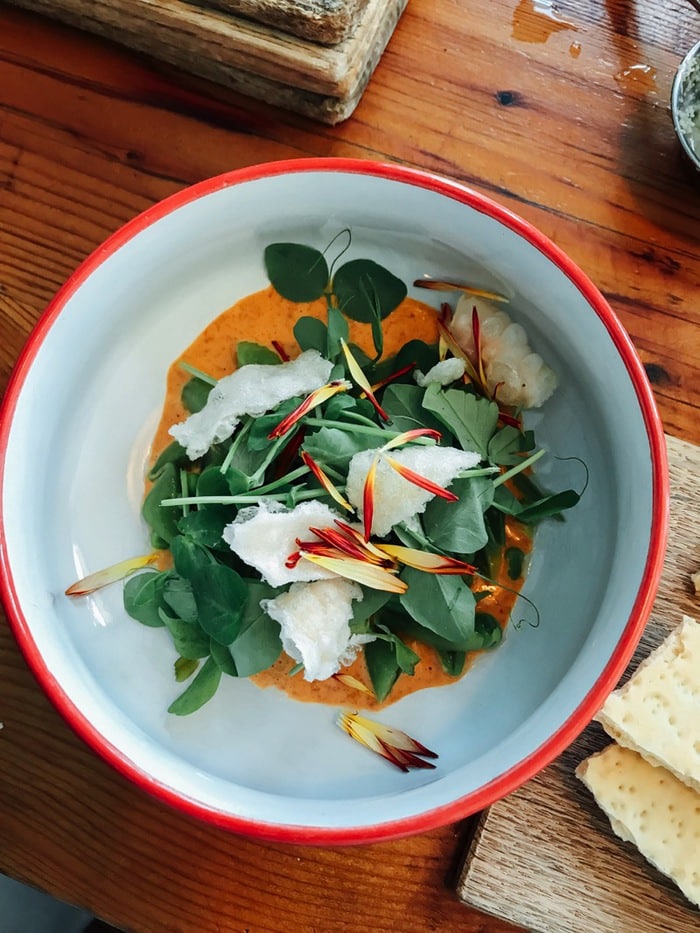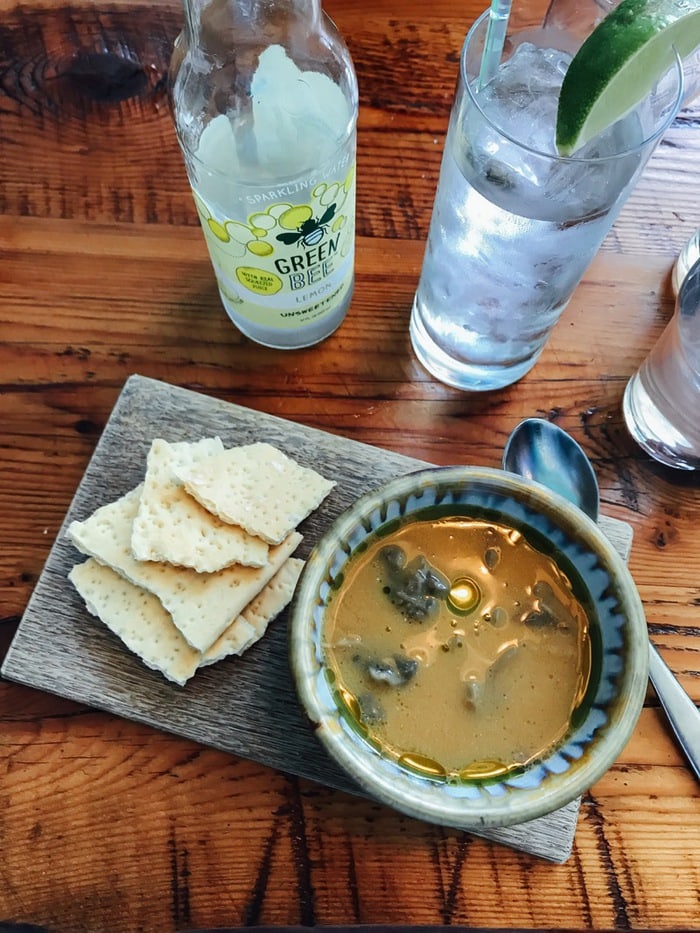 The stew is in a coconut green curry broth with maitake mushrooms and it's SO good. I want another bowl of it right now.
Another food highlight — sweet pea hummus at Sur Lie with Jenny.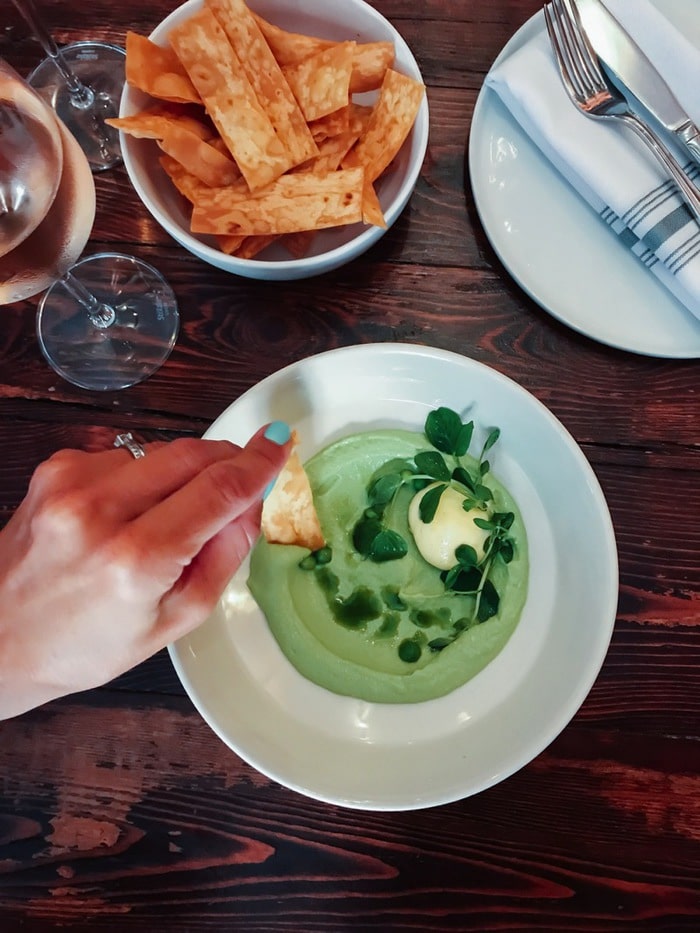 OMG! This hummus was so good.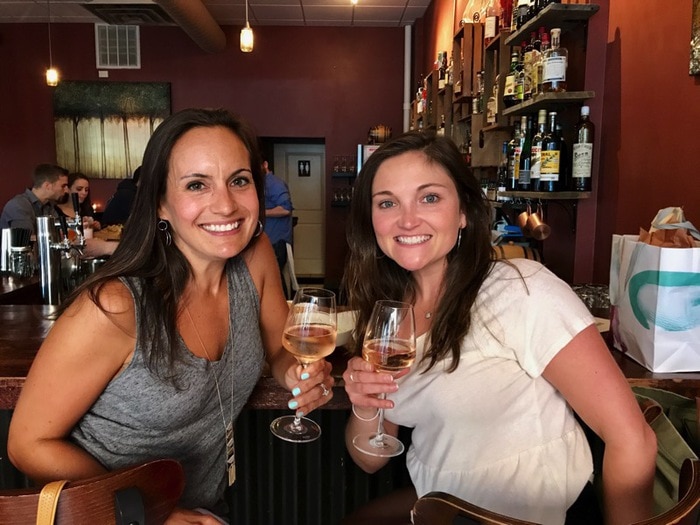 Friday and Saturday the weather was pretty chilly (in the 60s). For some reason I didn't check the weather before leaving (bad idea) and just assumed it was fine to pack shorts, tanks and dresses. Needless to say I ended up at Anthro Saturday afternoon buying jeans.
Luckily on Sunday things warmed up and we ended up spending the whole day at Scarborough Beach with Jenny, Casey and their girls. This was my first time visiting a New England beach and I loved that we were able to sit out on the beach for hours without sweating like crazy for feeling like we needed to get in the water every 10 minutes to cool off. The water was definitely chilly, but this didn't seem to phase anyone. There were so many people swimming and surfing!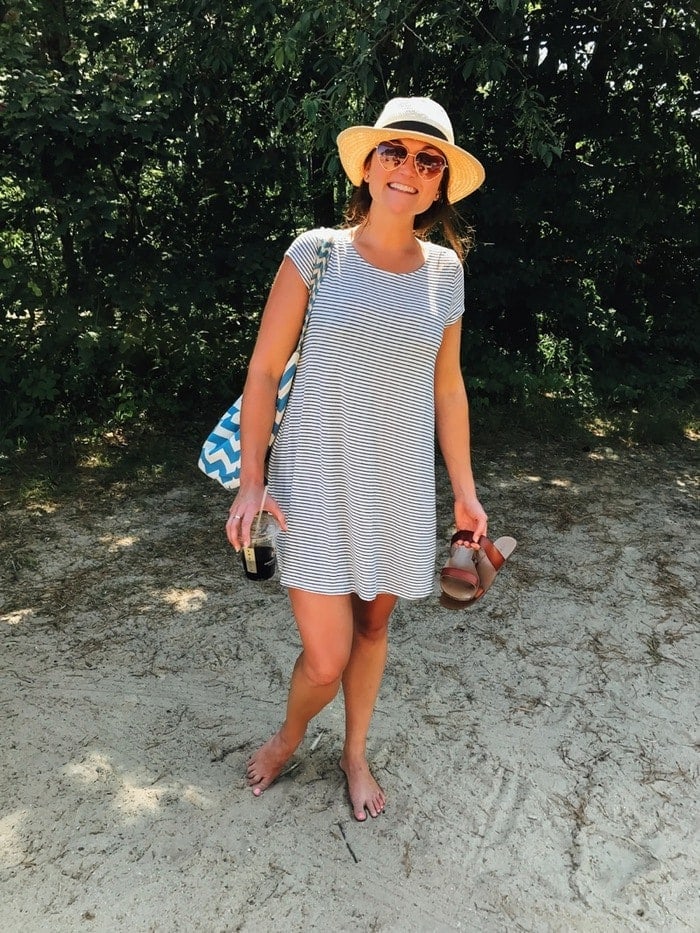 We stayed with Jenny and Casey on Sunday evening and had grilled pizza for dinner. I don't know why Isaac and I have never done grilled pizzas before but it's so so good. The crust gets extra crispy! I can't wait to try grilled pizza at home… maybe we'll do it this week and if it turns out I'll post a recipe. 🙂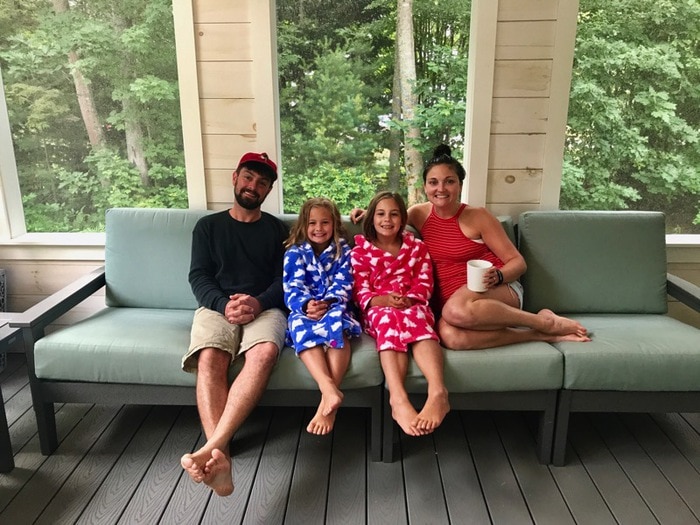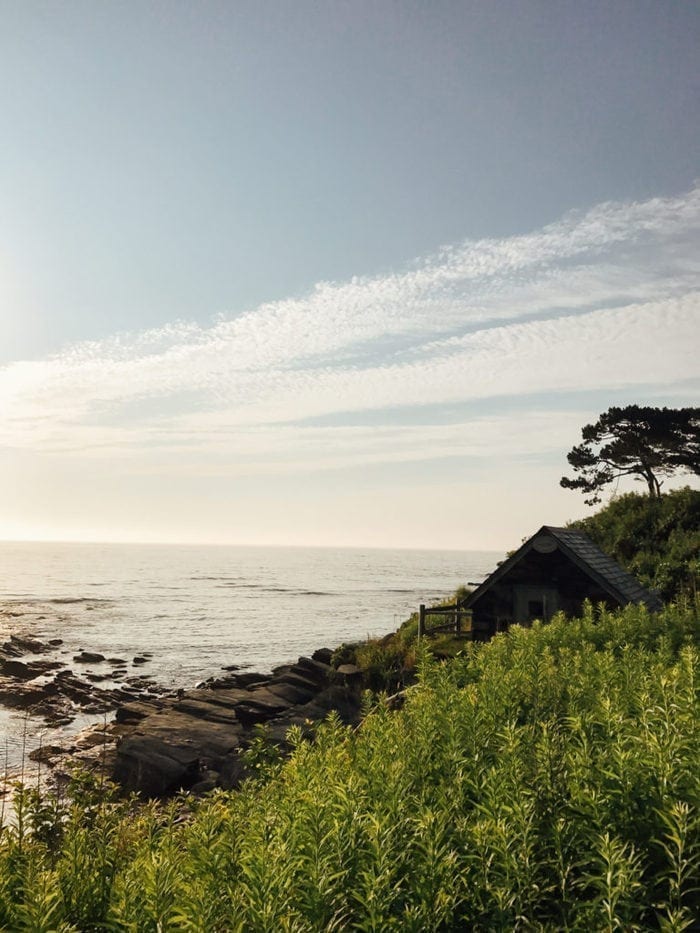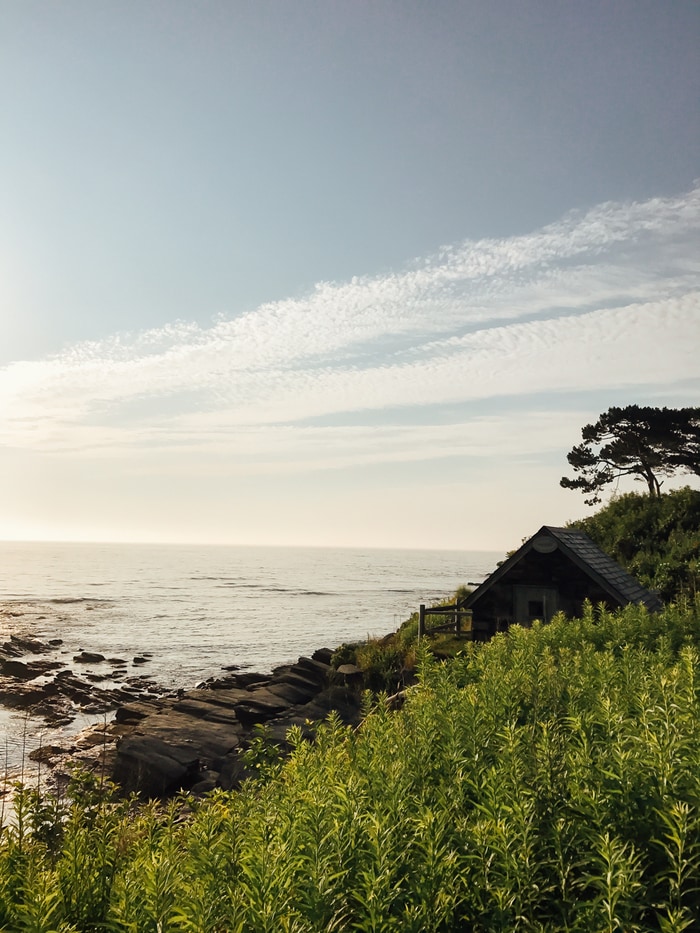 Monday morning Jenny and I went for a run and we took some last minute photos with the girls before hopping back in the truck. Our next stop was Connecticut so Isaac could pick up beer at Kent Falls Brewing Co. We stayed the night at one of the houses on the farm (just long enough for me to fall in love with the farmhouse kitchen) and then headed home to Virginia on Tuesday. Overall, it was an awesome work trip for Isaac that left me feeling super grateful I have a flexible job that allows me to travel and tag along on trips like this.
It also got me thinking about eating healthy while traveling and how it all goes back to healthy habits. If you already have a good foundation of healthy lifestyle habits (like drinking plenty of water, getting some sort of movement every day and eating balanced meals) it's easy to stay relatively consistent. Of course, it's fun to try new foods and indulge a little, but sticking with the basics while enjoying yourself ensures that you come home from a trip feeling good rather than bloated, lethargic and ready to do a detox. Check out my post about eating healthy while traveling for all my best tips!
Want more details about things to do, places to stay and eat in Portland, Maine? Check out my full Portland Maine travel guide.