Hey there friends, how's it going? Today was a scorcher here in VA and it doesn't look like it's going to be any better tomorrow. I'm all about warm weather and summer sunshine but the humidity has been a little much as of late. Hopefully, it's a bit cooler where ever you are!
Speaking of the summer heat, I was recently sent a "Summer in a Box" package with natural products from Stonyfield.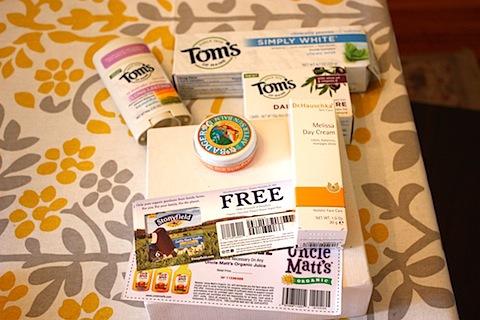 Stonyfield is celebrating the release of their new dark chocolate dipped frozen yogurt bars made with pure, organic ingredients. Because they're certified organic, they're produced without toxic pesticides, growth hormones, antibiotics or anything else that's harmful to the person consuming it or the environment.
I was thrilled to accept the package because I've been trying to move toward using all natural body products. I'm completely on board with natural foods and now it's time to do the same for the items I'm putting on my body. Skin is the largest organ of our bodies and it makes sense to only want natural ingredients being absorbed into it. I've already started making some progress over the past few years but there's always room for improvement!
I have a full post about natural and organic beauty products coming up soon, but for now here's what is included in the summer in a box package:
Two coupons for Stonyfield Frozen Yogurt Bars in two delicious flavors: Gotta Have Vanilla, and After Dark Chocolate. These bars, made with organic milk, are dipped in rich dark chocolate, and contain four live and active cultures, keeping you healthy while enjoying a sweet treat.
I haven't used the coupons yet, but I'll be sure to let you know what I think of these bars once I do!
Badger After-Sun Balm: A certified organic treat for sun-parched skin. Made with moisturizing plant butters and infused with soothing Blue Tansy and Lavender to make your skin feel smooth and leave you feeling calm.
I used this balm after being out in the sun all day at the beach. It's a little on the oily side, but it was great for soothing my sun-parched skin.
Dr. Hauschka Melissa Day Cream: This new 100% natural moisturizer is perfect for combination skin. Formulated with extracts of melissa (lemon balm), it smells like fresh squeezed lemonade. Additionally, extracts of anthyllis, carrot, witch hazel and English daisy soothe, soften and even the complexion so shine is controlled and skin is moisturized.
I've been using this cream everyday instead of my old (unnatural) face cream and I love it! It's light enough to wear under makeup but gives my dry skin the moisture it needs. The only thing I miss is the SPF that was included in my old daily moisturizer.
Tom's of Maine: Simply White, the first and only clinically proven natural whitening toothpaste to earn an ADA seal, helps bring back the natural beauty of your smile. The Daily Moisture Body Bar has an ultra-rich bar soap formula that contains premium moisturizing olive oil, natural vitamin E and leaves your skin clean and fresh. Beautiful Earth Deodorant works to inhibit the growth of odor-causing bacteria and its natural, refreshing fragrance helps mask odor.
Even before receiving this package I was already using Tom's tooth paste and deodorant. Using natural tooth paste was weird at first because it isn't as foamy or strong tasting as regular paste. It almost felt like I wasn't cleaning my teeth properly, but now I have completely embraced the simplicity of it.
Uncle Matt's Organic Lemonade and Juices: By buying Uncle Matt's fresh fruit and juice you're helping more than 20 small growers that make up their family of farms. That's one of the reasons they're proud to be family owned and organically grown. Use this free coupon to pick up your choice of organic juice or lemonade and quench your thirst for summer!
I'm not a huge fan juices, but Isaac adores OJ and only goes for the natural, not from concentrate kind. He has bought Uncle Matt's juice before so he'll be using this coupon for sure.
And, guess what? I have a Summer in a Box package to giveaway to one lucky EBF reader. To enter to win the Summer in a Box giveaway simply leave a comment telling me what organic means to you, or how you're incorporating organic products into their summer choices. You have until 11:59 PM (EST) Friday, July 22nd to enter.
Before I go, I want to announce that I'm participating in The Great Fundraising Act, an online blogger auction and bake sale organized by Janetha to raise funds for Susan from The Great Balancing Act who was recently diagnosed with Lymphoma.
All proceeds from this auction will go towards Susan's medical costs so please do check it out on Monday, July 25th from 8:00 AM (EST) to 11:00 PM (EST). There are some fabulous items up for sale, including a loaf of spiced banana bread made by moi.